Archive for the 'Strengthening Family Relationships' Category
Wednesday, November 9, 2016 @
05:11 PM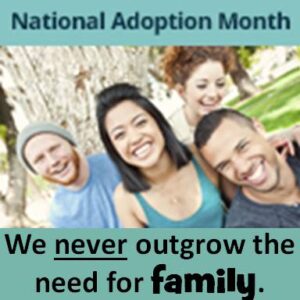 November brings to mind Thanksgiving. As adoptive parents we feel deeply grateful for the added blessing of our children. It feels particularly apt to observe National Adoption Month in November.
Note, however, that the original (and on-going) mission of National Adoption Month focused on finding families for kids languishing in foster care. When adoptive parents heard about National Adoption Month, they enthusiastically embraced the month-long observance through a lens which celebrated adoption. The adoption-as-amazing-blessing movement gained momentum and overshadowed the original purpose.
This resulted in two significant losses. One, the mission of finding families for foster kids fell to the periphery. Two and most important, viewing adoption through rose-colored glasses ignored—invalidated—the very real co-existing losses for adoptees, the persons at the center of adoption.
Several years ago, some very brave adoptees responded to the "co-opting" of National Adoption Month. They stood up and insisted that their voices also be heard. Loudly. Passionately. Yes, and sometimes angrily. Very angrily. After all, who understands adoption better than an adoptee? Thus the #FliptheScript movement arose. Courageous adoptees shared their stories, destroyed the fairy tale and replaced it with their individuals truths—warts, heartache, short-comings, and all. They acknowledge what worked and they refuse to suppress what did not. Some of their narratives fell heavy on our hearts. It pained us to listen.
But listen we must. It is imperative that we heed the lessons that #FliptheScript reveals. It is knowledge garnered at a very steep price and which will help us parent our children better. Read their posts with an open mind. Set aside any adoption-is-totally-awesome bias and consider their stories. Listen even if it makes us squirm. Prepare to be "triggered." It may be the cost of discovering uncomfortable awareness of how our parenting might currently fall short. By listening deeply, authentically without any urge to refute or deny, we can understand our child's needs better. And then we can parent them better. It empowers us to improve. Isn't our deepest desire to be the best parent to these children whom we love so fiercely, and whom we yearn to protect?
If, because it is too painful to heed, we choose to plunge our heads in the sand and ignore #FlipTheScript's perspectives on the unique needs and realities of adoption, we shortchange the children we love so much. None of us would willingly choose our own personal comfort over the very genuine needs of our children. Let's Google the hashtag #FliptheScript, fasten our seatbelt, open our hearts and minds and listen. We just might discover precisely what our child needs and understand and embrace the need for reforming adoption practices.
Honor the mission of National Adoption Month by advocating for foster kids who need families now. Help make their dream of a loving family come true. Then yes, hug your kids a little closer. Enjoy a moment of profound gratitude and then set the stage for some important, ongoing conversations about the complex realities of their adoption experience and acknowledge the losses as well as the gains.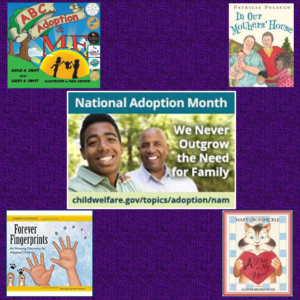 Check out these book reviews to help you start. These books validate the adoptee's experience and offer a wonderful way to discover what your child is thinking about his adoption. And believe me, they think do about it even if they don't speak about it.
The best way to enter their interior world is to create a comfortable forum where they know their thoughts and feelings are welcomed. These books make it easy to have that kind of loving conversation. Prepare to listen deeply.
Wednesday, August 3, 2016 @
02:08 PM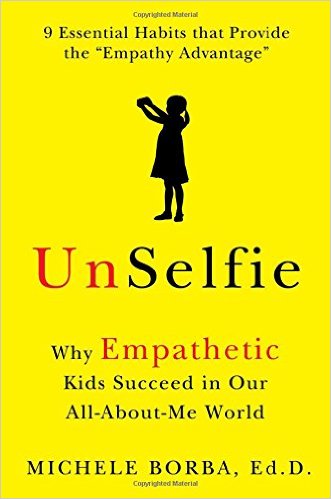 Americans value success. We believe our land of opportunity rewards hard work and determination. Last week we discussed Dr. Michele Borba's excellent book, Unselfie: Why Empathetic Kids Succeed in Our All-About-Me World. Dr. Borba asked us to consider that we can focus on traditional success-producing skills and even increase the likelihood of success if we place equal emphasis on empathy. This allows us to raise children who shine both as human beings and as high achieving go-getters.
As Intentional Parents, how does fostering empathy influence our parenting priorities, practices and choices? What will we change, eliminate. add, or emphasize? How will it alter our expectations of our own behavior as well as our children's?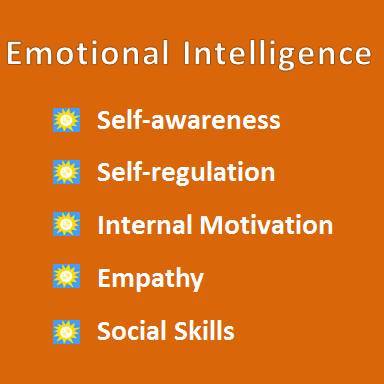 Psychologist Dr. Daniel Goleman coined the concept of Emotional Intelligence and defined it in terms of five elements. Empathy is one of those foundational ingredients. When we parent with an awareness of the role emotions and emotional intelligence play, we can work with our children to nurture them to maturity as well-rounded individuals who succeed in all aspects of their being.
We cannot intimidate our children into behaving. Yelling will not elicit their cooperation. We must carefully nurture their internalization of family values and their decision to live by them. We do not want to be their wardens; we want to be their role models.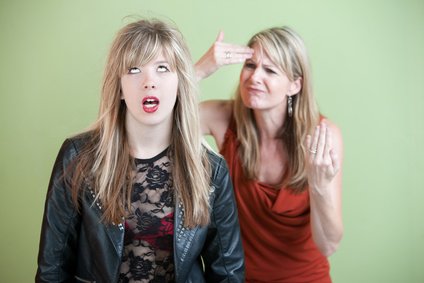 How does this look in action within our Intentional families? Imagine a moment of disagreement between you and your child … You're frustrated, maybe even angry and worried. You are determined to hold strong and deny what your child has requested.
Now imagine their response… Most likely your decision evoked their anger as well as disappointment. This mutual anger feeds off itself and each of you digs in, amplifies your certainty about the rightness of your stance.
How might an Intentional Parent handle this scenario differently? Remember the recent topics of Deep Listening and Empathy. How might it look when Adoption-attuned parents embrace those two principles?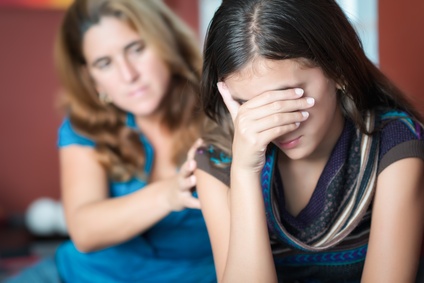 Here's a sample dialog.
First acknowledge the obvious: "Wow, you really feel angry and disappointed." Expect them to double-down on this position and their anger. LISTEN. Do not debate our attempt to change their mind. At this point, do not reiterate your position or impose consequences for their behavior. They will probably keep blowing up, expecting push back from you. Your lack of resistance confounds them, alters their expectations, and, interrupts the pattern of arguing.
Second, deliver a second unexpected response: validate their emotions. Genuinely empathize with them. "I get angry too when things don't go my way." Anticipate an emotion-charged reply. And again, listen… Allow them to unload until their fury dissipates, the "emotional hijacking" ends and, they are capable of listening.
Third, maintain a neutral stance and repeat their position, enumerating their reasons and desired goal. Seek affirmation that you've expressed their position to their satisfaction. The goal here is not to create a winner and a loser. It is to sustain a relationship, model respect and to inculcate our Values. (Later when everyone is calm, address the issue of disagreeing with respect. Practice it; do overs are much more effective than shouting matches. Remember both parties benefit from this practice.)
Finally, restate your parental position. Include any adjustments only if you are now willing to consider them. Choose your language precisely. avoid the word "but." It is a relationship killer. For example. if Trevor cannot attend his friend's party, reiterate their  request, then express your stance like this: You had your heart set on going. Many of your friends will be there AND we stand by our decision that you cannot join them."
At this point do NOT expect that they'll slap on a happy face and enthusiastically accept your decision. Do expect them to abide by it. Allow them the time and space to be disappointed and vent their anger–in their room. Choosing empathy and Deep Listening does not mean parents stand there like a punching bag. Walk away and do not reignite the discussion. If necessary, reply once, "Asked and answered," then disengage with calm and respect.
Recall a recent argument between yourself and your child (or spouse.) How might have this empathy based approach improved the interaction?