Archive for the 'Strengthening Family Relationships' Category
Wednesday, March 7, 2018 @
01:03 PM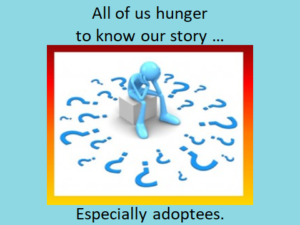 During the previous two weeks, we focused on building relationships by intentionally scheduling conversations with the sole purpose of speaking the deep feelings in our hearts. Instead of relying on the assumption that our families "know" how we feel about them, we committed to speaking those feelings aloud.
This week let's take a different angle on relationship building. We challenge you to stroll down Adoption Lane with one twist: Answer 7 "trigger" questions from "curious" (rude) people as if YOU were an adoptee. Consider only one question per day. Sit with the question; Do not give an autoresponse reply. Really think about it throughout the day. Determine how fully you can answer each one. What is known/unknown? What is knowable/unknowable?
Answer "trigger" questions as if YOU were an adoptee. Consider only one question per day. Sit with the question; Do not give an autoresponse reply. Really think about it throughout the day. Determine how fully you can answer each one. What is known/unknown? What is knowable/unknowable?
What kind of parental support would you want? What might you be tempted to conceal from your folks? Determine what else would you need to now. What else would you want to know? What else would you fear to know? What would you want your parents to know about your attempt to reply to the "trigger" questions?
What kind of parental support would you want? What might you be tempted to conceal from your folks? What would you want your parents to know about your attempt to reply to the "trigger" questions? What would tempt you to hide your struggle?
What will you do with the insight you gain through this exercise? What actions will you take? What conversations will you initiate? How did this exercise deepen your understanding of your child's need for information and empathy?
Daily Question
Day One: A friend tells you her mom has been diagnosed with breast cancer. Her grandmother died of breast cancer at age fifty. You're sixteen and were adopted after being abandoned as a newborn. What is your response to her? Within yourself? How does it make you feel about yourself?
Day Two: A new teammate asked if you have any brothers and sisters. In your adoptive family, you are an only child.
Day Three
 A "friend" comments that you 
look
enough like your boyfriend that you could be brother and sister. How do you reply? How does it make you feel?
Day Four: You were adopted internationally. During a discussion about immigration policy in your Civics, someone asks, "What are you?"
Day Five: An acquaintance asks how you would know if you might be dating a relative.
Day Six: 
 Your Health class teacher assigned your class their turn 
with the "Robot Baby." (A mechanical doll that simulates the behavior of an infant
. Students are graded on the quality of parental care they deliver over an entire weekend.)  A classmate asks what you know 
about
 your birth parents and why they didn't want you.
Day Seven:  Your adoptive parents and your brothers (their biological children) are all exceptionally tall. You barely reach five feet. You are their only daughter. You overhear someone "joke" to your parents about how they had to "resort" to adoption to get a girl. How do you feel? What do you say?
Wednesday, November 15, 2017 @
05:11 PM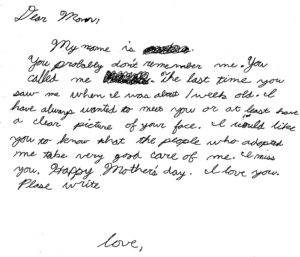 Back in April I blogged about a letter which a now-adult adoptee had penned to her birth mother when she was ten years old. The poignant, heart-breaking note was also an example of a very common mindset of young adoptees in closed adoptions.
I received another, similar letter. Though very brief, it captures many aspects of adoption complexity. (The names have been redacted from the photocopy.) This note was written by a nine-year-old boy. Like the young lady I featured, he's now an adult. As I read his letter, his yearning for connection leapt off the page, palpable, irrepressible. Sadly his ache–to know, to understand, to meet–remained unfulfilled until adulthood. Open adoption was still rare at that time when the "blank slate" mentality prevailed and the either/or mentality reigned supreme.
Like many adoptees he expressed a desire to see her face. Perhaps he wanted to see if he resembled her. Most adoptees say they fantasize about that. A lot. His letter is brave; he openly admits his need and he confides that he misses her. Something in his little-boy heart ached for his first mother, to know her, to see her and, to connect with her.
No one suggested that he write her this letter. It arose from his own need, a need that could not and, should not be repressed or denied. At the time, he shared the letter with his parents who reassured him that they would help him reconnect when he turned eighteen. (This was the only legal option available at the time. Fortunately, he felt safe in approaching his parents and trusted that they would support him and understand his situation AND that they would not themselves feel rejected by, disappointed in or, angry with him)
Pause for a moment and sit with that thought.
Imagine how that experience of rejection would shape your thoughts and beliefs about yourself, how it might influence your ability to create relationships. At some level, rejection is an adoptee's constant companion. It factors into who and how he is as a person. He needs understanding and support. Unfortunately, often people castigate adoptees for daring to express a need for knowledge and connection to their roots. Adoptees "get" the societal message that their yearning is disloyal. Ungrateful.
But, in fact, "rootedness" is a fundamental human need.
Even at the tender age of nine, this young boy feels obligated to affirm his gratitude and connection to his adoptive family. It demonstrates his underlying compassion for his birth mother. He doesn't want her to feel badly, rejected. He knows too well how that feels/hurts. The boy asserts that his adoptive family takes good care of him. Again, adult adoptees tell us that they feel a strong need to reassure people that their interest in their birth family co-exists with their connection to and love for their adoptive families. It's almost as if they sense they must apologize for their need to know who they are and where they come from. But
Since November is National Adoption Month, I thought it appropriate to remind our readers, that adoption is complicated. We cannot allow ourselves to be blinded to these challenging realities. We must provide our children not only with all of our unconditional love but also, ensure that we validate and support our children in all aspects of their adoption journey. We must allow them to "own" all of their family relationships—birth and adopted—and help them understand and work through the jumble of feelings and thoughts which adoption causes.
National Adoption Month highlights family building through adoption. Too many children remain in foster care for far too long.
Every child also deserves their truth, their story—all of it.
http://wp.me/p4r2GC-1Tk
Wednesday, October 4, 2017 @
04:10 PM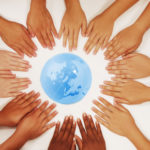 Reweaving connection…so much of life depends on our ability to accomplish this. Families built via adoption live this reality in a unique life-redefining way! We understand the effort and importance involved.
Whether a relationship breach exists between spouses (or significant others,) between/among friends or, among larger social groups like classrooms, offices, communities and countries, repair is an essential part of keeping relationships alive and healthy. Relationship repair takes work, requires accountability, cooperation and, commitment. It is challenging to admit we've messed up, fallen short or, failed. While not easy, it is worth it.
The many horrific weather events that have confronted the world recently, remind us that working together smooths the pathway to rebuilding damage. It is impossible to do it alone. We need every skill set. Every contribution is valuable. None of us can sit back and do nothing. Each of us can contribute something.
Sunday night in Las Vegas redefined ghastly. Evil.
When moral and social values completely collapse–as in the case of this massacre–we reel with shock, despair, anger and helplessness. However, we must not succumb to these emotions. Yes, they have their place and time. We must move beyond the outrage and DO SOMETHING. Channel the anger and frustration into productive directions.
Contemporary society focuses too much on difference, division, and viewing other people as obstacles to our goals and happiness. While practical steps are essential, we must recast the conversation of negativity, disrespect, hate and "othering." We must upend this destructive paradigm and embrace a world view built on respect, cooperation, empathy and common purpose. We must resist petty distractions and focus on doing what is right instead of what is easy or comfortable.
How can we become part of the solutions? Sending donations and writing checks certainly helps, but we must do more. The adage "Think globally. Work locally." must guide us. Family is the most "local" place on which to focus our attention. Do an honest gut check about how well we are exemplifying and teaching our children our values. Then, expand our assessments into other layers of our lives: work/school, community, country, etc. Let us be brave enough to ask the hard questions and acknowledge the reality. This allows us to identify shortfalls or disappointments and then focus on creating the change we desire.
Here are a few questions to consider.
Do I practice the "Golden Rule?"
Do I speak and interact with respect?
Do I welcome and absorb feedback without arguing why it is wrong?
When I offer feedback, is it free of any hidden agenda or petty emotions?
Do I encourage and acknowledge the efforts of others without tacking on criticism?
Do I respect differing viewpoints?
Do I listen to understand without formulating a rebuttal?
When expressing my own viewpoints do I allow space for divergent positions?
Can I disagree without making it a personal attack on the other person?
Do I work to improve the inequities around me?
Do I feed conversations that inspire and encourage?
Do I disparage and complain, dismiss the struggles of others as their fault or not my concern?
Do I look beyond overt differences to see the common humanity of others?
Am I amplifying convesations that reinforce hate and anger?
Am I advancing conversations that build solutions instead of simply venting anger?