Archive for the 'Strengthening Family Relationships' Category
Wednesday, August 23, 2017 @
02:08 PM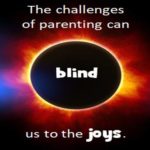 The recent total eclipse captured our national attention and provided a refreshing point of unity for all Americans regardless of their political beliefs. It offered an experience of staggering beauty and reminded us of the fragility of this planet which we all share. For all of its mesmerizing beauty, an eclipse can blind us if we stare at the sun's brilliance without adequate protection. Sometimes the challenges of parenting can similarly blind us and cause us to lose heart.
All parents know that in addition to the exquisite heart-touching, soul-altering joys of parenthood, it also includes challenges that can break the heart or cause us to question our capabilities as parents. The hard work of parenting also includes a healthy dose of drudgery: the heavy lifting of inculcating and enforcing family values and the important responsibility of teaching children how to learn from their mistakes.
Adoption imposes additional challenges to our parenting tasks. In addition to the same tasks which all children face, our kids also must discern how to blend a dual heritage from their birth and adoptive families. Make no mistake; their job is far from easy. It takes courage and persistence, support and encouragement. Most of all it takes time. Lots and lots of time.
This extended period of dependency can exceed our expectations; it also can exceed our patience. Sometimes parenting can feel utterly overwhelming and endless. We look at our friends (who are raising kids by birth and not through adoption.) We envy their kids' seemingly effortless ability to fledge the family nest and make it on their own. We're ready for the next stage of life.
Sometimes, we can fall into feelings of despair and wonder if our kids will ever pull themselves together. We fear that we are not up to the task. We mistrust our skills and inner strength. We tire of the conflict that simmers between us and children who are struggling to solidify their identity and enter adulthood. We crave a break from the stress and worry–for a moment, a day, a week… We pray for reassurance that things will work out well.
Shift vantage points. Imagine what it is like to be in our children's shoes. They can't step away around these obstacles. Their only pathway forward is to leap over these hurdles. They must forever manage the two planets of their lives: birth family and adoptive family. It's a lifetime burden on their shoulders. As fatigued as we are by the shadows adoption casts into our family life, their stress pales by comparison.
As Intentional parents we must remind ourselves that our kids are tired of the conflict too. They too, crave the relief of resolution. We know behavior is the language of trauma and that their behavior speaks volumes. They're probably afraid they'll never figure themselves out. They sense our worries and fears and these emotions magnify their own self-doubts, feelings of inadequacy and fears of rejection.
Our exhaustion and impatience tells them we aren't up to the challenge of standing with them until the crisis passes. That's scary. It's a primal fear like primitive man experienced when an eclipse wiped the life-giving sun from the sky and they wondered if it would ever return. Our kids need to know that we can handle them, their "stuff," their anger and their fear.
Unless we can hold that space of acceptance, security and hope, we've allowed ourselves to become blinded by the glare of the conflict because it is so close, so hot, so intense. But like the eclipse in which the moon succeeds in totally obscuring the sun which is four hundred times larger, the result occurs because of the perspective and proximity. Eventually the planetary alignment shifts, the moon continues on its orbit and our reality returns to its "normal." As people of this century, we have this knowledge and that bedrock of security neutralizes our fear of the darkness.
It's scary until the light returns and begins to shimmer around the edges of the current problem. We must hold hope in our hearts with the sure knowledge that we can be the safety lenses that enable our kids and ourselves, to look right at these two things and learn how to establish a balance. In spite of any self-doubts or moments of weakness, we do have what it takes. Sometimes a shift in perspective can make all of the difference. Staring too directly at the fiery glow of the "problem" can blind us to the choices that will unfold in the near future or those that currently remain obscured by the too-close light. How will you use your "safety glasses to look at the challenges ahead? How can you serve as safety lenses for your children?
Thursday, August 3, 2017 @
12:08 AM
Anyone connected with adoption knows that transitions can be challenging for adoptees. Some posit that it echoes the primal loss of their being separated from their birth families. Regardless of how they connect to this profound loss, transitions do operate as trigger points for many adoptees. As Intentional parents we work to be mindful of this hot button and we use strategies to help our kiddos cope. Let's face it, nobody enjoys a meltdown–not even the kids. These emotional events leave everyone shaken by the intensity and depth of the feelings which under gird them.
They also tend to trigger visceral responses within us. A combination of irritation, frustration, overwhelm, helplessness, impotence, confusion and, even fear all vibrate–in a symphony of dissonance that leaves all feeling spent. What are some steps that help families to move forward? Attunement offers one excellent path.
Acknowledge: Keep it neutral! Resist the temptation to match their drama with our own responses. Stay factual. I can see you've got big feelings about this
Witness: Move beyond the act of observing and choose to give witness. Just like in a courtroom, our words offer a perspective–ours–which informs how others understand the situation. Our testimony gives kids the language to express, describe and, capture their experience. Once kids have words to express their feelings and needs, they can begin to step off the hamster wheel of what Daniel Goleman calls an "emotional hijacking." Language helps them label their thoughts, feelings and needs and gives some sense of being able to manage them. Much of the trauma which adoptees experience as a result of being separated from  their birth mothers, is held as preverbal memory. They need us to provide tools to cope. A broad "emotional vocabulary" empowers them to transform the feeling  that stressors are  infinite, unlimited and permanent and instead to impose some boundaries. It provides them a way to package it so they can examine, assess and manage it.
Affirm: Adult adoptees frequently report that some of their most painful memories center around feeling invalidated and invisible. This happens when their feelings and concerns are dismissed, trivialized or ignored. Many report they received powerful messages–either overtly or subtly–that adoption conversation could include only positives; that they were expected to choose undivided loyalty to the adoptive family and never refer to, or seek information about their birth families; that they needed to sublimate their natural talents and inclinations and follow the traditional patterns of the adoptive family; that discussing adoption distressed their parents. To avoid that they sacrificed themselves and learned to ignore their need for support in order to protect their adoptive parents.
Intentional parents have the opportunity to choose a more healthy and honest approach. Affirm the realities of adoption. Welcome discussions–even painful ones. The absence of an open forum forces children to wrestle with these issues alone and without the support they need to process them. Embrace a Both/And paradigm that makes space for adoptive and birth family; Don't make them choose one over the other. They need both.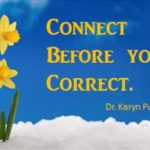 Set boundaries: One thing parents fear is that if they try to "connect before correct" kids will grab the upper hand and the family will devolve into chaos. In reality, if we try to yell, persuade or punish a child who is in the stranglehold of an emotional hijacking, we engage in a lose/lose situation. Overwhelming emotions blunt the brain's ability to think, limit the body's ability to regain control and, completely focuses on a fear/flight/freeze response. Until those emotions subside, until the child feels safe,  they are unable to think logically and rein in their behavior.
So yes, connect. Connect so you can correct but delay the educating part of correcting until calm has been restored. Then correct. Reiterate the boundaries. Rehearse the better choices.  Clarify that it is the behavior that falls short, not the child. Nurture a sense of hope, capability, possibility and love for your child.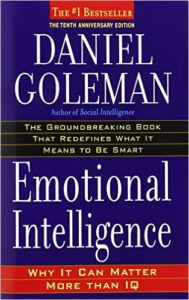 For more on the concept of Emotional Intelligence and emotional hijackings read Daniel Goleman's seminal work, Emotional Intelligence. At GIFT, we move beyond the common idea that intelligence equates with Intellectual capability as measured by a high IQ and consider the concept of multiple intelligences. In addition to Intellectual Intelligence (IQ), we embrace Daniel Goleman's Emotional Intelligence, (EQ,) and it led us to develop the idea of Adoption-attunement™–our theory of Adoption Intelligence (AQ.)
Wednesday, November 9, 2016 @
05:11 PM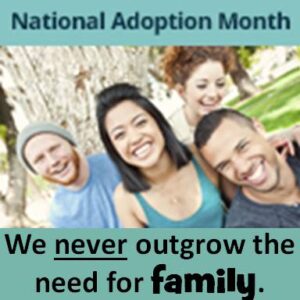 November brings to mind Thanksgiving. As adoptive parents we feel deeply grateful for the added blessing of our children. It feels particularly apt to observe National Adoption Month in November.
Note, however, that the original (and on-going) mission of National Adoption Month focused on finding families for kids languishing in foster care. When adoptive parents heard about National Adoption Month, they enthusiastically embraced the month-long observance through a lens which celebrated adoption. The adoption-as-amazing-blessing movement gained momentum and overshadowed the original purpose.
This resulted in two significant losses. One, the mission of finding families for foster kids fell to the periphery. Two and most important, viewing adoption through rose-colored glasses ignored—invalidated—the very real co-existing losses for adoptees, the persons at the center of adoption.
Several years ago, some very brave adoptees responded to the "co-opting" of National Adoption Month. They stood up and insisted that their voices also be heard. Loudly. Passionately. Yes, and sometimes angrily. Very angrily. After all, who understands adoption better than an adoptee? Thus the #FliptheScript movement arose. Courageous adoptees shared their stories, destroyed the fairy tale and replaced it with their individuals truths—warts, heartache, short-comings, and all. They acknowledge what worked and they refuse to suppress what did not. Some of their narratives fell heavy on our hearts. It pained us to listen.
But listen we must. It is imperative that we heed the lessons that #FliptheScript reveals. It is knowledge garnered at a very steep price and which will help us parent our children better. Read their posts with an open mind. Set aside any adoption-is-totally-awesome bias and consider their stories. Listen even if it makes us squirm. Prepare to be "triggered." It may be the cost of discovering uncomfortable awareness of how our parenting might currently fall short. By listening deeply, authentically without any urge to refute or deny, we can understand our child's needs better. And then we can parent them better. It empowers us to improve. Isn't our deepest desire to be the best parent to these children whom we love so fiercely, and whom we yearn to protect?
If, because it is too painful to heed, we choose to plunge our heads in the sand and ignore #FlipTheScript's perspectives on the unique needs and realities of adoption, we shortchange the children we love so much. None of us would willingly choose our own personal comfort over the very genuine needs of our children. Let's Google the hashtag #FliptheScript, fasten our seatbelt, open our hearts and minds and listen. We just might discover precisely what our child needs and understand and embrace the need for reforming adoption practices.
Honor the mission of National Adoption Month by advocating for foster kids who need families now. Help make their dream of a loving family come true. Then yes, hug your kids a little closer. Enjoy a moment of profound gratitude and then set the stage for some important, ongoing conversations about the complex realities of their adoption experience and acknowledge the losses as well as the gains.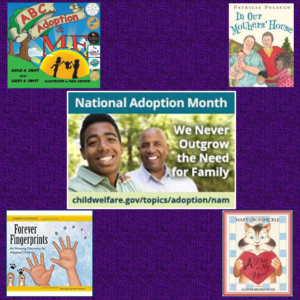 Check out these book reviews to help you start. These books validate the adoptee's experience and offer a wonderful way to discover what your child is thinking about his adoption. And believe me, they think do about it even if they don't speak about it.
The best way to enter their interior world is to create a comfortable forum where they know their thoughts and feelings are welcomed. These books make it easy to have that kind of loving conversation. Prepare to listen deeply.