Search results
Wednesday, February 25, 2015 @
04:02 PM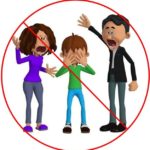 In our recent blog post we discussed The 5 Love Languages of Children, by Chapman & Campbell and learned the benefits of using a child's primary Love Language because it provides a direct way to connect with them. The 5 Love Languages of Children asserts that once parents start speaking in a language which the child understands fluently, communication improves dramatically. The child's Love Language provides a fast lane to their attention and their hearts. To recap, the five Love Languages are: Words of Affirmation, Quality Time, Physical Touch, Receiving Gifts, Acts of Services
This week we wanted to recognize the flip side of communicating via this direct link to her heart. Chapman and Campbell remind us to never use the primary love language to discipline or punish.  Disciplining a child using her preferred Love Language, can be devastating. The message is received, amplified and taken to heart. If the discipline is delivered in anger, it crushes rather than corrects. The message keys directly into the lock that guards their most vulnerable part, sweeps over their defensive walls and strikes.
Think of it this way. Communicating via a Love Language opens and activates their deepest vulnerabilities. Instead of strengthening a connection and creating a positive experience, it delivers a sucker punch. This damages the relationship—especially when done in the heat of anger and frustration. This result is counter to our intentions as adoption-attuned parents who are committed to relationship building.
Chapman and Campbell devote an entire chapter of The 5 Love Languages of Children to the topic of anger. This may seem an odd concept to discuss in relation to Love Languages. Yet we all know that anger often accompanies parental efforts to discipline (and the child's response to it). It is easy to lose sight of the education and training purpose of discipline and instead to concentrate on the punishment part. This serves neither child, parent nor the relationship. In fact, it damages both and it teaches a child to build higher walls to ensure protection from similar encounters in the future. Instead of learning from parents, they learn to fear connection with parents. Instead of heeding the parental message, the child tunes it out–and they miss the chance to acquire the missing skill that precipitated the need for discipline in the first place.
As adoptive families, we have a deeply vested interest in raising children with a strong emotional literacy. Adoption is inherently colored with complex feelings. It is up to us to educate our kids on how to express and cope with this crazy quilt of emotions. We must teach them that all of their emotions are welcome. In the absence of clearly conveying this openness, kids are left to struggle unsupported as they wrestle with the feelings of grief, loss, curiosity, joy and anger that is part of life in an adoptive family.
Chapman and Campbell further suggest that parents resist the urge to stifle children's anger—especially verbal anger. It is after all, far better to use angry words than fists or other kinds of violence.  Anger is a real and valid emotion and children need to be trained on how to express it productively, safely and with respect. Like all important learnings, this takes time and practice, (and good parental modeling.) For further exploration, read the entire book. It is chock full of strategies for parenting with compassion, respect and healthy relationship in mind.
Adults have primary Love Languages as well. Consider how these communication lessons can benefit our relationships with our spouse or partner. Commit to learning the Love Languages of your family members. (And to use them wisely.) Many benefits result when "love tanks" are full. Happy parents are the hub of happy families!
Wednesday, February 11, 2015 @
04:02 AM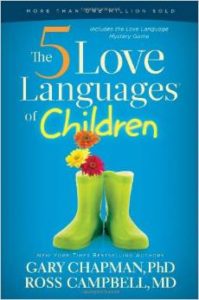 When we love deeply, we express it in many ways–a thoughtful gesture, a loving touch, a heartfelt note or simply altering our schedule to ensure time spent together. Yet all too often, these expressions go unacknowledged. Even worse, they can occur without ever making a difference. Spouses, children and lovers complain of feeling unloved, unnoticed and unimportant. Communication is the holy grail of interpersonal connection and is especially elusive when parenting kids after trauma. Connection, we know, is the channel for love, self-regulation and for healing. Until our children feel love, they will continue to languish and will resist our attempts to influence, discipline or connect with them. We are left puzzled and frustrated.
Often a behavior that feels loving to one person may be totally ineffective for the other. It is like a radio station that is improperly tuned in; one hears lots of static an occasional word, but the core message is lost in translation.
Gary Chapman's landmark book, The Five Love Languages, provides a remedy to this communication mismatch and handle this dilemma. It allows us to move beyond the desire to connect and find a way that fulfills our intention. Our default inclination is to express love in the ways in which we most like to receive it. But, to increase the likelihood that our loved ones experience our expressions of love, we must  communicate in their love language. We are called to step out of our comfort zone and engage through their love language.
The 5 Love Languages that Chapman identifies are:
Words of Affirmation
Quality Time
Receiving Gifts
Acts of Service
Physical Touch
If  you are a person who hungers to hear, "I love you," you probably speak these words frequently with the expectation that your child/spouse/partner will get the message. But if words of Affirmation are not their language or they are uncomfortable verbalizing feelings their need will remain unfulfilled. One of you is broadcasting on AM and the other on FM.
What is the solution? First determine the love language for each family member, then INTENTIONALLY choose to switch to their channel. For example, if a child "hears" in Acts of Service, connect in his dialect. Perform small gestures–fluff her pillow,  rub her feet, run a bubble bath, bake cookies, prepare her favorite food. Be creative not necessarily grand. Make sure your body language aligns with your intention. Thoughtfulness is key and deliver with a smile.  If this feels like too much work, negative emotions will shine through and nullify your efforts.
Consider each language. Determine which is your preferred style and then do the same for every family member and significant relationship in your life. What do you notice? Which languages meld easily with your communication style? Which requires more effort, discipline and practice. What patterns do you notice between Love Language-comfort level and relationships that feel like less work?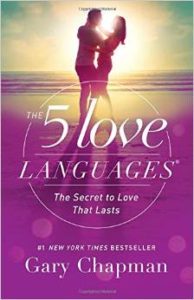 Help family members to identify each other's languages. Practice intentionally connection using each person's channel. Notice what works best for both of you. As you all become familiar with the process, communication will become easier. You become attuned with one another. When under stress, you'll likely  fall back to your own preferred channel. If you feel disconnected, review recent interactions and do a "language" check. Perhaps it is time to recommit to speaking their language and to "translate" your intentions into their dialect. Reset and re-engage.
Chapman has written several books that address this topic and then fine tunes it to different ages/groups. The five love languages are consistent, but he elaborates on strategies for implementing effective connection. Check them out. You just might find discover an important tool. Commit to the love language approach not only with your children, but also with your partner. Remember, happy, emotionally connected parents are the hub of a happy, emotionally connected  family. The need to be valued and loved is primal and one of the most important gifts you can share. The Five Love Languages is one way of growing your intentional family together.