Posts Tagged 'Listening'
Wednesday, February 13, 2019 @
03:02 PM
The Grammys aired last night to honor musicians of every stripe and genre which made me think of the power that music wields. Music evokes emotion in ways deeper than words. It unlocks memories reminding us of people, places, times, and events. This is why film producers spend small fortunes blending the perfect soundtrack for their works. Most of us compile music collections on our phones and can listen whenever we wish, to whatever we choose. We care about music and even consider certain special songs as "ours." As Intentional Parents, music offers us an important avenue for strengthening connection with our kids.
Much of what children think and feel remains locked behind a web of reluctance, embarrassment, and insecurity. We yearn for a way to touch their hearts and their spirits. Music can connect us even when words fail.
My kids who are now in their thirties, will tell you that I have a deep preference for silence and that when I do listen to music it is on a low volume. Like many young people, they like to listen at a higher volume, especially my son who listens at decibel levels equivalent to a departing jet engine. So, finding music which we can enjoy is a bit of a challenge. But when we do, it sure is fun! Moments of intimate connection like these are precious indeed.
Look for ways to create them, e.g., ask if they had any favorites amomg the Grammy nominees. If you just can't stand their music selection, study the lyrics. Look for what draws your child to a specific piece of music. Start a conversation about what you notice. Remember to refrain from any criticism; that will immediately elicit a shutdown. Ask questions that are clearly neutral. Then listen for the Golden Nugget, the peek into what they think, feel, struggle or identify with. That insight, that connection is true treasure. Handle it with heroic care. Look for ways to find commonality. You might also ask them which musical film score is their favorite. What do they like about it? How do they think it contributed to the film?
Be open but not overly insistent if they resist. If that happens, be attentive to moments that occur spontaneously. The next time they insert their earbuds, ask them to let you take a listen. Then see what unfolds.
What songs from your own youth drove your parents crazy? What made the music appeal to you? How did you feel when/if your parents dissed or ridiculed your music? What insight does this history provide to assist you in relating to your kids now?
Listen to our podcasts on Adoption-attuned Parenting.
Read these book reviews which are written with an
Adoption-attuned perspective.
Wednesday, June 27, 2018 @
12:06 PM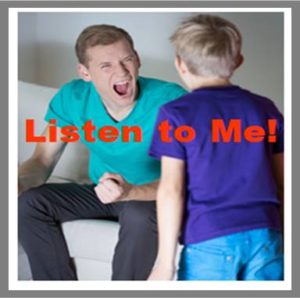 Even without a caption, we can infer that the dad in this photo clearly wants his son to listen. This graphic explodes with emotion. Negative energy stirs within ourselves as we look at it. It awakens memories of similar conversations where emotion overwhelmed reason. We can hear our own personal "inner" soundtrack replaying the audio from our own experiences.
When yelling occurs, it supersedes communicating. Both persons involved in the "conversation" feel overwhelmed, angry and "injured" to some degree. Neither is listening. Resentment and anger amplify; each person focuses on the righteousness of his own position. This hyper-focus tends to negate or invalidate the opposing viewpoint. When emotion hijacks* our intellect, little or no communication occurs.
Effective communication requires mutual respect and openness.
We must regularly remind ourselves of this intention. Save the earnest discussions for times when parents and children are not in meltdown.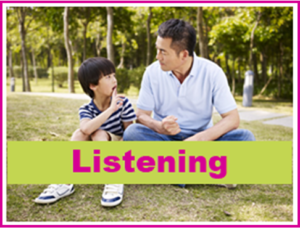 The second photo, on the other hand, conveys the polar opposite emotional content from the first. Both father and son appear engaged and attentive to one another. They are emotionally open and available to hold a meaningful conversation. For most of us, the picture triggers personal memories of feeling heard and validated. It is in these types of interactions that communication and connection occur.
The point of this post holds true for all of our conversations, not only those between parent and child.
How will you use the insight gained from this blog to help you improve your communication at home and out in the broader world?
https://wp.me/p4r2GC-20k