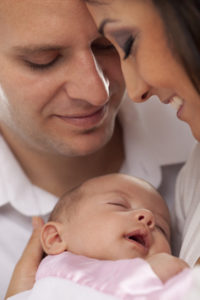 The press is abuzz with excitement over the arrival of the British royal baby. His parents' obvious joy echoed throughout Great Britain and the world. After an extremely brief introduction, the proud parents bustled their son off to the privacy of their home to begin life as a family. As his parents nurture him and he comes to rely on their loving, continuous presence in his life. This continuity and consistency builds security and trust.
Contrast this situation with that of adoptees. Separated from their birth mother, their world is not familiar, secure, and predictable. Before he has a chance to bond and attach, his world is fractured. Everything is unfamiliar. The birth mother's voice is silenced and out of reach. Instead of his birthparents, his care is provided by several people, none of whom he "knows" from his prenatal experiences. While baby struggles to cope with the loss of his birthmother, he must discover who the important people in his life are, who is temporary, and who is permanent.
You can help your child make this transition by limiting his exposure to others when you first welcome him into your home. This introductory period must focus on easing your child's transition. The time to celebrate and share him with the world of extended family and friends will come later. For now, all energy must concentrate on establishing predictability, security, and trust. This will assist him in recognizing that you are the "forever" people in his life. You are the parents who answer his needs, who will comfort and provide for him.
For the first several weeks after your child's arrival, plan on "nesting" as a family. Keep the environment calm. Be a detective. Capture the details of your child's previous world. Everything counts. Recreate as many elements from his previous world as you can. Consider all the senses: sound, smell, touch, sight, and taste. This can include music, blankets, stuffed animals, etc.
Be vigilant on behalf of your child. Reassure well-wishers (and yourselves,) that the celebration will come.  First, build the connections that tie you together as a family unit. Invite the broader world in, once that crucial framework is in place. If you are just dying to show off your new arrival, use technology to help you. Turn on Skype or Google Hang Outs and let people peek without stressing your child with the presence of another stranger.
These first weeks lay the groundwork for a secure foundation for your child, your family, your bonding and your future.
Please follow and like us: