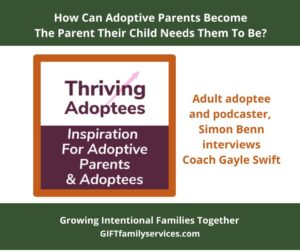 Gayle H. Swift, one of our coaches was recently interviewed by adult adoptee Simon Benn for his podcast, "Thriving Adoptees." They discussed ways in which adoptive parents can acquire skills and insights essential for every adoptive parent. As Gayle mentions, love is a start AND our kids need so much more from us. We must also love our children enough to acknowledge that they have additional needs as a result of being adopted. Listen to their spirited conversation about the
challenges of adoptive parenting here. 
Learn how the coaches at GIFT Family Services can help you and your family navigate your adoption journey. We've faced our share of family challenges and crises, ridden the metaphorical rollercoaster, and our families have not only survived; they have thrived. We offer experience, neutrality, and understanding. GIFT coaches are available to present workshops online. We do not place children for adoption nor do we facilitate adoptions. Contact us: 1-800-653-9445. Visit our Facebook page to join the conversation.
Read these books written by our coaches.