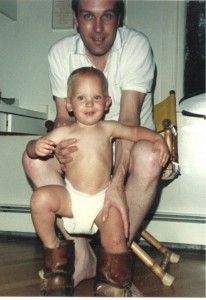 In America, June is known as the month in which we celebrate Father's Day. Families fire up the barbecue, gather around the TV set to watch dad's favorite team and enjoy one another's company. We look to Dad for his words of wisdom.
A father is defined as a guide, protector, advisor or coach. He's the one that rallies the troops into action. He's the practical one who checks up on how his kids are doing. Mother is more connected to the emotions of her children. She checks on how they are feeling and then segues into what's happening in their lives.
Perhaps that is the reason that we celebrate the two holidays in very different style. Father's Day tends to be practical and casual. Mother's Day focuses on treating Mom, on nurturing her the way she usually nurtures the rest of the family.
How do your childhood memories of your own father influence the expectations you have as a father or wife? If you are a father, are you following the model set by your own dad? If you are a mother, how closely does your husband's fathering style come to that of your dad? In what ways have you and your partner consciously chosen to follow your family templates? And, in what ways have you carved new pathways?
How have you found it necessary to alter your parental patterns to accommodate the unique demands of adoptive parenting?