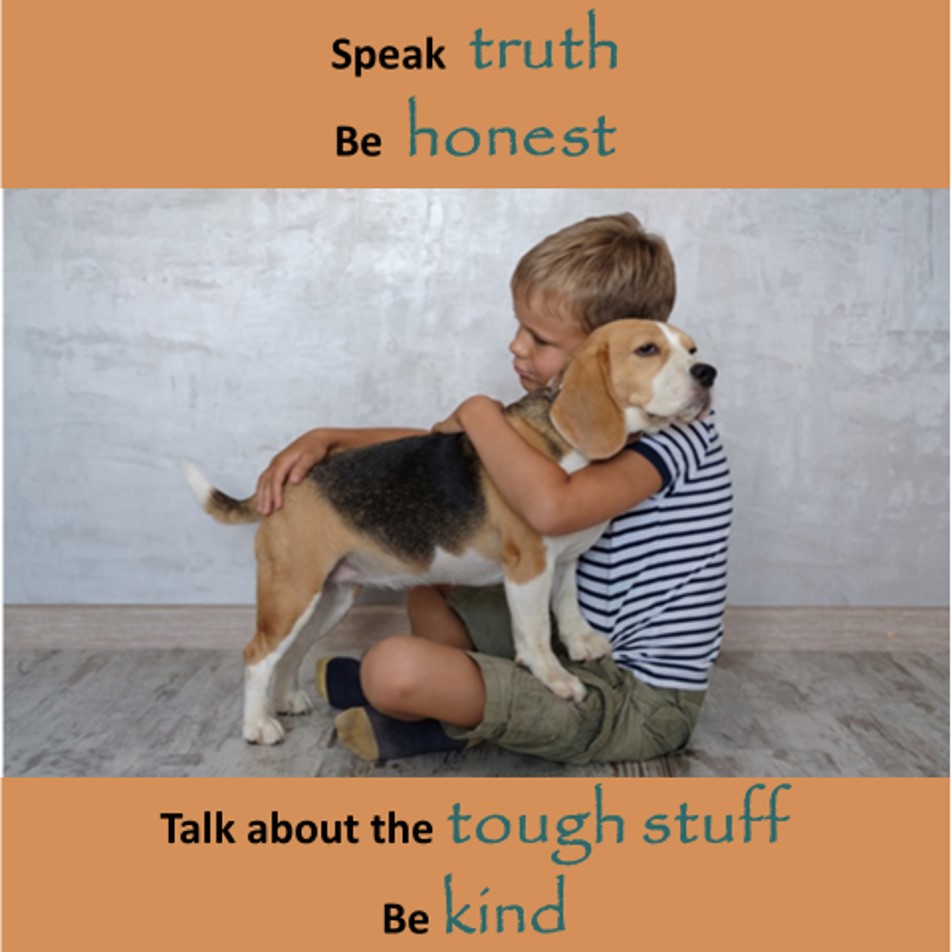 This blog explores how Adoption-attunement (AQ) and intentionality provide a clear approach to follow, one that helps adoptive families to flourish. It is firmly rooted in a belief that adoption is complex and therefore recognizes the hard truths of loss and pain in which our families began. We Speak truth aloud: adoption is not all rainbows and roses. A family built on the separation of a child from his birth family is by definition rooted in grief and loss. We must not only speak truth, we must follow our words with action.
As families who are committed to Adoption-attunement (AQ)℠, we choose to Be honest and acknowledge this difficult truth.  We do not deny or minimize these losses; we have deep empathy for our children's grief and loss. We create a safe, nurturing space where our children can talk about this reality and rely on us for the reassurance and support they need.
We gather up our courage and Talk about the tough stuff because our children need our wisdom, support, and love. They depend on us for strength and comfort as they work through the  Seven Core Issues of Adoption: Loss, Rejection, Guilt and Shame, Identity, Intimacy, Mastery and control, Grief. If we avoid the hard discussions, the challenges of these difficult issues do not go away. The challenges remain whether discussed or not and our children will have to cope with them alone.
Stuffing and suppressing difficult issues is like trying to hold a beachball underwater. Initially, we can keep it submerged. But eventually, it erupts with a huge surge of force. This year has provided a surplus of challenges and difficult issues that we have had to face --within our families and beyond. We have needed to muster courage, determination, and discipline.
The times have also presented us with a chance to Be kind — to ourselves, our families, co-workers, and neighbors. We have a chance to set an example for our children and to respond with patience, empathy, generosity, and kindness. We are all in this storm together yet we are not all in the same boat. Some of us have many more resources than others.
During this month, in what ways will you choose to embody kindness, honesty, and truth-telling? What Difficult Conversations will you choose to explore with family and friends?
GIFT Family Services -- Growing Intentional Families Together
"Your Adoption-attunement (AQ)℠ specialists
providing coaching and support before, during, and after adoption."
Read these books written by our coaches.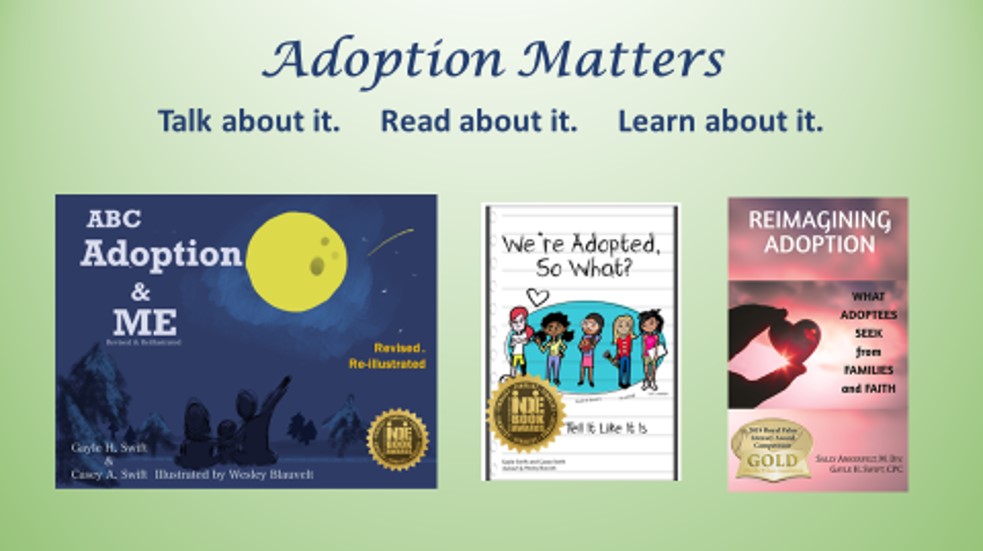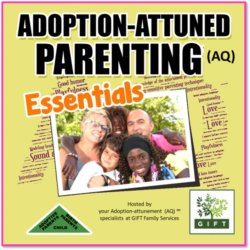 GIFT coaches are available to present workshops on-line. Contact us to explore this possibility.
Feeling short of time of finding it difficult to concentrate? You can listen to this post.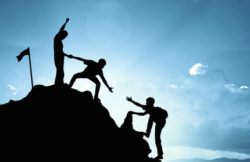 As adults, we "know" the world through direct physical experience. It is easy to assume that we all "see" the same thing. Yet nothing could be further from the truth. How we stand in the world governs what we see. Our vista shifts with our line of sight, the direction of our glance, and the size of our visual field. Our personal point of view determines what we see and our POV is strongly affected by our assumptions.
The world viewed through the eyes of a crawling infant appears dramatically different from the view of a four-year-old racing through the day at mach speed. At 5'2' my experience of the world varies significantly from my 6'6" son. (Out of curiosity, I have stood on a 16" stool to see how the world might look and feel from the vantage point of his stature. The difference is startling!)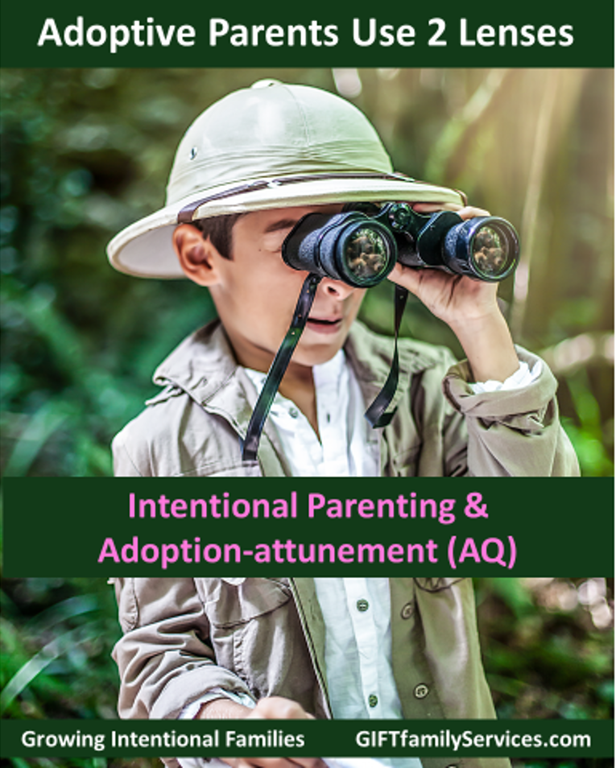 Try this exercise: Look straight ahead and build a detailed mental picture of what you see. Now take a  quarter turn. Compare this new image with the one you just memorized. You see some of the same elements and certainly see some new ones. Other elements have disappeared. Although you are essentially in the same location, you see different things. Now shut one eye and use your hands to create a tube through which you can look with only one eye. What you see has shrunk significantly. Next, use your hands to create "binoculars" The lens or frame through which you look limits what enters your awareness. Your vantage point remained the same, yet the data observed changes dramatically.
What does this discussion have to do with Intentional Parenting and Adoption-attunement℠?
In this challenging time of Covid-19 reality, it is easy to slip into using a lens that is set for annoyance, frustration, and overwhelm. Using these negative frames, we will readily and consistently see the challenges, the obstacles, and the frustrations.  What if we deliberately established a different lens? How might this shift benefit ourselves and our families? What mindset/s might assist us? Let's set our viewpoint with two lenses:
Intentional Parenting and Adoption-attunement℠
This binocular focus will assist us in defining what we admit into our perception as well as what we "cut out". The lens of Intentional Parenting focuses on
nurturing connection
looking for small successes
creating intentional moments of joy and silliness
listening deeply, with focus and interest
interacting with each family member's love language*
Understanding behavior is the unconscious language of trauma and stress
The lens of Adoption-attunement (AQ)℠ focuses on our understanding of the unique dynamic of an adopted family and the AQ Parenting Strategies that serve us in creating healthy, happy, emotionally secure, and attached relationships. As high AQ* parents we recognize that we adoptive families face not only the same stresses that ALL families face but also additional ones as well. here are a few :
adoptee's fear of parental death
worry about parental death may awaken—intensify—struggles with  impermanence and vulnerability struggles
worries about how or if birth/first families are coping with the danger
suspension  of school, sports & recreational activities may intensify/trigger identity issues
regression to less mature behaviors
emotional brittleness
By using the "paired lenses" of Intentional Parenting and Adoption-attunement (AQ)℠ , we can recognize that much of the challenging dysregulated behaviors which our children may be exhibiting result from genuine challenges. They are not acting out to punish us; they are simply floundering in overwhelm. They need and deserve our empathy, not our anger. More than ever, they will need to lean on our ability to help them to stay and/or get regulated, build resiliency, and triumph over the challenge of the post-Covid-19 world.
We must make our own ability to stay calm and regulated a high priority. We cannot replenish their "cup" if ours is empty. Self-care is not an indulgence. It is essential to the health of our family.
GIFT Family Services -- Growing Intentional Families Together
"Your Adoption-attunement (AQ)℠ specialists
providing coaching and support before, during, and after adoption."
Read these books written by our coaches.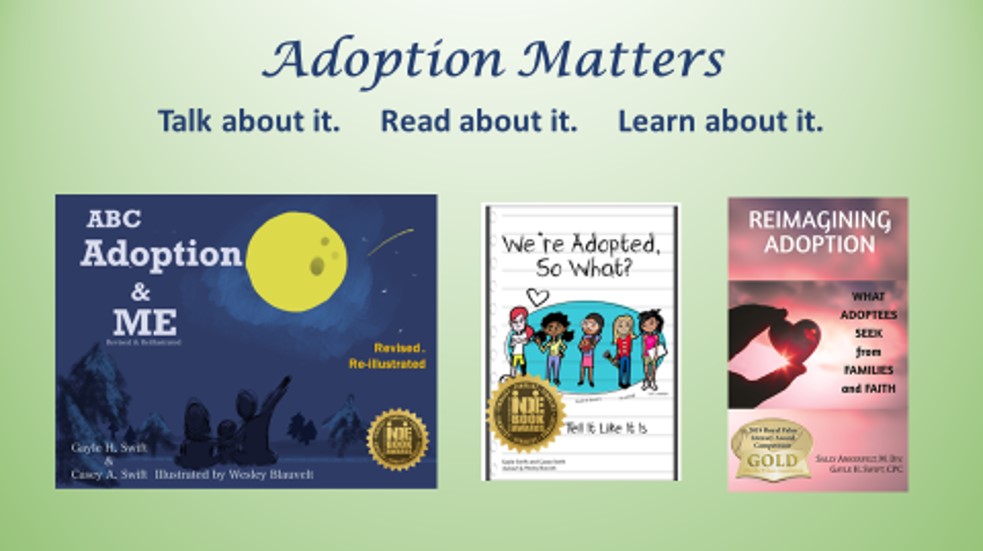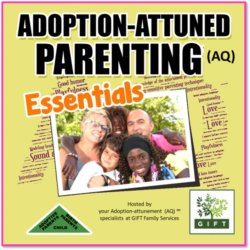 GIFT coaches are available to present workshops on-line. Contact us to explore this possibility.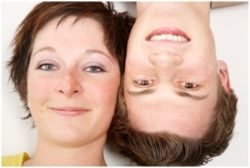 This unfolding pandemic will forever alter our lives and divide time into a distinct Before and After. Our only choice is to confront the situation with intention. Life flows unrelentingly forward. Although we can remember and reflect on the past, we can never live the same moment twice. Similarly, we can ruminate and imagine the future yet our thoughts can only approximate our best guess of what will actually unfold. As we travel this journey of life, we bring several things to the experience: our thoughts, our relationships, and our actions. All of these are influenced by our values and beliefs. Tune into our core Values and allow that compass to guide our choices. I suspect that most parents have some Core Values in common, and therefore have some common priorities. For example, we want our children to feel deeply loved and we aspire for them to grow into healthy, productive and happy adults. Other Core Values shared by many families place  high value one
Education
Respect
Service
Kindness
Competency
This might be a good time to write our deeply held values down on a post-it note and stick it to our bathroom mirrors to serve as a tangible reminder when things get challenging. We cannot lose sight of these values. They will provide lampposts to illuminate our paths on this unplanned Covid-19 road trip. Our values will help us spot potholes and allow us to find a way around them. Our values provide "rest stops" which allow us to focus on what truly matters and refresh us so that we can continue moving ahead. They also impose guardrails that keep us on the "proper" path and delineate boundaries that we will not violate. During the weeks ahead, look for the "scenic overlooks"--  moments of emotional connection with our loved ones. Recall how we yearned for our children and use that reminder to help you through the rough patches.
Resist the temptation to complain about kids and spouse/partners being home, driving us nuts. Imagine what life would be without them. Concentrate on what is important: feeling connected, staying regulated, modeling compliance with public health guidelines. Allow schoolwork to take a backseat to nurturing our children's mental and emotional health. They can always catch up on academics. What they need from us right now is a secure sense of safety. This is our most significant task.
Until they feel this emotional safety they will be unable to effectively engage their higher thought processes. Their brains will default to self-protection mode--fight, flight, freeze-- and their behavior and life will be more challenging for the entire family. Some day in the future, we will recall this time. What do you hope your children will remember? Take the time to truly think about this. Then use those images to guide you in intentionally striving to create those moments. The memories that remain deeply implanted are those connected to strong emotion.
Fear will happen on its own. We must deliberately create silliness and joy. Here are some ideas that cost nothing and use items you probably already have on hand.
Dress up in "costumes"
Camp at home-- in the backyard with a tent or under a table draped with a sheet.
Fashion popcorn shooters out of empty toilet paper or paper towel rolls
Freeze dance (Google for fun songs that call out the commands)
Sit on an uncarpeted floor and wage a tug of war (remove shoes & leave on your socks)
Record slow-motion video of the kids dancing wildly, then watch it together
create sock puppets. (Use elastic bands if you don't sew)
Read a story aloud by flashlight
Play hide and Seek.

(Switch up the counting to do it by 2s, 3s etc. This makes it a great math exercise too.)
We parents also must cope with fear and worry. The danger is real as are the challenges that exist. Take the time to keep ourselves out of Survival Mode and remain in Coping Mode. We too, need to be able to access our higher-order thinking and coping skills. Identify strategies that can help you stay calm and enable you to facilitate co-regulation. Instead of imposing Time Outs on the kids, treat yourself to a few minutes of peace and solitude--even if it is only a shower or ten minutes in your bedroom alone. Other things to try: audiobooks, meditation music, yoga, exercise, visiting via online platforms.
We will want to frame our efforts into achievable chunks: one week, one day, one hour at a time and then acknowledge each tiny instance of success. We can do it because we must do it. Failure is not an option. Surrender is not an option. Covid-19 may cause us to lose some material things that we treasure. We will mourn those losses. We cannot let it destroy our family connections, our values, or our hope.
Let's intentionally create those good memories. Let's ask ourselves, "What am I willing to do to ensure that it will happen?" Then, as Nike says, "Just Do It!"
If you prefer to listen to this blog, click here:
GIFT Family Services -- Growing Intentional Families Together
"Your Adoption-attunement℠ specialists
providing coaching and support before, during, and after adoption."



GIFT coaches are available to present workshops on-line.
Contact us to explore this possibility.
traffic signals
To listen to this blog, click the arrow to play.

Our families, our country, and the world at large is currently facing an unprecedented challenge. We are collectively facing a Difficult Situation of unparalleled proportions. The survival of many people directly depends on the collective actions of all. Each of us is challenged to think of the greater good when we decide how we will respond to this crisis. We have been asked to engage in social distancing. to stay as isolated as possible, to be vigilant about handwashing, and to subjugate personal pleasure, convenience, and interests and commit to actions that prioritize the collective good.
We face additional levels of challenge as parents raising kids who tend to be resistant to change, whose "radar is supersensitive to perceptions of danger, who move from "connection" to "protection" mode with lightning speed, and who worry about the permanence, safety, and security of their families. How can we persuade our kids of the necessity to accept the current limitations of social distancing, closed schools, and sheltering in place without setting off all of their inner alarms that might trigger their unconscious fears of loss, abandonment, and rejection?
First and most important, talk about the dangers—in age-appropriate ways. Silence exacerbates fears. Secrecy stokes our ability to imagine the worst. We must speak honestly with kids about our concerns without over-catastrophizing the situation. Help kids to understand how they can be part of the solution through simple yet effective and essential ways. Explain what is happening, what's expected of them, of us and of our communities. Help them visualize their behavior as an integral contribution.
Comply with the social distancing guidelines
Washing their hands thoroughly (Check out this video for an eye-opening tutorial)
Conserve supplies to lessen the need for visits to stores
Engage with friends and family via  devices
Get outside every day. Vitamin D is good for the immune system
Exercise daily. It helps burn off tension and anxiety. (Here's one activity I shared with my grandson!)
Find ways to laugh
Resist the tendency to complain. It doesn't change things and only magnifies the challenges
Read
Limit time on devices
Be patient
Revise expectations
Look for ways to reframe challenges, e.g.,  "Safe at home" vs. "Stuck at home"
As parents, we also have an opportunity to stay solution-focused. Yes, we have serious worries and fears because of this virus. These concerns are valid. Still, we have to plow through the current situation as well as possible. Our kids will be looking to us for reassurance and for an example of how to respond. Our most important task is to remain regulated ourselves and then to reassure our kids and wrap them with a sense of safety. Unless and until they feel safe, their thoughts and behavior will reflect and express their fears and worries. When fear flames, the thinking brain shuts down and the survival brain takes over. Their behavior will reflect this shift and it will be distressing for all.
Just as fear and worry impede our own ability to function, it makes it hard for our kids as well. If ever there was a need for Attunement, it is now. Academic work is important, however, sustaining your family relationships is primary. Many homeschooling parents have posted suggestions for those of us who are new to this endeavor. Most suggest establishing schedules to give the day structure. As much as kids may complain about schedules, most of them fare better with the structure and security that schedules provide.
Academic progress can be reestablished! Concentrate on nurturing connection and mutual concern. Look for opportunities to create laughter and fun as well as some quiet, calm time. Imagine this crisis is finally resolved, what will you be glad that you did with your family? What will you be pleased that you avoided? What will be the lessons you have learned together?
GIFT Family Services -- Growing Intentional Families Together
"Your Adoption-attunement℠ specialists
providing coaching and support before, during, and after adoption."



GIFT coaches are available to present workshops on-line.
Contact us to explore this possibility.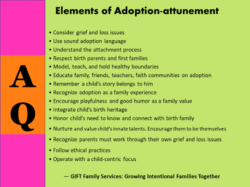 The coaches at GIFT work to help families acquire the skills and knowledge that will enable them to succeed at Growing Intentional Families Together. We believe in being intentional and conscious about the values and beliefs that guide the way we live and raise our families. Our parenting beliefs create a mindset and guide our actions so it is essential that we examine and carefully define them. Parents should identify areas of consensus as well as conflict and then hammer out a compromise.
Readers of this blog know we write with a consistent point of view that holds adoptees at the hub. We also recognize that adoption does not exist in a vacuum. It unfolds within a context of relationships between the adoptee and his parents (first/birth and adoptive) and the people he or she encounters in the world at large.
Our coaching primarily focuses on this relationship dynamic. We coined a word for this approach—Adoption-attunement—and incorporated it into our tag line: Your Adoption-attunement (AQ)℠ specialists providing coaching and support before, during, and after adoption." AQ includes fifteen basic points.
(We also have delineated twenty-five foundational principles and beliefs of our adoption philosophy and this document is posted on our About Us page.
The coaches at GIFT Family Services are committed to educating and raising awareness about Adoption-attunement. Adoption-attunement℠ infuses all of our coaching whether is it done person to person, in a family/group or via podcast, video, webinar, conference presentations, workshops, blogs, interviews, articles, and books.  We firmly believe as people understand more about adoption complexity, they can update their ideas and beliefs about adoption. This empowers them to parent better, to build stronger connections within their families and to provide the support which their children so sorely need.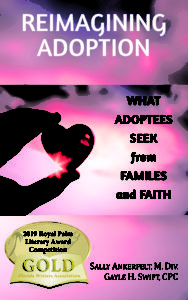 GIFT is dedicated to serving the adoption community regardless of an individual's faith, culture, or gender identity. We are also mindful of the strong interest of the Christian community in encouraging adoption and believed this would be an important arena into which we could introduce the Adoption-attunement principles. We asked ourselves how families can integrate their faith beliefs with Adoption-attunement (AQ)℠ in a way that honors both. Two of our coaches decided to write a book to answer this need.
The result is an award-winning book, Reimagining Adoption: What Adoptees Seek from Families and Faith. The premise is tilted toward the Christian community yet the fundamental principles would be useful to anyone connected to adoption. You can listen to Sally's interview discussing the book with a Christian podcaster. Note: this particular interview represents a particular faith point of view.
GIFT Family Services -- Growing Intentional Families Together
"Your Adoption-attunement℠ specialists
providing coaching and support before, during, and after adoption."   



GIFT coaches are available to present workshops in person or on-line.
Contact us to explore this possibility.