It's conference time and GIFT coaches Sally Ankerfelt and Gayle Swift have traveled to Atlanta to attend NACAC's Annual conference. They will be presenting a workshop: Faith Communities as a Source of Healing and Connection.
While there, they've been burning the midnight oil collaborating on their book  on the topic. Any adult adoptees wishing to share their thoughts and experiences regarding how  faith communities served or failed them can complete this on-line survey. ALL perspectives are welcome! (Responses can remain anonymous.)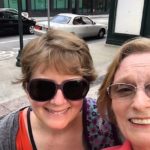 GIFT coaches partner with adoptive families to provide support before, during and after adoption. Regardless of where your family is on your adoption  journey, we stand ready to help. In addition to being certified coaches, we are all also adoptive parents. We understand the complexities of adoption.
Call us today.
Please follow and like us: