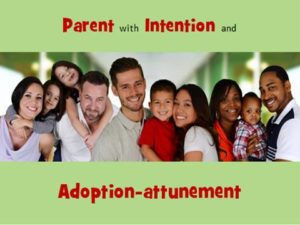 Now that we are well into February , we've trained ourselves to write 2018 on our checks and correspondence. I find it kind of shocking to realize that January is already in the record books. It's a poignant reminder of how quickly time passes. It calls to mind two questions: What happened to those New Year's Resolutions? And, far more important: have we  taken the time to set a parenting intention for the year ahead? If yes, this week over a great opportunity to assess progress, redefine the goal or make an early course correction.
If 2018 has raced out of the gates without your pausing to determine some parenting goals or intentions make the time now. Step out of autopilot and launch your family on an intentional path with a few specific goals and practices. Choose —no more than three so you can focus your energy and create change.
Every family develops habits and patterns. They enmesh us as a cohesive unit and emerge from our lived values like honesty integrity health faith etc. In addition to our patterns as a group—like attending church together or the entire family pursuing a sport, etc—we also have patterns between each individual pairing. While we love each child equally, we relate to them individually. Each relationship is unique. Ideally, we are independent human beings who choose to be interdependent on one another, within the family setting, for each other's mutual growth and support.
From a position of neutrality assess which goals and resolutions you quickly relinquished or postponed. Identify which patterns continue to be entrenched and then sort them out to determine which serve the family and which block your goals or weigh the family down. Which habits dog you, frustrate you but somehow, you just can't seem to stop? Step back and analyze the subtle, probably unconscious ways that they "serve" you. In other words, how well have they worked for you? Are they continuing to work for you or causing undesirable results for others in the family setting?Consider how these habits might avoid change. (Sometimes familiar unpleasantness intimidates us less than unknown possibility or unchartered territory.)
Review conflicts—especially conflict that keeps repeating itself. Challenge yourself to be absolutely honest and identify the rubbing points with this friction. Decide what you can do to change that dynamic. Consider that this may mean adding or subtracting actions, attitudes, habits and, beliefs. Sometimes we hang onto beliefs that no longer serve us or our families and allow them to pressure us into patterns because of the weight of tradition. Our family always does it this way…for generations!)
The question of individual rights has been in the forefront of media in recent months, not only in terms of civil rights, national or religious rights but also in terms of adoptee's rights to their original birth certificates. This movement was being advanced by the Donaldson Adoption Institute as OBC2020 and was dedicated to ensure that all adoptees, like all other Americans in the USA,  would have access to their original birth certificate at adulthood. Unfortunately DAI has closed its doors. The restoration of OBCs remains unfinished, vital business. As adoption-attuned families, we understand the importance of this change in policy and restoration of our children's rights. Each of us has an opportunity to contribute to this effort.
During the month of February we observe several events: Valentine's Day, American Heart Month, President's Day. Make it the month that you challenge yourself to focus on Adoption-attunement in a profoundly committed way.
http://wp.me/p4r2GC-1V8
Please follow and like us: