The tragic events in Virginia this past weekend have left the entire country reeling. Violence has taken root in America at a degree never previously seen. As a country we are at a crossroads. Each and every one of us must determine how he or she will respond. Distinct from any one political stand, the current turmoil offers an opportunity for parents to practice Intentionality.
As Intentional parents we commit to pro-activity instead of reactivity. We must decide how we will walk our families through these challenging days, weeks, years. How will we interpret these events to our children and help them understand what it means for them, our families and our communities?
What will we do to ensure that our country reflects our personal values? The obvious first step is to clarify the values by which we choose to live. Then we must inculcate those values in our children.
We do that in two ways. One is through our words. Language matters, has emotional "weight." When chosen well, language can bridge divides. It can also damage relationships, intimidate and incite violence. Language can be balm or flamethrower, be gentle or cataclysmic. Life-giving or life-taking.
We get to choose and our choices serve double duty. Not only do our words convey our stance to our kids, they provide them the vocabulary to talk about it with others. Our family discussions will provide a forum for them to learn, to test and to question. These explorations will prepare them to hold conversation with others outside the family. Knowledgeable, intentional conversations. That is a good thing.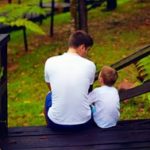 The other way we hold and work for our values is to take action. We must move beyond platitudes and lip service. If we assert that health is a family value, the way we live, eat and, exercise must reflect that. If we espouse respect for the earth, our household habits must embody that.
Whatever values we espouse, people should be able to infer them from the way we live our lives. Our actions form the most effective curriculum for teaching our kids and for shaping our country.
Let us take time to pause, reflect, and assess our "job performance" on teaching/living our values. Where are the successes? Where are the best leverage points for change? What will be the first step? What has to stop? What has to begin? What will be the evidence that the adjustments have been effective?
http://wp.me/p4r2GC-1Rp
Please follow and like us: