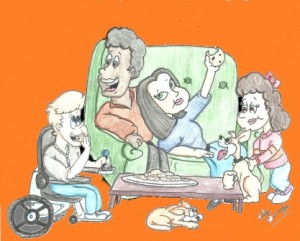 To the world you may be just one person; but
To one person, you just might be the world.
 —Pat O'Brien, founder of "You Gotta Believe"
Recently, GIFT coach Gayle Swift was the featured guest on "Adopting Teens & Tweens Radio Forum" to discuss the article I wrote for Adoptalk, the newsletter of NACAC (North American Council on Adoptable Children). Expand Your Safety Net: Partner with a Family Coach, explained how coaching can assist foster and adoptive families. At the end of the show, Pat closed with the quote shown above. ( Listen to the archived show here: http://adoptingteensandtweens.com/2012/12/30/i-dont-know/
His words have lingered in my mind and reminded me that when we adopt or foster kids, we have the opportunity to reshape a child's life, to nudge it back from the edge of disaster and to nurture that child to wholeness and joy. In changing that one child's life, we shape and enrich future generations as well as our own lives.
Pat's words capture the mission of "You Gotta Believe" which he founded in 1964. Through YGB, Pat locates permanent families for kids who are on the verge of aging out of the foster care system and into homelessness. Even more tragically, these teens are thrust into the world with few resources and lacking the most important resource of all: a forever family who will love and care about them for a lifetime. Learn more about Pat's powerful mission by following these links: ygbpat@msn.com and www.yougottabelieve.org
Adoption and foster care can be a rollercoaster experience. GIFT family coaches want to help you weather these twists and turns. We've been through it ourselves and know how lonely and overwhelming it can feel. Call us.
Please follow and like us: