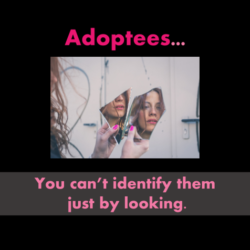 An adult adoptee I know described a recent conversation she had with the eight-year-old daughter of a coworker. Somehow the child learned that my friend was adopted. This shocked the little girl because my friend didn't "look adopted." In her child's mind, she assumed that adoptees would exhibit an identifiable appearance that would be instantly recognizable by all observers. At first, the child thought the revelation of my friend's adoptive status was a joke or a trick. Once reassured that it was neither, the youngster tried to wrestle with her thoughts.
She had questions. The first one began as follows: "So when your real mom got rid of you…"
My friend is a middle-aged adult, well-adjusted, with a life that is proceeding well. She has come to terms with adoption, has reconnected with her birth mother, writes and speaks publicly on adoption complexity. Nonetheless, my friend felt gut-punched by the innocent comment and called me ASAP to help her work through her reaction.
Words spoken so innocently had cut deeply on two main points. The first was "got rid of you." Intellectually, my friend understood that the child lacked the vocabulary to express her thoughts more tactfully. Viscerally, in the recesses of her own insecurities, the words echoed a deep-seated fear that plagues her—and I think most adoptees— that somehow my friend caused herself to be adopted. A mental laundry list of personal failures that she had compiled during a lifetime of adoption grief, self-recrimination, and doubt immediately came to mind. Her baby self had been "too needy, too plain, cried too much, or wasn't good enough, etc, etc. etc.…
My friend is familiar with the words of Pulitzer Prize-winning poet Carl Sandburg: "A baby is God's opinion that the world should go on…" In that conversation with the little girl, however, she didn't feel like a miracle to be celebrated. The only thought which she could hold was "your real mom had gotten rid of her" like trash.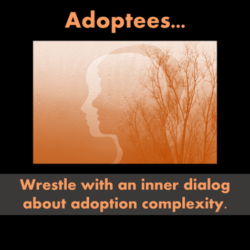 Inside her adult self, a Rejected Child still lived, anguished, ashamed, and convinced she had caused her adoption. She had to be at fault because, in her Inner Child's eyes, mothers are Good.
A Good Mother would only reject a Bad Baby. My friend recognizes the irrationality of these thoughts and yet…they still burn like battery acid and persist like the belly button that reminds her they were once united.
She has worked hard to develop resiliency, confidence, and competency. Yet this Inner Child awakens easily and for a micro-second she automatically accepts blame, feels at fault, and unworthy in the face of life's challenges. Intentionality, self-awareness, and a strong commitment to Adoption-attunement has helped her overcome this negativity. Her learning and resiliency have been hard-won.
The second big trigger in this conversation centers on the child's use of the word real. My friend knew that the child lacked the appropriate language with which to refer to a birth mother. However, because of the unique circumstances of my friend's life, she dislikes it when anyone suggests that her adoptive mom is not real. (In her mind she experienced mothering only from her adoptive mom. From her first mother, she received only on-going distance and rejection.
She accepts that both are real, but only her adoptive mother has filled her needs for mothering. If anyone minimizes her adoptive mother, my friend fiercely comes to her mom's defense.)
As intensely as her Inner Child feels emotions connected to being placed for adoption, she feels equally impassioned about the importance of the parents who loved and raised her and whom she loves and treasures in return. Fortunately, her adult self can hold a medley of emotions and beliefs about adoption complexity. But that requires higher-order thinking and sometimes that more cerebral thinking lags behind the immediate responses of her emotions.
Why did I detail so much of this single conversation? Because it offers a peek into the emotional vortex that lies beneath the observable surface of an adoptee's daily life. It's complicated, not always visible, and occasionally understandably reactionary. This is where the skills and empathy of Adoption-attunement help us to be the parents our children need. AQ is helpful from infancy through adulthood. That is why we encourage all our client families to grow a High AQ!
At GIFT Family Services we know and encourage clients who work with us to accept that birth and adoptive parents are all real and are all forever, permanent parts of an adopted person's whether their presence is physical or only emotional.
Our coaches are available to present workshops in person or online or to speak at your organization or conference. Contact us to explore this possibility.
For additional insight into the adult adoptee experience read "You Don't Look Adopted" by Anne Heffron. We interviewed her in a past blog. Her book is raw, unvarnished and well worth the read.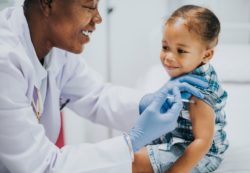 As of February 3, 2020, eleven cases of Coronavirus have been diagnosed in the United States. Thousands in China have fallen ill and 361 have died.[1] As responsible parents, we worry about the risk to our own children and ponder how we should respond. Statistics reveal that the current risk to our children is small. Flu presents a far higher danger to our children as do traffic fatalities, gun violence, and drugs. Keeping our kids safe means thinking beyond vaccines, car seats, and safety equipment.
While the Coronavirus, the flu, etc., lead in many headlines, our children face a far more potent hazard: adoptee suicide. Adoptees commit suicide at four times the rate of non-adopted persons. We cannot afford to assume that our children are not contemplating such deadly choices; their lives may depend on it. As Intentional Parents, we certainly want to do whatever is in our power to reduce this risk, address the root causes, and bring counterbalancing influences into play. We dare not assume that our children are free from suicidal thoughts. We cannot afford to hope that all is well. We must intentionally work to ensure that our kids' mental, physical, and emotional health.
I'm certainly not trying to vilify adoptive parents nor to place all the responsibility on their shoulders. Other factors contribute to mental health issues, e.g., biological predispositions, trauma, pre-natal environment, etc.  My intent is to awaken parents to the danger of not attuning and thus leaving kids to make sense of adoption complexity with a loving support person. Attunement is something we can do that helps counterbalance the risk factors. As Intentional Parents, we endeavor to insert as many positive elements in our family dynamics as possible. At GIFT we are firmly committed to education, empathy, and AQ to help ease the challenges of life as an adoptive family. One of our fundamental beliefs is to approach parenting strategies from a working/not working and not from a right/wrong stance.
When it comes to adoptee mental health there are some strategies that we CAN bring to bear.  One important action parents can take is to talk about difficult topics. Encourage our kids to share all their thoughts and feelings around adoption and reassure them that our love for them and their membership in our families is totally secure. Permanent. It is not conditional on their pretending that all is rosy, totally free of conflict, ambivalence, anger, and grief. Adoption is not a totally benign experience; all is not roses, rainbows, and happily-ever-afters. We must ensure that our children feel seen and heard for who they genuinely are as distinct from whom they think we might "wish" them to be.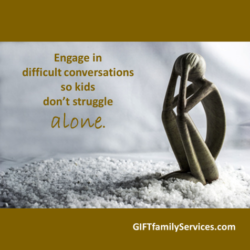 Unless our children "know" that we want to hear their struggles and painful thoughts, that we do not want them to hide or deny these feelings and ideas, our children will falsely assume that such communication is taboo. They will assume that we want them to cover up their struggles, don a mask that obscures their true feelings and suffer in silence. They will believe that this suppression of their anxieties and fears is the cost of membership in the family.
Everyone will be negatively impacted. Instead of an authentic relationship built on truth, trust, mutual support and, interdependence, all will be roleplaying. Everyone will miss out on the joy of being loved as themselves. This is a great tragedy that happens too frequently.
Adult adoptees tell us in huge numbers that one of the most significant contributing factors to their mental health issues is the communication gap between themselves and their families regarding parents' tendency to gloss over, minimize, and invalidate adoptee loss, grief and the trauma of losing their first families. Blinded by their delight at being able to adopt a child, adoptive parents often lose sight of the fact that for him, adoption is not totally benign. In fact, it is quite painful.
(Even if adoption was the best choice in a very difficult circumstance, it is still life-changing. It uproots the child from his place in his ancestral lineage and burdens him with a life-long legacy that results from his separation from his first family.) Adoption is not the result they prayed for. In fact, the "blessing" they fantasize about is to have remained in their first families, safe, rooted and healthy.
We must work to ensure that our children do not become a statistic. What action will you take to discuss these hard issues with your child? Watch a movie or read a book together which highlights some of these awkward and painful complexities. Attend an adoptive family support meeting. Partner with a coach who understands the journey, the issues and has been tried to assist you.
Learn how the coaches at GIFT Family Services can help you and your family navigate your adoption journey. We've faced our share of family challenges and crises, ridden the metaphorical rollercoaster, and our families have not only survived; they have thrived. We offer experience, neutrality, and understanding. 
Read Adoption-attuned book reviews by GIFT coach, Gayle H. Swift, on her blog, "Writing to Connect"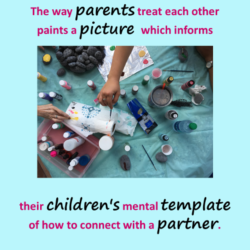 So far this month this blog has examined several priorities for parenting success in 2020. At the risk of being overly obvious, we must consider ourselves and the relationship with our spouses/partners one of our first priorities. It is this key relationship we build between us that becomes the hub around which family relationships revolve. If this keystone weakens or fractures, families fall apart.
The strength and health of our parental partnership steadies the family throughout the vagaries of life. Our relationship as partners creates the template for our children to follow. It will shape the kind of person whom they will choose when searching for their own. It will define what is appropriate, desirable and meaningful as well as what is not.
As our children observe our interactions with our spouse/partner, they will learn about respect, mutual support, reciprocal attachment, appropriate touch, the power of values lived in day to day actions as well as the respecting, setting, and honoring personal boundaries. Children will observe the way we speak of our life-partner when they are not present. We have the chance to demonstrate integrity and respect as it lives within a relationship. We get to choose how we live and thus, we determine what our children will observe and learn.
For example, consider the concept of "loyalty to the absent." This is revealed in how we speak about one another when our spouse/partner is not present. Are we respectful, appreciative, and supportive? Or do we demean, belittle, or invalidate them? Do we take any "cheap shots" or highlight their shortcomings as a way to make ourselves look better in our children's eyes? Do we hold a unified team that supports one another or undermine and divide our partnership in an effort to endear ourselves to our children at the expense of our spouse/partner?
As our kids watch us, they will add to their how-to-be-a-partner template. Each observed interaction will flesh out their template with greater detail.
It will also shape their expectations of other kinds of relationships. For example, if they see us hold high standards of respect and integrity towards our partner, they can easily transfer this blueprint to other relationships.
The corollary is true as well. If they observe us being demeaning, sarcastic, or unsupportive toward our absent partner, children may also wonder if we talk and think about them as duplicitously as well. Such doubt and uncertainty do not make a steady and healthy foundation for connection and trust. In this type of two-faced model, our children may also wonder whether "nice" words we espouse towards and about their birth families are genuine or only empty lines uttered out of obligation.
If we choose to live integrity in our relationships with our partners, our family reaps great dividends: security, trust, stability, and consistency. They'll accumulate a healthy, resilient, and steadying template for partnership and human interactions. That is a tremendous blessing and a wonderful foundation on which they can build emotional intelligence and healthy personal identity.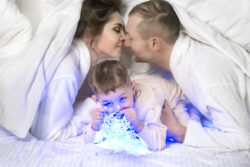 As you walk with your partner through 2020, how intentional, loyal, and integrous will you choose to be? How will you sustain this priority with your partner/spouse? What conversations might you choose to hold with them? With your children?
Keep in mind that while modeling healthy relationships and behaviors and living aligned with our deeply held values does not guarantee that our children will embrace them. Other influences may distract them. Previous relationship experiences and self-protecting behavior that evolved in reaction to trauma will also affect their responses as well. Keep in mind that many trauma survivors have a firmly-wired need for protection that takes priority over their need for connection. Presenting a healthy blueprint does guarantee they will follow our example. However, at the very least, our model will be in their memory banks.
Learn how the coaches at GIFT Family Services can help you and your family navigate your adoption journey. We've faced our share of family challenges and crises, ridden the metaphorical rollercoaster, and our families have not only survived; they have thrived. We offer experience, neutrality, and understanding.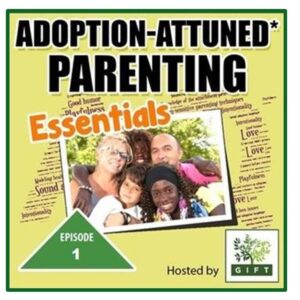 Listen to our podcasts on Adoption-attuned Parenting.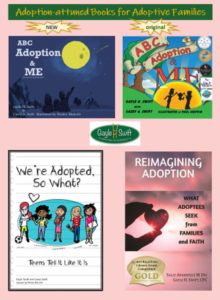 Read Adoption-attuned book reviews 
by GIFT coach, Gayle H. Swift,
on her blog, "Writing to Connect"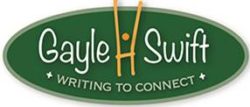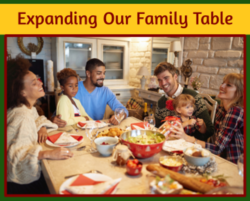 At this time of year, hospitality features prominently. We ponder the message of "No room at the inn." As adoptive parents, we could assert that we daily live a positive response; we welcomed children into hearts, our families, our homes. Not only did we welcome our children, but we also sought them with unsurpassed intensity and yearning. (Honesty compels us to admit that our decision was as much for our benefit as for theirs.) Our commitment to our children drives us to constantly seek ways to improve our efforts to parent them well and to maximize our ability to be loving, competent, Adoption-attuned parents. (Reread last week's blog that reveals how we can unwittingly be sending messages of "No room," of rejection, closed hearts, and division.)
In his book, A Bigger Table, pastor John Pavlovitz challenges us to examine the criteria that guide our responses so we can offer genuine welcome within our families, homes, and communities. Pavlovitz asserts that a sense of belonging arises out of our acceptance which "simply allows them to be fully authentic…to feel loved as they are…and make sure that was the loudest thing [we speak.]
How might this process of full acceptance operate within the context of an adopted family? Consider the information presented in recent blogs. Some of the ways we can demonstrate "welcome" to our children in many ways, e.g.
When we gather as much data about their health histories
When we acknowledge their need for information and connection to their bio families
When we embrace the child of our hearth and surrender the child of our fantasies
When we listen without refutation to all of their feelings about adoption
When we love them for themselves without expectation of who and how they must be
Pavlovitz describes the joy of feeling genuinely welcomed: "We felt seen and known and loved without needing to prove ourselves worthy. There's nothing like that feeling." Isn't that the goal for all parents— for our children to feel and know that they are loved?
Take time to consider how you are challenged in your efforts to demonstrate acceptance to each member of your family. What are the sticking points? What other people press this same hot button? How do your responses vary from person to person? What factors make it easier with one person and harder with another? What can you do or say differently? What conversations might you want to initiate to help improve your relationship?
As Intentional Parents, we flip the "no vacancy" sign and expand our hospitality outreach beyond our families into the larger community? How can our families embody welcome in the world? What one act of hospitality will you take as an individual, as a parent, as a coworker, as a friend, as a citizen?
Learn how the coaches at GIFT Family Services can help you and your family navigate your adoption journey. We've faced our share of family challenges and crises, ridden the metaphorical rollercoaster, and our families have not only survived; they have thrived. We offer experience, neutrality, and understanding.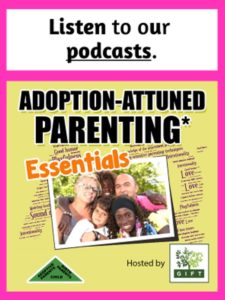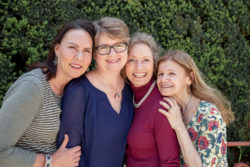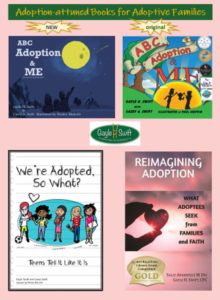 Read Adoption-attuned book reviews  
by GIFT coach, Gayle H. Swift, on her blog,
"Writing to Connect"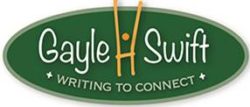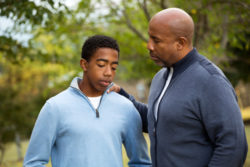 During this month of promoting awareness of adoption, we adoptive parents have a unique opportunity to immerse ourselves in listening, learning and validating what our children tell us about what it is like to be adopted.  Listening and loving are inextricably connected. Remember David Augsberger's words: "Being heard is so close to being loved that for the average person they are indistinguishable.[1]"  Listening and loving pave a path to mutual knowledge and understanding and discovering who we are as individuals and as family members. This awareness is an appropriate goal because it leads to understanding and empathy both of which are desirable in a parent/child relationship. It enables us to see and validate our children's experiences.
Validation of our children's experience is respectful and loving. Dr. Christian Conte asserts that the goal of validation is to connect.[2] I repeat: the goal of validation is to connect. As adoptive parents, we value connection and attachment.
As adoptive parents, we value connection and attachment. As Intentional Parents we recognize that validation, connection, and attachment result from intention, commit, and persistence, not happenstance. We recognize that this deep connection grows from repeated serve-and-return interactions in which our children experience and feel validated, seen, and heard. The daily interactions and conversations which we share build a history together and create an emotional and relational sweet spot, a sense that we "get them" and accept their true selves. On this basis, our kids determine what and when they feel they can safely discuss with us. They ask themselves what they can safely share about being adopted.
As parents, we have a chance to create a sense of security and openness that convinces them that we are capable and want to know all their thoughts, that we are strong enough and have enough love, not just the pretty but also the bittersweet, the hard to hear, the awkward and the agonizing. These conversations are not idle time-passers, they are the channel by which we connect deeply with our children, hearing their truth in all its complicated glory. To grow genuine, healthy, and resilient bonds, our mutual exchanges must reflect truth. Love flourishes in the rich soil of truth.
We consciously avoid playing "911 Fix It" and resist the inclination to minimize or counterbalance any of their challenges with "yes buts."  Knowledge comes through awareness. To become aware, we must listen. Truly listen. If they tell us they feel like their world is falling apart or that nobody likes them or any number of ways in which they judge themselves as coming up short, they want to believe that we heard what they shared. An appropriate response might be, "Wow, that must feel pretty horrible — or scary or hopeless… The specific words will vary just ensure to acknowledge their words, even if our perception is the opposite of theirs, at this point this difference is irrelevant. The message we want to make convey is, "We hear you. We see the picture you are painting and how it is making you feel. And we want to stand with you."
Adopted persons have a life-long, soul-shaking awareness that family fracture can occur. This awareness is based on personal experience. Their personal experience. It already happened once to them. Many adult adoptees reveal that as children, they stuffed their worries and concerns deep within themselves. They resisted talking about it because they couldn't take a chance that they could be rejected by their adoptive family as well. This fear and reluctance denied them the support of loving and understanding parents to help them work through their issues. It meant that their relationship was a roleplay based on a shared agreement they could only "accent the positive and eliminate the negative." By placing a mask of everything is all right over their inner turmoil, they averted rejection. It robbed them of an intimate truth-based, relationship that could accommodate the spectrum of adoption complexity. Safe but insolated…isolated.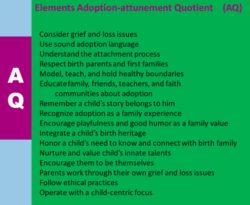 Intentional parents recognize the effort required to build intimacy and to dare to be vulnerable. We see the courage our kids demonstrate when they share their complete truth. We honor and appreciate it. As Intentional Parents, we see their honesty as the gift that it is and therefore, we encourage this kind of intimacy not shy away from it. Our children's confidences are sacred; it costs them a lot to share them with us and they depend on us to honor that trust with the gravity and respect it deserves. This is their hope. Even if it is hard for us, we can see that it is even harder for them and so we extend our arms, open our minds, and enfold them with our love. We made a promise to our kids when they joined our families to be a safe, loving, permanent family is to embody the elements of Adoption-attunement. One of the best ways we can honor that promise is to immerse ourselves in the elements of Adoption Attunement.
What will you do this week, this month to nurture this awareness and to strengthen attunement with your kids?
So, for the remainder of National Adoption Awareness Month let us focus on strengthening our relationship with our kids. Listen. Learn. Love.
Learn how the coaches at GIFT Family Services can help you and your family navigate your adoption journey. We've faced our share of family challenges and crises, ridden the metaphorical rollercoaster, and our families have not only survived; they have thrived. We offer experience, neutrality, and understanding.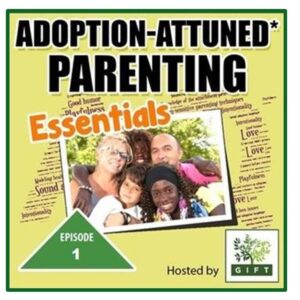 Listen to our podcasts on Adoption-attuned Parenting.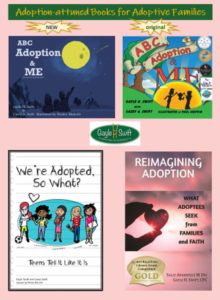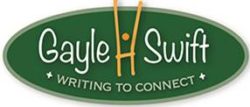 Read Adoption-attuned book reviews 
by GIFT coach, Gayle H. Swift,
on her blog, "Writing to Connect"
[1]Augsberger, David, Caring Enough to Hear and Be Heard, Regal Books, 1982