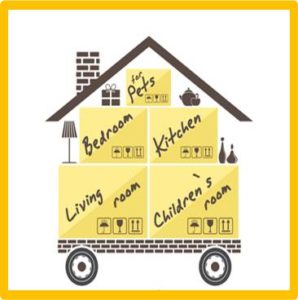 I have skipped writing GIFT's weekly blog post during the last few weeks because I've been in the process of moving. Downsizing actually. This requires me to be particularly disciplined about deciding what to keep. I'd forgotten what an energy and time drain moving can be. I had to handle every item in my home and decide its fate. Pack? Pass it on to one of the kids? Donate to charity? Toss?
One might expect that the process would be cut and dry. Is item X worth packing, hauling, unpacking and repositioning? Does it have continuing usefulness for me? Yes or no? But the process is more emotional than intellectual. Stuff embodies memories and it can feel like eliminating the item is disparaging, disrespecting, even like it is destroying the memory.
It has been fascinating to observe not only my own behavior throughout this process but also those of my children who are married adults living on their own. They had strong feelings about what things were worth keeping; the sorting process clearly had an emotional toll on them as well. After I'd "condemned" something to the "not keeping" category, they then had to decide if they had space in their homes as well as their hearts for an item they did not want to "lose." They too, had to confront that complex process of identifying value. Often value bears no relationship to the monetary or practical and has everything to do with the sentimental significance.
While the temptation is to keep everything, we can benefit from a rigorous assessment that clears space for new memories and new "treasures." Honor and keep the gems. Before eliminating an item that still tugs at you to keep it, snap a photo; it takes up no space and can provide a bridge from the old to the new.
How does this conversation connect to Intentional Parenting? Adoption-attunement reminds us that adoption sensitizes our kids to loss and change. Respect this reality. Reminisce about things and revisit the emotional touch points. When we acknowledge and understand them we can factor it into our decisions and relationships.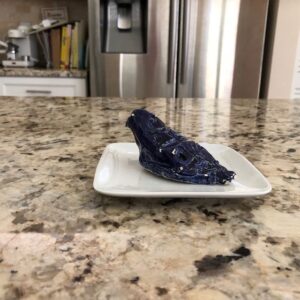 Here are two "treasures" that made "the cut" for me. You might not be the least bit impressed and probably would toss them without a bit of hesitation. It is true that they have zero monetary value. But I treasure them none the less.
My daughter sculpted the bird in pre-k. When she was annoyed with me, her bird would "fly" back to her room. Once the bird reappeared in the kitchen, I knew I'd been forgiven. I confess, that bird clocked a lot of miles! Now married with stepchildren of her own, she and I still laugh about our bluebird of happiness to this day. This little sculpture was a tangible barometer of her emotional connection with me and that makes it priceless.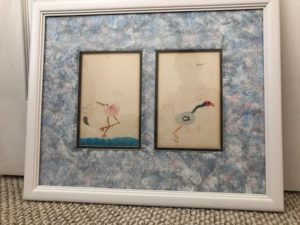 My son painted these watercolors in kindergarten. They hung on our kitchen wall for over twenty years. Now faded, one can barely make out the details. When my son was helping me choose which artwork to move to the new house, he assumed these were keepers. He never considered the possibility that I wouldn't find room for them in my new little place. In his heart–and mine– hanging his drawing served as a validation of his talent.
Each of these "treasures" embodies memories of childhood innocence and joy, of a time when our lives—and our problems—were simple. As a family, we've weathered a lot and have managed not only to survive but also flourish. These little trinkets bring me joy to this day.
What items serve this purpose for you? Ask your kids the same question. You might open some special conversations.