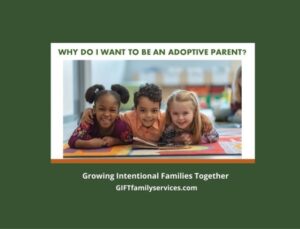 If adopting is on your radar, it is essential to answer the question, Why Do I want to Become an adoptive parent? (And, if you have adopted, it is worthwhile to revisit this question.) Experience as adoption coaches and adoptive parents tells us that most people who adopt a child report that they were asked this question by the professionals evaluating them and expectant moms interviewing them. Family and friends will also be curious about your reasons. It is important that you are clear in your own mind about your reasons for wanting to adopt. It makes sense to consider it ahead of time. This allows you to distill your thoughts, expectations, and beliefs about adoption. Through this process, you will learn there is something unique about adoptive parenting, and something different is required of an adoptive parent.
Many responsibilities come with the privilege of being an adoptive parent. One of the most important responsibilities of this privilege is to commit to education and preparation—specifically Adoption Attunement and Adoption Competency. As you take a deep dive into learning about the needs of adopted children, you begin to discern important distinctions between being an adoptive parent and being a bio parent. Your understanding of these differences shapes your ability to be the parents your children need.
As you learn about Adoption Complexity, the Seven Core Issues of Adoption, Ambiguous Loss, etc., you come to realize they are key tools that will help you meet your child's needs well.
The question posed in the title of this post remains valid: Why do you want to become an adoptive parent? Knowing our "Why" helps you clarify the "how" of your parenting. These two forces are inextricably connected. When you take a deep dive into your motives, you can see how they influence what you expect from yourself and your children. This scrutiny will also determine the criteria by which you will decide if you "succeed" at adoptive parenting. As you consider this question, rest assured you are not alone.  Many others have gone before you, including your Growing Intentional Families Together coaches.
People have many reasons for wanting to adopt a child. These are some we have shared or heard from others: 
I always dreamed I'd be a Mom/Dad someday.
My/our parents yearn for a grandchild.
I/we want to continue the family name.
I want to help a child in need.
I/we have lots of love to give.
It is my/our Christian duty to adopt.
All our friends are having babies and we want this too.
I/we want to make a difference in a child's life.
I have always wanted to adopt.
God put it on my/our hearts.
It is/was God's will that I/we adopt.
Many children need parents. I/we want to love and care for them.
Adopting a child is/was an answer to my/our prayers.
I/we can provide a child with a better life.
I/we couldn't conceive and/or carry a child to birth child, so adoption is/was the answer.
We are a same-sex couple who want to be parents.
A family member has asked us to adopt their child because they are no longer able to do so.
I am a grandparent who has adopted my grandchildren so they have permanency and stability.
I/we believe every child deserves a settled family, especially kids living in foster care.
I/we are willing to do whatever it takes to learn how to be an adoptive parent who will meet a child's needs.
We have a strong marriage and believe we can provide a safe loving home for a child.
Notice that these reasons tend to fall into two approaches. Some are parent-centric and some are child-centric. The way you prioritize these answers influences your beliefs, actions, behavior, expectations, parenting approaches, and criteria for success.
Defining success as an adoptive parent
To have a clear picture of what it means to succeed at being an adoptive parent, we have to know and understand the needs of adopted children. This knowledge will help us identify what we need to learn, where we can find and learn this information, whom we need to consult, as well as what misinformation and myths we need to unlearn, ignore, and refute.  At Growing Intentional families together, we have a clearly developed  Adoption Philosophy document. We invite you to read this document. We believe it will help you expand your understanding of the adoptive family experience. Most importantly it will help educate you on Adoption Complexity. This deeper understanding will assist you in deciding to adopt–or not. It will also help prepare you to parent an adoptive child well.
Ask yourself these questions as you consider  becoming an adoptive parent
What are your personal beliefs about adoption?
What is your definition of a good parent?
What is your definition of a good adoptive parent?
What do you believe are your responsibilities as an adoptive parent?
What responsibilities do you have regarding your child's birth parents?
How will you know you have been a good adoptive parent? Specify your criteria.
What did you learn and what questions arose when you read our  Adoption Philosophy?
Why do these questions matter as you are deciding if you will adopt a child?
As the saying goes, Hindsight is 20/20. As coaches know how helpful it is to think about these questions even before you decide to adopt because they offer a window into what you expect adoptive parenting to be like. While there are no right or wrong answers, we have learned that adoptive parenting requires parents to put their children at the center of these questions. Just as the question of "Why am I considering adopting a child?" necessitates thinking of the child first, so will being an adoptive parent.
Perhaps the most helpful question of all is "Am I ready to put the needs of a child not birthed to me as my priority?"
When you ponder that question, you will be on your way to making a decision that is not only right for you but also one that benefits your child.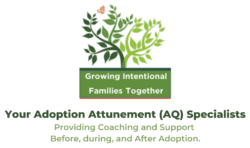 Learn how the coaches at GIFT Family Services can help you and your family navigate your adoption journey. We've faced our share of family challenges and crises, ridden the metaphorical rollercoaster, and our families have not only survived; they have thrived. We offer experience, neutrality, and understanding. GIFT coaches are available to present workshops online. We do not place children for adoption nor do we facilitate adoptions. Contact us: 1-800-653-9445. Visit our Facebook page to join the conversation.
Listen to our podcast and …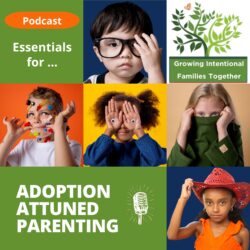 Read these books written by our coaches.