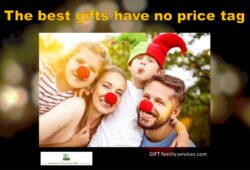 One thing 2020 has taught us: truly valuable things in life have no price tag. The things that genuinely matter are priceless: family, friends, health, companionship, security. As we observe the holidays, we do well to remember it is not the gifts we purchase but what is in our hearts that matters most.
This holiday season will be unlike any we have known in our lifetimes. 2020 has proven to be a game-changer in innumerable ways and our holidays will certainly be shaped by the pandemic realities. Our connections and celebrations may be mostly digital instead of in-person. Many of us have lost loved ones to the pandemic and their absence will be keenly felt. Still,  the core message of the holidays remains unaltered by circumstance, distance, or travail: live by the Golden Rule; seek peace; practice generosity, respect, goodwill, and compassion for others; and be a good neighbor.
As High AQ adoptive parents, we choose to parent with Intention so we commit to an additional tenet: Adoption Attunement. This relationship system honors the complex puzzle of adoption gains and losses. It moves beyond the proverbial "happily ever after story" and advances a more inclusive perspective; adoption creates not a completely benign solution, but one which includes real loss and challenges as well. Parents who embrace Adoption Attunement and commit to developing a high "AQ," (Adoption Attunement quotient) know that by acknowledging the hard stuff with their kids, they can then become the safe harbor to which their children can turn for support, affirmation, security, and love. This attunement is an invaluable gift.
In the tumult of the holiday frenzy, we intentionally find ways to connect with our children. We know their expectations and emotions run high and deep and we actively engage in ways that support and reassure them.
We share important conversations that address adoption reality— no matter how awkward, uncomfortable, or difficult for us because our children need to know we are the strong shoulders on which they can learn and the source of strength on which they can draw. Such conversations cannot be forced or imposed. Our children simply must be confident that we genuinely welcome these discussions.
Although most adoptions are "open" this is not a binary experience; it is a spectrum of openness, contact, and emotional welcome. Openness is both a way of interacting and it is also a frame of mind as well as a setting of the heart. Such openness cannot be "faked." It arises from an unconditional love for our kids that recognizes and supports their needs. Our children need to know that we are "all in", that openness is not a burden or an obligation but an expression of our love and our awareness that openness benefits our children.
Whether their adoption is open or closed, adopted children will surely have thoughts and complex feelings about their first parents. Some children will ruminate more intently and more frequently, others perhaps less so. Parents can respond with open minds and hearts and listen to them without refutation or an effort to minimize or dismiss their words and feelings. Resist any temptation to speak ill of their birth parents. Instead, respond to the emotions our children express— sadness, regret, yearning, anger, etc. Affirm and validate their experience and remember. Just like we can have strong emotions about family life that we share with friends, we don't want our friends to speak ill of our family members.  We want them to support us through the challenge of the moment. This is also what our children seek from us. Ultimately, we want to build healthy, inclusive, honest relationships and not to stockpile ammunition for shooting one another down.
Conversations like this don't "just happen." We must build a reality-based sense that we want to listen to them, that we are strong enough to hear hard truths, that we love our children enough to support their need for the presence of their first families in their thoughts, hearts, and conversations. We bless our children when we free them of the false belief they must choose between loving and needing us and loving and needing their first families. Meeting our children's needs in this way builds trust, deepens connection, and nurtures attachment.
This is joy. This is grace. This is unconditional love. This is Adoption Attunement.
            Your Adoption Attunement (AQ) specialists
providing coaching and support before, during, and after adoption.
Learn how the coaches at GIFT Family Services can help you and your family navigate your adoption journey. We've faced our share of family challenges and crises, ridden the metaphorical rollercoaster, and our families have not only survived; they have thrived. We offer experience, neutrality, and understanding. GIFT coaches are available to present workshops on-line. Contact us to explore this possibility: 1-800-653-9445 
Read these books written by our coaches.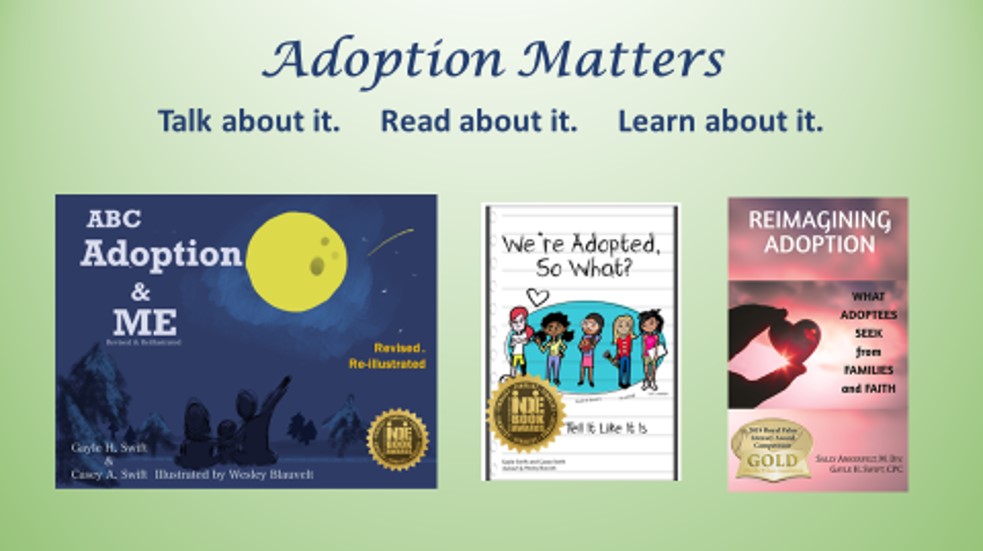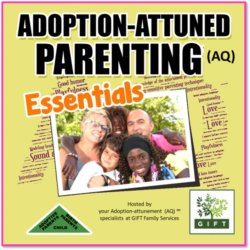 Feeling short of time or finding it difficult to concentrate? You can listen to this post. Listen time 7:39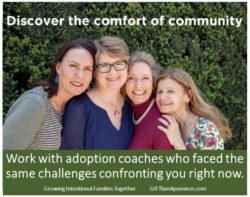 At the risk of sounding like Captain Obvious: our lives have been totally blown off their normal courses. Covid-19 realigned our lives, redefined our social interactions, upended our educational systems, shuttered businesses, destroyed jobs, sickened millions, and killed 190+ thousands of Americans. Of the many "costs" exacted by the virus, one of the devastating is the loss of community.
Human beings evolved as social animals. Our DNA engineered us to seek out connection. In fact, human survival depends upon it. In adoption circles, our previous interest and appreciation of the importance of building connection have focused on attachment, on healing the wounds of kids whose fear of connection outstripped their biological need for it. We recognized the tragedy of this emotional Catch-22.
We know connection is life-affirming and life-sustaining for infants and children. In fact, it is pivotal for all of us. We recognize and feel the strain that the current limitations on in-person connection and physical touch are exacting. Our bodies crave tactile and proprioceptive input. We miss it, yearn for it, and suffer from its presence.
Zoom and other similar formats of on-line gathering are valuable alternatives but they most certainly are not the Real Deal. Looking at an image of someone sending us a hug simply can't equate to receiving that physical embrace, of inhaling the scent of a loved one, friend or simply being together in the same time and space…
Still, when it comes to social interaction, something is better than nothing. Create opportunities for everyone in the family to engage with others. Remember the joy of receiving a letter? Why not restart the habit of letter writing? Introduce kids to the practice. Have them write notes, share artwork— especially with grandparents who are especially vulnerable to isolation and social deprivation. Create videos and fiddle with apps that alter them in fun and silly ways. They'll learn skills and have fun at the same time.
Stage puppet shows or plays and engage the family in the "production" My grandson increases his "audience" with his favorite stuffed toys. (We find they are a very patient and accepting group of fans!)
In this blog, we frequently encourage parents to be Intentional especially when it comes to initiating Difficult Conversations. The thoughts, feelings, and fears with which we are all wrestling do not disappear simply because we don't discuss or share them. Help kids cope by opening conversations with prompts like "I-wonder-if-you-are_____(thinking, thinking, worrying, etc.) Be intentional in your efforts to attune to their thoughts, feelings, moods, fears, and unspoken fears.
In age-appropriate ways, share some of the things with which you are wrestling and then mention some of your coping strategies for dealing with these challenges.
We cannot opt for silence, blind eyes to create taboo topics. If we do not discuss these challenging topics with our kids, other sources will fill the vacuum, other voices will provide the answers, other sources will provide the moral compass. The current times call for courage in many forms— the courage to take a stand, courage to be a voice, the courage to listen. Adoptive parents must also have the courage to listen to things that might make us feel uncomfortable, inadequate, sad, or guilty. Our kids' experience of adoption does not exactly match our experience.
As we've mentioned many times previously, adoption was the answer to our prayer. For our children, however, it was a double-edged sword that delivered them into a new family but first separated them from their biological family. That loss is undeniable, permanent, and a tragedy for them. Regardless of the reasons that caused/justified the adoption, it creates a traumatic interruption in the natural trajectory of their life, that transfers them from one reality into an entirely new one and that holds a lifetime of other possibilities that could have been true, echoes and ghosts of what if's to which there is no total resolution.
In addition to the importance of parents mustering the strength to listen to our kid's struggles, to validate and not minimize, we must ensure them that they are not responsible for sheltering us from the discomfort that their revelations might stir within us. They are the children; we are the adults. We are responsible and capable of managing tough stuff, theirs, and our own. We must turn to other adult sources for our support so we can be fully available to our children as a source of loving adult support. We must absolutely ensure that we are not "dumping" any of the weight of our adult struggles on our children. This is an aspect of Adoption Attunement we must accomplish for both our own emotional needs as well as the emotional needs of our children.
I would also assert that it is vital that we help our children find a community of other adoptees with whom they can experience the healing power that emerges from connecting with others who are walking a similar journey in life as adoptees. As parents, we can not fully understand what it is to walk through life as an adoptee. One aspect of Adoption Attunement is recognizing their need for community with their adopted peers that we cannot provide. Engaging with others who are also adoptees makes them feel less alone, less different, less left out. The need to belong is deep and powerful. Finding a community where we "fit" is a great blessing for parents as well as children.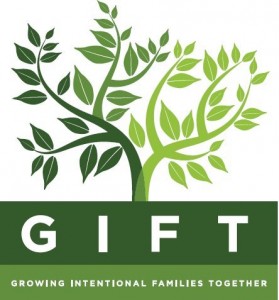 Your Adoption Attunement (AQ) specialists
providing coaching and support before, during, and after adoption.
Learn how the coaches at GIFT Family Services can help you and your family navigate your adoption journey. We've faced our share of family challenges and crises, ridden the metaphorical rollercoaster, and our families have not only survived; they have thrived. We offer experience, neutrality, and understanding. GIFT coaches are available to present workshops on-line. Contact us to explore this possibility: 1-800-653-9445 
Read these books written by our coaches.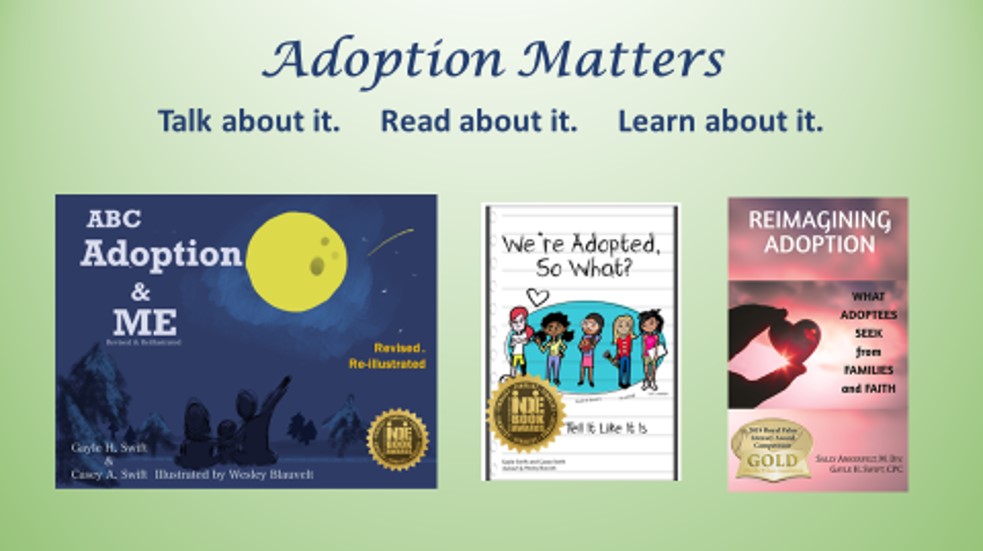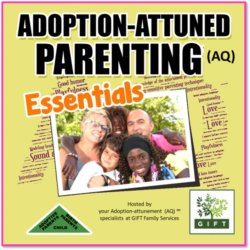 To listen to this blog, click the arrow to play.

Our families, our country, and the world at large is currently facing an unprecedented challenge. We are collectively facing a Difficult Situation of unparalleled proportions. The survival of many people directly depends on the collective actions of all. Each of us is challenged to think of the greater good when we decide how we will respond to this crisis. We have been asked to engage in social distancing. to stay as isolated as possible, to be vigilant about handwashing, and to subjugate personal pleasure, convenience, and interests and commit to actions that prioritize the collective good.
We face additional levels of challenge as parents raising kids who tend to be resistant to change, whose "radar is supersensitive to perceptions of danger, who move from "connection" to "protection" mode with lightning speed, and who worry about the permanence, safety, and security of their families. How can we persuade our kids of the necessity to accept the current limitations of social distancing, closed schools, and sheltering in place without setting off all of their inner alarms that might trigger their unconscious fears of loss, abandonment, and rejection?
First and most important, talk about the dangers—in age-appropriate ways. Silence exacerbates fears. Secrecy stokes our ability to imagine the worst. We must speak honestly with kids about our concerns without over-catastrophizing the situation. Help kids to understand how they can be part of the solution through simple yet effective and essential ways. Explain what is happening, what's expected of them, of us and of our communities. Help them visualize their behavior as an integral contribution.
Comply with the social distancing guidelines
Washing their hands thoroughly (Check out this video for an eye-opening tutorial)
Conserve supplies to lessen the need for visits to stores
Engage with friends and family via  devices
Get outside every day. Vitamin D is good for the immune system
Exercise daily. It helps burn off tension and anxiety. (Here's one activity I shared with my grandson!)
Find ways to laugh
Resist the tendency to complain. It doesn't change things and only magnifies the challenges
Read
Limit time on devices
Be patient
Revise expectations
Look for ways to reframe challenges, e.g.,  "Safe at home" vs. "Stuck at home"
As parents, we also have an opportunity to stay solution-focused. Yes, we have serious worries and fears because of this virus. These concerns are valid. Still, we have to plow through the current situation as well as possible. Our kids will be looking to us for reassurance and for an example of how to respond. Our most important task is to remain regulated ourselves and then to reassure our kids and wrap them with a sense of safety. Unless and until they feel safe, their thoughts and behavior will reflect and express their fears and worries. When fear flames, the thinking brain shuts down and the survival brain takes over. Their behavior will reflect this shift and it will be distressing for all.
Just as fear and worry impede our own ability to function, it makes it hard for our kids as well. If ever there was a need for Attunement, it is now. Academic work is important, however, sustaining your family relationships is primary. Many homeschooling parents have posted suggestions for those of us who are new to this endeavor. Most suggest establishing schedules to give the day structure. As much as kids may complain about schedules, most of them fare better with the structure and security that schedules provide.
Academic progress can be reestablished! Concentrate on nurturing connection and mutual concern. Look for opportunities to create laughter and fun as well as some quiet, calm time. Imagine this crisis is finally resolved, what will you be glad that you did with your family? What will you be pleased that you avoided? What will be the lessons you have learned together?
GIFT Family Services -- Growing Intentional Families Together
"Your Adoption Attunement℠ specialists
providing coaching and support before, during, and after adoption."



GIFT coaches are available to present workshops on-line.
Contact us to explore this possibility.
Feeling short of time or finding it difficult to concentrate? You can listen to this post. Read time 6:25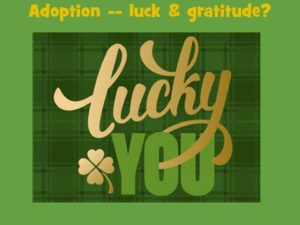 During this month folks who are Irish—literally or metaphorically—celebrate St. Patrick's Day. Like many holidays, a non-sectarian sense of fun has overtaken the religious aspects of the day's origins. So what does St. Patrick's Day have to do with adoption? The "luck of the Irish" comes to mind. Luck...a term easily tossed around. And often hurled in the face of adoptees. They routinely hear, "You are so lucky you were adopted."
Regardless of the reasons that caused their adoption, the loss of their first family is significant, painful, tragic. Many have written eloquently on this absurd and painfully invalidating notion.
This expectation of gratitude is often coupled with equally offensive "Shoulds." Adoptees are told they should:
be happy they weren't aborted,
appreciate that they received a "better" family and/or a "better life
quit whining about being adopted,
relinquish any interest in and/or connection with their birth parents and first families, etc.
From the day our first child was placed in my arms thirty-five years ago, I believed I understood the tragedy at the roots of our joy. As the years have unfolded, however, I realize that the enormity of this life-long loss cannot be parsed by anyone who is not actually an adoptee or birth parent. When cancer destroyed my ability to conceive, no one ever suggested to fifteen-year-old me that I should feel lucky for having cancer or lucky for being rendered sterile. The very notion is ridiculous.
I did/do, however, frequently hear that I should feel grateful that I didn't have to experience pregnancy or childbirth. I do not. I grieve that loss of not having that nine months of shared intimacy. Yes, it rearranged my life and ultimately led to my cherished children entering my life. But the benefits do not erase the losses;  they coexist. Yet this expectation of gratitude for the cruel factors that shaped our lives is often flung in our faces. It feels deeply invalidating to have our personal tragedies dismissed as trivial or as a blessing. When we connect to our own individual experiences of painful incidents, we can glean a small appreciation for what our (adopted) children encounter. Still, we are adults and benefit from an adult's perspective, experience, and skillsets to help us cope. So how do we best support our children and free them from the crushing weight of such societal expectations?
Most of us--unless we ourselves are also adopted--can not truly understand their emotional reality. The closest we can come is probably connecting to our own infertility losses, miscarriages, or stillbirths, etc. and imagining how we would feel if people regularly expected us to be grateful. We ache when we're told how lucky we are to have avoided the discomfort of pregnancy or when we hear, after a miscarriage, that we'll probably conceive another. I suspect most of us have felt gut-punched by such callous remarks. I believe it is hard for people to see their loved ones and friends suffer. They feel discomforted by our pain or struggle. For their sake as well as ours, they seek a quick resolution. However, moving too quickly to fix-it mode ignores the genuine reality of the pain of the present moment. It must be worked through not denied.
To some extent, I suppose we can appreciate such emotional hand grenades as it is a way of nurturing empathy for our children's plight.  Like our children, we too, hold a Both/And reality with our own emotions because while adoption provided us our children to love and graft into our families it did not cure infertility or cause us to forget our stillborn babies or the monthly rollercoaster of grief when pregnancy failed to happen. We must resist the need to apply emotional band-aids and instead to sit with them offering empathy, validation, and a safe harbor in which they can be 100% honest about any pain and angst they feel about adoption. This kind of presence, compassionate witness, and honesty are at the heart of Adoption-attunement.℠
Intentional families are lucky in one way: we exist in a level of awareness committed to thinking deeply about our choices, language, methods, and emotions and therefore, raise our consciousness to a level often missed by those who operate on auto-pilot because life rocked us out of our comfort zone and into a world of hard-won empathy. What will you do this week to reshape the connection between luck, gratitude, and adoption?
GIFT Family Services -- Growing Intentional Families Together
"Your Adoption-attunement℠ specialists
providing coaching and support before, during, and after adoption."   



GIFT coaches are available to present workshops in person or on-line.
Contact us to explore this possibility.
*Adapted from our blog originally published in March, 2016
Feeling short of time or finding it difficult to concentrate? You can listen to this post.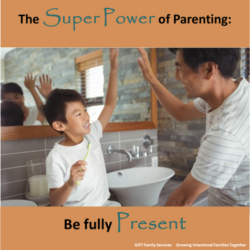 We've all experienced moments in our lives when we needed someone to be there for us. Often, we've had the misfortune of being let down, abandoned to face difficulty on our own. Yet when people truly s answer our call, show up and connect with us, we experience the deep grace of feeling seen, heard, and valued. As Intentional Parents, we have the power to offer that grace to our children. All it takes is that we show up— consistently, focused and attuned.
The Super Power of Showing Up--No Cape Needed!
When we commit to being fully present with our children, we give them a gift beyond price. Attentive, engaged, Adoption-attuned presence blesses our children in deep, meaningful life-shaping ways. Love, connection,  healing, and resilience grow in this space. Our Presence costs nothing but our time and our commitment. Yet its impact has life-long influence on our children and families. Like many aspects of parenting, the execution of our commitment to being fully present is simple, not easy. It requires intention, repetition, and authenticity. Fortunately, success depends on consistency, not perfection!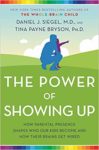 How Parental Presence Shapes Who Our Kids Become and How Their Brains Get Wired by Daniel Siegel, M.D. has written many outstanding books that address how brain science can increase understanding and nurture connection between parent and child. While not explicitly focused on the unique challenges of adoptive parenting, Siegel does consider the influence of attachment styles—the child's as well as the parents'—  and the repercussions of trauma. When parents can discern the difference between unwillingness and inability regarding a child's behavior a new dynamic emerges. Parents who see the difference experience a lowering of the emotional thermostat between themselves and their children, one based more on empathy and an awareness of how the body-mind connection shape behavior.
This understanding helps parents to respond their children in more effective, loving ways that strengthen bonds as well as enhancing a child's ability to internalize family values and behavioral expectations. Imagine parent and child square off on an issue. In scenario A, parent is convinced the child deliberately misbehaved and did X. In scenario B, the parent recognizes the child misbehaved not out of defiance but due to an inability. Which is more likely to lead to connection, empathy, and skill-building? Siegel's series of books does an excellent job of articulating this distinction. Read them to build your parenting toolbox. How do we most effectively use a given strategy or approach .
Everything comes down to relationship—attachment, emotional attunement, self-esteem, even identity, joy, contentment, insecurity—all unfold in the context of relationship. It is the channel where it all unfolds. Relationship provides feedback to both child and parent.
Once we decide that we will choose to be intentional about showing up, we search for ways to accomplish that connected, validating presence. The key factor is engagement and attunement. Be fully present. Listen. Let me repeat: listen. Place your focus on hearing their words as well as what remains unspoken. Respond in a way that conveys you heard their thoughts without rebuttal, reframing, or correcting.
Each time you listen at his level you learn more about your child, about their thoughts, fears, desires, and beliefs. This information is gold. As you grow your knowledge of who they truly are, you increase your ability to respond to them in ways that allow them to be seen and heard. How do we create initiate conversations with our kids that feed their need to feel seen, valued, and appreciated?
Consider asking one or two of these questions. If you ask too many they'll feel like they're being interrogated.
Before school
Tell me something you want me to know today.
What part of the day are you looking forward to?
What do you think might be hard?
How can I help you today?
What do you want to have happen today?
Who would you like to see?
How will you make yourself feel proud today?
After School
What do you want me to know about your day?
How were you kind today?
What kindness did you receive today?
What made you feel proud today?
What made you laugh today?
What surprised you today?
What is something beautiful you saw today?
What do you wish you had done differently?
What frustrated you?
What bugged you?
What worked for you today?
Respond to their answers with curiosity and empathy, e.g., "I think I would have that felt_____ (uncomfortable, annoying, frustrating, scary…Use the appropriate emotion. I don't like feeling like that.) Validate their experience. The goal is to exchange information in a way that deepens connection. This moment is not the time to make them feel wrong. Defer discussions of how they might have handled things differently. Simply listen, learn, validate.
How might you address these questions to yourself to help you intentionally build a focus at the beginning of your day and to debrief and decompress at the end of the day?
Dan Siegel is fond of acronyms to help parents remember important concepts and strategies. He asserts that parents need to bring PEACE into their family life:
Presence
Engagement
Affection
Calm
Empathy.
We can all see how an increase in these factors benefits the entire family! Siegel also advocates is the need for parents to meet their children's needs for the Four S's
Safe
Seen
Soothed
Secure
Dan Siegel has packed The Power of Showing Up: How Parental Presence Shapes Who Our Kids Become And How Their Brains Get Wired with valuable information that will inform and improve your parenting and your relationships in general. In addition to strategies, it also offers hope: our brains are plastic. We can learn new ways of perceiving and responding that can improve their lives as well as our own! Just remember that presence requires more than our bodies being in the same physical space as our loved ones. Put down the phones. Focus your attention on the moment.
As Sir Francis Bacon wrote: "We have only this moment, sparkling like a star in our hand and melting like a snowflake..." The opportunity to connect and be fully present with our kids can be lost in a flash. Be intentional. Take advantage of every interaction.  Rapport and attachment result from a continual flow of reciprocal interactions in which kids "ask" for connection and we respond accordingly and accurately. Quality, quantity, and consistency matter. Our efforts are worth it. Our families are worth it.
GIFT Family Services -- Growing Intentional Families Together
"Your Adoption-attunement™ specialists
providing coaching and support before, during, and after adoption."   



GIFT coaches are available to present workshops in person or on-line.
Contact us to explore this possibility.