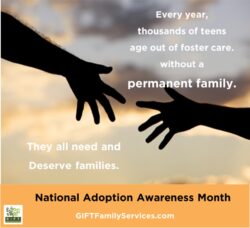 November features National Adoption Awareness Month (#NAAM). This has gained enthusiastic support from adoptive parents who wish to declare the benefits of adoption. Adoption provided them children to love and parent and they eagerly share their joy. We must contextualize our enthusiasm and admit that adoption is an imperfect solution. It brings grief as well as joy, loss as well as gain, family fracture as well as family creation. Because we embrace and align with Adoption Attunement, we understand and validate this truth. Our acknowledgment of adoption complexity becomes an act of love.
Note that adult adoptees have initiated a movement in response to #NAAM. #AdopteeVoices strives to counterbalance the societal narrative of adoption as a totally benign arrangement so that conversations also validate #AdoptionComplexity, #AdopteeLoss, #AdoptionReality and strives to create a picture that includes all aspects of adoption, not solely the benefits. We ask that you keep the focus of #NAAM on the need to find families for foster children with any memes that you create, post, or repost. Keep mind, heart, and ears open when listening to #AdopteeVoices, and do not try to refute, counter, dismiss, or invalidate their experiences. Simply listen and glean insight into #AdoptionComplexity,
We uplift the purpose of #NAAM: to be laser-focused on the thousands of children who languish in foster care. Life without a family is lonely, uncertain, and difficult. Foster children need and deserve permanent families. Yet for too many, family remains only a dream, out of reach. Every year, thousands of teens age out of foster care without having been adopted into safe, loving, permanent families. Consider becoming the family they dream of having.
This year in observance of National Adoption Awareness Month, GIFT has created many memes reminding people of this need to find homes for children in foster care. Several are posted in this blog. We encourage you to copy and share them. Help build a movement that finds families for these children. That would be a blessing worth celebrating. The lives of many fosterees could be changed for the better and a blessing that will echo through successive generations.
How will you help raise awareness of all of these important adoption-connected initiatives?
Check out this article that GIFT coach Gayle H. Swift wrote for America Adopts for National Adoption Awareness Month.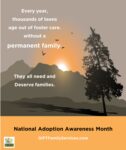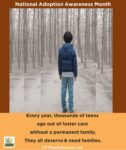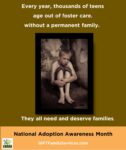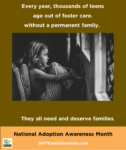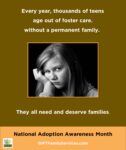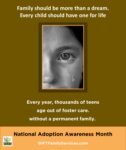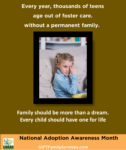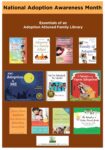 Feeling short of time or finding it difficult to concentrate? You can listen to this post. Listen time 7:39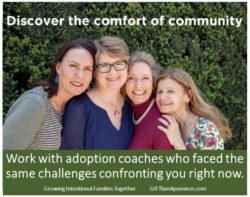 At the risk of sounding like Captain Obvious: our lives have been totally blown off their normal courses. Covid-19 realigned our lives, redefined our social interactions, upended our educational systems, shuttered businesses, destroyed jobs, sickened millions, and killed 190+ thousands of Americans. Of the many "costs" exacted by the virus, one of the devastating is the loss of community.
Human beings evolved as social animals. Our DNA engineered us to seek out connection. In fact, human survival depends upon it. In adoption circles, our previous interest and appreciation of the importance of building connection has focused on attachment, on healing the wounds of kids whose fear of connection outstripped their biological need for it. We recognized the tragedy of this emotional Catch-22.
We know connection is life-affirming and life-sustaining for infants and children. In fact, it is pivotal for all of us. We recognize and feel the strain that the current limitations on in-person connection and physical touch are exacting. Our bodies crave tactile and proprioceptive input. We miss it, yearn for it, and suffer from its presence.
Zoom and other similar formats of on-line gathering are valuable alternatives but they most certainly are not the Real Deal. Looking at an image of someone sending us a hug simply can't equate to receiving that physical embrace, of inhaling the scent of a loved one, friend or simply being together in the same time and space…
Still, when it comes to social interaction, something is better than nothing. Create opportunities for everyone in the family to engage with others. Remember the joy of receiving a letter? Why not restart the habit of letter writing? Introduce kids to the practice. Have them write notes, share artwork— especially with grandparents who are especially vulnerable to isolation and social deprivation. Create videos and fiddle with apps that alter them in fun and silly ways. They'll learn skills and have fun at the same time.
Stage puppet shows or plays and engage the family in the "production" My grandson increases his "audience" with his favorite stuffed toys. (We find they are a very patient and accepting group of fans!)
In this blog, we frequently encourage parents to be Intentional especially when it comes to initiating Difficult Conversations. The thoughts, feelings, and fears with which we are all wrestling do not disappear simply because we don't discuss or share them. Help kids cope by opening conversations with prompts like "I-wonder-if-you-are_____(thinking, thinking, worrying, etc.) Be intentional in your efforts to attune to their thoughts, feelings, moods, fears, and unspoken fears.
In age-appropriate ways, share some of the things with which you are wrestling and then mention some of your coping strategies for dealing with these challenges.
We cannot opt for silence, blind eyes to create taboo topics. If we do not discuss these challenging topics with our kids, other sources will fill the vacuum, other voices will provide the answers, other sources will provide the moral compass. The current times call for courage in many forms— the courage to take a stand, courage to be a voice, the courage to listen. Adoptive parents must also have the courage to listen to things that might make us feel uncomfortable, inadequate, sad, or guilty. Our kids' experience of adoption does not exactly match our experience.
As we've mentioned many times previously, adoption was the answer to our prayer. For our children, however, it was a double-edged sword that delivered them into a new family but first separated them from their biological family. That loss is undeniable, permanent, and a tragedy for them. Regardless of the reasons that caused/justified the adoption, it creates a traumatic interruption in the natural trajectory of their life, that transfers them from one reality into an entirely new one and that holds a lifetime of other possibilities that could have been true, echoes and ghosts of what if's to which there is no total resolution.
In addition to the importance of parents mustering the strength to listen to our kid's struggles, to validate and not minimize, we must ensure them that they are not responsible for sheltering us from the discomfort that their revelations might stir within us. They are the children; we are the adults. We are responsible and capable of managing tough stuff, theirs, and our own. We must turn to other adult sources for our support so we can be fully available to our children as a source of loving adult support. We must absolutely ensure that we are not "dumping" any of the weight of our adult struggles on our children. This is an aspect of Adoption Attunement we must accomplish for both our own emotional needs as well as the emotional needs of our children.
I would also assert that it is vital that we help our children find a community of other adoptees with whom they can experience the healing power that emerges from connecting with others who are walking a similar journey in life as adoptees. As parents, we can not fully understand what it is to walk through life as an adoptee. One aspect of Adoption Attunement is recognizing their need for community with their adopted peers that we cannot provide. Engaging with others who are also adoptees makes them feel less alone, less different, less left out. The need to belong is deep and powerful. Finding a community where we "fit" is a great blessing for parents as well as children.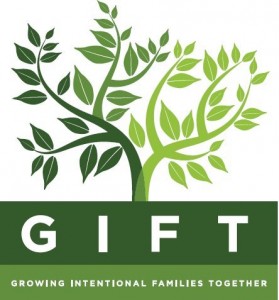 Your Adoption Attunement (AQ) specialists
providing coaching and support before, during, and after adoption."
Learn how the coaches at GIFT Family Services can help you and your family navigate your adoption journey. We've faced our share of family challenges and crises, ridden the metaphorical rollercoaster, and our families have not only survived; they have thrived. We offer experience, neutrality, and understanding. GIFT coaches are available to present workshops on-line. Contact us to explore this possibility: 1-800-653-9445 
Read these books written by our coaches.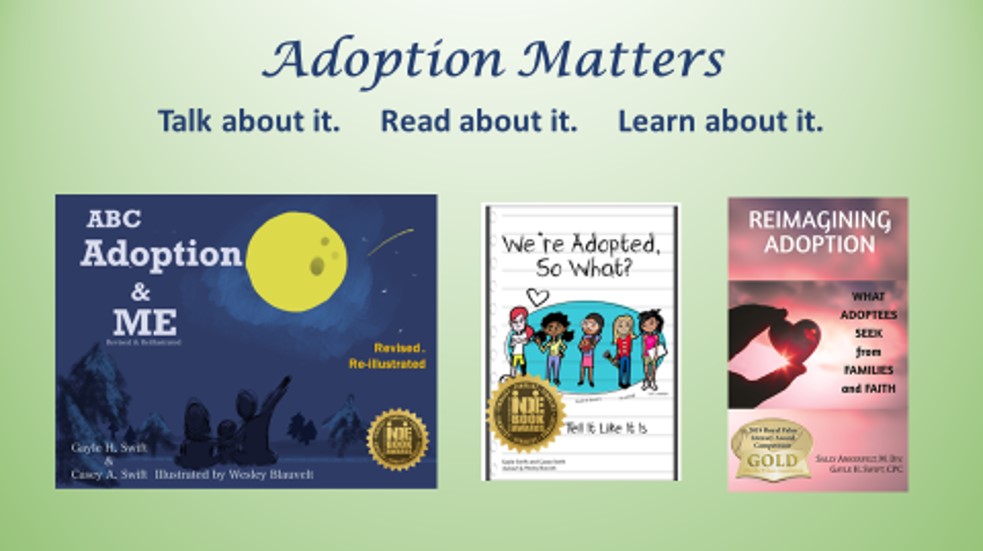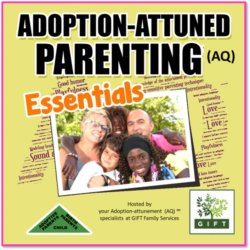 Feeling short of time or finding it difficult to concentrate? You can listen to this post. Listen time 7:11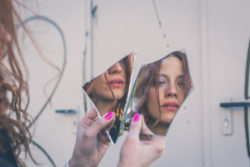 Families follow a core set of values that governs their priorities, shapes their belief system, and guides their behaviors. (We've blogged about the process of being intentional in defining these core values.)
GIFT Family Services also has a guiding set of principles and beliefs that inform all of our coaching and writing: our Adoption Philosophy (posted on our website) and Adoption Attunement (AQ) form the 16 Core Tenets. These two pillars establish the lenses, through which we explore adoption-related topics. They inform our blogs, podcasts, webinars, and posts on Facebook, Twitter, Linkedin, and Pinterest.
Today's blog will focus on number 14:  "Parents handle their own stuff." Our own  "stuff"? What might this be? (Let's stipulate that adoptive parents love their children even while they acknowledge the lack of biological connection. This love does not erase the reality that adoption builds family through a connection of the heart affirmed by legal sanction, not through biology. (For the entire list of the Elements of Adoption Attunement (AQ), see the graphic at the end of this post. Feel free to copy and share.)
Infertility Most— but not all— adoptive parents choose adoption because of infertility issues that render pregnancy impossible.  Once we accepted this reality of infertility, we reformed our goal from pregnancy to adoption. But, adoption does not cure infertility. Nor does it erase any of the memories of monthly cycles of hope followed by crushing despair. Our minds and our bodies recall the emotions fueled by hormonal storms and other personal struggles associated with infertility. These echoes of the pain, sadness, and resentment of infertility create results that are both significant and permanent.
We cannot know the intimacy of carrying our child, ensuring that we care for them as carefully as possible until their birth. We cannot enjoy murmuring conversations with our unborn offspring, silently affirming our joy at their existence sharing our hopes and aspirations for them.
We cannot conceive a child that blends aspects of ourselves and our partners, the penultimate, tangible expression of marriage in which two become one.
We cannot create a child who shares our DNA; the flow of our family lineage is interrupted, the continuity broken.
Without doubt, these alterations evoke an emotional response within us, one which we do well to explore, understand, accept, and which we must resolve." If we do not, emotional repercussions will reverberate through our relationships with our children. Buried and unacknowledged feelings eventually erupt— usually with damaging ferocity—and at the worst times.
This is not a relationship strategy that we want to model for our children. We want to show them that it is important to face whatever issues they find challenging. We must convey to our children that we are capable of managing our own feelings, that it is not their responsibility to hide or minimize their adoption-connected thoughts and feelings in order to shelter our hearts from sadness.
If our kids are overly focused on caretaking our emotions, they will be stuffing, denying, or minimizing their own. Instead of being able to turn to us as a sounding board to explore their own complex feelings and as a source of comfort and security, they will struggle to handle them alone. Children lack the experience skillsets and perspective that adults have. Their ability to manage complex grief and loss is not yet strong enough. They need us as parents to provide that safe harbor. They need to be able to believe that we are capable of hearing difficult stuff without falling apart emotionally ourselves.
If we feel overwhelmed or challenged by the emotions, grief, and loss connected with infertility or adoption complexity we must not burden our children with the weight of them or the shadows they cast. We must attune to our own needs with the same intentionality that we strive to attune to our children's needs. We must find a qualified adoption-attuned professional to help us cope and to ensure that we have handled "our stuff" and thus, are fully available to our children to help them handle theirs. We will all be healthier, happier, and more authentic in our relationships with each other.
Finances— Infertility and adoption are both inextricably entangled with finances. We must be careful not to overextend our financial stability as we pursue the dream of conception and/or adoption. It is equally important that we remain true to the highest ethical standards when we engage in family-building strategies. We cannot allow our hunger to be parents to blind us to the ethics and morality of whatever paths we follow. (Our previous blog explored some of the tragic fallout of ethical and/or legal lapses.)
Our children depend on us to keep them safe. Living aligned with our ethics is important both as a model for them to follow and for the security and stability that doing right creates. How are you ensuring that you are handling your "stuff"?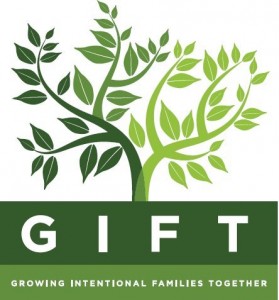 Your Adoption Attunement (AQ) Specialosts
providing coaching and support before, during, and after adoption."
Learn how the coaches at GIFT Family Services can help you and your family navigate your adoption journey. We've faced our share of family challenges and crises, ridden the metaphorical rollercoaster, and our families have not only survived; they have thrived. We offer experience, neutrality, and understanding. GIFT coaches are available to present workshops on-line. Contact us to explore this possibility: 1-800-653-9445 
      Read these books written by our coaches.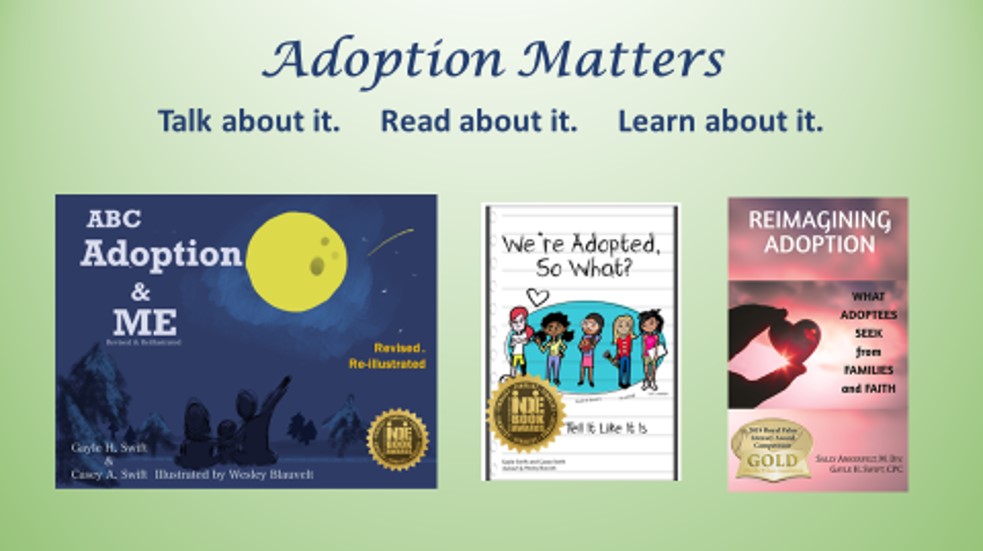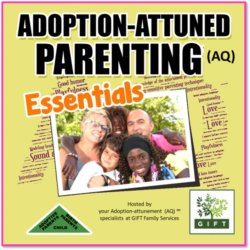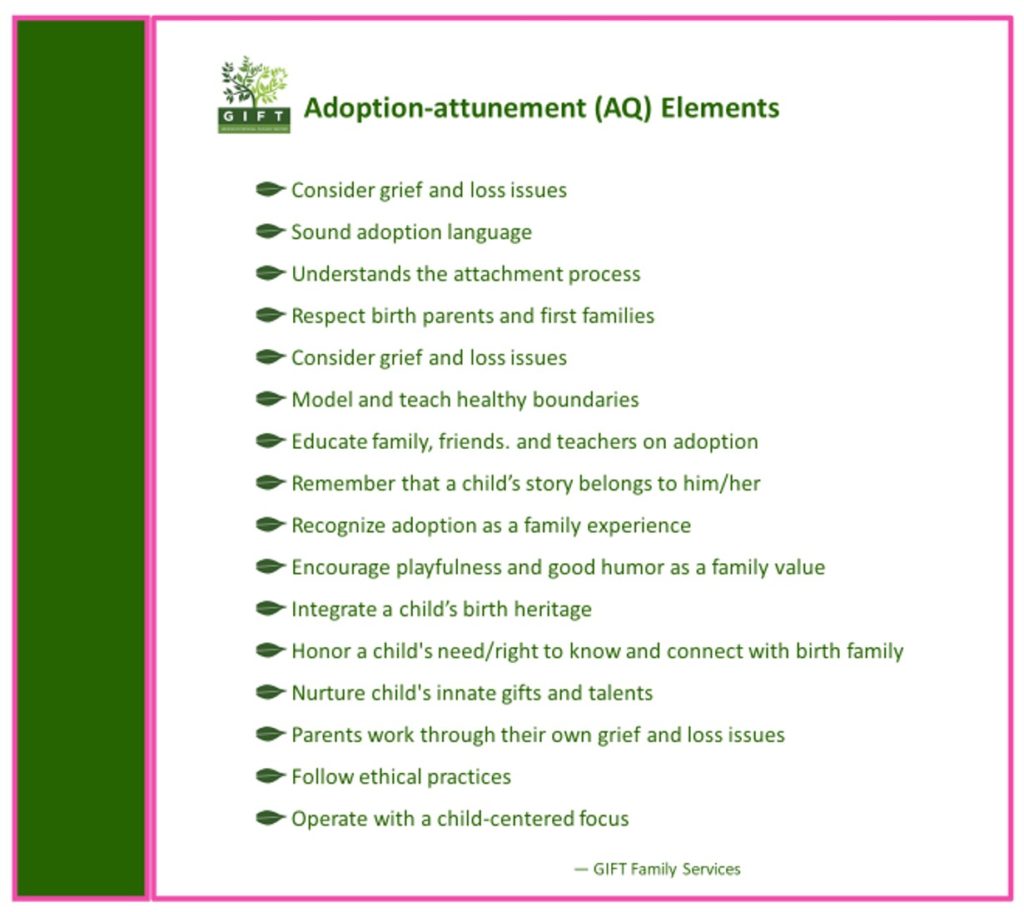 Feeling short of time or finding it difficult to concentrate? You can listen to this post. Listen time 8:00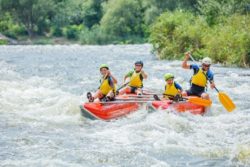 Recently I've been providing full-time day-care for my four-year-old grandson and will be homeschooling him when school restarts. The words of my grandmother have been on my mind: Parenting is the hardest job you will ever love. She was the mother of fourteen— eight boys and six girls—  so her belief sprouted from reality. When one has that many children, family life covers the gamut of heartbreak and joy, of good times and tragedy.  She had faced it all and deemed it worth every heartache. "Ma" celebrated the birth of every child, grandchild, and great-grandchild.
Adoptive parenting includes the same joys and challenges of "bio" parenting overlaid with the repercussions of fractured biological bonds. Our children need additional support and guidance to help them cope with feelings of grief and rejection, identity and intimacy issues, bonding and attachment, and the collision of nurture with nature. This sets up a dynamic and emotion-filled world. Adoptive families ride the white water in the River of Life. Its forces ebb and flow in an unending stream of challenges and thrills, joys and sorrows, highs and lows.
If we focus and pause, we can extract the learning, see and appreciate the gift of every obstacle, and muster the determination to continue. This requires our intention, determination, commitment, empathy, and courage. (These presuppositions led us at GIFT to develop the concept of growing High AQ families based on the fifteen-point strategy which we named Adoption Attunement.)
We've frequently explored most aspects of Adoption Attunement (AQ) yet one has received less emphasis: Follows ethical practices. On the surface, it feels like an obvious premise. Surely none of us would engage in unethical methods to accomplish an adoption. However, the truth about adoption practice includes a regrettable and unconscionable history of black and grey market policies: Baby Scoop Era coercion, outright baby-selling, falsified documents, private adoption that lacked legal oversight, etc. The consequences of unethical, incomplete, falsified, and/or defective paperwork are profound and can become the stuff of nightmares for the adoptees and the families who love them.
Recently, such paperwork errors have caused several adult international adoptees to be deported to the countries of their birth even though they have lived in the US since they were adopted as babies or youngsters. Without resources, language skills, and or family, they have been dumped unceremoniously at airports like unwanted and unclaimed baggage. In despair, some have committed suicide.
Imagine an adoptee's shock and terror at discovering themselves no longer welcome in the country they call home.
"The agony of growing up in the United States with American parents, only to find out decades later that you're not an American citizen, is the reality for an estimated 35,000 people who were internationally adopted. Between 75 and 150 adoptees in the District and up to 1,700 Virginians are now adults without U.S. citizenship."[1]
Because of failure to file and/or incorrectly filed adoption paperwork, many international adoptees are stunned to learn they are not actually citizens. Secure in the belief that they were adopted and American citizens, they fully participated in American life. They attended American schools, secured jobs, and created families of their own. In short, they were living the proverbial American Dream and they enjoyed their rights as Americans which included voting in American elections. They were shocked to discover that their exercise of this right to vote made them criminals, even though they did not know that because of faulty paperwork issues they were not citizens. The consequences were devastating. Any non-citizen who votes in an American election is subject to prosecution and deportation.
"In 2000, Congress passed a law to close the gap and give automatic citizenship to adoptees from other countries, but it only protected children under 18.

Those born before 1983, like Tom and Joy Kim-Alessi, were left out…

The Adoptee Citizenship Act, introduced in 2015 and 2018, would have fixed the problem and granted adult adoptees automatic citizenship as well, but the bills never made it out of committee."[2]
As adoptive parents, we have both a moral obligation as well as a commitment of the heart to ensure that we complete all paperwork, follow all legal formalities, and work only with entities that subscribe to the highest ethical policies and practices. We should advocate for policy changes that will benefit adult adoptees facing deportation because of errors of adults that were acting on their behalf when they were being adopted and brought to the US. Many international adoptees are persons of color, so this is yet another aspect of racial justice for which we as an adoption community have a vested interest and an obligation to ensure that these children are treated fairly.
 Adoptees for Justice is an organization that is working on this agenda. This is their mission statement: Adoptees for Justice is an intercountry adoptee-led organization whose mission is to educate, empower, and organize transracial and transnational adoptee communities to achieve just and humane adoption, immigration, and restorative justice systems. We believe in a world where every person thrives in a safe and supportive environment in which communities of color, immigrants, and adoptees are liberated from all forces of injustice, with full citizenship for all. Our first project is to educate, organize and advocate for an Adoptee Citizenship Act that is inclusive of all adoptees.
[1] https://wamu.org/story/19/05/15/adoptees-at-risk-of-deportation-bring-fight-to-washington/
[2] https://www.nbcwashington.com/news/local/tens-of-thousands-of-adoptees-learn-they-arent-us-citizens-even-after-decades-living-here/3297/
           

Your Adoption Attunement (AQ) specialists
providing coaching and support before, during, and after adoption."
Learn how the coaches at GIFT Family Services can help you and your family navigate your adoption journey. We've faced our share of family challenges and crises, ridden the metaphorical rollercoaster, and our families have not only survived; they have thrived. We offer experience, neutrality, and understanding. GIFT coaches are available to present workshops on-line. Contact us to explore this possibility.
      Read these books written by our coaches.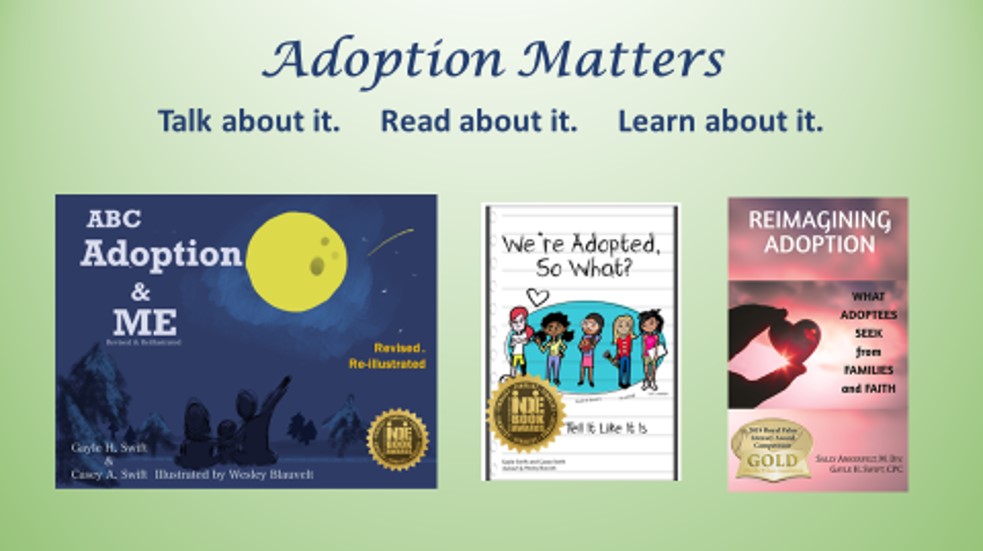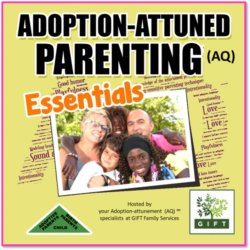 Feeling short of time or finding it difficult to concentrate? You can listen to this post. Listen time 10:24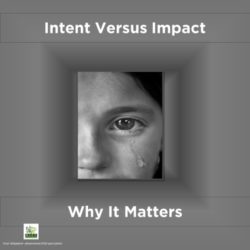 Intent Versus Impact: Why It Matters
It is easy--and naive--to expect that our good intent guarantees a positive result. Even the purest intentions can still yield negative consequences. Negative results--even if unintended--are no less consequential. Most folks do not deliberately behave in a way that will hurt, undermine, and discourage. Yet, some of our actions and words do just that. We are after all, human. Mistakes will inevitably be made. As Intentional Parents,  we work to be the best parents we can and we strive to avoid repeating the errors our own parents made. Nonetheless. we will certainly make missteps. They will be different mistakes, errors in judgments, oversights, etc. but still they will happen.
Regardless of the goodness of our intent, the defining importance derives from the impact of our words and actions.
When the result contradicts our intentions, we must effect repairs and take responsibility as quickly as possible. By being accountable for our errors, we provide a model for our children to follow. More importantly, we demonstrate through our actions that we value the relationship MORE than we value being right. We show them that even if words or actions were not intended to be hurtful, we can acknowledge that others did experience them as hurtful. We must not expect our lack of malice to excuse any damage caused by our actions, inactions, words, or our silence.
Our apology must be heartfelt, sincere, and genuine. (The real measure of our sincerity is a commitment to not repeat the mistake. Our subsequent actions will reveal the veracity of our remorse and the genuineness of our promise to change.) When we nurture relationship, vulnerability, and have the courage to share difficult conversations, we deepen the relationship. Breakdowns will happen and the repair/accountability process is integral to healing, respect, and to the health of relationships. (Revisit our blog on apologies.)
As adoptive parents, we have additional complexities and obstacles to overcome and often we face them without the reassurance of a familiar parenting template from our own experience. Our intuition and inclinations must be informed by education. Instead, we depend on our dogged dedication to becoming High AQ parents who understand, embrace, and practice Adoption Attunement (AQ).
We understand that adoption is not a single event and realize that it is a lifetime journey for us as parents and especially for our children. They are the ones who do the heavy lifting emotionally as they strive to braid their dual identities into a healthy, cohesive, identity. Last month we referred to the Seven Core Issues of Adoption (Loss, Rejection, Guilt and Shame, Identity, Intimacy, Mastery and Self-control, and Grief.) These issues are not minor. Working through them is a hero's journey and our children must be able to rely on us for comfort, validation, and truth.
The distinction between intent versus impact is especially powerful when we allow ourselves to see adoption through rose-colored glasses this places a hyper-focus on the benefits and minimizes the complexity. Adoption is not totally benign. While adoption was the answer to our prayers for family, it exacts a high cost from adoptees. The trajectory of their lives is permanently changed. They are severed from their family tree and lose their place in the flow of their ancestral lineage. Even in open adoptions, the original relationships are realigned, subordinated, and reshaped. There is an "intactness" that can never be reestablished. Not through openness. Not through reunion. That primal link is cut. A new connection results--whether tenuous or robust, it will never be the same as the original bond.
The current headlines bring to the forefront issues of race. Families who have adopted transracially or transculturally are particularly concerned. And all adoptive families have a special stake in the outcome. We know the pain and stigma of people devaluing our families. The pain of being seen as inferior simply because of the color of one's skin is far more destructive and crushingly personal. For a long time, the dominant belief regarding race in adoption circles has espoused "color blindness." Buried in the phrase is the precise reason why it is not the best solution to achieve family harmony and to support our children who do not share the same race as our own. Blindness indicates that we are not seeing something. To deny a factor as integral to our children's identity and to the way they experience the world is not only folly, it denies them the validation and support they need so they can learn to cope and survive, and thrive.
All adoptive families have a vested interest in seeing their children as they genuinely are. We must be mindful of the chasm that exists between any fantasy child we imagined while we dreamed of becoming parents and the living, breathing human being that joined our family. we must see, affirm, and nurture their true selves as the fruit of their DNA as encouraged by our loving nurture. Their differences enhance and invigorate our families. Enjoy any similarities and commonalities while ensuring that we are equally appreciative of their uniqueness.
A  new awareness of racial inequity in this country has dawned. As Intentional Parents, we must commit to having Difficult Conversations about race, of living a commitment to equity and respect. of "seeing" all aspects of our children including their race. We must teach our kids to be "I-standers" instead of "bystanders." The best way we can do that I by living it ourselves, within our families, friendships, workplaces, and communities.
This blog has frequently quoted the words of David Augsberger: "Being heard is so close to being loved that for the average person, they are indistinguishable." This is a powerful statement! Pause and ruminate on it. Take it to heart; it will inform your relationships in a deep way. We must ensure that our children feel seen and heard if we wish to build loving, attached, and healthy families. Wishful thinking and Good Intentions will not accomplish it. Genuinely hearing and seeing our kids in this deeply profound way is the bridge that transports us from Intention to Impact and ensures our Intention becomes a result that occurs in reality not just in our minds.
As a group, we are mindful that we must do our part to move beyond not being racist and to commit to being antiracist with our words and actions. (Three out of four of  us at GIFT Family Services have adopted transracially.) We believe one of the areas in which we can help create meaningful change centers around adoption, coaching, and race. GIFT is recording a special podcasts series that will focus on the confluence of Adoption Attunement (AQ), Intentional Parenting, Racial Justice, and our work as adoption coaches. To set some context, the four episodes which we currently envision are:
Episode 1: If Only We Knew Then What We Know Now--Adoption Attunement and Transracial Adoption    

Episode 2: As Adoptive Parents and Adoption Coaches: What parents can do to help their children be part of the solution to racial inequities and nurture tolerance?

Episode 3: Special guest Lola Adebara, Founder and CEO of Minneapolis based Partnerships for Permanence shares some insights into adoption/fostering/ and racial justice.

Episode 4: Sharon Obazee adoption coach, and adoptee, will discuss transracial adoption and how we can make a difference in our actions, words, families & communities with a lens particulalrly focused on the intersection of race and adoption.
Please join us on these podcasts and share your comments, insights, and experiences. Together we can make a difference.
            Your Adoption Attunement (AQ) specialists
providing coaching and support before, during, and after adoption."
Read these books written by our coaches

.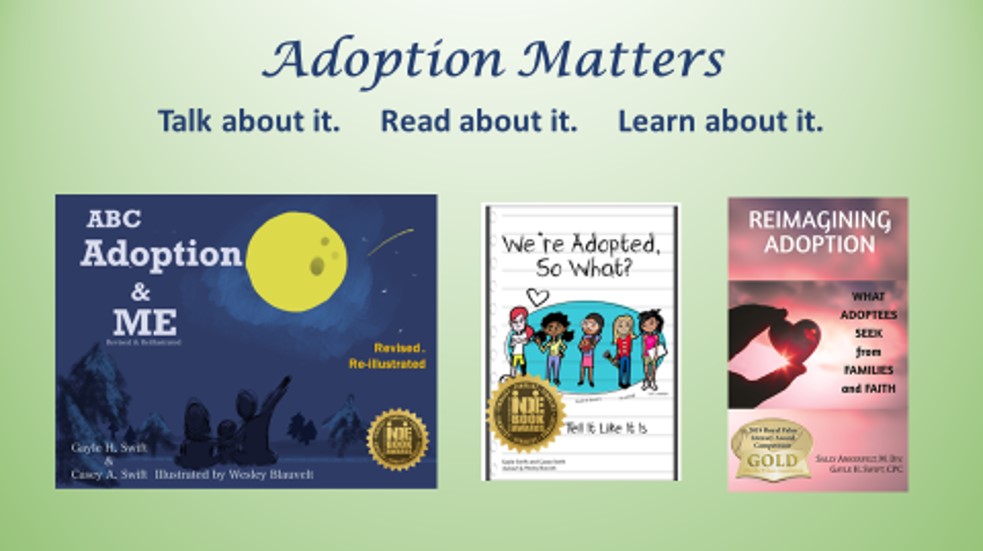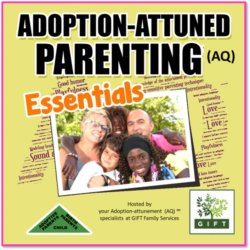 GIFT coaches are available to present workshops on-line. Contact us to explore this possibility.