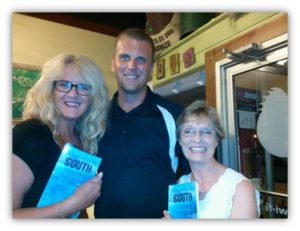 There are those who believe the Universe acts in mysterious ways.
Then there are those who believe the Universe knows exactly what she's doing. I'm one those people. And I know it's true because of my own story and the divine intervention that brought together me, my son, and his mother.
I just recently reunited with my birth son, Parker. He's really sweet, really smart, and really tall. It's been such an incredible journey and I can't believe how lucky I am that we are together again. My family just grew by 4 people. Parker, his mom and dad, and his sister, Casey. And, of course, their dog, Shadow. I feel truly blessed.
I traveled to South Florida in mid-September to meet Parker for the first time. He lives in a delightful town called Stuart, just along the Treasure Coast. Our reunion was magical to say the least. Many people have asked me, "What was it like to meet him for the first time?" You might think there would be lots of tears and a mix of emotions. It wasn't quite like that.
Our Journey
You see, Parker and I started to get to know each other 8 years ago when I decided to make contact with him. I was living in California at the time, had recently been divorced, and was on a journey of healing and self-discovery. I needed to find him. It's that simple. Truly not a day had gone by since I made the difficult decision of giving him up for adoption that I hadn't thought of my sweet boy. His mother, Gayle, told me once that I contacted Parker at a very low point in his life. Maybe it was a mother's instinct, I don't know. I just know I was called to do it.
Fortunately, finding him was a fairly easy process. Parker was born in Connecticut where my parents still live today. During a visit home for the holidays, I went to the agency and completed the necessary paperwork to connect with him. I was anxious but determined. I started reliving all of the heartbreak I had gone through so many years ago. It was tough but I had to do it.
Not long after that our relationship began slowly with letters and then phone calls. Our love and affection has grown deeply over the years. He called me "Mom" right from the start. We kept in contact even as Parker was in and out of jail. I was always supportive and encouraging. Just before our reunion, he was finishing up a jail sentence. I was excited but cautious as we waited for the official release date. In mid-August I received the call from Parker, he would be out on August 29th. I immediately booked a trip for mid-September. It was then that I started to get nervous about the trip to Florida. Really nervous.
I let my nerves get the best of me for about a week and then I made a conscious decision to choose a different feeling. I choose joy. I kept intending for our visit to be joyful. Any time I would start to get nervous, I repeated to myself "It's going to be joyful."
Joyful Reunion
Parker was working on the Thursday afternoon I came to town, so his mom picked me up at the West Palm Beach airport. When I came around the corner to go to baggage claim, there she was. All 5'2" of her, jumping up and down and waving excitedly. We tearfully hugged and she took my picture to send to Parker. I have to admit I wasn't sure what we would talk about for the 45 minute drive to the hotel. But the truth is, we started talking and never stopped. We spent the afternoon together, had a delicious lunch, and walked along the water and all around Stuart sharing stories and laughs.
I went to the hotel in the afternoon to rest and to get ready to meet Parker. He had been texting me all day and all week and was super excited to meet me. Once he got to the hotel, I came down. There he was. All 6'6" of him. Looking handsome in a black shirt and khaki pants. He was grinning from ear to ear, holding a bouquet of flowers, and rushed over to give me a huge bear hug. We spent an easy, fun-loving weekend together with lots of laughs and tons of love. We spent time alone, we spent time with his family, we did stand up paddle boarding for the first time, and we volunteered on Saturday morning cleaning up the beaches. It was a beautiful and magical weekend.
Our success has a lot to do with Parker's attitude. He is very loving and sweet. While his time in jail may have hardened him to how cruel the human race can be, he also used the time to reflect on his own life and to decide who he wanted to be and how he wanted to live his life. Similar to my own process of self-reflection over the years.
Our success also has a lot to do with Gayle. She is intellectual, down to earth, and has walked on the dark side during Parker's early years. She has been very accepting of me as a person. She is kind, generous, and upbeat with a smile as a big as the sun. You may have recognized by now that Parker's mom is Gayle Swift. One of the GIFT founders, an adoption coach, and author of " ABC, Adoption & Me." This is her story as much as it is mine.
Our success also has to do with Gayle and George together as Parker's parents. They are very supportive of Parker, very supportive of me as an individual, and 100% supportive of Parker and I having a relationship. There is so much generosity and love all around. It's been truly a wonderful experience.
Best Day Ever
As I traveled back home, I made a list of about 75 family, friends, and colleagues that I want to tell in person about Parker and our exciting new journey together. Once I was done, I posted this message on Facebook:
He takes his coffee black,
Wears flip flops whenever he can,
Loves fishing at Rocky Point in Stuart, FL
And he's crazy about both his moms…
Best day ever – reuniting with my (birth) son Parker Swift and spending time with his delightful mom, Gayle Swift.
Our hearts are happy and full.
76 "likes" and counting. Lots of great comments. "This is pure GOLD" "Such a beautiful picture" "Love" "This is awesome. So happy for you all!" "Beautiful!"
The best is yet to come.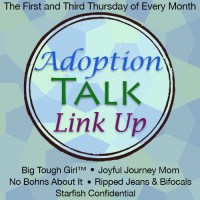 Please follow and like us: