Feeling short of time or finding it difficult to concentrate? You can listen to this post. Listen time 8:00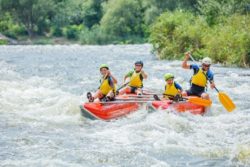 Recently I've been providing full-time day-care for my four-year-old grandson and will be homeschooling him when school restarts. The words of my grandmother have been on my mind: Parenting is the hardest job you will ever love. She was the mother of fourteen— eight boys and six girls— so her belief sprouted from reality. When one has that many children, family life covers the gamut of heartbreak and joy, of good times and tragedy. She had faced it all and deemed it worth every heartache. "Ma" celebrated the birth of every child, grandchild, and great-grandchild.
Adoptive parenting includes the same joys and challenges of "bio" parenting overlaid with the repercussions of fractured biological bonds. Our children need additional support and guidance to help them cope with feelings of grief and rejection, identity and intimacy issues, bonding and attachment, and the collision of nurture with nature. This sets up a dynamic and emotion-filled world. Adoptive families ride the white water in the River of Life. Its forces ebb and flow in an unending stream of challenges and thrills, joys and sorrows, highs and lows.
If we focus and pause, we can extract the learning, see and appreciate the gift of every obstacle, and muster the determination to continue. This requires our intention, determination, commitment, empathy, and courage. (These presuppositions led us at GIFT to develop the concept of growing High AQ families based on the fifteen-point strategy which we named Adoption Attunement.)
We've frequently explored most aspects of Adoption Attunement (AQ) yet one has received less emphasis: Follows ethical practices. On the surface, it feels like an obvious premise. Surely none of us would engage in unethical methods to accomplish an adoption. However, the truth about adoption practice includes a regrettable and unconscionable history of black and grey market policies: Baby Scoop Era coercion, outright baby-selling, falsified documents, private adoption that lacked legal oversight, etc. The consequences of unethical, incomplete, falsified, and/or defective paperwork are profound and can become the stuff of nightmares for the adoptees and the families who love them.
Recently, such paperwork errors have caused several adult international adoptees to be deported to the countries of their birth even though they have lived in the US since they were adopted as babies or youngsters. Without resources, language skills, and or family, they have been dumped unceremoniously at airports like unwanted and unclaimed baggage. In despair, some have committed suicide.
Imagine an adoptee's shock and terror at discovering themselves no longer welcome in the country they call home.
"The agony of growing up in the United States with American parents, only to find out decades later that you're not an American citizen, is the reality for an estimated 35,000 people who were internationally adopted. Between 75 and 150 adoptees in the District and up to 1,700 Virginians are now adults without U.S. citizenship."[1]
Because of failure to file and/or incorrectly filed adoption paperwork, many international adoptees are stunned to learn they are not actually citizens. Secure in the belief that they were adopted and American citizens, they fully participated in American life. They attended American schools, secured jobs, and created families of their own. In short, they were living the proverbial American Dream and they enjoyed their rights as Americans which included voting in American elections. They were shocked to discover that their exercise of this right to vote made them criminals, even though they did not know that because of faulty paperwork issues they were not citizens. The consequences were devastating. Any non-citizen who votes in an American election is subject to prosecution and deportation.
"In 2000, Congress passed a law to close the gap and give automatic citizenship to adoptees from other countries, but it only protected children under 18.

Those born before 1983, like Tom and Joy Kim-Alessi, were left out…

The Adoptee Citizenship Act, introduced in 2015 and 2018, would have fixed the problem and granted adult adoptees automatic citizenship as well, but the bills never made it out of committee."[2]
As adoptive parents, we have both a moral obligation as well as a commitment of the heart to ensure that we complete all paperwork, follow all legal formalities, and work only with entities that subscribe to the highest ethical policies and practices. We should advocate for policy changes that will benefit adult adoptees facing deportation because of errors of adults that were acting on their behalf when they were being adopted and brought to the US. Many international adoptees are persons of color, so this is yet another aspect of racial justice for which we as an adoption community have a vested interest and an obligation to ensure that these children are treated fairly.
Adoptees for Justice is an organization that is working on this agenda. This is their mission statement: Adoptees for Justice is an intercountry adoptee-led organization whose mission is to educate, empower, and organize transracial and transnational adoptee communities to achieve just and humane adoption, immigration, and restorative justice systems. We believe in a world where every person thrives in a safe and supportive environment in which communities of color, immigrants, and adoptees are liberated from all forces of injustice, with full citizenship for all. Our first project is to educate, organize and advocate for an Adoptee Citizenship Act that is inclusive of all adoptees.
[1] https://wamu.org/story/19/05/15/adoptees-at-risk-of-deportation-bring-fight-to-washington/
[2] https://www.nbcwashington.com/news/local/tens-of-thousands-of-adoptees-learn-they-arent-us-citizens-even-after-decades-living-here/3297/
Your Adoption Attunement (AQ) specialists
providing coaching and support before, during, and after adoption."
Learn how the coaches at GIFT Family Services can help you and your family navigate your adoption journey. We've faced our share of family challenges and crises, ridden the metaphorical rollercoaster, and our families have not only survived; they have thrived. We offer experience, neutrality, and understanding. GIFT coaches are available to present workshops on-line. Contact us to explore this possibility.
Read these books written by our coaches.