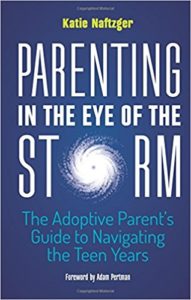 Parenting in the Eye of the Storm by Katie Naftziger, LICSW has written a readable and practical book. Katie is both a therapist and a transracial adoptee originally from Korea. Subtitled, "The Adoptive Parent's Guide to Navigating the Teen Years," her book offer insight, encouragement and strategies for families. Adam Pertman, President and CEO of the National Center on Adoption and Permanency in his introduction to the book , opines, "Whys wasn't it [Katie's book] around when my wife and I needed it. No Joke."
I experienced a similar sentiment while reading it. While this book is widely applauded by seasoned professionals, adult adoptees also chime in to praise Katie's book. Their perspective speaks volumes to me; who understands adoption better than the adoptees that are living it? As an adoption coach and a parent whose family weathered some extremely turbulent times, I can also add my voice to those who say that Katie has created an important book.
If you are parenting teens now, or will be in the future, this book offers a welcome resource for navigating the challenges of this stage of parenting. If your children are younger, begin now to master the skills she outlines. It just may smooth the path ahead for you and your child. Overwhelmed parents will appreciate both her clarity and practicality and also her brevity. Katie conveys her insights and strategies concisely. Parenting in the Eye of the Storm packs a lot of value into 160 pages. This is a book which parents will refer to again and again.
Among several premises presented in the book, Katie suggests that adoptive parents need to master four skills:
"Unrescuing" your adoptive teen  [Are you exhausted from being expected to be the EMT to the rescue at a moments notice? Want to nurture your teens capabilities--for their sake and yours? If so, this skill will interest you.]
Setting adoption-sensitive limits [Because you're committed to Adoption-attunement and are trauma-informed, do you struggle to balance empathy with accountability, responsibility and respect? If so, this skill will interest you.]
Having connected conversation [Do you struggle to have conversations which create intimacy instead of eye rolls and annoyance? If so, this skill will interest you.]
Helping your teen envision their future [Do you sense that both you and your teen have some ambivalence about their "fledging the nest"? Does the history of grief and loss which has touched the family color your thoughts, beliefs and concerns--consciously or unconsciously? If so, this concept will interest you.
Do you see a pattern here? Katie understands what adoptees and their families are facing. She's been there. Her insights offer hope and compassion not judgment. She presents her ideas in an inviting and approachable way. She's not looking to scapegoat or criticize, she's committed to increasing capabilities, awareness and nurturing healthy families. Respect and loving boundaries are an integral part of the structure of a steady family. Ironically, parents sensitized to adoptee losses and triggers, many times flounder in their ability to establish these important guard rails. The sample conversations offer insight and ideas on how to master this skill. The dialogs feel natural, not rehearsed or overly contrived--like words parents might actually speak and teens might actually "hear."
Naftziger also highlights the importance of parents nurturing the natural inclinations and talents of their adopted children. We all know kids "listen to" and learn more from our example than our lectures. In the absence of direct information to the contrary, they may infer that the only acceptable future for them is one that mimics their adoptive parents' path. This can create a significant double bind for them, especially if they've been adopted into a family whose talents and past patterns diverge from the innate talents and inclinations of the adoptee. If a family whose highest passion is sports adopts a child who inclines to the cerebral and abstract, there is a danger the child will feel that he can never meet the expectations of his parents. Even worse, he may never feel permitted to become his authentic self.
Naftziger asks adoptive parents to examine how well they are helping their child identify their innate talents and how clearly are they encouraging and valuing those aptitudes. We want our kids to know that we love and accept them for themselves not for some cartoon imitation of an idealized parental fantasy.
If we think back to when we were teens struggling to figure out how to carve a future for ourselves, imagine how much harder it would have been if our parents insisted--overtly or covertly--that even though we had zero interest in mathematics, we had to become an actuary--or some similar disconnect between our talents and our parents plans. It is certainly a parent's duty to encourage children to plan for the future and work to bring that future to fruition. We must ensure that our child's dream is genuinely their dream and not their interpretation of what they believe our dream for them is.
We often talk about being sure to take the time to care for yourself and your relationship with your partner. This book just might be a significant part of that self-care. Check out Parenting in the Eye of the Storm I believe you and your teen will be glad that you did. Marshal all your resources to prepare you for the parenting task at hand. The more prepared you feel, the easier it will be to stay calm and Intentional in the midst of the storm. In addition to reading pertinent books, attending workshops and chatting with other adoptive parents, partner with a an adoption coach (like GIFT) and/or an adoption therapist.
Please follow and like us: