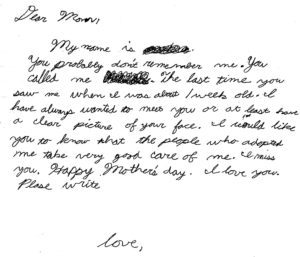 Back in April, I blogged about a letter that a now-adult adoptee had penned to her birth mother when she was ten years old. The poignant, heart-breaking note was also an example of a very common mindset of young adoptees in closed adoptions.
I received another, similar letter. Though very brief, it captures many aspects of adoption complexity. (The names have been redacted from the photocopy.) This note was written by a nine-year-old boy. Like the young lady I featured, he's now an adult. As I read his letter, his yearning for connection leaped off the page, palpable, irrepressible. Sadly his ache--to know, to understand, to meet--remained unfulfilled until adulthood. Open adoption was still rare at that time when the "blank slate" mentality prevailed and the either/or mentality reigned supreme.
Like many adoptees, he expressed a desire to see her face. Perhaps he wanted to see if he resembled her. Most adoptees say they fantasize about that. A lot. His letter is brave; he openly admits his need and he confides that he misses her. Something in his little-boy heart ached for his first mother, to know her, to see her and, to connect with her.
No one suggested that he write her this letter. It arose from his own need, a need that could not and, should not be repressed or denied. At the time, he shared the letter with his parents who reassured him that they would help him reconnect when he turned eighteen. (This was the only legal option available at the time. Fortunately, he felt safe in approaching his parents and trusted that they would support him and understand his situation AND that they would not themselves feel rejected by, disappointed in or, angry with him)
Pause for a moment and sit with that thought. Consider how it would feel to believe that your own mother doesn't remember you, that you were such a trivial part of her life that she erased you from her consciousness like a pesky fly brushed from her brow.
Imagine how that experience of rejection would shape your thoughts and beliefs about yourself, how it might influence your ability to create relationships. At some level, rejection is an adoptee's constant companion. It factors into who and how he is as a person. He needs understanding and support. Unfortunately, often people castigate adoptees for daring to express a need for knowledge and connection to their roots. Adoptees "get" the societal message that their yearning is disloyal. Ungrateful.
But, in fact, "rootedness" is a fundamental human need.
Even at the tender age of nine, this young boy feels obligated to affirm his gratitude and connection to his adoptive family. It demonstrates his underlying compassion for his birth mother. He doesn't want her to feel bad, rejected. He knows too well how that feels/hurts. The boy asserts that his adoptive family takes good care of him. Again, adult adoptees tell us that they feel a strong need to reassure people that their interest in their birth family co-exists with their connection to and love for their adoptive families. It's almost as if they sense they must apologize for their need to know who they are and where they come from. But [ctt template="3" link="04wPF" via="yes" ]Adoptees just like non-adoptees,  need all of their parts. All of their relationships.[/ctt]
Since November is National Adoption Month, I thought it appropriate to remind our readers, that adoption is complicated. We cannot allow ourselves to be blinded to these challenging realities. We must provide our children not only with all of our unconditional love but also, ensure that we validate and support our children in all aspects of their adoption journey. We must allow them to "own" all of their family relationships—birth and adopted—and help them understand and work through the jumble of feelings and thoughts which adoption causes. [ctt template="3" link="21qD5" via="yes" ]Adoption permanently realigns an adoptee's life. They'll spend a lifetime coping & discerning how to live with that. [/ctt]
National Adoption Month highlights family building through adoption. Too many children remain in foster care for far too long. [ctt template="3" link="b_wue" via="yes" ]Every child deserves a family to love them, care for them & walk through life together, sharing the journey, shouldering challenges, celebrating joys & witnessing milestones.[/ctt]
Every child also deserves their truth, their story—all of it.
http://wp.me/p4r2GC-1Tk
Please follow and like us: