Archive for the 'Strengthening Family Relationships' Category
Wednesday, August 15, 2018 @
01:08 PM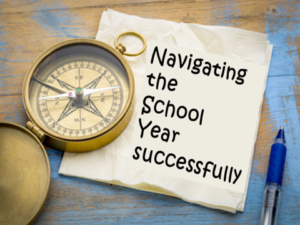 Schools have already reopened in my community which reminds me of the need for intentionality in how we guide our children through the school year. Parents and students all hope for a good year, one that filled with learning–both academic and relational–and grows their ability to be in the driver's seat of their lives. (After all, the point of parenting is to put ourselves out of a job: to raise kids that can succeed on their own.) So, how do we accomplish this vital goal? Operating purely on intuition is not enough; we need a plan–a map–that shows the route we intend to take.
To design any functional map, we must know two facts: the departure point and the destination. The shortest route would simply draw a straight line from point A to point B. But life is never that linear, that free from unexpected obstacles and delays. We must plan for contingencies, pack supplies for "emergencies", and draw out alternate routes "just in case." What landmarks (benchmarks) do we want our kids to achieve? Keep in mind that our actions make a broader impact than our words. "Do as I say, not as I do," never works. Our actions must reflect and embody our words and expectations. Make a list of possible goals.
We must exemplify whatever is on our "wish" list. This provides the model and the proof of our commitment to it. What behaviors do we wish to see? How do we encourage/reinforce these behaviors when our children demonstrate them? How are we modeling the same behaviors? How do we extinguish undesirable behaviors? Remember the distinction between discipline and consequences. The first aims to teach; the second aims to punish.
What skills do our children want to develop?
It's important that they participate in goal defining and setting. This is an important mindset and is a skill that benefits from practice. Clarity helps to focus their choices and it strengthens their commitment and desire. We must validate and understand their goals, dreams and motivations, then discern how we can help them define, refine, and accomplish them. 
What skills do we want them to develop?
Timeliness
Getting self up in the morning
Completing homework
Putting forth full effort
Learning from mistakes
Playing a sport
Being physically active
Managing tech time
Expanding their circle of friends
Being compassionate
Helping others
Showing respect for teachers
Create a work/life balance
Be accountable
Admit errors
Identifying their personal strengths as well as growth points
Seeing school as a tool that helps them accomplish their life goals
What values do we want them to embrace?
Confidence, competence, courage, resilience,
persistence, compassion, service, open-mindedness,
curiosity, conviction, self-discipline, delayed gratification,
 emotional balance, joy, conscience, morality, humor,
awareness, creativity, forgiveness of others and self,
respect for self and others, truth telling and truth seeking
What habits do we want them to internalize?
Good nutrition,
Adequate rest,
Recreation
Make time for self-reflection
       Exercise
When we demonstrate intentionality about our personal and family goals we show our children not only that planning is essential for success but also we prove it is a priority for us, it's part of our approach to goal accomplishment. It also reduces the chaos of living with a seat-of-the-pants, handling brush fires as they come. Having a life blueprint alerts us to digressions that lure us off track; we can then decide if it is a welcome diversion or a distraction we choose to avoid. It's important to note that our expectations may get "in the way" if they are not developmentally ready to achieve at the level we would like them to be. Staying "attuned" and in communication with our kids at all times is our ultimate goal. We must nurture the child before us and not expect him to be the embodiment of a "fantasy child." that exists only in our imagination.
https://wp.me/p4r2GC-21H
Wednesday, May 30, 2018 @
07:05 PM
Those of us touched by adoption understand what it is like to feel "othered" or different. Many of us have adopted transracially and therefore, have a particular interest in ensuring equality for all. We get a closer look at the impact of racism, bias, micro-aggressions, and invalidation that happen to our families. Current events awaken us to the tragic inequities and actual dangers which threaten our kids. We recognize another sad but very real truth:, our children experience a more intimate relationship with the consequences of racism when they are outside of the sheltering protection of being with their white families.
We want to support, prepare and protect our children. To do that, we need to know what is happening in their lives and we need to talk about it. Yet for a variety of reasons, they may not be entirely forthcoming about the challenges they face in this arena. Perhaps it makes the ugliness too real. Perhaps, they want to forestall our worrying, perhaps they feel diminished by even giving the topic voice, perhaps they fear we won't "get" it–some, or all of these factors may be true.
It is absolutely essential that we have the difficult conversation, talk about the dangers, the unfairness, the cruelty and the small-mindedness that drive bigotry. We cannot afford to wait for our kids to raise the subject. It's too vital and too dangerous to postpone or ignore. Yet, as parents, we know how notoriously difficult it can be to get kids to open up. So, what can we do?
Our children are products of the internet era. Why not
Read this companion article by Erin Canty who "grew up black in a very white neighborhood in a very white city in a very white state." Erin says it captures her experience quite well. Titled, 7 Things Black People Want Their Well-meaning White Friends to Know to Know posted on UpWorthy. I don't know if she is an adoptee. Perhaps she is. Perhaps she isn't. However, her post is very relevant in any racially-diverse family whether formed through biology or adoption.
https://wp.me/p4r2GC-1Zh
Wednesday, March 7, 2018 @
01:03 PM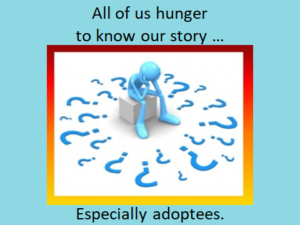 During the previous two weeks, we focused on building relationships by intentionally scheduling conversations with the sole purpose of speaking the deep feelings in our hearts. Instead of relying on the assumption that our families "know" how we feel about them, we committed to speaking those feelings aloud.
This week let's take a different angle on relationship building. We challenge you to stroll down Adoption Lane with one twist: Answer 7 "trigger" questions from "curious" (rude) people as if YOU were an adoptee. Consider only one question per day. Sit with the question; Do not give an autoresponse reply. Really think about it throughout the day. Determine how fully you can answer each one. What is known/unknown? What is knowable/unknowable?
Answer "trigger" questions as if YOU were an adoptee. Consider only one question per day. Sit with the question; Do not give an autoresponse reply. Really think about it throughout the day. Determine how fully you can answer each one. What is known/unknown? What is knowable/unknowable?
What kind of parental support would you want? What might you be tempted to conceal from your folks? Determine what else would you need to now. What else would you want to know? What else would you fear to know? What would you want your parents to know about your attempt to reply to the "trigger" questions?
What kind of parental support would you want? What might you be tempted to conceal from your folks? What would you want your parents to know about your attempt to reply to the "trigger" questions? What would tempt you to hide your struggle?
What will you do with the insight you gain through this exercise? What actions will you take? What conversations will you initiate? How did this exercise deepen your understanding of your child's need for information and empathy?
Daily Question
Day One: A friend tells you her mom has been diagnosed with breast cancer. Her grandmother died of breast cancer at age fifty. You're sixteen and were adopted after being abandoned as a newborn. What is your response to her? Within yourself? How does it make you feel about yourself?
Day Two: A new teammate asked if you have any brothers and sisters. In your adoptive family, you are an only child.
Day Three
 A "friend" comments that you 
look
enough like your boyfriend that you could be brother and sister. How do you reply? How does it make you feel?
Day Four: You were adopted internationally. During a discussion about immigration policy in your Civics, someone asks, "What are you?"
Day Five: An acquaintance asks how you would know if you might be dating a relative.
Day Six: 
 Your Health class teacher assigned your class their turn 
with the "Robot Baby." (A mechanical doll that simulates the behavior of an infant
. Students are graded on the quality of parental care they deliver over an entire weekend.)  A classmate asks what you know 
about
 your birth parents and why they didn't want you.
Day Seven:  Your adoptive parents and your brothers (their biological children) are all exceptionally tall. You barely reach five feet. You are their only daughter. You overhear someone "joke" to your parents about how they had to "resort" to adoption to get a girl. How do you feel? What do you say?