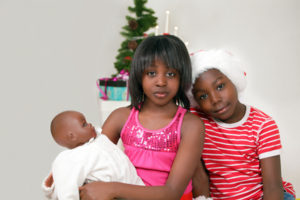 Ovarian cancer at fifteen claimed my fertility and heaved me onto an unexpected path. My adolescent self assumed survival. (Although the statistics suggested otherwise.) My gut seized on the awareness that pregnancy would never be possible. That realization nearly broke my spirit.
Fast forward through thirteen years of marriage, when my husband and I climbed aboard the adoption train. Twelve months of rigorous investigation and education concluded joyously—rapturously—with the arrival of our ten-week-old son. We declared him perfect. Our journey as an adoptive family began.
Over the years, family life often resembled a demolition derby more than a smooth sail. In it for the long haul, we have never regretted our roller-coaster adventure. Life at full tilt tested our commitment, our souls, and our marriage. Call it destiny, vocation or mission, parenting brought us to our knees with grief and worry and catapulted us with joy, pride and love over victories large and small.
The holiday season highlights opportunities for gratitude in my life. Blessings abound—a place to call home, a job, a paycheck, the comfort of true friendship. At this time of generosity, I wish to acknowledge the gift adoption has been for me.
For those who are not adoptive parents, consider becoming an adoptive or foster parent. For thousands of children, home and family is the most preposterous holiday dream they can invent. You have the ability to make dreams come true but the clock is ticking.
At this time of year, more than ever, the absence of a family creates an aching emptiness for the children who wait and hope for a permanent family. When their second chance finally arrives, they must have the courage to open themselves to new relationships. While they yearn for the safe harbor of a loving family, they must handle their fears, face their history, and dare to embrace the dream of Family. This requires trust—often very difficult for adoptees.
For kids with traumatic pasts, the trust building process is a rickety ladder with broken, unreliable steps. When home became a danger zone, they learned to rely on themselves, to hunker down, and fend for themselves. Hidden within their internal despair, a kernel of hope remains: part of them still believes there is a family that could love them, welcome them, provide for them. This is the Christmas miracle. As they stand with one foot rooted in their difficulty history, they look longingly across the void that divides the painful past from the refuge their new family offers. Can they trust the promises? Dare they let down their defenses and risk a connection? How do they know that you will be safe, loving, patient, reliable?
Their fears may drive them to choose safe over connected. Their overtures may be tentative, brief, and inconsistent. Perhaps they'll test you with difficult icy, or unresponsive behaviors. Maybe all of them. They will require lots of proof that you are there for the long haul.
Your Christmas miracle can be choosing to be the gift of a child's lifetime: a forever family.