The influence of Christmas surrounds us whether it is part of one's faith tradition and beliefs or not. Most people probably "know" the Nativity story— even non-Christians.  This blog written by GIFT coach and Lutheran minister, Sally Ankerfelt, continues our look at the Nativity through an adoption lens.  The Chrismas story may trigger questions and concerns for adoptees. Sally offers parents insights to help them reassure their children through the season. While her thoughts flow through a faith-based filter, there are insights for all adoptive families regardless of their faith tradition.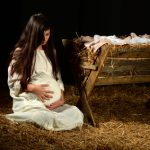 In the next week or two, congregations across the nation will present the traditional "Christmas Pageant." The birth of Jesus will be re-enacted by the youngest of the fold. You may even have a child who will be a part of this play, dressed up as a shepherd, a wise man, Mary or Joseph.
In our last blog, we asked, "What do our (adopted) children see and experience at Christmas?" We talked about the popular image of The Holy Family being tight-knit, cozy, warm, and a model of what a faithful family should be.
Yet, for our adopted children and, perhaps, for us as adoptive families, we may struggle to see how we fit into this picture. Even worse, adoptive children and families may see how they fall short of this ideal family.
But, a closer look at the story of Jesus and his birth reveals an almost opposite picture of The Holy Family. In fact, the real, non-Christmas-pageant family has elements that adoptive children and families may quickly recognize.
First, Mary and Joseph were not a traditional couple. In fact, from the human eyes of Mary and Joseph, this pregnancy was unplanned and scandalous. Joseph had the notion to "dismiss [Mary] quietly" and go on with his life. He was asked by God to parent this child which was not his. Joseph takes on the role of dad, loving and claiming Jesus as his own. Does this sound familiar? Already, we see in the story an element of adoption, that in the mind of God, a father can have a son whose parentage is different.
Mary also is a woman who is asked to bear someone else's child. From the time the angel tells her she will bear the Savior of the World, she recognizes that this child belongs to God.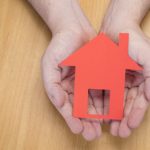 Second, the Holy Family is transient. Mary and Joseph wander far from their home in Nazareth to  Bethlehem, a city of strangers. There, they look for a place to give birth and experience many closed doors before an inn-keeper sees their need. For adoptive families who have searched and traveled far, Mary and Joseph's experience may ring true. For adoptive children who have been in foster care and moved from place to place, the transient and uncertain nature of where the infant Jesus will finally "lay down its sweet head" (from the carol, Away in a Manger) may bring a note of recognition.
When we tell these parts of the Christmas story, we as adoptive children and families may see ourselves.  From the beginning, this Holy Family is a family formed with people on the margins and in difficult situations. The story is layered with what it means to be family and with an understanding that "family" means more than just a tight-knit nuclear unit.
The amazing thing about this manger story is that it does not end on that Holy Night, when the traditional Christmas pageant curtains close. Jesus continues to introduce us to a new type of family, one defined by declaration, love, and loyalty.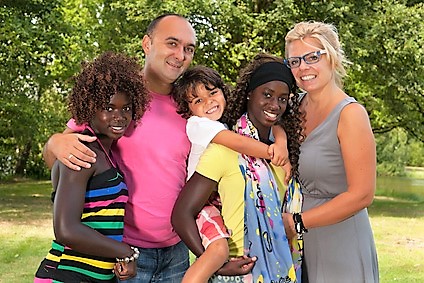 That baby in a manger and his parents are indeed a Holy Family. But, they are not the kind of Holy Family we often see at pageants and in pictures. This Holy Family is holy because it reflects the messiness of life while expanding our definition of what it means to be family. Families can be created in unique and haphazard circumstances. Families can be more than birth parents and children. They can include other parents, as well (foster parents, step parents, etc.). And families formed simply by declaration that shows they are, indeed, fully parents and children, and are just as much a family as any.
I encourage those who are celebrating Christmas to read your children the Christmas story. As you go along, pause in your telling, gently offering this background information to your children. Questions of curiosity can introduce the ideas, such as "Did you know that Mary and Joseph and baby Jesus were like our family? Joseph and Mary were the dad and mom, but God was, too." Or "Did you know that Mary and Joseph were afraid to be parents because they knew that they had a child that they had to share with God?" or "I wonder what Jesus felt growing up, knowing he had Mary and Joseph as his parents but God as his parent, too."
The questions themselves can do the teaching while we, as adoptive parents, do the watching, listening and validating.
Letting our children know that they have a place in the Christmas story may bring a new experience of Christmas: inclusion rather than exclusion, a confirmation that even families that have loss as a part of their beginnings are just as beautiful, real, and holy as any other.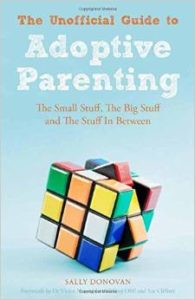 Adoptive parenting brings complexities that can  challenge and defeat the best of us. For families whose children had difficult starts and who must cope with the fallout of trauma, the course is even more arduous. Both parent and child benefit from thoughtful and adoption-attuned support and strategies. During the month of January, our blogs have focused on ways to address stress: meditation, humor, intentional  family fun. While each is worth trying, sometimes these techniques are inadequate. What additional options might work?
One of the greatest helps for me was connecting with other parents who faced similar obstacles, not in a misery-likes-company way but in a finally-someone-who-gets-it way. They understood that our parenting experience was vastly different from the norm because they were confronting the same reality.
First, we commiserated, even engaged in "You think that's horrid? Listen to this." We exchanged stories of parenting in the adoption-trauma trenches( which provided a relief valve,) shared some gallows-humor laughter, and encouraged one another. We became a "tribe" and discovered how comforting it felt to be seen and heard with empathy instead of judgment. This experience reinvigorated us and helped us reconnect to our dreams of being a committed, loving family.
Post adoption support is essential to adoption success. Gather as many Adoption-attuned (AQ*) resources as possible. Join a support group. Work with a coach. When necessary, consult a therapist . (Ensure that all professionals have a thorough understanding of adoption-attunement.) Educate family, friends, etc on the techniques and reasons for your (AQ*) parenting methods. Avoid people who do not "get" your approach, especially those people who try to undermine, criticize or dissuade you from the therapeutic parenting that your gut knows your children need.
Read Sally Donovan's second book "The Unofficial Guide to Adoptive Parenting, the Small Stuff, The Big Stuff, and The Stuff In Between." It is a welcome contribution to the reality of adoptive parenting. She knows what it is like to live in the "Polar Vortex" of parenting. She has faced  her fill of platitudes, criticism and rude questions. Reading her book is like finally finding a friend her really "gets" the journey of parenting traumatized kids. Sally has some practical ideas as well as incisive commentary that will make readers laugh as well as cry.
Read it for her great--and practical--suggestions and for the experience and encouragement of "visiting" with a kindred spirit.
Sally has also written  No Matter What, a poignant and  honest peek into the challenges of parenting kids with a history of trauma and neglect. I posted this review on Amazon: Yes, love heals but parenting kids with trauma/neglect histories, requires so much more. Immerse yourself in this story of the fierce love of this adoptive family. Understand the day to day challenges as these children learn to deal with and heal from their past. Cheer on these parents as they are called on to muster every ounce of patience, determination and hope while they discover what their kids need emotionally, academically and socially and then work to provide it. Experience the heroism of both kids and parents who must confront the aftermath of abuse, learn to cope with and channel the anger, shame and grief. This story will break your heart wide open, expand your understanding of the life-long impact of abuse and neglect and educate you on how to be a better, friend, teacher, family member and perhaps call you to rise to the challenge of parenting kids with "tough starts." At the very least, it will open your eyes and hearts and draw you in to view adoptive families with more empathy and less judgment. This is not a happily-ever-after tale but a true portrait of what it takes as a family to overcome such a disastrous beginning and to triumph. --Gayle H. Swift, author, "ABC, Adoption & Me: A Multicultural Picture Book, adoption coach, adoptive parent and co-founder of GIFT Family Services


Mention November and most folks think of Thanksgiving. For us here at GIFT—Growing Intentional Families Together—November brings thoughts of National Adoption Month and our gratitude for the blessing of family. Here are some ways to celebrate adoption.
November 22, 2014
Celebrating the adoption of children in foster care
"National Adoption Day is a collective national effort to raise awareness of the more than 100,000 children in foster care waiting to find permanent, loving families. This annual, one-day event has made the dreams of thousands of children come true by working with policymakers, practitioners and advocates to finalize adoptions and create and celebrate adoptive families.
In total, National Adoption Day helped nearly 50,000 children move from foster care to a forever family. Communities across the county celebrate the This year the National Adoption Day Coalition expects 4,500 children in foster care to be adopted on National Adoption Day, on November 22, 2014." They are sponsoring various events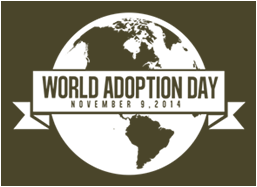 FIRST EVER WORLDWIDE CELEBRATION OF ADOPTION
The Day to Celebrate Family
On Nov.9, 2014 post a photo of yourself, your family and your friends with the hands up smiley face with the hashtag:
#WorldAdoptionDay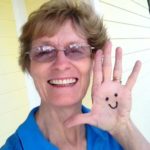 It is appropriate that we celebrate National Adoption Month during this season of Thanksgiving. As parents, we have been entrusted with the privilege to raise children born to other women. We love and nurture them with an awareness that our greatest joy: their presence in our families--began in significant loss for them. This year while giving thanks for your many blessings, remember the birth parents who made such a commitment of faith in us. Continue your education as high AQ--Adoption-attuned--families. Deepen your understanding of the unique needs that adoption creates in a family. Live and love with an eye to the joy of the present moment and a heart filled with empathy, kindness and respect. Books offer a great resource to adoptive families for strategies, a sense of community or a great read for the children. These authors write about the journey that is adoption and as a National Adoption Month Special, the kindle versions will be available for $.99. We invite you to explore these books. (Excerpts from Amazon)
---
Named a Favorite Read of 2013 by Adoptive Families, (the award-winning national adoption magazine.) Named a Notable Picture Book for 2013 by Shelf Unbound in their Dec/Jan 2014 issue; Honorable Mention - Gittle List of 2014; Finalist; IPNE 2014 Book Awards , Honorable Mention 2014 Purple Dragonfly Book Award 
 A child's review: "Most adoption books only talk about the good part of adoption. ABC shows adoption from the kid's side." ABC, Adoption & Me expresses their complicated feelings in a way that makes them feel normal and which makes it easy for them to discuss with their families.  Includes a parent guide. ABC, Adoption & Me celebrates the blessing of family and addresses the difficult issues as well. Exuberant, multicultural illustrations depict a wide range of families
---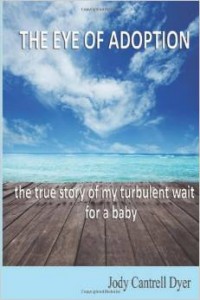 Jody Dyer - The Eye of Adoption     www.jodydyer.com
"No one just adopts." From the very first steps of acknowledging adoption as a choice to the final document that seals the deal, Jody Cantrell Dyer paints a raw, warm, heartbreaking and eventually triumphant portrayal that narrates the entire adoption process through compassionate and humorous prose. Dyer's candor and soul color each page of The Eye of Adoption. She directly addresses the sorrows of infertility and the demands of adoption while consistently word-weaving a life rope of assurance, humor, and optimism for her readers. A middle-aged wife, mother, and teacher, Dyer "tells it like it is" in hopes that waiting adoptive parents, birthparents, adoptees, and those close to them will find kinship through her story."
---
Tim Elder - 7 Steps to Domestic Infant Adoption  
http://www.infantadoptionguide.com/author/telder
This take-action resource guide will save you TIME & MONEY as it shows you what it takes to go through the domestic infant adoption process. It is packed full of over 100 links, tips, articles, and my personal adoption stories. 
My name is Tim Elder – I'm an adoptive dad. I've been in your shoes. My wife and I went through a miscarriage and years of infertility before we adopted our children. We were blessed to adopt them as newborns – one in 2007 and one in 2012. After going through the domestic infant adoption journey twice, I have a strong desire to help others - like you - get through it so I created this guide to help you.
---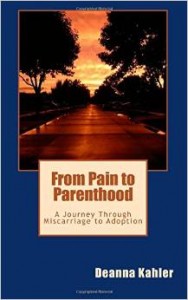 Deanna Kahler - From Pain to Parenthood     http://goo.gl/EQUZtx
Follow one woman's incredible and heartfelt journey from the pain of miscarriages to the joy of becoming a parent through adoption. Witness the many struggles that can permeate your life in the aftermath of pregnancy loss. Take a glimpse at the overwhelming desire some women have to become a mother. Celebrate the joy of overcoming adversity and achieving your dreams. Filled with honest, raw emotions and helpful coping tips, "From Pain to Parenthood" promises to touch your life with a real story that shows the power of the human spirit and the beauty of a mother's love.
Finalist, 2014 Next Generation Indie Book Awards, Parenting/Family
---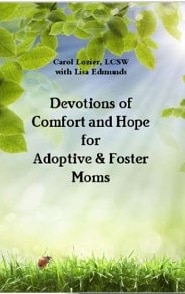 Carol Lozier - Devotions of Comfort and Hope for Adoptive and Foster Moms http://goo.gl/p5EuKK   www.forever-families.com
Adoptive and foster moms have a pretty tough job raising children with a history of trauma and/or loss. The devotional is co-written by Carol Lozier LCSW, an adoption therapist, and Lisa Edmunds, an adoptive mom. The 120 devotions offer information, hope, and comfort to adoptive and foster moms as they trek through this journey of healing alongside their child.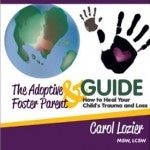 Also by Carol Lozier - The Adoptive & Foster Parent Guide: How to Heal Your Child's Trauma and Loss http://goo.gl/xKCU6x
Lonely? Feeling judged? Parenting an adopted or foster child may be the hardest work you will ever do! In addition, families experience a lack of understanding from family, friends, and their community.
The Adoptive & Foster Parent Guide
 is a supportive and loving guide for families. The book is an easy read, and explains ideas through stories, scripts, and practical strategies.
 The Adoptive & Foster Parent Guide
 teaches families as well as professionals, in a step by step approach, how to heal a child's past trauma and loss. 
The Adoptive & Foster Parent Guide
 touches on many topics, including: attachment styles (attachment disorder), dysfunctional family patterns unique to adoption and fostering, birth families, how to create healthy attachment, maintaining calm, and managing a team of professionals.
---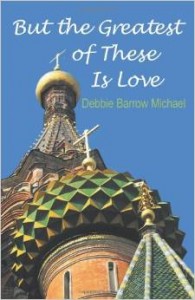 Debbie Michael - But the Greatest of These is Love     http://goo.gl/xasFwR
On a March evening in 2000, an unexpected and unsettling thought came out of nowhere, disrupting Debbie Michael's comfortable life—adoption! It was neither her idea nor her desire to adopt; she was already the mother of three. Instinctively, she knew God was speaking to her, but she did not want to listen if His message required action as life-changing as adopting an orphan. Dread lingered in the aftermath of the disturbing suggestion, and a debilitating fog of uncertainty settled over her life. A journey of a thousand miles (or five thousand, in this case) might begin with a single step, but Debbie was not eager to take that first step. Though God was relentless, she remained adamant. She was determined to ignore the nudging. But God would not be ignored! God pried Debbie out of her comfortable existence and opened a door to a life she didn't know existed. But the Greatest of These is Love is about much more than adoption. It is a story about the powerful and astonishing ways God uses ordinary people to accomplish His divine intention that we love one another.
---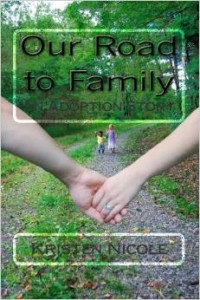 Kristen Nicole - Our Road to Family      http://goo.gl/0PXyVO
"My husband and I are adopting. Does anyone know what that means?" There was more than one answer to that question for Kristen and Dan, and this remarkable story takes you through their adoption journey from beginning to end. From fertility issues to two successful adoptions, Kristen eloquently sheds new light on each step of the adoption process. With an inviting and friendly style of prose, she guides readers through the heartache of having to let a child go and onto the joy of holding her child for the very first time. An honest portrayal of a different road to parenthood, this story affirms the real blessing that adoption can be.
---
Sharon Simons - Mom At Last    http://goo.gl/2czPfv
 Her biological clock ticking louder each day, Sharon Simons felt her heart sink as yet another "Mr. Wonderful" turned out to be a frog---not the prince she was waiting for. But when the right man did come along, their journey toward parenthood seemed more like a machete trail through a jungle than the smooth path of her dreams. Enduring 3 failed IVFs and the loss of their unborn twins, Sharon and her husband decided to adopt---taking a whirlwind trip to Russia and navigating the rough waters of international adoption red tape. Their journey ended, or rather began, when two baby boys were placed in their arms for the long trip home.Part love story, part adoption memoir, and all heart, Mom at Last is the story of one woman's fierce determination to become a mother. Full of setbacks and emotionally devastating pitfalls, ultimately the journey leads her to true love and pure joy. Mom at Last will inspire women who find themselves on that sometimes difficult journey to motherhood, giving hope that motherhood is possible and encouraging women to never give up on their dreams. While every journey to motherhood is different,Mom at Last lets women know they are not alone in the struggle toward motherhood.
---
Authors whose books are not reduced.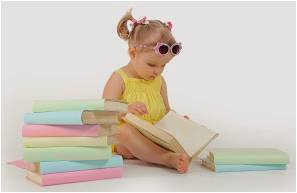 In this week's blog, we continue last week's exploration of Difficult Conversations in the context of adoption. GIFT—Growing Intentional Families Together—is pleased to include another important voice from the wider adoption community. Beth O'Malley M.Ed. She is a lifebook expert. Her life experience as both adoptee and adoptive parent infuses her writings with compassion, and understanding of the adoption journey . Sign up for her free newsletter at  www.adoptionlifebooks.com copyright 2014 Beth has written three books. (See the links at the end of this post.) 
How to Talk about Difficult Topics  
Whether it's rape, suicide, drug abuse, mental health, prostitution, or robbing banks--- if it involved the birth parent, then it's part of the child's story. So do you create a lifebook page detailing the grown up situation and read?
Heck No!
You may have known about "this part" of the birth parents' history. Ugh. How to tell your child or a child on your caseload?
At what age to tell them and what words to use ?
Take a deep breath.
Step 1. Start with age appropriate discussion outside of the lifebook. You build the foundation by helping them understanding the topic. Just not in relation to them.
The topic is raised impersonally. Maybe there is a teaching moment that occurs. Maybe a bank was robbed in a nearby town. Great news.(Your son's bio dad was a bank robber)
This gives you an organic opening to talk about "ta da" —robbing banks. You can wonder out loud "Gee, I wonder what would make someone decide to do something like that?" Perhaps think out loud if there is some grown up problem like drug abuse or gambling that might bring a person to do something so dangerous.
Step 2. Talk about the bank robber as a person. That person made a really bad decision that could change his life or his family's life. But making a bad decision doesn't make him a bad person. (It doesn't make him Mother Teresa either) Maybe his parents didn't teach him about right and wrong. Maybe they taught him how to steal.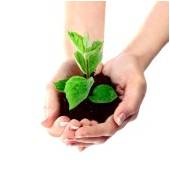 You can stop at whatever point feels right and you have planted the seed.
If your child was placed at a young age, then you'll have a number of years to build and work the foundation. By the time, you feel the child is ready and able to hear this on a more personal level----- you are not trying to explain suicide/criminal activities/drug abuse etc all in one breath.
Then you can add the lifebook page in more detail (assuming you child is older and not planning to share with the general public.)
Let's review: The best way to start discussion on tough topics is by
Defining and discussing the topic completely separate from the child's life. Educate them about i.e.drugs, mental health, poverty or whatever relates to their personal life story.

 
Next level.
1. Fact Check
Before you go ahead and present a situation as the child's truth, make sure you investigate. Locate other sources (for example if only the birth mother reported the situation). Can you talk with other birth relatives to verify? Is there a social worker or court official who might know some unwritten details? What about a police report?
2. Google It.
Google your child's birth name. Google the bio parents  and sibling names, if known. If it was a front-page-news story, locate what is on the internet. Assume your child or their friend is an avid Googler.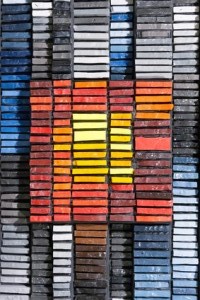 3. Who else knows what?
If you want your child to trust you, the last thing you want is for them to learn important history from someone else. If the adoptees' birth circumstances are well known (for whatever reason) in your family or the community, then you want to stay ahead of the information. You might be sharing information younger than you had planned.
4. What is the right age?
My simple, not knowing your child answer, is that you lay the foundation starting when they enter school--- around 1st grade.
It's time to get specific around age 9 or 10. Even as young as 8. This is not easy. I started tough talks with my daughter when she was around 8. The topic had to be revisited and eventually became just another piece of life. I repeat it is not easy, but there are huge benefits to avoiding secrets!
5. For US Fost-Adopt Families
At age 18, they can read their own case records. Yes, parts are redacted, but they will have enough information to clearly see what happened. A lonely way to learn about one's life's beginnings.
In summary, I recommend make sure what you say is true, as much as possible. Google relevant names and events on a regular basis. Rethink who in your family might have information that could leak to the younger generation. Does everyone you know, or the child knows, already have this part of their story? Then arm your child with information.
As for age, I told my child hard truths around age 8 and then reworked and revisited the conversation over time. I recommend no later than age 9 or 10. I don't think it's a good idea to wait until they are about to turn 13, even 12.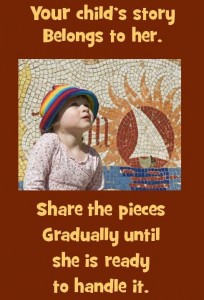 Kids know more than we think.
Here are links to buy Beth's books.
Lifebooks: Creating a Treasure for the Adopted Child
A Teen Foster Adoption Lifebook: For When I'm Famous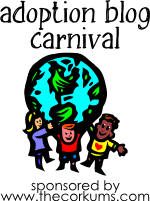 Welcome to another installment of The Adoption Blog Carnival, a smorgasbord of adoption conversations from several bloggers. Check them all out. Each one has a useful tidbit that you'll be glad to know. We are please to participate in this group effort to support adoptive families. #adoptiveparenting
Whether you are in an Open Adoption or not, you will enjoy reading Bumber's Bumblings  blog about her first post-placement visit with her child's birth mother. Not surprisingly, both mom's approached the visit with a mixture of excitement, curiosity and uneasiness. How did it turn out in reality? Read  I Thought I Would Be Sad - Open Adoption    to find out 

 Leslie, a blogger deeply steeped in her Christian faith writes Waiting on a Word She shared her personal "miracle" in The Long and Winding Road to Asheville, a post filled with startling  incidences of things happening not only how she dreamed, but also as she needed them to fall into place. A termination process that typically takes years, was completed in under five months. In a dizzyingly rapid timeline, the foster child they loved so much became their son. If you've ever been discouraged by the snail's pace that is the adoption process, you will rejoice in Leslie's experience.
Schumm Explosion  blogs practical reminders in Adoption Tax Return  "A quick look at the adoption tax return and how it has effected our family.  Make sure if you adopted in 2013 that you file for it on your taxes." Who couldn't use a financial break? Read their post to learn about several things you can do to take advantage of legitimate tax relief.
This RAD Mom talks about The Big Picture and how families and the relationship dynamics change when adoptions occur. I especially liked this quote which focuses on sustaining our family's light of hope and nurturing.  ""When your wife is triggered, the first thing you should do is hug her.  Your child will not want to be part of a family that he feels like he can destroy. Your marriage needs to be first."  While the road to connection may be like a roller-coaster, with heart-pounding highs and lows, we know the results are worth the turmoil.
Growing Intentional Families Together blog post Unveiling Adoption invites parents to pull back the veil on adoption—not the veil of secrecy which is increasingly more transparent in the era of Open Adoption--but the veil that clouds adoptive families from seeing and validating the challenges as well as the blessings which adoption brings.
Suzanne, who blogs at Surpassing Greatness shares a limp-in-your-throat conversation with her young son. New understanding in my boy from China reflects their deeply held faith as she celebrates her son's deepening understanding of God and their Christian faith.