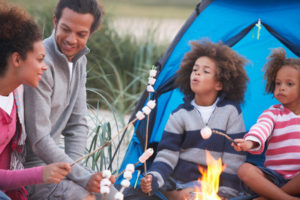 Umenta.com reported on recent research by Dr. Marshall Duke of Emory University indicates that children benefit from repetition of family stories. "Duke found that children who were exposed to family stories experience "higher levels of emotional well-being, and also higher levels of identity achievement." These benefits emerged not simply from the content that bridged the generations but more importantly from "the process of capturing them. It's the dialogues, open discussions, and Q & A sessions that lead to positive results."
How can adoptive families capitalize on this activity and add the appropriate AQ (Adoption-attuned*) spin? First, when retelling family stories, do so with an eye to reinforcing relationships, memories of good times or of important relational moments. Recall the funny antics, endearing questions, and charming innocence and always stay tuned to your child's emotional response. Keep in mind that children are tender-hearted, easily humiliated or offended. Some of these children-say-and-do-the-darndest-things stories may delight you and be hurtful, humiliating, or upsetting to children.
Obviously, if your child responds by withdrawing, pouting or with any other types of negative way, delete the story from your repertoire. To continue in the face of this reaction would defeat the intention of the story-sharing exercise. One of my children had highly tuned radar that resented being the brunt of a joke. He hated being laughed at even when there was no malice or sarcasm involved. He could not tolerate appearing as less than.
(Keep in mind that adopted kids tend to have a hair trigger on anything that suggests they are not good enough; it awakens an inner fear that their adoption resulted from a fault within themselves. They do not need parents to help pick at that particular "scab." They do that to themselves often enough as it is.)
Include stories that show yourselves and your older generations as examples of many kinds of emotions and behaviors—the good, the bad and the ugly. Your courage and willingness to look less-than-perfect will serves as a template for your kids to imitate—eventually. Be willing to take your turn looking like the "goat" and laughing it off with grace and good humor. If you only tell stories that paint you in your best light, you create a false image of perfection which your children may then interpret as the standard set for them as well. Do share stories that show you struggling, failing and persisting to success.
Keep in mind that the benefit of this family story sharing grows from the interaction, the time spent together with ALL family members contributing to the conversation. The article further clarifies: "it's less about children knowing family stories, and more about the process of capturing them. It's the dialogues, open discussions, and Q & A sessions that lead to positive results."
The article shares ways in which social media can be used to connect distant relatives for regularly scheduled chat times—Facebook, Google+ Hangouts, e.g. Keep it fun; turning this into an obligation will make it a chore. Focus on remembering and nurturing moments that feed the spirit of the family.
Part of being a high AQ family is being intentional. This means proactively educating extended family members so they understand the important emotional boundaries that your children need. As parents, it is our responsibility to teach family and friends so that are kids are not unnecessary hurt by insensitive attitudes or conversations. Spending time listening to the details of one another's lives proves the value we place on each person. It says, "Because we think you are important, your story is important. We care enough to remember."
What will be your first step in initiating Family Talk Times? How will you make it fun for everybody?
*Adoption-attunement Quotient
AQ considers how adoption influences a child and includes:
Adoption-sensitive parenting techniques
Sound adoption language
Knowledge of the attachment process
Consideration of grief and loss issues
Respect for birth parents
Modeling healthy boundaries
Educating family, friends and teachers on adoption
Remembering that a child's story belongs to him
Recognizing that adoption is a family experience
Encouraging playfulness and good humor as a family value
Integrating a child's birth heritage
Please follow and like us: