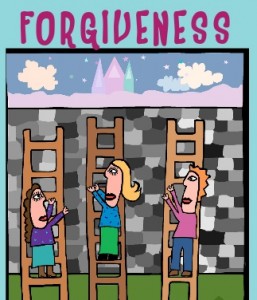 This week we continue to discuss the story of our guest blogger, child abuse survivor, Christina White.
Following her lead, we restrain our pity. Instead we celebrate her survival and recognize the strengths and choices that carried her through. As she learned to parent and protect herself, she learned to mistrust adults either as unreliable or, more tragically, as dangerous. Depending solely on herself, she became parent to both herself and her mother. Amazingly, she kept her spirit intact and sustained a belief in a future when she would be safe, happy, and loved. Her road to that destination was arduous, painful, and often ugly. Healing and hope flowed through Christina's strong faith.
Christina's story informs our relationships with tough-start kids. We all recognize personal safety as a prime directive of human beings. While protecting themselves, these kids develop jumbled lessons and patterns, deeply ingrained and time-tested. The yardstick of life-versus-death outweighs right-versus-wrong.
When we help children internalize our family values, together we must address any guilt and shame over the exigent choices they made in their early lives. We validate the urgency that defined their past. This clearly demonstrates forgiveness—giving and receiving—by them as well as ourselves. We cannot change the past, theirs, or our own. But, parents can become the ladder that helps children scale the defensive walls they erected around their hearts.
This encourages them to trust enough to let go and be vulnerable, knowing they can rely on the parents who love them. Parent and child will experience many opportunities to forgive one another throughout the imperfect process, staying in the game, and creating a history of standing together. This revises old patterns and grows into an increasingly attached relationship.
Our guest blogger is Christina White. Christina is a survivor of a traumatic childhood in which she was subjected to persistent and pervasive abuse. She was hidden from her father and he died before she could reconnect with him. Eventually, she was raised by an uncle. Through her strong spiritual commitment, she has achieved forgiveness, healing, and purpose. Christina proves that the human spirit can be immeasurably resilient.
In response to questions from GIFT coach, Gayle Swift, we are grateful to be the recipients of her honest and vulnerable sharing. You can find more about Christina on her website.
Please follow and like us: