Part 1 of a 4 Part Series highlighting the recent ATTACh Conference in Minneapolis, MN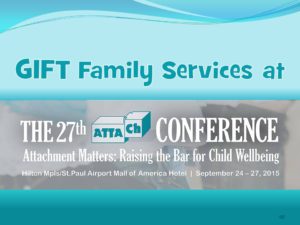 Recently, my colleague, Sally Ankerfelt, and I (Susan David,) attended the 27th Annual ATTACh Conference in Minneapolis, Minnesota as both presenters and participants. Each year this conference brings together, from all over North America, adoptive and foster parents, adoption professionals, and those people – therapists and researchers — whose work is often times on the cutting edge of trauma and attachment understanding and treatment. While the organization and conference itself serve the broader attachment challenged community, it seemed natural to us that the focus of many sessions and the participants themselves were geared toward those living or working in the adoption arena. We know that many adoptive families must learn to deal with aberrant behavior and develop new parenting strategies — attachment adaptations – to help their children heal and grow. ATTACh offers a forum for such learning. We found it inspirational, too, as we met many dedicated parents and professionals that shared our vision of helping adoptive and foster families.
A variety of topics included: understanding the brain's role in developing healthy attachment, cross cultural issues in adoption, and educational concerns and adaptations particular to children facing attachment issues. Some of the workshops were experiential like using rhythms and play. Others were more practical such as the "how tos" of establishing support groups, maintaining self and respite care, and, a novel one to us, making the connection between movie characters and your child's story. There were also workshops on the therapeutic use of dogs and horses, nutrition and allergies affecting behavior, and the potential for human trafficking. We really appreciated the quality and quantity of the workshops and the enthusiasm and expertise of the presenters.
Additionally, we enjoyed the informal evening gatherings where we could continue our learning and broaden our circle. We spoke with social worker, Michele K Johnson, co-founder of Adopted and F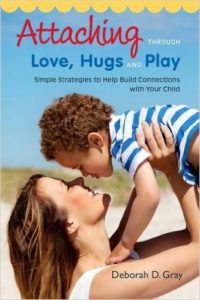 ostered Adults of the African Diaspora, a child welfare consultant and speaker, who shared her own cross cultural adoption story with us as well as its cultural implications to a fully packed room. And Lola Adebara of Partnerships for Permanence is on a mission to partner with companies like Target and Best Buy hiring kids who have aged out of the foster program. Keynote Speaker and ATTACh Lifetime Achievement Honoree, Deborah D. Gray, author of Attaching through Love, Hugs, and Play, shared her hope, humor, and some strategies for developing better attached children. While the need is great, there are a lot of people out there making a difference.
It was really an honor, then, to be with participants at our own workshop as we discussed how faith communities can be sources of connection and healing for those individuals and families challenged by trauma and attachment issues. Sally's pastoral background as a Lutheran minister and my active involvement as a lay member in my Jewish community got us to thinking some time ago as we faced our own struggles within our church and synagogue, is the faith community really being what they say they aspire to be especially for those families struggling each day with inconsistency in their lives? Do "they" — clergy, volunteers, or congregants — look at the meaning behind the behaviors of our children who are struggling, approaching them with acceptance and love rather than judgment? Is the faith community really a source of healing and if not, what can we do to change that? I think both Sally and I were surprised at how many participants expressed similar sentiments. We were saddened, too, to know that many had already given up or abandoned their faith communities because "something was missing" or "they" just "didn't get it."
Despite it sometimes missing the mark, though, Sally and I believe that it is possible for the faith community to be more effective hearers and connectors, embodying the unconditional love that allows us to experience God's love through our relationship with others.
Won't you join us next week as we continue this discussion, "Faith Communities as Sources of Healing and Connection"? How is your faith community primed for promoting healing and connection?
Additional books by Deborah D. Gray include:
Attaching in Adoption Nurturing Adoptions Attaching in Adoption