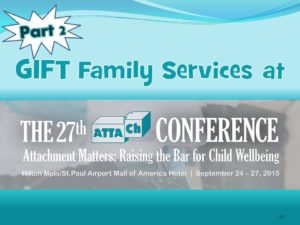 This post is Part 2 of a 4 part series examining the promise of faith communities as sources of healing and connection and GIFT coaches', Sally Ankerfelt and Susan David's recent presentation at the 2015 ATTACh Conference in Minneapolis, Minnesota.
If faith communities are sources of healing and connection, why don't I feel that way?  
Sometimes faith communities struggle with difficult behaviors with children. Mine is no exception. One Sunday morning, some teenagers who had been attending a weeknight youth program for neighborhood kids starting coming to our worship services. As a pastor, I was so pleased to see them there, getting connected to the faith community because I knew that many of them had little support in their lives and were challenged socially.
But, during worship, these young people did things to disrupt our carefully-planned and proper service. During the "amens" we would hear the Homer Simpson, "Dup!" During the prayers, we would hear several youthful voices praying just a beat behind the rest of us. And there was laughing and fidgeting going on, as well.
Finally, those in attendance had had enough and asked the youth to leave. They did not leave quietly with their heads bowed down in shame. They left with their middle finger flying high and with a confident, chorus of "F-You!"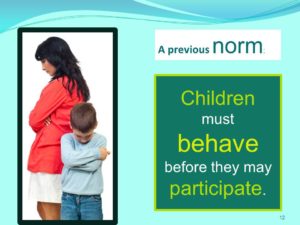 The congregation was astounded and afraid. Emails followed the next day. I wondered, as a leader of the congregation, what to do. So, we called a special meeting following worship the next Sunday.
This incident in our congregation set something in motion within me. Something is going on that cannot be ignored by faith communities. In fact, I became more and more convinced, through my studies, that not only can this trauma not be ignored, it is actually at the heart of what we believe faith communities are called to be: sources of healing and connection for those affected by trauma.
There are profound ways that faith communities support connection and healing, ways that faith communities can embody much of what we heard at the ATTACh conference.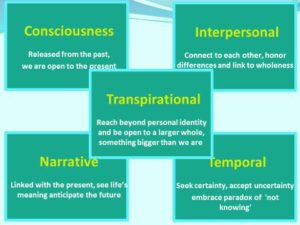 Neurobiologist Dan Siegel asserts that there is a foundational interplay between the mind, the brain and our relationships with ourselves and others. When this interplay is flowing properly, without threats or interruption or neglect, trauma or any other unhealthy environmental factors, then we have emotional well-being and the relationships between the parts of ourselves and the relationships with each other are communicating, flowing and alive – there is integration.
Emotional well-being and promoting better attachment– the focus of the ATTACh conference – emerges from integration. There are areas of our lives where integration can be promoted and our emotional well-being enhanced. When Susan and I studied these areas of integration, we thought, "Wow, almost all of these areas are supported by faith communities at their best." 
Think for a moment of your own faith community and you'll come up with many of your own examples where the faith community embodies unconditional love whether in its holy teachings, rituals, worship itself, its community activities, or the secular outreach programs it's involved in. Even the physical church building is important – it is always present. So, as we see it, faith communities can be way more than what we think they are – they are even more relevant than before for healing and creating connection.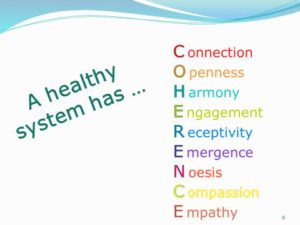 Further, Dr. Siegel gives an excellent acronym to describe an integrated, healthy system, one that is supported by the domains of integration we just mentioned: COHERENCE. It's a great way to remember what integration looks like and an excellent way to notice integration in our faith communities.
It was interesting what occurred when we held our congregational meeting. One woman said, "I'm afraid, afraid they're going to hurt someone, but I cannot support closing the doors on these kids. If we do that, we are not demonstrating the love we claim to profess." Another woman said, "I was one of those kids about 40 years ago, lost, needing a place to belong, but not knowing what to do. This church embraced me and here I stand, an active person in this congregation."  This faith community decided not to expel the young people. Instead, they decided they would get to know them, invite them to sit with them during worship, ask those questions.  In other words, they decided to establish relationships with them.
Now here is the thing: what we noticed in our own places of worship, not only as a pastor and member, but also as parents whose children have experienced the effects of trauma, challenged with attachment disturbances such as dysregulated behavior and maybe our own possible secondary trauma or caregiver fatigue – what we noticed was that there was a tension. There is something going on between what is happening in our faith communities and this ideal coherent integrated faith community that offers unconditional love and acceptance.
Next week Susan and I will discuss this ongoing tension between influence and acceptance and the paradigm shift that is required to heal and connect our congregations so that they can truly be faith communities built on unconditional love and belonging.

Susan combines experiences as certified coach, lawyer, and adoptive mom of three in a multicultural/minority family with extensive involvement in her Jewish community. She believes by incorporating adoption-attunement and trauma-aware practices, faith communities can enhance their support of members touched by adoption. Working through her family's trauma and attachment experiences deepens her understanding of issues facing adoptive families. Susan's emphasizes adoption-attuned parenting strategies using solid coaching principles.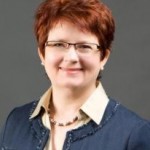 As an ordained pastor, certified coach and parent of three children with various attachment adaptations, Sally holds a unique perspective of the role a faith community and its practices can play in supporting healthy attachment between members, families, and children.
Part 1 of a 4 Part Series highlighting the recent ATTACh Conference in Minneapolis, MN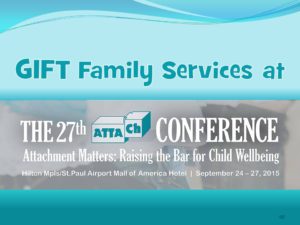 Recently, my colleague, Sally Ankerfelt, and I (Susan David,) attended the 27th Annual ATTACh Conference in Minneapolis, Minnesota as both presenters and participants. Each year this conference brings together, from all over North America, adoptive and foster parents, adoption professionals, and those people – therapists and researchers -- whose work is often times on the cutting edge of trauma and attachment understanding and treatment. While the organization and conference itself serve the broader attachment challenged community, it seemed natural to us that the focus of many sessions and the participants themselves were geared toward those living or working in the adoption arena. We know that many adoptive families must learn to deal with aberrant behavior and develop new parenting strategies -- attachment adaptations – to help their children heal and grow. ATTACh offers a forum for such learning. We found it inspirational, too, as we met many dedicated parents and professionals that shared our vision of helping adoptive and foster families.
A variety of topics included: understanding the brain's role in developing healthy attachment, cross cultural issues in adoption, and educational concerns and adaptations particular to children facing attachment issues. Some of the workshops were experiential like using rhythms and play. Others were more practical such as the "how tos" of establishing support groups, maintaining self and respite care, and, a novel one to us, making the connection between movie characters and your child's story. There were also workshops on the therapeutic use of dogs and horses, nutrition and allergies affecting behavior, and the potential for human trafficking. We really appreciated the quality and quantity of the workshops and the enthusiasm and expertise of the presenters.
Additionally, we enjoyed the informal evening gatherings where we could continue our learning and broaden our circle. We spoke with social worker, Michele K Johnson, co-founder of Adopted and F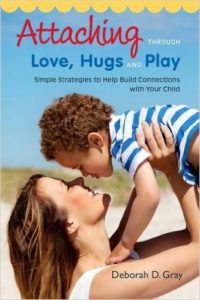 ostered Adults of the African Diaspora, a child welfare consultant and speaker, who shared her own cross cultural adoption story with us as well as its cultural implications to a fully packed room. And Lola Adebara of Partnerships for Permanence is on a mission to partner with companies like Target and Best Buy hiring kids who have aged out of the foster program. Keynote Speaker and ATTACh Lifetime Achievement Honoree, Deborah D. Gray, author of Attaching through Love, Hugs, and Play, shared her hope, humor, and some strategies for developing better attached children. While the need is great, there are a lot of people out there making a difference.
It was really an honor, then, to be with participants at our own workshop as we discussed how faith communities can be sources of connection and healing for those individuals and families challenged by trauma and attachment issues. Sally's pastoral background as a Lutheran minister and my active involvement as a lay member in my Jewish community got us to thinking some time ago as we faced our own struggles within our church and synagogue, is the faith community really being what they say they aspire to be especially for those families struggling each day with inconsistency in their lives? Do "they" -- clergy, volunteers, or congregants -- look at the meaning behind the behaviors of our children who are struggling, approaching them with acceptance and love rather than judgment? Is the faith community really a source of healing and if not, what can we do to change that? I think both Sally and I were surprised at how many participants expressed similar sentiments. We were saddened, too, to know that many had already given up or abandoned their faith communities because "something was missing" or "they" just "didn't get it."
Despite it sometimes missing the mark, though, Sally and I believe that it is possible for the faith community to be more effective hearers and connectors, embodying the unconditional love that allows us to experience God's love through our relationship with others.
Won't you join us next week as we continue this discussion, "Faith Communities as Sources of Healing and Connection"? How is your  faith community primed for promoting healing and connection?
Additional books by Deborah D. Gray include:
Attaching in Adoption                 Nurturing Adoptions                   Attaching in Adoption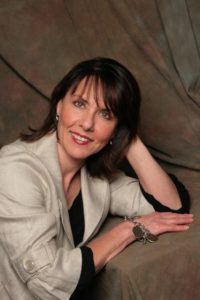 Many parents, adoptive or otherwise, may be struggling in their relationship, as I was with my daughter a few years ago, as a result of tension created by their child having difficulty reading. Last night, I sat reading aloud the 2nd book in The Hunger Games trilogy with my daughter, who has just entered her freshman year in high school and is required to read 40 minutes a night or at least 100 pages a week. This requirement is not a new one; throughout elementary and middle school, she was encouraged, sometimes cajoled by her teachers to read each night in the hopes of improving vocabulary, writing, and even reading "stamina." It was not easy; sometimes we had an unhappy child who struggled while we were standing by feeling hopeless, sad, irritated, and even angry about her inability to read despite all of our best efforts.
Passing more than once the school vision test, the pediatrician's eye test, and the eye doctor's test, we eventually discovered what Dr. David Cook, a nationally recognized speaker, writer, and leader in the field of developmental optometry has termed, the myth of 20/20 vision – that "having healthy eyes and the ability to read even the tiniest letters on a chart at the end of a long room" does not preclude a child's persistent reading difficulties and perhaps, attention problems. Our daughter was the one case in four where 20/20 eyesight is NOT enough for good school performance.
From Dr. Cook's book, When Your Child Struggles: The Myths of 20/20 Vision – What Every Parent Needs to Know:
"20/20 does not mean that your child can see the chalkboard at the end of the day when he is tired. It does not mean that your child can see to read without blurred or double vision. It does not mean that he can use his eyes to guide a pencil when writing. It does not mean that he can control his eyes well enough to keep his place when reading. It does not mean that he can understand or remember the distorted information coming through his eyes. In short, 20/20 eyesight is absolutely NO guarantee that your child has the visual abilities to succeed in school!"
According to Dr. Cook, vision is more than eyesight acuity but refers to how your child uses his or her eyes to communicate with the world. There are seven main visual abilities for learning and these abilities can be learned and/or improved upon at any age through a process known as Vision Therapy. Vision Therapy is a process which relies on giving an individual feedback and practice to teach him to develop or enhance his visual abilities. In our daughter's case, it turned out she had a problem tracking words so that the word F R O M, for example, was read as F O R M and vice versa. Vision Therapy identified an eye teaming ability problem and she began to practice exercises to teach her accurately to track with her eyes when looking from one point to another. When our family finally understood our daughter's vision problems and began Vision Therapy, she became a better reader, a better student, a more empowered individual and our relationship became less strained.
Going back to school, in any grade, allows both kids and parents to determine goals, establish procedures, and set up a plan for "success." My daughter's coolness for reading persists somewhat but it is now manageable; she admits that because she would choose to read only the required textbooks, she agreed for us to read together each night partnering to fulfill her school's requirements and coincidentally spending some quiet time together. I remain hopeful that someday she may truly enjoy reading but am satisfied that she continues to flex her reading muscle with me each night. While her reading difficulties have been a source of friction in our relationship, we are overcoming it with time, patience, practice, and our first tool, knowledge.
Susan David
__________________________________________________________
An increasing number of optometrists are growing more mindful of the importance to your child of the visual abilities that go beyond 20/20 vision. For more information about Vision Therapy you can contact the Optometric Extension Program Foundation, the organization dedicated to education and research in VISION; David Cook at www.cookvisiontherapy.com; and Gabby Marshall, OD, Developmental Optometrist and our daughter's eye doctor can be reached at www.elementaleycare.com.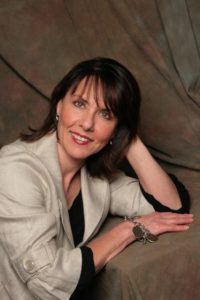 Ever been at a car wash for one cause or another with a group of teens?  Soapy water, suds, and slippery pavement combined with energetic, spontaneous and very excited teens, and then add every so often a moving vehicle rolling into that picture!  YIKES!  What I noticed, too, was that I had to keep reminding them of the procedures (the "rinse, wash, rinse, dry" mantra) or I found myself holding up hoodies and sweaters ("somebody left this nice jacket, to whom does the black sweater belong? ", etc).
Each week I work with a delightful group of young people with really big hearts and some great ideas around fundraising for a medically challenged child and family facing some extraordinary circumstances.  These young people develop fundraising ideas and then do the necessary work to execute those ideas.  I am fortunate enough to work with them both as a parent and as a performance coach assisting the group, among other things, in setting goals, articulating the group's purpose, and assessing the outcomes of their fundraising in a neutral way so that the "lessons" learned may be applied to future fundraising events.  They are doing a terrific job.  And I continue to take a nap after spending an intense Friday session with them!
Working well with teens – our own or in a larger group – requires us to remember that teens do have challenges remembering important information.  Their brains are not yet developed enough to remember key information and keep track of their stuff.  We will have to wait until a person reaches his or her mid-to-late-20s for that while in the initial stages of the development phase nerve cells (neurons) are occupied with creating connections with each other.  So, the ability to perform planning tasks, paying attention and to reasoning – executive functioning –  and attributed to the development of the frontal lobe and parietal cortex – is not completely developed until the late teens or early 20s.  What that means is that while a teen can plan and remember, it is also likely for them to have a glitch in this process as well.  A good thought to remember as one of the car wash teens applied a soapy loofah to a very dry and dirty 4x4!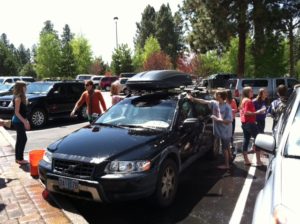 Other than reciting the adage "patience is a virtue," in such potentially frustrating situations, below are three tips we parents can put into play:
Set limits – Remember a teen's brain is still developing in response to experience, so we can actually help shape it by setting clear limits and providing precise guidelines for what is and is not acceptable.
Model behavior – Lead by example and demonstrate reasoning skills for your teen, contemplating what might be the consequences of possible actions.
Consider cause and effect – Let them consider for themselves the possible consequences of actions before they do them!  Thinking beforehand is a vital "executive function" and teens can be assisted if we encourage them first to brainstorm and then to list some of the potential outcomes that might result from a particular action.
After a successful (and safe!) car wash fundraiser, I admit I am probably not ready to abandon my Friday afternoon nap after working with these teens.  However, I remind myself when things go "a little crazy" that a certain amount of forgetfulness and scatteredness is part and parcel of a developing healthy teenage brain!  Setting clear limits for them, demonstrating my own reasoning skills, and having them consider for themselves the effects of their actions allows not only an understanding of them but patience and coping for me!
Susan David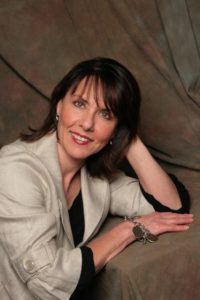 Members of Growing Intentional Families Together work together as professionals and see themselves as members of the GIFT family – a group joined together by law, love, and a common purpose. All members of GIFT are certified professional coaches who graduated from Resource Realizations' Coaching Academy. Each has experienced adoption or fostering as a way to create our families. The strongest thread that binds us together is our unyielding desire to assist adopted and foster families. GIFT members are linked to the adoption world either as adoptive/foster parents and/or experienced workers in the adoption field. GIFT coaches understand the road that is adoption and fostering. We are unified in our desire to assist those who choose to travel this path as well.
Like many adopted families, GIFT members differ from one another! With these differences, we have learned to work well together just as a family melded together through adoption or fostering can learn to do so. We hail from and now live in all parts of the country. Our genetic, ancestral, religious, and cultural differences are part of what makes our group unique. They help to make us a thriving group – a "family of coaches" standing by to assist your family in a powerful way.
GIFT coaches operate as a family by design and intention. Birth families are grounded in both ancestry and culture. Adopted families are brought together through a legally binding agreement and unless it is a relative adoption, the parties will lack a common ancestry and may have different cultural backgrounds. Families form and grow in different ways but they are "real" regardless of how they developed.
Like a tree, GIFT is rooted in core beliefs about the importance of a healthy adopted family and how it contributes to a healthy community, country and world. GIFT developed out of its members' understanding of GIFT's purpose, value system, mission, and vision. GIFT allows our "branches" to form in a way that expresses our true selves and to grow with the group in a positive, effective and workable way. A tree, then, was a natural metaphor for our company, our "family of coaches."
Like a family, we acknowledge there will be times when we disagree, but we know that through acceptance, compassion and understanding, and willingness to take action, collaboration will guide us to the many possibilities and lead us to a workable solution. Like a bonsai tree, GIFT members "graft" to create a tree that mimics a full size one. As a "family of coaches", we exemplify what we want for the families of adoption or foster care – a family of intention that can grow as a unit, yet allows its "branches" to flourish in their uniqueness and independent growth.
Susan David