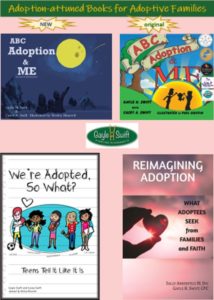 The coaches at GIFT Family Services are passionate about creating and identifying resources for adoptees and their families. We consider books an effective communication tool for adoptive families. Over the years, we have compiled an extensive collection of book reviews. Books provide an important resource to adoptees, parents, teachers, etc. They provide insight, introduce models that families can use or adapt, establish a sense of commonality and reduce feelings of isolation, reassure and offer hope. Books in the family library can be accessed by both children and adults when they feel the need or interest. Reading them together joins parent and child in a shared experience and can open important dialog. Adoption can be a tricky, sensitive and complicated topic which books can help initiate, structure, and explore.
We are pleased to introduce three brand new books written by some of our coaches. As both professionals and as adoptive parents our authors understand the topic and the needs of children and their parents. Our now-adult children offered insight, feedback, and encouragement. They helped create these books because they understand how much they are needed and how they wish that such resources had been available to them as they grappling with the ramifications of adoption. Two of these books are for children and one is for adults. Consider adding them to your family adoption bookshelf. Ask your local library to include it in their collection as well.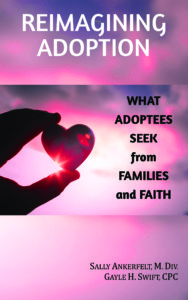 Reimagining Adoption: What Adoptees Seek from Families and Faith by Sally Ankerfelt, M. Div., Gayle H. Swift, CPC
As certified coaches, cofounders of GIFT family services, and as adoptive parents, the authors bring a unique blend of professional skills and personal experience with adoption to their book. Sally is a Lutheran minister and Gayle is an award-winning author. This combination of education and experience provides them with a robust perspective on the issue. They see beyond the cultural mythology and understand the practical reality that challenges adoptees, their families and the people who support them. They infuse this knowledge into an examination of adoption practice and on forging ways to improve it. "Reimagining Adoption: What Adoptees Seek from Families and Faith" aligns personal experience, trauma research, expert insights, and adoptee interviews into adoption-attuned strategies that support adoptees and their families. They infuse this knowledge into a reimagining of adoption practice inside and outside the church.
The book is intended for anyone who is interested in understanding adoption through the lens of faith as well as how congregations can grow in support of adoptees and their families. One thing that makes the book powerful is that adoptee interviews form the basis of the book. The authors heard from many adoptees how their faith has been challenged because of what people in their congregations and some family members have told them. For example: "It was God's will."  "We were meant to be together." "You should feel lucky you were adopted."
Reimagining Adoption is a resource that is both practical and visionary, one that understands the history as well as the current needs of adoptees and their families. This Adoption-attuned approach will help families build a deeply connected life together, a fundamental goal of every adoptive family.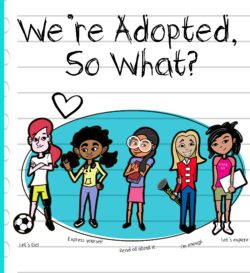 We're Adopted, So What? Teens Tell It Like It Is
 Kids need to see themselves in the books they read. We're Adopted, So What? tells the story of a diverse group of girls and the complex emotions and thoughts that often come with being adopted.  Aimed at middle-schoolers, it strives to help adoptees grapple with and discuss their adoption-connected thoughts, feelings, and emotions.
Being a teenager is tough enough. When you factor in the complexities and challenges of being adopted, it is exponentially harder. This graphic-style book, "We're Adopted. So What?" features five teen girls who share a huge thing in common: each of them was adopted. This shared experience draws them together yet the distinctions between their experiences are as unique as their personalities. Feisty, fun and outspoken, the girls tackle some tough topics. They share their thoughts and feelings about adoption, how it shapes their world and relationships, creates challenges, burdens them with curiosity, frustration, anger, and grief, and shows how they strive to blend together their biological and their adoptive worlds.
Open adoption has become the norm for most contemporary domestic adoptions yet questions and complications still remain for adoptees and their families. How can all these people cooperate to create healthy, supportive relationships that best support adoptees? How does a young adoptee balance their dual loyalties and connections? How do they weave the spectrum of their feelings, challenges, and experiences into a cohesive identity?
We now recognize that connection to, and respect for, an adopted child's biological roots is integral to an adoptee's ability to successfully unify their dual heritage. Still, the concept of openness remains shrouded in apprehension, confusion, and curiosity. How is it possible for a child to have two sets of parents involved in their lives? Against this backdrop of openness, how do teens in international or "traditional closed" adoptions, feel about and deal with their lack of connection with birth families?
This book overflows with practical suggestions for how to navigate the constantly changing seas that adoptees face. The influences of DNA are forever, just as the influence of the adoptive family's nurturing will permanently shape the child worlds. The process is complicated and can be difficult to articulate. This book provides a way to spark these important conversations with families or friends. It validates and renders compassionate witness to the adoptee experience.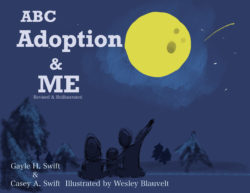 ABC, Adoption & Me (REVISED & REILLUSTRATED The original version of this book launched in 2013. It earned many awards[1] and adoptive families reported that it genuinely helped them explore and discuss adoption with their littles, in a way that kids felt supported and that also deepened their connection. Using the familiar framework of an alphabet book, it introduces a range of adoption-connected concepts, from the very simple such as "B is for bellybutton. Everyone has one." to "R is for real. My birth parents and my adoptive parents are all real. I'm a real kid and we are a real family."
ABC, Adoption & Me (REVISED & REILLUSTRATED allows parents to plant seeds of understanding which they can expand over the years in age-appropriate ways. This revised version reflects the latest in professional understanding of the complexity of adoption, the challenges of young adoptees, and the conversations and strategies that draw families in support of one another. Wesley Blauvelt's evocative illustrations are compelling. The illustrations in this revised version of ABC reflect a more nuanced emotional tone and better capture adoption complexity. We hope you agree! Includes a Parent Guide.
Learn how the coaches at GIFT Family Services can help you and your family navigate your adoption journey. We've faced our share of family challenges and crises, ridden the metaphorical rollercoaster, and our families have not only survived; they have thrived. We offer experience, neutrality, and understanding.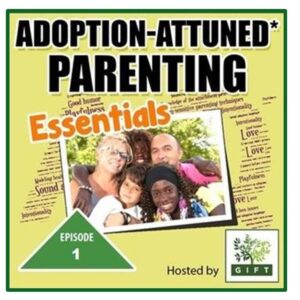 Listen to our podcasts on Adoption-attuned Parenting.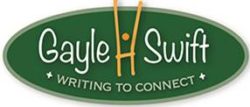 Read other Adoption-attuned book reviews by GIFT coach, Gayle H. Swift, on her blog "Writing to Connect"
[1] Named a Favorite Read of 2013 by Adoptive Families, (the award-winning national adoption magazine.) Named a Notable Picture Book for 2013 by Shelf Unbound in their Dec/Jan 2014 issue; Honorable Mention - Gittle List of 2014; Finalist; IPNE 2014 Book Awards (Independent Publishers of New England), Honorable Mention 2014 Purple Dragonfly Book Award 
Please follow and like us: