Feeling short of time or finding it difficult to concentrate? You can listen to this post. Listen time 7:11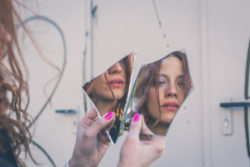 Families follow a core set of values that governs their priorities, shapes their belief system, and guides their behaviors. (We've blogged about the process of being intentional in defining these core values.)
GIFT Family Services also has a guiding set of principles and beliefs that inform all of our coaching and writing: our Adoption Philosophy (posted on our website) and Adoption Attunement (AQ) form the 16 Core Tenets. These two pillars establish the lenses, through which we explore adoption-related topics. They inform our blogs, podcasts, webinars, and posts on Facebook, Twitter, Linkedin, and Pinterest.
Today's blog will focus on number 14:  "Parents handle their own stuff." Our own  "stuff"? What might this be? (Let's stipulate that adoptive parents love their children even while they acknowledge the lack of biological connection. This love does not erase the reality that adoption builds family through a connection of the heart affirmed by legal sanction, not through biology. (For the entire list of the Elements of Adoption-attunement (AQ), see the graphic at the end of this post. Feel free to copy and share.)
Infertility Most— but not all— adoptive parents choose adoption because of infertility issues that render pregnancy impossible.  Once we accepted this reality of infertility, we reformed our goal from pregnancy to adoption. But, adoption does not cure infertility. Nor does it erase any of the memories of monthly cycles of hope followed by crushing despair. Our minds and our bodies recall the emotions fueled by hormonal storms and other personal struggles associated with infertility. These echoes of the pain, sadness, and resentment of infertility create results that are both significant and permanent.
We cannot know the intimacy of carrying our child, ensuring that we care for them as carefully as possible until their birth. We cannot enjoy murmuring conversations with our unborn offspring, silently affirming our joy at their existence sharing our hopes and aspirations for them.
We cannot conceive a child that blends aspects of ourselves and our partners, the penultimate, tangible expression of marriage in which two become one.
We cannot create a child who shares our DNA; the flow of our family lineage is interrupted, the continuity broken.
Without doubt, these alterations evoke an emotional response within us, one which we do well to explore, understand, accept, and which we must resolve." If we do not, emotional repercussions will reverberate through our relationships with our children. Buried and unacknowledged feelings eventually erupt— usually with damaging ferocity—and at the worst times.
This is not a relationship strategy that we want to model for our children. We want to show them that it is important to face whatever issues they find challenging. We must convey to our children that we are capable of managing our own feelings, that it is not their responsibility to hide or minimize their adoption-connected thoughts and feelings in order to shelter our hearts from sadness.
If our kids are overly focused on caretaking our emotions, they will be stuffing, denying, or minimizing their own. Instead of being able to turn to us as a sounding board to explore their own complex feelings and as a source of comfort and security, they will struggle to handle them alone. Children lack the experience skillsets and perspective that adults have. Their ability to manage complex grief and loss is not yet strong enough. They need us as parents to provide that safe harbor. They need to be able to believe that we are capable of hearing difficult stuff without falling apart emotionally ourselves.
If we feel overwhelmed or challenged by the emotions, grief, and loss connected with infertility or adoption complexity we must not burden our children with the weight of them or the shadows they cast. We must attune to our own needs with the same intentionality that we strive to attune to our children's needs. We must find a qualified adoption-attuned professional to help us cope and to ensure that we have handled "our stuff" and thus, are fully available to our children to help them handle theirs. We will all be healthier, happier, and more authentic in our relationships with each other.
Finances— Infertility and adoption are both inextricably entangled with finances. We must be careful not to overextend our financial stability as we pursue the dream of conception and/or adoption. It is equally important that we remain true to the highest ethical standards when we engage in family-building strategies. We cannot allow our hunger to be parents to blind us to the ethics and morality of whatever paths we follow. (Our previous blog explored some of the tragic fallout of ethical and/or legal lapses.)
Our children depend on us to keep them safe. Living aligned with our ethics is important both as a model for them to follow and for the security and stability that doing right creates. How are you ensuring that you are handling your "stuff"?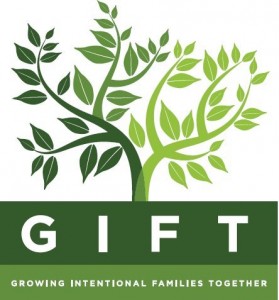 Your Adoption-attunement (AQ) specialists
providing coaching and support before, during, and after adoption."
Learn how the coaches at GIFT Family Services can help you and your family navigate your adoption journey. We've faced our share of family challenges and crises, ridden the metaphorical rollercoaster, and our families have not only survived; they have thrived. We offer experience, neutrality, and understanding. GIFT coaches are available to present workshops on-line. Contact us to explore this possibility: 1-800-653-9445 
      Read these books written by our coaches.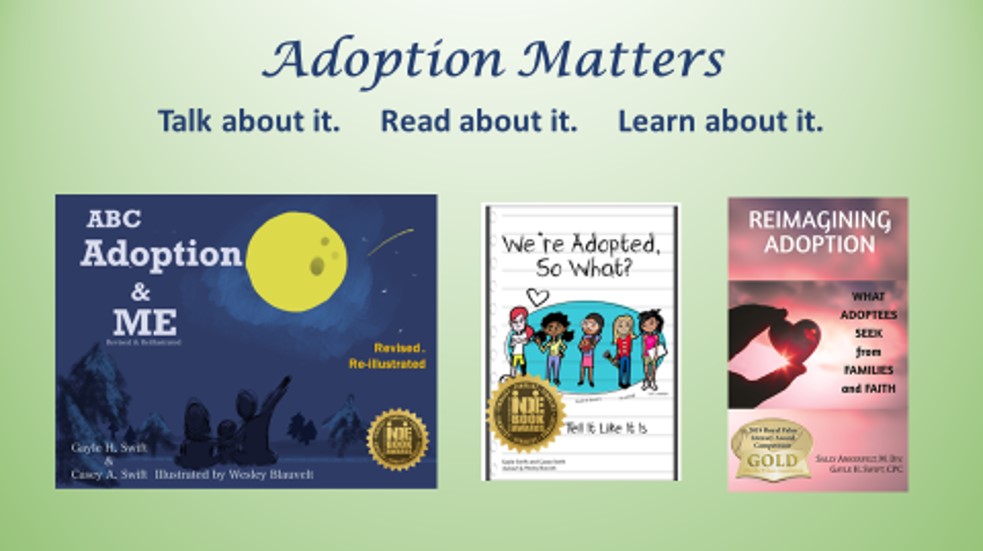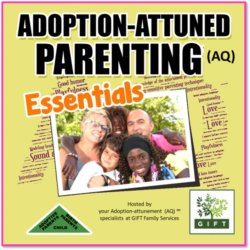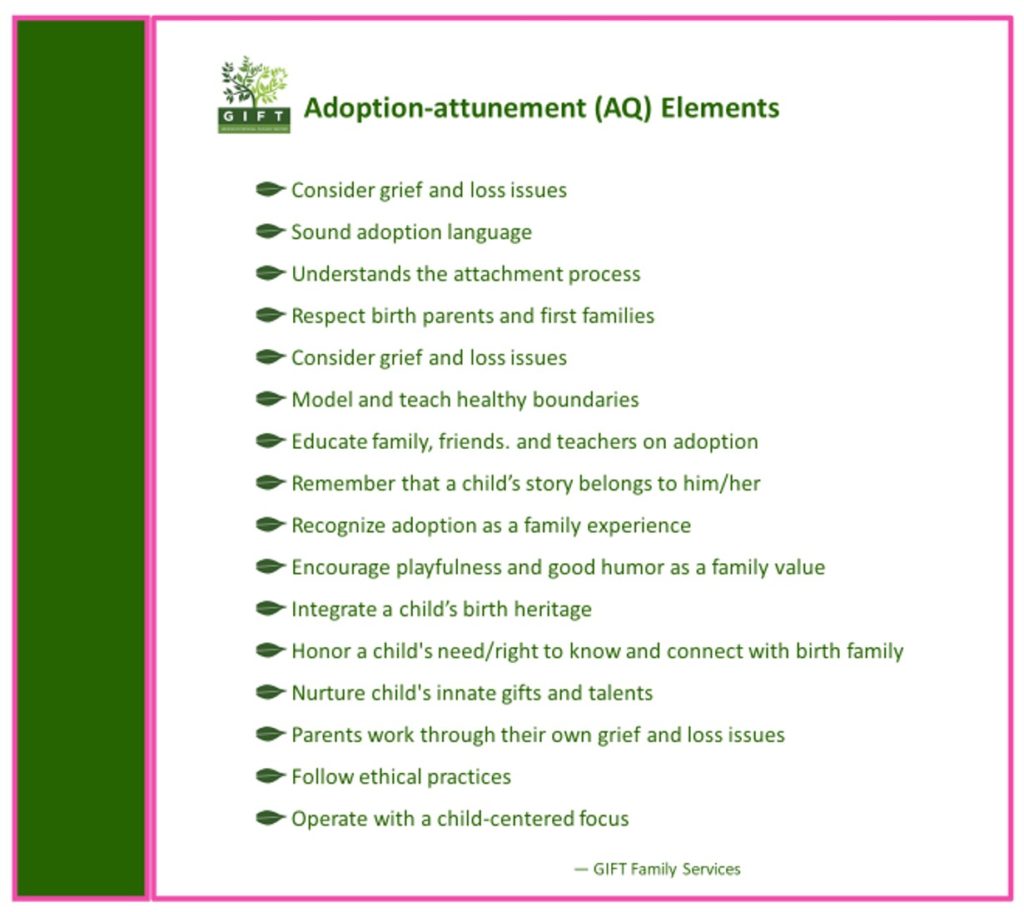 Feeling short of time or finding it difficult to concentrate? You can listen to this post. Listen time 10:24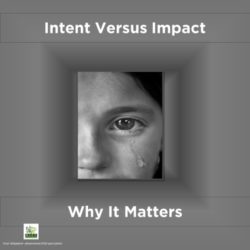 Intent Versus Impact: Why It Matters
It is easy--and naive--to expect that our good intent guarantees a positive result. Even the purest intentions can still yield negative consequences. Negative results--even if unintended--are no less consequential. Most folks do not deliberately behave in a way that will hurt, undermine, and discourage. Yet, some of our actions and words do just that. We are after all, human. Mistakes will inevitably be made. As Intentional Parents,  we work to be the best parents we can and we strive to avoid repeating the errors our own parents made. Nonetheless. we will certainly make missteps. They will be different mistakes, errors in judgments, oversights, etc. but still they will happen.
Regardless of the goodness of our intent, the defining importance derives from the impact of our words and actions.
When the result contradicts our intentions, we must effect repairs and take responsibility as quickly as possible. By being accountable for our errors, we provide a model for our children to follow. More importantly, we demonstrate through our actions that we value the relationship MORE than we value being right. We show them that even if words or actions were not intended to be hurtful, we can acknowledge that others did experience them as hurtful. We must not expect our lack of malice to excuse any damage caused by our actions, inactions, words, or our silence.
Our apology must be heartfelt, sincere, and genuine. (The real measure of our sincerity is a commitment to not repeat the mistake. Our subsequent actions will reveal the veracity of our remorse and the genuineness of our promise to change.) When we nurture relationship, vulnerability, and have the courage to share difficult conversations, we deepen the relationship. Breakdowns will happen and the repair/accountability process is integral to healing, respect, and to the health of relationships. (Revisit our blog on apologies.)
As adoptive parents, we have additional complexities and obstacles to overcome and often we face them without the reassurance of a familiar parenting template from our own experience. Our intuition and inclinations must be informed by education. Instead, we depend on our dogged dedication to becoming High AQ parents who understand, embrace, and practice Adoption-attunement (AQ).
We understand that adoption is not a single event and realize that it is a lifetime journey for us as parents and especially for our children. They are the ones who do the heavy lifting emotionally as they strive to braid their dual identities into a healthy, cohesive, identity. Last month we referred to the Seven Core Issues of Adoption (Loss, Rejection, Guilt and Shame, Identity, Intimacy, Mastery and Self-control, and Grief.) These issues are not minor. Working through them is a hero's journey and our children must be able to rely on us for comfort, validation, and truth.
The distinction between intent versus impact is especially powerful when we allow ourselves to see adoption through rose-colored glasses this places a hyper-focus on the benefits and minimizes the complexity. Adoption is not totally benign. While adoption was the answer to our prayers for family, it exacts a high cost from adoptees. The trajectory of their lives is permanently changed. They are severed from their family tree and lose their place in the flow of their ancestral lineage. Even in open adoptions, the original relationships are realigned, subordinated, and reshaped. There is an "intactness" that can never be reestablished. Not through openness. Not through reunion. That primal link is cut. A new connection results--whether tenuous or robust, it will never be the same as the original bond.
The current headlines bring to the forefront issues of race. Families who have adopted transracially or transculturally are particularly concerned. And all adoptive families have a special stake in the outcome. We know the pain and stigma of people devaluing our families. The pain of being seen as inferior simply because of the color of one's skin is far more destructive and crushingly personal. For a long time, the dominant belief regarding race in adoption circles has espoused "color blindness." Buried in the phrase is the precise reason why it is not the best solution to achieve family harmony and to support our children who do not share the same race as our own. Blindness indicates that we are not seeing something. To deny a factor as integral to our children's identity and to the way they experience the world is not only folly, it denies them the validation and support they need so they can learn to cope and survive, and thrive.
All adoptive families have a vested interest in seeing their children as they genuinely are. We must be mindful of the chasm that exists between any fantasy child we imagined while we dreamed of becoming parents and the living, breathing human being that joined our family. we must see, affirm, and nurture their true selves as the fruit of their DNA as encouraged by our loving nurture. Their differences enhance and invigorate our families. Enjoy any similarities and commonalities while ensuring that we are equally appreciative of their uniqueness.
A  new awareness of racial inequity in this country has dawned. As Intentional Parents, we must commit to having Difficult Conversations about race, of living a commitment to equity and respect. of "seeing" all aspects of our children including their race. We must teach our kids to be "I-standers" instead of "bystanders." The best way we can do that I by living it ourselves, within our families, friendships, workplaces, and communities.
This blog has frequently quoted the words of David Augsberger: "Being heard is so close to being loved that for the average person, they are indistinguishable." This is a powerful statement! Pause and ruminate on it. Take it to heart; it will inform your relationships in a deep way. We must ensure that our children feel seen and heard if we wish to build loving, attached, and healthy families. Wishful thinking and Good Intentions will not accomplish it. Genuinely hearing and seeing our kids in this deeply profound way is the bridge that transports us from Intention to Impact and ensures our Intention becomes a result that occurs in reality not just in our minds.
As a group, we are mindful that we must do our part to move beyond not being racist and to commit to being antiracist with our words and actions. (Three out of four of  us at GIFT Family Services have adopted transracially.) We believe one of the areas in which we can help create meaningful change centers around adoption, coaching, and race. GIFT is recording a special podcasts series that will focus on the confluence of Adoption-attunement (AQ), Intentional Parenting, Racial Justice, and our work as adoption coaches. To set some context, the four episodes which we currently envision are:
Episode 1: If Only We Knew Then What We Know Now--Adoption-attunement and Transracial Adoption    

Episode 2: As Adoptive Parents and Adoption Coaches: What parents can do to help their children be part of the solution to racial inequities and nurture tolerance?

Episode 3: Special guest Lola Adebara, Founder and CEO of Minneapolis based Partnerships for Permanence shares some insights into adoption/fostering/ and racial justice.

Episode 4: Sharon Obazee adoption coach, and adoptee, will discuss transracial adoption and how we can make a difference in our actions, words, families & communities with a lens particulalrly focused on the intersection of race and adoption.
Please join us on these podcasts and share your comments, insights, and experiences. Together we can make a difference.
            Your Adoption-attunement (AQ) specialists
providing coaching and support before, during, and after adoption."
Read these books written by our coaches

.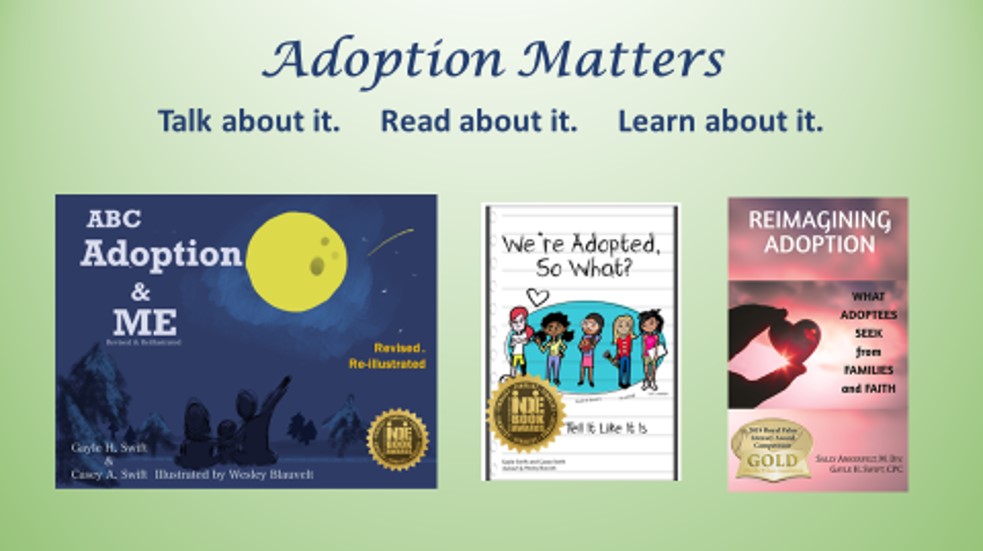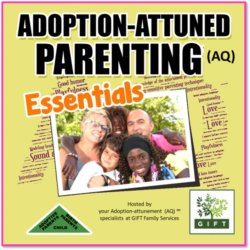 GIFT coaches are available to present workshops on-line. Contact us to explore this possibility.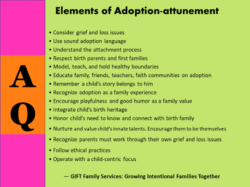 The coaches at GIFT work to help families acquire the skills and knowledge that will enable them to succeed at Growing Intentional Families Together. We believe in being intentional and conscious about the values and beliefs that guide the way we live and raise our families. Our parenting beliefs create a mindset and guide our actions so it is essential that we examine and carefully define them. Parents should identify areas of consensus as well as conflict and then hammer out a compromise.
Readers of this blog know we write with a consistent point of view that holds adoptees at the hub. We also recognize that adoption does not exist in a vacuum. It unfolds within a context of relationships between the adoptee and his parents (first/birth and adoptive) and the people he or she encounters in the world at large.
Our coaching primarily focuses on this relationship dynamic. We coined a word for this approach—Adoption-attunement—and incorporated it into our tag line: Your Adoption-attunement (AQ)℠ specialists providing coaching and support before, during, and after adoption." AQ includes fifteen basic points.
(We also have delineated twenty-five foundational principles and beliefs of our adoption philosophy and this document is posted on our About Us page.
The coaches at GIFT Family Services are committed to educating and raising awareness about Adoption-attunement. Adoption-attunement℠ infuses all of our coaching whether is it done person to person, in a family/group or via podcast, video, webinar, conference presentations, workshops, blogs, interviews, articles, and books.  We firmly believe as people understand more about adoption complexity, they can update their ideas and beliefs about adoption. This empowers them to parent better, to build stronger connections within their families and to provide the support which their children so sorely need.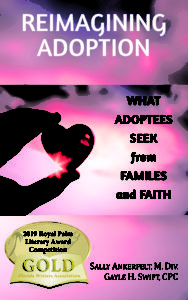 GIFT is dedicated to serving the adoption community regardless of an individual's faith, culture, or gender identity. We are also mindful of the strong interest of the Christian community in encouraging adoption and believed this would be an important arena into which we could introduce the Adoption-attunement principles. We asked ourselves how families can integrate their faith beliefs with Adoption-attunement (AQ)℠ in a way that honors both. Two of our coaches decided to write a book to answer this need.
The result is an award-winning book, Reimagining Adoption: What Adoptees Seek from Families and Faith. The premise is tilted toward the Christian community yet the fundamental principles would be useful to anyone connected to adoption. You can listen to Sally's interview discussing the book with a Christian podcaster. Note: this particular interview represents a particular faith point of view.
GIFT Family Services -- Growing Intentional Families Together
"Your Adoption-attunement℠ specialists
providing coaching and support before, during, and after adoption."   



GIFT coaches are available to present workshops in person or on-line.
Contact us to explore this possibility.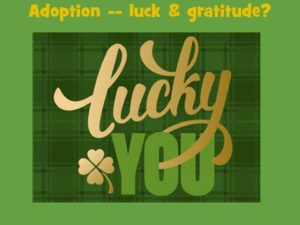 During this month folks who are Irish—literally or metaphorically—celebrate St. Patrick's Day. Like many holidays, a non-sectarian sense of fun has overtaken the religious aspects of the day's origins. So what does St. Patrick's Day have to do with adoption? The "luck of the Irish" comes to mind. Luck...a term easily tossed around. And often hurled in the face of adoptees. They routinely hear, "You are so lucky you were adopted."
Regardless of the reasons that caused their adoption, the loss of their first family is significant, painful, tragic. Many have written eloquently on this absurd and painfully invalidating notion.
This expectation of gratitude is often coupled with equally offensive "Shoulds." Adoptees are told they should:
be happy they weren't aborted,
appreciate that they received a "better" family and/or a "better life
quit whining about being adopted,
relinquish any interest in and/or connection with their birth parents and first families, etc.
From the day our first child was placed in my arms thirty-five years ago, I believed I understood the tragedy at the roots of our joy. As the years have unfolded, however, I realize that the enormity of this life-long loss cannot be parsed by anyone who is not actually an adoptee or birth parent. When cancer destroyed my ability to conceive, no one ever suggested to fifteen-year-old me that I should feel lucky for having cancer or lucky for being rendered sterile. The very notion is ridiculous.
I did/do, however, frequently hear that I should feel grateful that I didn't have to experience pregnancy or childbirth. I do not. I grieve that loss of not having that nine months of shared intimacy. Yes, it rearranged my life and ultimately led to my cherished children entering my life. But the benefits do not erase the losses;  they coexist. Yet this expectation of gratitude for the cruel factors that shaped our lives is often flung in our faces. It feels deeply invalidating to have our personal tragedies dismissed as trivial or as a blessing. When we connect to our own individual experiences of painful incidents, we can glean a small appreciation for what our (adopted) children encounter. Still, we are adults and benefit from an adult's perspective, experience, and skillsets to help us cope. So how do we best support our children and free them from the crushing weight of such societal expectations?
Most of us--unless we ourselves are also adopted--can not truly understand their emotional reality. The closest we can come is probably connecting to our own infertility losses, miscarriages, or stillbirths, etc. and imagining how we would feel if people regularly expected us to be grateful. We ache when we're told how lucky we are to have avoided the discomfort of pregnancy or when we hear, after a miscarriage, that we'll probably conceive another. I suspect most of us have felt gut-punched by such callous remarks. I believe it is hard for people to see their loved ones and friends suffer. They feel discomforted by our pain or struggle. For their sake as well as ours, they seek a quick resolution. However, moving too quickly to fix-it mode ignores the genuine reality of the pain of the present moment. It must be worked through not denied.
To some extent, I suppose we can appreciate such emotional hand grenades as it is a way of nurturing empathy for our children's plight.  Like our children, we too, hold a Both/And reality with our own emotions because while adoption provided us our children to love and graft into our families it did not cure infertility or cause us to forget our stillborn babies or the monthly rollercoaster of grief when pregnancy failed to happen. We must resist the need to apply emotional band-aids and instead to sit with them offering empathy, validation, and a safe harbor in which they can be 100% honest about any pain and angst they feel about adoption. This kind of presence, compassionate witness, and honesty are at the heart of Adoption-attunement.℠
Intentional families are lucky in one way: we exist in a level of awareness committed to thinking deeply about our choices, language, methods, and emotions and therefore, raise our consciousness to a level often missed by those who operate on auto-pilot because life rocked us out of our comfort zone and into a world of hard-won empathy. What will you do this week to reshape the connection between luck, gratitude, and adoption?
GIFT Family Services -- Growing Intentional Families Together
"Your Adoption-attunement℠ specialists
providing coaching and support before, during, and after adoption."   



GIFT coaches are available to present workshops in person or on-line.
Contact us to explore this possibility.
*Adapted from our blog originally published in March, 2016
Feeling short of time or finding it difficult to concentrate? You can listen to this post.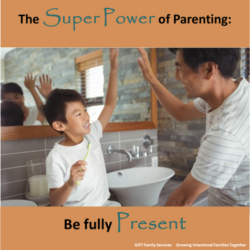 We've all experienced moments in our lives when we needed someone to be there for us. Often, we've had the misfortune of being let down, abandoned to face difficulty on our own. Yet when people truly s answer our call, show up and connect with us, we experience the deep grace of feeling seen, heard, and valued. As Intentional Parents, we have the power to offer that grace to our children. All it takes is that we show up— consistently, focused and attuned.
The Super Power of Showing Up--No Cape Needed!
When we commit to being fully present with our children, we give them a gift beyond price. Attentive, engaged, Adoption-attuned presence blesses our children in deep, meaningful life-shaping ways. Love, connection,  healing, and resilience grow in this space. Our Presence costs nothing but our time and our commitment. Yet its impact has life-long influence on our children and families. Like many aspects of parenting, the execution of our commitment to being fully present is simple, not easy. It requires intention, repetition, and authenticity. Fortunately, success depends on consistency, not perfection!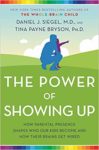 How Parental Presence Shapes Who Our Kids Become and How Their Brains Get Wired by Daniel Siegel, M.D. has written many outstanding books that address how brain science can increase understanding and nurture connection between parent and child. While not explicitly focused on the unique challenges of adoptive parenting, Siegel does consider the influence of attachment styles—the child's as well as the parents'—  and the repercussions of trauma. When parents can discern the difference between unwillingness and inability regarding a child's behavior a new dynamic emerges. Parents who see the difference experience a lowering of the emotional thermostat between themselves and their children, one based more on empathy and an awareness of how the body-mind connection shape behavior.
This understanding helps parents to respond their children in more effective, loving ways that strengthen bonds as well as enhancing a child's ability to internalize family values and behavioral expectations. Imagine parent and child square off on an issue. In scenario A, parent is convinced the child deliberately misbehaved and did X. In scenario B, the parent recognizes the child misbehaved not out of defiance but due to an inability. Which is more likely to lead to connection, empathy, and skill-building? Siegel's series of books does an excellent job of articulating this distinction. Read them to build your parenting toolbox. How do we most effectively use a given strategy or approach .
Everything comes down to relationship—attachment, emotional attunement, self-esteem, even identity, joy, contentment, insecurity—all unfold in the context of relationship. It is the channel where it all unfolds. Relationship provides feedback to both child and parent.
Once we decide that we will choose to be intentional about showing up, we search for ways to accomplish that connected, validating presence. The key factor is engagement and attunement. Be fully present. Listen. Let me repeat: listen. Place your focus on hearing their words as well as what remains unspoken. Respond in a way that conveys you heard their thoughts without rebuttal, reframing, or correcting.
Each time you listen at his level you learn more about your child, about their thoughts, fears, desires, and beliefs. This information is gold. As you grow your knowledge of who they truly are, you increase your ability to respond to them in ways that allow them to be seen and heard. How do we create initiate conversations with our kids that feed their need to feel seen, valued, and appreciated?
Consider asking one or two of these questions. If you ask too many they'll feel like they're being interrogated.
Before school
Tell me something you want me to know today.
What part of the day are you looking forward to?
What do you think might be hard?
How can I help you today?
What do you want to have happen today?
Who would you like to see?
How will you make yourself feel proud today?
After School
What do you want me to know about your day?
How were you kind today?
What kindness did you receive today?
What made you feel proud today?
What made you laugh today?
What surprised you today?
What is something beautiful you saw today?
What do you wish you had done differently?
What frustrated you?
What bugged you?
What worked for you today?
Respond to their answers with curiosity and empathy, e.g., "I think I would have that felt_____ (uncomfortable, annoying, frustrating, scary…Use the appropriate emotion. I don't like feeling like that.) Validate their experience. The goal is to exchange information in a way that deepens connection. This moment is not the time to make them feel wrong. Defer discussions of how they might have handled things differently. Simply listen, learn, validate.
How might you address these questions to yourself to help you intentionally build a focus at the beginning of your day and to debrief and decompress at the end of the day?
Dan Siegel is fond of acronyms to help parents remember important concepts and strategies. He asserts that parents need to bring PEACE into their family life:
Presence
Engagement
Affection
Calm
Empathy.
We can all see how an increase in these factors benefits the entire family! Siegel also advocates is the need for parents to meet their children's needs for the Four S's
Safe
Seen
Soothed
Secure
Dan Siegel has packed The Power of Showing Up: How Parental Presence Shapes Who Our Kids Become And How Their Brains Get Wired with valuable information that will inform and improve your parenting and your relationships in general. In addition to strategies, it also offers hope: our brains are plastic. We can learn new ways of perceiving and responding that can improve their lives as well as our own! Just remember that presence requires more than our bodies being in the same physical space as our loved ones. Put down the phones. Focus your attention on the moment.
As Sir Francis Bacon wrote: "We have only this moment, sparkling like a star in our hand and melting like a snowflake..." The opportunity to connect and be fully present with our kids can be lost in a flash. Be intentional. Take advantage of every interaction.  Rapport and attachment result from a continual flow of reciprocal interactions in which kids "ask" for connection and we respond accordingly and accurately. Quality, quantity, and consistency matter. Our efforts are worth it. Our families are worth it.
GIFT Family Services -- Growing Intentional Families Together
"Your Adoption-attunement™ specialists
providing coaching and support before, during, and after adoption."   



GIFT coaches are available to present workshops in person or on-line.
Contact us to explore this possibility.