To read our latest newsletter,  click here
Here are some of the latest happenings at GIFT Family Services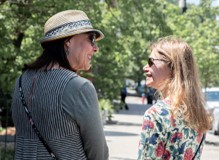 GIFT coaches Susan David and Joann DiStefano in addition to their usual podcast, "Essentials for Adoption-attunement Parenting" are hosting a timely new series that focuses on the confluence of Adoption-attunement (AQ), Intentional Parenting, and Racial Justice.
 Episode 1: explores what we as adoptive parents,  would have done differently had we known what we know today.
Episode 2: As Adoptive Parents and Adoption Coaches: What parents can do to help their children be part of the solution to racial inequities and nurture tolerance?
Episode 3: Special guest Lola Adebara, Founder and CEO of Minneapolis based Partnerships for Permanence shares some insights into adoption/fostering/ and racial justice.
Episode 4: Sharon Obazee adoption coach, adoptee, and a Black woman will discuss transracial adoption and how we can make a difference in our actions, words, families & communities through the lens that focuses on race and adoption.
Here is a link to previous podcasts on our website.