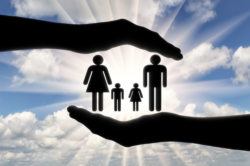 Most of us face performance reviews on our jobs. While not a pleasant experience, the periodic assessments can help us determine important information: an employer or senior management's satisfaction with our performance, an opportunity for salary adjustment based on performance, a determination of skills growth (or need for new skills,) a snapshot of our trajectory with the company. All of these are important indicators. We depend on the information they generate to make decisions about our employment future.
At school kids face similar assessments and reports to identify where they have achieved mastery or where they need remediation or enrichment. Since parents are an integral part of a child's life, these reports are shared with us so that we too, can determine where we need to step up our involvement, back off and/or cheerlead their choices.
While work and school of core focal points or our lives and measuring progress in them an important information tool, another aspect of our lives equally in need of analysis and measurement is our role as parents. Parenting is, arguably, our most important responsibility. It is our legacy, our contribution to the future generations of our families.
Have you ever taken the time to assess your parenting goals and progress? How often do you and your partner discuss/define/review your parenting goals? If you have never actually hammered out specific goals, now is the best time to start. If it has been a while since you've taken stock, now is also the time to handle this review. Achieving success as parents is one of the most significant things we can accomplish in our lives. Think beyond the quick-response of "I just want my kids to be happy…" and consider what you believe are the skills, values, and behaviors that will ensure your child's happiness, ability to support themselves, and impact the world positively.
Make your "Parental Job Review" with a neutral heart. You are looking for information not to ascribe blame or burden yourself (or your partner) with guilt. Assess your own performance and allow your spouse/partner to evaluate theirs. Share your thoughts about how you are doing. Ideally, you will be receptive to seeking and receiving their perspective on your strengths as well as your growth opportunities. Share this feedback with a genuine interest in improving your parenting and NOT in lobbing verbal hand grenades, back-handed criticisms, or sarcastic digs. Here are some questions to help you get started:
How clear is each of you about what you see as your strategy for accomplishing these goals?
How do they reflect your personal values?
How often do you measure progress so that you can make course corrections, identify what supports your vision versus what gets in your way or what is ineffective?
How have you tailored your approach for each child in your family?
How do you encourage your kids to think for themselves so that they do not fall prey to peer pressure and mob mentality?
When discussing Family Values, how do you explain then in terms your kids can understand and actions they can follow?
Learn how the coaches at GIFT Family Services can help you and your family navigate your adoption journey. We've faced our share of family challenges and crises, ridden the metaphorical rollercoaster, and our families have not only survived; they have thrived. We offer experience, neutrality, and understanding.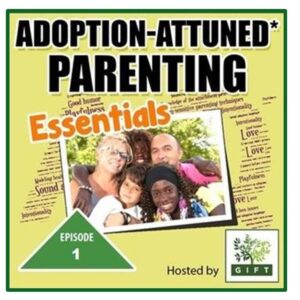 Listen to our podcasts on Adoption-attuned Parenting.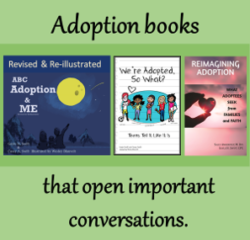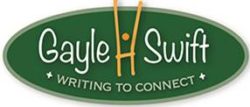 Read Adoption-attuned book reviews 
by GIFT coach, Gayle H. Swift,
on her blog "Writing to Connect"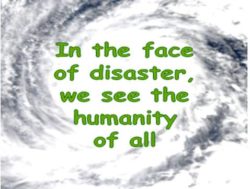 "It takes a village." Typically, we hear this truism in reference to raising children; it might equally apply to being a community or country. When it comes to confronting disasters, it is overwhelmingly true. In fact, it takes many villages. The most recent disaster, hurricane Dorian has leveled much of the Bahamas and left more than 70,00 people homeless and their neighborhoods uninhabitable. Our guts clench as we watch in horror. We are moved to do something.
What draws us to assist others in times of crisis? Is it simply the hard knowledge that "There but for the grace of God go I?" Is it empathy? Religious conviction? Or simply fundamental human compassion? Regardless of the why, human beings are drawn to assist others when they are in trouble. We put our collective shoulders to the obstacle and press a collaborative shove.
As adoptive families, we possess unique knowledge of how to forge forward in the face of traumatic grief and loss.
We know platitudes do NOT help; they trivialize grief and loss.
Cliched phrases feel empty and invalidating. Express genuine sorrow that they are facing a crisis. Do not presume to know what they need. Ask them how you can help. Listen. Listen. Listen. Learn what they want from you and then strive to provide it.
We understand that informed and appropriate action serves best.
In a mass disaster, be sure that your efforts actually help. Verify that any person, group or agency is legitimate. (Scammers know how to tug at your heartstrings and open your wallet— for their own benefit.) Typically, the best resource you can provide is monetary. Cash donations enable aid groups to buy supplies wholesale and to distribute them where they are needed. Too often donations of material— clothing, etc—become a burden and logistical nightmare. (Read this article about how well-intended donations end up rotting, unused and impeding the delivery of aid that is desperately needed.)
Seek ways within your own family to reach out to one another with affirmation, empathy, and kindness--some of the deeply held values we yearn to instill in our children and live in our lives. As we attune better to one another, we strengthen our mutual connection and bring forth the spirit of kindness and compassion. We can expand our outreach in our local communities. Not only do we benefit personally, but also we will create ripples within our community and beyond. We can always find ways to extend a helping hand in the global community as well. There can never be too much kindness!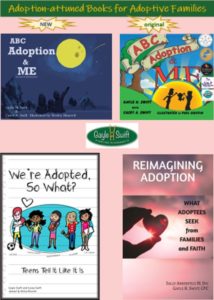 Learn how the coaches at GIFT Family Services can help you and your family navigate your adoption journey. We've faced our share of family challenges and crises, ridden the metaphorical rollercoaster, and our families have not only survived; they have thrived. We offer experience, neutrality, and understanding.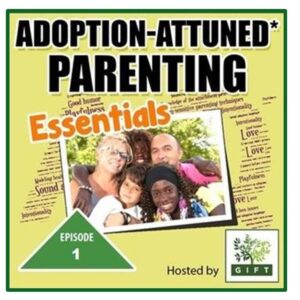 Listen to our podcasts on Adoption-attuned Parenting.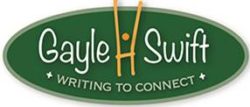 Read other Adoption-attuned book reviews by GIFT coach, Gayle H. Swift, on her blog "Writing to Connect"
[1] The original version of "ABC, Adoption & Me" was named a Favorite Read of 2013 by Adoptive Families, (the award-winning national adoption magazine.) Named a Notable Picture Book for 2013 by Shelf Unbound in their Dec/Jan 2014 issue; Honorable Mention - Gittle List of 2014; Finalist; IPNE 2014 Book Awards (Independent Publishers of New England), Honorable Mention 2014 Purple Dragonfly Book Award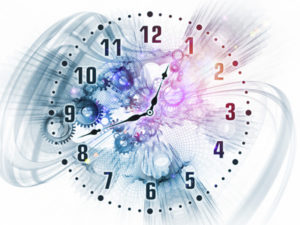 Although Thanksgiving has passed, we are especially grateful for our good fortune as we note that great numbers of folks who have experienced traumatic hardships this year. Many have lost their homes due to the ravages of nature. Fire, floods, and hurricanes remind us how quickly our "stuff" can disappear leaving behind only memories, relationships and our courage to pick up the pieces and go on.
Once again life reminds us that the truly important things have no price tag. Their value is not measured in dollars in cents but in sentiment, caring and commitment. As Intentional Parents, we expend immense energy, effort, and thought on how to build and sustain relationship connections and attachments that can weather any challenge life throws at us. We seek to raise children who are resilient, kind and capable who know in their bones that true worth is not measured in dollars and sense. Our commitment to Intentional Parenting reminds us that the way we spend our time, money, and attention is a clear indication of how we prioritize and embody our family values.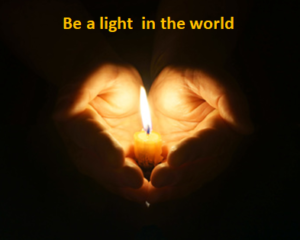 As our neighborhoods come alive with the sparkling decorations of holiday lights we are reminded of how welcome light is whenever we darkness surrounds us—literally or figuratively. Let us challenge ourselves and our children to be sources of light, connectivity, kindness, and generosity.
Avoid the pitfall and stress of overspending when selecting Christmas gifts.
Help children to develop a reasonable awareness of your family's specific financial limitations. As always, our behavior sets a model for our children that will become their template throughout their lives.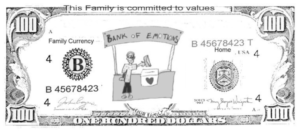 Make it a priority to participate as a family in at least one activity that helps others. Your group effort will bless both your family and the recipients. This too, is a way we can reinforce family values and bring them to life so they are more than mere words.
As we think back through our childhood holiday memories, most of us cherish the emotions we felt more than the specific gifts we received. Let us strive to create a month that our children will recall through the decades ahead with a full heart and a broad smile. Our time, attention, and affection are the real treasures they need.
https://wp.me/p4r2GC-23x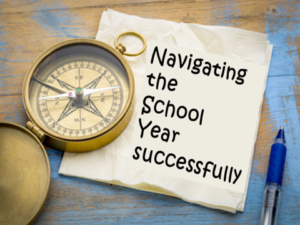 Schools have already reopened in my community which reminds me of the need for intentionality in how we guide our children through the school year. Parents and students all hope for a good year, one that filled with learning--both academic and relational--and grows their ability to be in the driver's seat of their lives. (After all, the point of parenting is to put ourselves out of a job: to raise kids that can succeed on their own.) So, how do we accomplish this vital goal? Operating purely on intuition is not enough; we need a plan--a map--that shows the route we intend to take.
To design any functional map, we must know two facts: the departure point and the destination. The shortest route would simply draw a straight line from point A to point B. But life is never that linear, that free from unexpected obstacles and delays. We must plan for contingencies, pack supplies for "emergencies", and draw out alternate routes "just in case." What landmarks (benchmarks) do we want our kids to achieve? Keep in mind that our actions make a broader impact than our words. "Do as I say, not as I do," never works. Our actions must reflect and embody our words and expectations. Make a list of possible goals.
We must exemplify whatever is on our "wish" list. This provides the model and the proof of our commitment to it. What behaviors do we wish to see? How do we encourage/reinforce these behaviors when our children demonstrate them? How are we modeling the same behaviors? How do we extinguish undesirable behaviors? Remember the distinction between discipline and consequences. The first aims to teach; the second aims to punish.
What skills do our children want to develop?
It's important that they participate in goal defining and setting. This is an important mindset and is a skill that benefits from practice. Clarity helps to focus their choices and it strengthens their commitment and desire. We must validate and understand their goals, dreams and motivations, then discern how we can help them define, refine, and accomplish them. 
What skills do we want them to develop?
Timeliness
Getting self up in the morning
Completing homework
Putting forth full effort
Learning from mistakes
Playing a sport
Being physically active
Managing tech time
Expanding their circle of friends
Being compassionate
Helping others
Showing respect for teachers
Create a work/life balance
Be accountable
Admit errors
Identifying their personal strengths as well as growth points
Seeing school as a tool that helps them accomplish their life goals
What values do we want them to embrace?
Confidence, competence, courage, resilience,
persistence, compassion, service, open-mindedness,
curiosity, conviction, self-discipline, delayed gratification,
 emotional balance, joy, conscience, morality, humor,
awareness, creativity, forgiveness of others and self,
respect for self and others, truth telling and truth seeking
What habits do we want them to internalize?
Good nutrition,
Adequate rest,
Recreation
Make time for self-reflection
       Exercise
When we demonstrate intentionality about our personal and family goals we show our children not only that planning is essential for success but also we prove it is a priority for us, it's part of our approach to goal accomplishment. It also reduces the chaos of living with a seat-of-the-pants, handling brush fires as they come. Having a life blueprint alerts us to digressions that lure us off track; we can then decide if it is a welcome diversion or a distraction we choose to avoid. It's important to note that our expectations may get "in the way" if they are not developmentally ready to achieve at the level we would like them to be. Staying "attuned" and in communication with our kids at all times is our ultimate goal. We must nurture the child before us and not expect him to be the embodiment of a "fantasy child." that exists only in our imagination.
https://wp.me/p4r2GC-21H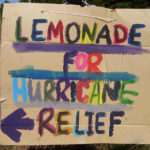 Lately it feels like disaster looms everywhere. Wildfires burn in the west. Hurricanes assault our coasts. Earthquakes shake the continent. Floodwaters burden Texas. The potential for war with Korea feels possible. Puerto Rico struggles to recover from apocalyptic devastation. White supremacy, racism, civil rights, freedom of the press, health care--all swirl for our attention. Human rights. Civil rights. Personal rights. Adoptee rights.
How do we balance it all and ensure some resolution?
Intention. Values-based solutions. Action. All are necessary.
Choose to resist the  pull of trash talk, social media diatribes and finger-pointing. Instead, focus on formulating a well-reasoned stance that partners with an action plan. Whatever your views and values, move beyond talk, complaint and criticism. Change results from action.
Our families are directly affected by all this chaos. Our kids hear the news. They draw inferences. Often they rely on minimal information and sources with questionable accuracy. We all know kids tend to fault themselves like when difficulties such as divorce or adoption occur. Convinced that something about them caused the event to happen, kids shoulder a heavy emotional burden. We can and must help them understand that these circumstances result from adult choices and actions (or inactions.)
As Intentional families, we have a responsibility to help our children understand what is happening within our families, communities and country. Do this in age-appropriate ways. Discuss how your family values affect your thoughts, decisions and actions. Then follow through with ideas for how your family can "do" something to effect the desired results. Get as creative as possible. Choose activities to do as individuals and as a family. Find a way to have fun while you are making a difference.
Develop a family pattern of helping out in the community. Here are a few things you can consider:
Agree to perform an act of kindness every day.
Gather items for a food drive, storm relief, etc.
Explore the history of voting rights.
Decide how which daily actions you will take to help the planet
When you visit the playground, beach or park, bring gloves and a bag to gather trash.
Choose a project to do as a family

Hold a garage sale. Contribute proceeds to a good cause
Send letters to active duty military personnel
help serve a meal at a local food kitchen once a month
Bring a neighbor's trash to the curb
Run a lemonage stand for charity
Pick up litter in your neighborhood (Take appropriate safety precautions.)
http://wp.me/p4r2GC-1Sq