Posts Tagged 'Intentional Parenting'
Wednesday, January 3, 2018 @
08:01 AM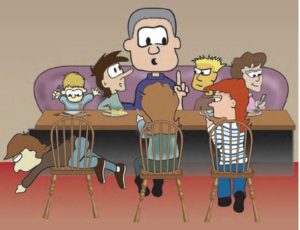 We are about to conclude another year of Intentional Parenting. I invite you to take some time to review the year. What pops first into your mind? Was it a memory that conjured feelings of connection, warmth or pride? Or, was it something which reeks of regret, disappointment or anger? The answer reveals a lot about where our attention and energy has been drawn. If worry, fear, frustration, anger or rejections dominates the conversation, it will tilt our thoughts and beliefs in a negative direction.
Let's revisit the question and this time, clear your heart and head. Use a lens of neutrality. Now what memories spring to mind? How did things shift?
How many are positive? How many of these memories conjure up moments of struggle or conflict?  Perhaps 2017 held many challenges and this negativity dominates your thoughts and feelings. Dig until at least some positive moments take center stage in the 2017 highlight reel of your life. Savor this perspective of celebrating what worked in the past year.
Notice how this intentional shift allows even more positive memories float to the surface.
As you review the highlight reel of the past year. Focus on the top three memories. Pause to enjoy them for a few moments. Which of those three memories bring the warmest feelings?
Three-peats
Choose three success to analyze. What factors contributed to successful encounters? Who was involved? How did each person influence the outcome? How might you increase the likelihood of similar positive interactions in the future? In addition to the elements that you want to include what should be eliminated? Keep in mind that the prime directive of Intentional Parenting is the nurturing the relationship. Unless it is healthy, parents will find it difficult, if not impossible, to influence  children positively and inculcate their core values.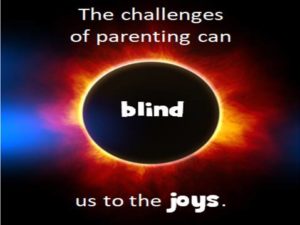 Trifecta Redo
Contrast these elements of success with factors that inflamed conflict. What role did your family values play? Resist the temptation to tackle every item on your list of things to improve.  This creates overwhelm and reduces the likelihood that the desired changes will result. Instead, prioritize; select three items you commit to improving.
What flashpoints tended to trigger breakdown? It is a truism that we can only change ourselves. So, determine how you can interact differently when these types of conflict reappear. Get clear on who owns the "problem." How do each person's beliefs, attitudes, actions and, assumptions influence the conflict? How do entrenched patterns keep the family stuck?
Use the Well-formed Outcomes[1] approach to develop a strategy for change.
What do you truly want?
State it in the positive.
Can you initiate it?
Can you control it?
Chunk into manageable task size.
Determine evidence of completion.
Use sensory terms –see, hear & feel it
What must be included?
            Actions, places and people
What must be eliminated
            Actions, places and people
What's the context?
            Who else? Where? When?
What are the current barriers?
What results will the goal yield?
            (Positive & Negative)
What resources are essential?
Set action Steps Specific/achievable.
What is the first step?
Create several ways to get result.
What time frames are involved?
Create systems to support outcome.
[1] Adapted from Resource Realizations
http://wp.me/p4r2GC-1Uo
Wednesday, December 13, 2017 @
04:12 PM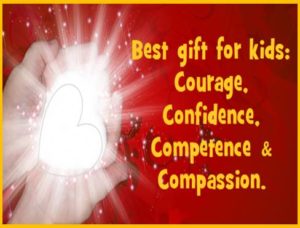 In the previous two blogs we've explored an approach to the holiday season from the perspective of Intentional Parenting. We've striven to shift our focus from material presents and instead to concentrate on intangible blessings. Intentional families reinforce family values in both words and in action.
Like many others of my generation, I am a grandparent handling the day care responsibilities for my grandchild. The reasons for this are two-fold. First, it gives me an irreplaceable channel to forge life-long, solid attachments with my grandson. Second, the cost of quality day-care is prohibitive. My willingness to shoulder this responsibility allows my children to stretch their hard-earned dollars further.
With this first-hand opportunity to shape my grandson, I am able to practice much of the Intentional Parenting suggestions which I proffer here. I believe that helping to shape my grandson's values in a positive way is one of the best gifts I can provide him. Each day during our time together, I intentionally sprinkle messages—comments that encourage, demonstrate and, reinforce our family values. I think of them as thought-seeds, ideas which I trust will take root and bear fruit throughout his lifetime.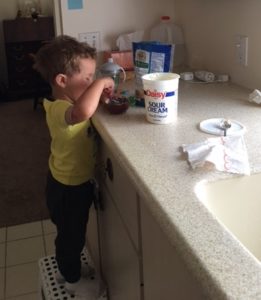 What ideas?
I remind him that he is loved by me, his parents and his extended family. Who loves you, PJ? I continue asking, And who else? Until he runs out of names. Then we reverse engineer the activity reinforcing that there is room for all of the people in his heart. This includes the members of his dad's biological family who do love him deeply and whole-heartedly. At twenty-eight months, he's familiar with this "game" and appears to enjoy it.
I also like to remind him 
that he is capable
, that it is essential to try and try again until success is achieved. 
Nana is so proud of you for trying…
 I acknowledge when he accomplishes something 
especially 
when he's worked hard to do it. When we are together, I also comment on my own efforts to try. I point out when something doesn't work but that I'm going to try again. 
This models capability in addition to speaking about it. And it reveals that even adults must work to gain proficiency.
I think it is important for children to understand that adults do not achieve success every time and that it is a process for us also. If they overheard me speaking aloud, narrating our play like a toddler outsiders might think me crazy. But I believe it reveals important information to children which they might otherwise not notice. In fact, most kids infer that everything is easy for adults; they do not realize we've been learning for our entire lifetimes.
One other belief which I emphasize is the importance of helping others. I let him know that I noticed and admire his efforts to help. Then I mention that his mommy and daddy are wonderful helpers as well. Our family believes in helping. Similarly, I highlight how everyone in our family is a helper, tryer, sharer and, hard worker. This builds compassion as well as a sense that we should not only feel empathetic but that we also should feel called to action.
Often this requires courage, especially in the moments when it is difficult to speak out, stand up or, get involved. This kind of conviction emerges from a lifetime of reinforcement. We plant these seeds when our kids are young and then we nurture them as they grow. This benefits them and us. While teaching them we are reminded of what is important and why.
While this may sound overly preachy and moralistic, fear not. One additional value I teach him is that every day we must make time for laughter and dance. ( And cooking, we're a family that believes when you love someone, you cook them good food. Like his dad, PJ already loves to cook.)
Whatever one's family values are, they bind us together and forge a common belief system that will determine actions. Actions, in turn, become our contribution to the world and a legacy for the entire family. Although we can't wrap it and place it under the tree, a clear family value system is a mighty special gift! One might even say it is the proverbial "pearl of great price.
http://wp.me/p4r2GC-1TT