Posts Tagged 'Intentional Parenting'
Wednesday, May 10, 2017 @
12:05 PM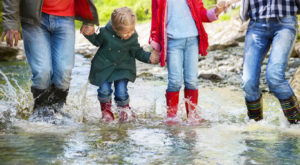 Mother's Day and Father's Day focus attention on the importance of our job as parents. To our children, we are the life raft in which they find security, love, affirmation, and shared history. We educate, coach, and counsel. We serve as confidants and strive to instill a conscience. We represent the nurturing and care which provide children a sturdy foundation on which to build their lives. For all the love and commitment we bring to our families, we also bring our humanity, character flaws and imperfections. How can we be the parents our children deserve?
One of the most important things we can choose as parents is to ensure two things. First, we must work at our relationships with our spouse (or significant Other).  Our relationship serves as our children's template when they begin selecting people to date and ultimately when they choose a life partner. Our children will study the way we treat each other. Their observations will outline what they want and expect from a partner. (It will influence how they choose and treat their friends as well.)
Taking care of ourselves is the second, essential thing that we must choose as parents. Everything we do, serves as a role model. Twenty-four hours a day, seven days a week, three-hundred-and-sixty-five days a year we are always "on stage." There's no getting around it. Our kiddoes are always watching. And learning. When we over-give or engage in perfectionism, they notice. When we comment on our looks, belittle ourselves or disparage our abilities, they absorb the message.
Equally true, when we practice good mental hygiene, make time for exercise, eat well and nurture our talents, our kids take note as well. Intentional Parents periodically remind ourselves of this fact. We are the hub of the family wheel. If we break down, the family journey experiences a rough ride. In the long run, it is a greater kindness to our kids to ensure that we take adequate care of ourselves. Making this a priority blesses the entire family.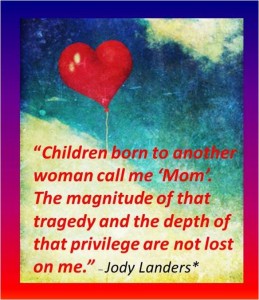 While observing Mother's Day and Father's Day recommit to this AAQ* process which focuses on the unique needs of our families.  While adoption profoundly reshapes our children's lives, it also permanently changes us. Adoption is fundamentally a family experience. Each of us is changed by it. Forever.
In last week's blog we talked about the importance of sharing family fun. Consider these questions to help you get started.
How will you celebrate Mother's and Father's Day as a family?
How will you create a space for your children to share their feelings about/with their birth parents?
In what way will you remember and honor their birth parents?
Wednesday, August 3, 2016 @
02:08 PM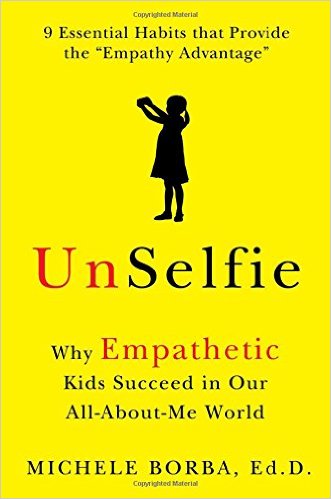 Americans value success. We believe our land of opportunity rewards hard work and determination. Last week we discussed Dr. Michele Borba's excellent book, Unselfie: Why Empathetic Kids Succeed in Our All-About-Me World. Dr. Borba asked us to consider that we can focus on traditional success-producing skills and even increase the likelihood of success if we place equal emphasis on empathy. This allows us to raise children who shine both as human beings and as high achieving go-getters.
As Intentional Parents, how does fostering empathy influence our parenting priorities, practices and choices? What will we change, eliminate. add, or emphasize? How will it alter our expectations of our own behavior as well as our children's?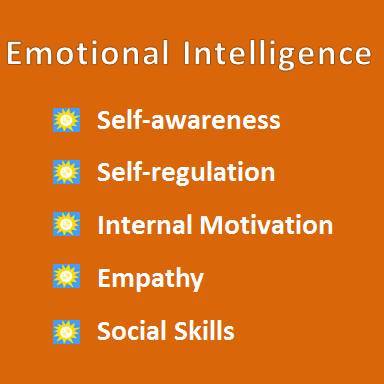 Psychologist Dr. Daniel Goleman coined the concept of Emotional Intelligence and defined it in terms of five elements. Empathy is one of those foundational ingredients. When we parent with an awareness of the role emotions and emotional intelligence play, we can work with our children to nurture them to maturity as well-rounded individuals who succeed in all aspects of their being.
We cannot intimidate our children into behaving. Yelling will not elicit their cooperation. We must carefully nurture their internalization of family values and their decision to live by them. We do not want to be their wardens; we want to be their role models.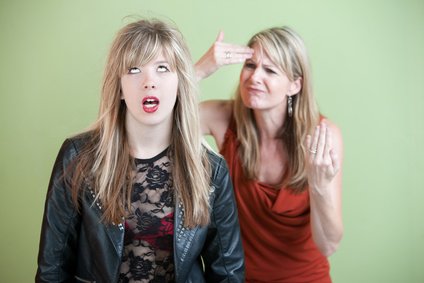 How does this look in action within our Intentional families? Imagine a moment of disagreement between you and your child … You're frustrated, maybe even angry and worried. You are determined to hold strong and deny what your child has requested.
Now imagine their response… Most likely your decision evoked their anger as well as disappointment. This mutual anger feeds off itself and each of you digs in, amplifies your certainty about the rightness of your stance.
How might an Intentional Parent handle this scenario differently? Remember the recent topics of Deep Listening and Empathy. How might it look when Adoption-attuned parents embrace those two principles?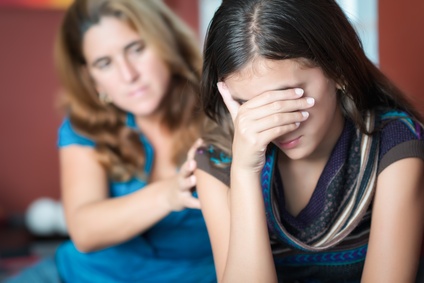 Here's a sample dialog.
First acknowledge the obvious: "Wow, you really feel angry and disappointed." Expect them to double-down on this position and their anger. LISTEN. Do not debate our attempt to change their mind. At this point, do not reiterate your position or impose consequences for their behavior. They will probably keep blowing up, expecting push back from you. Your lack of resistance confounds them, alters their expectations, and, interrupts the pattern of arguing.
Second, deliver a second unexpected response: validate their emotions. Genuinely empathize with them. "I get angry too when things don't go my way." Anticipate an emotion-charged reply. And again, listen… Allow them to unload until their fury dissipates, the "emotional hijacking" ends and, they are capable of listening.
Third, maintain a neutral stance and repeat their position, enumerating their reasons and desired goal. Seek affirmation that you've expressed their position to their satisfaction. The goal here is not to create a winner and a loser. It is to sustain a relationship, model respect and to inculcate our Values. (Later when everyone is calm, address the issue of disagreeing with respect. Practice it; do overs are much more effective than shouting matches. Remember both parties benefit from this practice.)
Finally, restate your parental position. Include any adjustments only if you are now willing to consider them. Choose your language precisely. avoid the word "but." It is a relationship killer. For example. if Trevor cannot attend his friend's party, reiterate their  request, then express your stance like this: You had your heart set on going. Many of your friends will be there AND we stand by our decision that you cannot join them."
At this point do NOT expect that they'll slap on a happy face and enthusiastically accept your decision. Do expect them to abide by it. Allow them the time and space to be disappointed and vent their anger–in their room. Choosing empathy and Deep Listening does not mean parents stand there like a punching bag. Walk away and do not reignite the discussion. If necessary, reply once, "Asked and answered," then disengage with calm and respect.
Recall a recent argument between yourself and your child (or spouse.) How might have this empathy based approach improved the interaction?
Wednesday, April 6, 2016 @
10:04 PM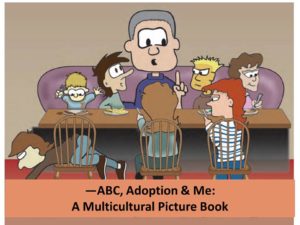 All families have differences. We are after all, not clones but individuals. Adoptive families are even more likely to have areas where preferences and inclinations don't quite synchronize. Most of the time we can appreciate the zest and spice that our children's differences add to our families.
Sometimes, however, their aptitudes and inclinations challenge us. A family of sports nuts, for example, may be utterly confounded by their child's total disinterest in things athletic. Or, a family whose generations have been steeped in the arts, music and dance may be frustrated with their child's refusal to engage while they focus their complete attention on sports.
As Intentional Parents we make an effort to nurture our children's talents and interests. We strive to respect the spectrum of the entire  family's aptitudes, successes and struggles with mutual respect. Sometimes we utter language that undermines our good intentions.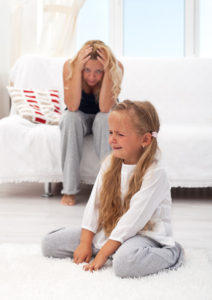 What happens then? Words have power, convey emotion and often carry unspoken judgment hidden between the lines. Consider the distinction between these pairs of words: slender or scrawny; lazy or easily distracted; assertive or bossy, confident or arrogant. Each conveys a different emotional tone–one accepts, the other criticizes. The listener is sure to feel the distinction. At best they receive a mixed message; at worst they understand and absorb the implied criticism.
Although the old adage says, "Sticks and stones may break my bones, but words will never hurt me," we all know the truth that contradicts this old saw. Some words cut to the core, flay the spirit, and destroy self-esteem. Once spoken and heard, such toxic words cannot be taken back, "unheard" or forgotten. Forgiveness may follow, but the memory of such verbal poison and the emotional message they convey, will linger. The scar will remain as a permanent memory of a painful experience.
When our child pursues an activity which we find dull, uninteresting or even not "worthwhile,"  the judgmental part of our consciousness may undermine our best intentions. For example, a sports nut mom, may find it excruciating to listen to her child drone in minute detail about a piece of music or favorite film. She might make an auto-pilot comment like, "That's interesting." That phrase commonly operates as code for BORING. At best it damns with "faint praise." Often our body language conveys our authentic feelings: eyes roll or avoid contact, mouth gapes open or we continue to focus on our own task rather than fully engage with our child.
Why is this important? In our families, we dedicate ourselves to s-t-r-e-t-c-h-i-n-g our family culture to include not only our generational patterns but also those which our children introduced. We commit to a higher standard of connection and communication with our children. This requires a conscious awareness of both the literal and emotional meaning to the words we share and a strict dedication to avoid outright toxic words and phrases. Adoption World is rife with potential hand grenade words.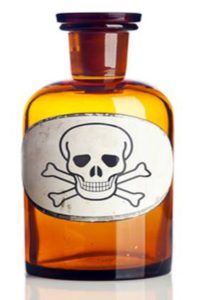 In an earlier blog about Toxic Talk we explored the quicksand of harsh words and the damage they can inflict on our children. Adoption has its roots in loss–for parent and child–and this reality can leave us vulnerable to feelings of shame, self-doubt and, inadequacy. As the saying goes, "Hurt people hurt people." In other words, when people feel hurt, they tend to lash out in response. It is helpful to remind ourselves of this when our kids dish out hurtful or rejecting comments. The heat of the moment is not time for a rational discussion.
We prepare for these conversations ahead of time and remind ourselves that though the words are directed at us–and may be intentionally hurtful–they're usually  our child's effort to unload pain and to shift it to parents.
From GIFT coach, Sally Ankerfelt: "Slipping up" is bound to happen. Hopefully, the negative phrases mentioned in the blog  will not be part of the slip-up. But, our slip-ups can be an opportunity to model How to make an effective apology: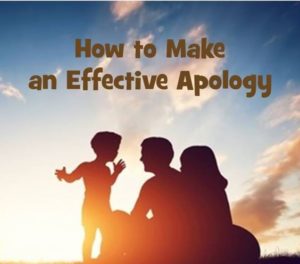 1. State specifically what was said or done that was wrong. (i.e. "I called you a name and that was very wrong.)
2. State the hurt you caused. ("I see by your reaction how that hurt you.")
3. State how your actions made you feel. ( i.e. "I feel sick that I said that because that is not how I truly feel about you.")
4. Explain how you will act in the future. (i.e. "Next time I get so angry, I am going to count to five and take five deep breaths. If I need
to, I am going to take a short walk around the house to calm down before we talk it out.")
5. Be good on your word and follow through with the plan.
6. The final step is for us as parents not to dwell on or continue to beat ourselves up for what we have said or done. We have to forgive ourselves, too, so that we can move forward with confidence and be the parents we seek to be. This step, too, is very important for our children to witness so that they can learn self-forgiveness and moving on when they falter in their own lives.