On Friday my three-and-a-half-year-old grandson begins "school" for the first time. Toddlerhood will give way to childhood. My heart clutches a bit at the thought of losing the joy of spending our days together. I have cared for him since he was only a few months old and it has been a lovely experience for me. His presence brought a counterpoint of joy even as our family walked the long, sad journey of my husband's slow decline from Lewy Body Dementia. Seeing life through the eyes of a child reminded us of the miracle in the ordinary, the often overlooked magic in the mundane.
Spending time in the company of older folks has helped PJ develop empathy and an awareness of human fragility. Many of his first steps were taken while pushing delightedly against Grampa's wheelchair. While PJ gradually learned to feed himself, to walk, to talk, and become increasingly self-reliant, he watched a reverse progression as George needed more and more assistance, and finally became completely dependent on others. The yin/yang of the Circle of Life…
The days on the calendar flip inexorably to PJ's Big Day. Friday aptly marks the duality that typifies January. Endings transition into beginnings. Days free from fixed schedules will end; the rhythm of our lives will now be governed by the school calendar. Structure will replace spontaneity. New friendships will be forged, new activities explored, new skills acquired. While I may shed a bittersweet tear or two, I recognize that "To every thing there is a season and a time to every purpose under heaven." (Ecclesiastes 3:1)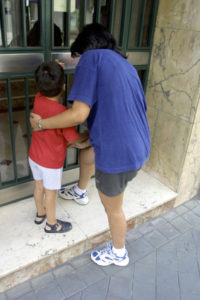 As we release the familiar, we embrace the possibilities of the unknown. PJ bubbles with anticipation and he's counting the days until he goes to school. Some idealized expectations have already been clarified: Mommy will drive him. School bus rides remain a future experience.
Since PJ is not an adoptee, how does this moment from our lives shed light on the adoptive parenting experience?
It has been enlightening to observe the differences between PJ's reactions and my own children's childhood responses to transitions and breaks in routines. The unsteadying trauma of relinquishment via adoption sensitized them to change, to unpredictability and to the unknown. When my son started pre-school, the staff had to peel his tiny fingers from my arms so I could leave. I would stand behind the fence with silent tears staining my face, steeling myself against the urge to re-enter and scoop him up in my arms. Instead, I adhered to conventional wisdom and waited for him to "tough it out." I held my ground and listened while his teacher calmed his fears and he happily joined his peers. Just as they had reassured me, it did not take long. He quickly began playing with the other children. And yet ... the experience felt deeply painful for both of us.
How had I persuaded myself to ignore my intuition that his anxiety ran deeper than typical toddler separation anxiety? Why had I succumbed to the pressure to follow the parenting norms instead of that ache in my gut that sensed somehow this was different, that additional adoption-connected factors demanded a different response. Sometimes it is difficult to question conventional wisdom, to break with norms and to carve a new approach. Just as much as children yearn to fit in, parents want to be seen as competent and accepted by their fellow parents.
Now that I know so much more about adoption complexity, I cringe and regret our eagerness to rush him from the security of being home with mom. But adoption-attunement and adoption fallout were concepts I had yet to discover or consider. Sadly, I had no awareness that his meltdown was probably being triggered by loss and abandonment issues. At the time, I thought I was providing him with much needed socializing and opportunities to grow his independence and self-confidence. With hindsight, I can recognize that it triggered his fear of separation and abandonment. Obviously, I cannot change the past. However, I can share the insights that emerged from our parenting years to help today's adoptive parents to prevent avoidable trauma. Yes, we want our children to become independent; we also want them to feel securely rooted before they stretch their wings and fly.
This is why adoption-attuned sensitivity is so vital. Armed with knowledge, we can support our children better. We have the benefit of awareness and understanding that adopted children have been shaped by the hard realities of adoption and how they are predisposed to triggers, transitions, rejection, etc. Through the grace of Intentional Parenting, instead of ignorance or invalidation, we can knowledgeably meet our children's needs and prepare them for independence in a way that respects their unique circumstances. Roots and Wings...
Through the grace of Intentional Parenting, we can knowledgeably meet our children's needs and prepare them for independence in a way that respects their unique circumstances.
How will Adoption-attuned Intentional Parenting help make you a better parent in 2019?
Visit https://fulltimetired.com/roundup/ to vote.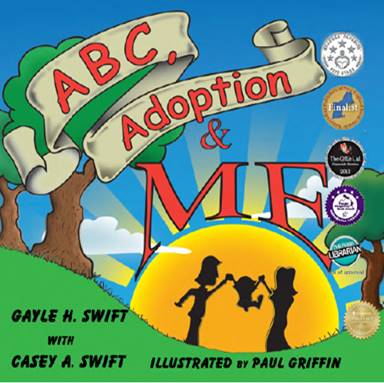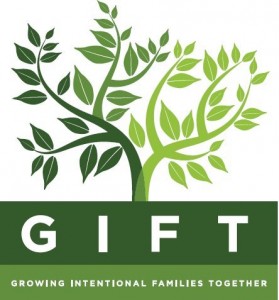 GIFT Family Services chose the tree as our logo because it offers an apt and frequently-used metaphor for adoption. The common interpretation sees the roots representing the birth parents/birth family, the trunk as the extended adoptive family, the branches represent the nuclear adoptive family, and a grafted limb represents the adoptee. In horticulture a limb is grafted onto a healthy trunk; it relies on the strength of the parent plant. It's survival  depends on it. Directed by its DNA, each grafted branch remains true to its nature. For example, a "cocktail" tree grafts multiple kinds of citrus fruit onto a single trunk. This makes it possible for one "parent" plant to produce lemons, limes, oranges and tangerines on a single trunk. Similarly, one "fruit salad" tree bears several variety of apples.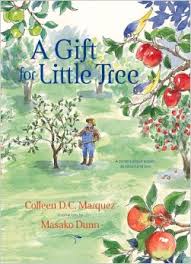 In both cases, a colorful, startling beauty emerges.  Each grafted branch retains its unique identity and together, they become a glorious bouquet of variety. Similarly, adoption merges children into our families. We nurture them to adulthood, value their differences as well as their similarities to us and appreciate that they must be allowed to become whom their DNA prepared them to be.
A Gift for Little Tree by Colleen D.C. Marquez "A beautiful adoption parable about a fruitless apple tree, an abundant apple orchard, one wise farmer, and the greatest gift of all," is a lovely picture book which captures this concept in exquisite watercolor drawings that are paired with gentle text. (Amazon includes this description: "A parable about adoption, this charming story tells of an apple tree who is unable to bear fruit—no matter how hard she tries—until a wise farmer finds a way. He grafts a bud onto Little Tree's limb, and in time she becomes the most colorful tree in the orchard. All those who have experienced the bonds of family in more ways than one will share in Little Tree's delight when she discovers that it does not matter if her apples came from another tree; she loves them as her very own. Existing adoptive parents, as well as those exploring the possibility of adoption for the first time, will find Little Tree's story especially touching. The book also honors the birth mother in a unique way, helping children understand how love is the motivation for her actions.")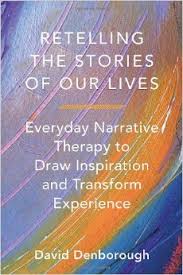 Last week we considered the challenges that face our newly-minted high school graduates. The tree can also illustrate how our children might navigate this transition in their identity as they design the path to their future.
(These ideas are based on the work of  David Denborough and his book Retelling the Stories of our Lives.)
The Roots:  Where do I come from? What do I consider my language, my culture, my favorites-- place, song , activities, teams, clubs, friends, photographs (alone and/or others)
The Ground:  What do I choose to do? In what activities do I regularly engage. Where do I reach out and anchor myself?
The Trunk: What do I value? What provides my sense of strength, stability and capability? What do friends find valuable about me? Which of my talents do the groups I belong to value?
The Branches: What are the hopes, dreams & wishes I have for my life? (As a branch reaches for light, space and water, to what am I drawn in order to feel alive, to grow and to flourish? What hopes & dreams do I have for my tribe, community or society-at-large?
The Leaves: How do I nurture myself? What is my support system? Which people are significant to my life (directly or indirectly)? Include heroes, relatives, friends, mentors, pets etc—living or deceased. What made them important to you and keeps their memory alive within you.
The Fruits: What has been passed on to you or given to you as a contribution from others that make you "who you are?" These can include abstract gifts as well as material ones - something that is important and has become part of you.
The Flowers : How do I present myself to the world so I can be seen and attract relationships and contribute to the world?
The Seed:  What do I wish to contribute or pass on to others? How will I bring my legacy to fruition? Include things that you were not offered but feel important for others to have. How will I dentify the Values that will guide my life?
Bruce Lipton, author of The Biology of Beliefs and The Honeymoon Effect, uses the metaphor of an architect's blueprint to describe our DNA.  Like a blueprint, our DNA is just a sketch of all that it is imprinted upon us. We determine what the final result will be.  The adoptee will make the final decision as to how his identity will unfold.  Like the tree, his identity is fluid and will continue to unfold as the tree blossoms and grows and as he responds to "environmental" factors which affect growth and adaptations.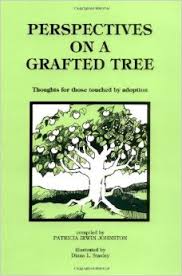 For further angles on the grafted tree metaphor, look to one of the classic books for adopted families, published in 1983,  is a collection of poems titled Perspective on a Grafted Tree by Patricia Irwin Johnston.