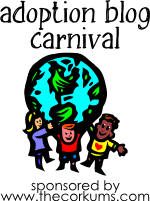 Welcome to another installment of The Adoption Blog Carnival, a smorgasbord of adoption conversations from several bloggers. Check them all out. Each one has a useful tidbit that you'll be glad to know. We are please to participate in this group effort to support adoptive families. #adoptiveparenting
Whether you are in an Open Adoption or not, you will enjoy reading Bumber's Bumblings  blog about her first post-placement visit with her child's birth mother. Not surprisingly, both mom's approached the visit with a mixture of excitement, curiosity and uneasiness. How did it turn out in reality? Read  I Thought I Would Be Sad - Open Adoption    to find out 

 Leslie, a blogger deeply steeped in her Christian faith writes Waiting on a Word She shared her personal "miracle" in The Long and Winding Road to Asheville, a post filled with startling  incidences of things happening not only how she dreamed, but also as she needed them to fall into place. A termination process that typically takes years, was completed in under five months. In a dizzyingly rapid timeline, the foster child they loved so much became their son. If you've ever been discouraged by the snail's pace that is the adoption process, you will rejoice in Leslie's experience.
Schumm Explosion  blogs practical reminders in Adoption Tax Return  "A quick look at the adoption tax return and how it has effected our family.  Make sure if you adopted in 2013 that you file for it on your taxes." Who couldn't use a financial break? Read their post to learn about several things you can do to take advantage of legitimate tax relief.
This RAD Mom talks about The Big Picture and how families and the relationship dynamics change when adoptions occur. I especially liked this quote which focuses on sustaining our family's light of hope and nurturing.  ""When your wife is triggered, the first thing you should do is hug her.  Your child will not want to be part of a family that he feels like he can destroy. Your marriage needs to be first."  While the road to connection may be like a roller-coaster, with heart-pounding highs and lows, we know the results are worth the turmoil.
Growing Intentional Families Together blog post Unveiling Adoption invites parents to pull back the veil on adoption—not the veil of secrecy which is increasingly more transparent in the era of Open Adoption--but the veil that clouds adoptive families from seeing and validating the challenges as well as the blessings which adoption brings.
Suzanne, who blogs at Surpassing Greatness shares a limp-in-your-throat conversation with her young son. New understanding in my boy from China reflects their deeply held faith as she celebrates her son's deepening understanding of God and their Christian faith.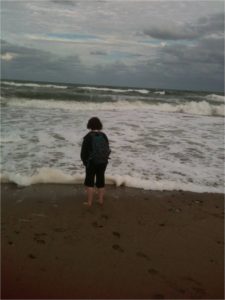 As 2013 draws to a close, it is natural to reflect on the year and to consider the lessons learned, the challenges met, and those that still remain. As you set your intentions for 2014, frame goals for body, mind, and spirit. Make connection a high priority. Carve space for self-care. Model a commitment to learn something every day. Establish individual goals as well as your goal for your family.
Does the mere thought of another item added to your "Do List" make your heart race and your knees weak? Do you feel overwhelmed and under-supported? How does the reality of your family life compare with the dream you had when you originally became a family? Are you feeling capable and excited about the New Year?
Or, do you yearn for some relief, some assistance, a sounding board, a neutral friend to listen and encourage you? The coaches at GIFT Family Services stand ready to be that resource. We are as near as your telephone or computer. Contact us today and begin the New Year with optimism and an ally. We too are adoptive parents. We understand the challenges, the commitment, and the rewards. Contact us today.
The Power of For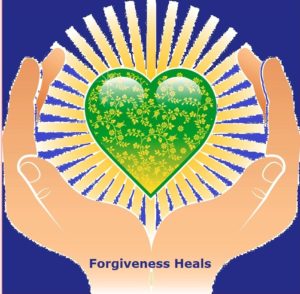 giveness
What is forgiveness? The Webster's New World Dictionary provides 3 meanings for the word forgive:
1. To give up resentment against or the desire to punish; stop being angry with, pardon
2. To give up all claim to punish or exact penalty for an offense; to overlook
3. To cancel or remit a debt.
This may tell us what it means to forgive, but it doesn't address why we would want to forgive. In her blog, Christina White responded to the question, " What advice would you give to us as GIFT coaches and the parents with whom we work?" with the following:
Moving on is all about forgiving. Oprah said it best, "Forgiveness does not mean you have to accept the person back into your life. It does not mean you are condoning their behavior or that you are in any way saying that it was "ok." Forgiveness is giving up the hope that the past could have been any different so you don't hold on to wishing that you had a different kind of family. You let that go, and you move forward with the Grace that God has given you from this day on. I don't want the spirit of me to die because of what you did."
As Christina states, forgiving allows us to get out of our muck of anger, resentment, desire to punish and pay back so we can move forward. Nothing can change if we are stuck. To create the happy life we want for our families and children, we must forgive those who have hurt us, our children and ourselves. The past cannot be changed, but any feelings, regrets, resentments or wishes about the past can be changed. Forgiveness is not about the other person, it is about freeing us of negative energy associated with the person and not allowing that person to have control over our feelings and behaviors. Forgiveness provides the freedom to live in peace.
Lynn Cooper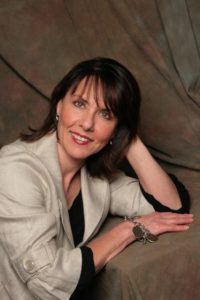 Many parents, adoptive or otherwise, may be struggling in their relationship, as I was with my daughter a few years ago, as a result of tension created by their child having difficulty reading. Last night, I sat reading aloud the 2nd book in The Hunger Games trilogy with my daughter, who has just entered her freshman year in high school and is required to read 40 minutes a night or at least 100 pages a week. This requirement is not a new one; throughout elementary and middle school, she was encouraged, sometimes cajoled by her teachers to read each night in the hopes of improving vocabulary, writing, and even reading "stamina." It was not easy; sometimes we had an unhappy child who struggled while we were standing by feeling hopeless, sad, irritated, and even angry about her inability to read despite all of our best efforts.
Passing more than once the school vision test, the pediatrician's eye test, and the eye doctor's test, we eventually discovered what Dr. David Cook, a nationally recognized speaker, writer, and leader in the field of developmental optometry has termed, the myth of 20/20 vision – that "having healthy eyes and the ability to read even the tiniest letters on a chart at the end of a long room" does not preclude a child's persistent reading difficulties and perhaps, attention problems. Our daughter was the one case in four where 20/20 eyesight is NOT enough for good school performance.
From Dr. Cook's book, When Your Child Struggles: The Myths of 20/20 Vision – What Every Parent Needs to Know:
"20/20 does not mean that your child can see the chalkboard at the end of the day when he is tired. It does not mean that your child can see to read without blurred or double vision. It does not mean that he can use his eyes to guide a pencil when writing. It does not mean that he can control his eyes well enough to keep his place when reading. It does not mean that he can understand or remember the distorted information coming through his eyes. In short, 20/20 eyesight is absolutely NO guarantee that your child has the visual abilities to succeed in school!"
According to Dr. Cook, vision is more than eyesight acuity but refers to how your child uses his or her eyes to communicate with the world. There are seven main visual abilities for learning and these abilities can be learned and/or improved upon at any age through a process known as Vision Therapy. Vision Therapy is a process which relies on giving an individual feedback and practice to teach him to develop or enhance his visual abilities. In our daughter's case, it turned out she had a problem tracking words so that the word F R O M, for example, was read as F O R M and vice versa. Vision Therapy identified an eye teaming ability problem and she began to practice exercises to teach her accurately to track with her eyes when looking from one point to another. When our family finally understood our daughter's vision problems and began Vision Therapy, she became a better reader, a better student, a more empowered individual and our relationship became less strained.
Going back to school, in any grade, allows both kids and parents to determine goals, establish procedures, and set up a plan for "success." My daughter's coolness for reading persists somewhat but it is now manageable; she admits that because she would choose to read only the required textbooks, she agreed for us to read together each night partnering to fulfill her school's requirements and coincidentally spending some quiet time together. I remain hopeful that someday she may truly enjoy reading but am satisfied that she continues to flex her reading muscle with me each night. While her reading difficulties have been a source of friction in our relationship, we are overcoming it with time, patience, practice, and our first tool, knowledge.
Susan David
__________________________________________________________
An increasing number of optometrists are growing more mindful of the importance to your child of the visual abilities that go beyond 20/20 vision. For more information about Vision Therapy you can contact the Optometric Extension Program Foundation, the organization dedicated to education and research in VISION; David Cook at www.cookvisiontherapy.com; and Gabby Marshall, OD, Developmental Optometrist and our daughter's eye doctor can be reached at www.elementaleycare.com.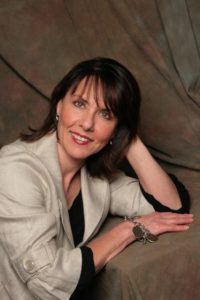 Ever been at a car wash for one cause or another with a group of teens?  Soapy water, suds, and slippery pavement combined with energetic, spontaneous and very excited teens, and then add every so often a moving vehicle rolling into that picture!  YIKES!  What I noticed, too, was that I had to keep reminding them of the procedures (the "rinse, wash, rinse, dry" mantra) or I found myself holding up hoodies and sweaters ("somebody left this nice jacket, to whom does the black sweater belong? ", etc).
Each week I work with a delightful group of young people with really big hearts and some great ideas around fundraising for a medically challenged child and family facing some extraordinary circumstances.  These young people develop fundraising ideas and then do the necessary work to execute those ideas.  I am fortunate enough to work with them both as a parent and as a performance coach assisting the group, among other things, in setting goals, articulating the group's purpose, and assessing the outcomes of their fundraising in a neutral way so that the "lessons" learned may be applied to future fundraising events.  They are doing a terrific job.  And I continue to take a nap after spending an intense Friday session with them!
Working well with teens – our own or in a larger group – requires us to remember that teens do have challenges remembering important information.  Their brains are not yet developed enough to remember key information and keep track of their stuff.  We will have to wait until a person reaches his or her mid-to-late-20s for that while in the initial stages of the development phase nerve cells (neurons) are occupied with creating connections with each other.  So, the ability to perform planning tasks, paying attention and to reasoning – executive functioning –  and attributed to the development of the frontal lobe and parietal cortex – is not completely developed until the late teens or early 20s.  What that means is that while a teen can plan and remember, it is also likely for them to have a glitch in this process as well.  A good thought to remember as one of the car wash teens applied a soapy loofah to a very dry and dirty 4x4!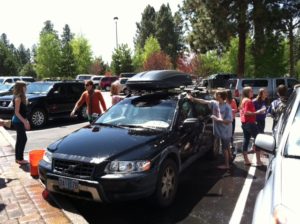 Other than reciting the adage "patience is a virtue," in such potentially frustrating situations, below are three tips we parents can put into play:
Set limits – Remember a teen's brain is still developing in response to experience, so we can actually help shape it by setting clear limits and providing precise guidelines for what is and is not acceptable.
Model behavior – Lead by example and demonstrate reasoning skills for your teen, contemplating what might be the consequences of possible actions.
Consider cause and effect – Let them consider for themselves the possible consequences of actions before they do them!  Thinking beforehand is a vital "executive function" and teens can be assisted if we encourage them first to brainstorm and then to list some of the potential outcomes that might result from a particular action.
After a successful (and safe!) car wash fundraiser, I admit I am probably not ready to abandon my Friday afternoon nap after working with these teens.  However, I remind myself when things go "a little crazy" that a certain amount of forgetfulness and scatteredness is part and parcel of a developing healthy teenage brain!  Setting clear limits for them, demonstrating my own reasoning skills, and having them consider for themselves the effects of their actions allows not only an understanding of them but patience and coping for me!
Susan David