Feeling short of time or finding it difficult to concentrate? You can listen to this post. Read time:   4:16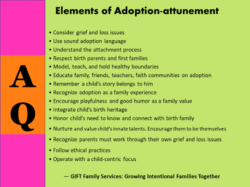 The coaches at GIFT work to help families acquire the skills and knowledge that will enable them to succeed at Growing Intentional Families Together. We believe in being intentional and conscious about the values and beliefs that guide the way we live and raise our families. Our parenting beliefs create a mindset and guide our actions so it is essential that we examine and carefully define them. Parents should identify areas of consensus as well as conflict and then hammer out a compromise.
Readers of this blog know we write with a consistent point of view that holds adoptees at the hub. We also recognize that adoption does not exist in a vacuum. It unfolds within a context of relationships between the adoptee and his parents (first/birth and adoptive) and the people he or she encounters in the world at large.
Our coaching primarily focuses on this relationship dynamic. We coined a word for this approach—Adoption Attunement—and incorporated it into our tag line: Your Adoption Attunement (AQ) specialists providing coaching and support before, during, and after adoption." AQ includes fifteen basic points.
(We also have delineated twenty-five foundational principles and beliefs of our adoption philosophy and this document is posted on our About Us page.
The coaches at GIFT Family Services are committed to educating and raising awareness about Adoption-attunement. Adoption-attunement℠ infuses all of our coaching whether is it done person to person, in a family/group, or via podcast, video, webinar, conference presentations, workshops, blogs, interviews, articles, and books.  We firmly believe as people understand more about adoption complexity, they can update their ideas and beliefs about adoption. This empowers them to parent better, to build stronger connections within their families, and to provide the support which their children so sorely need.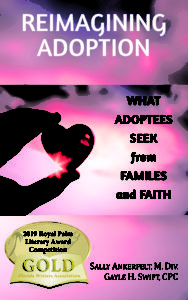 GIFT is dedicated to serving the adoption community regardless of an individual's faith, culture, or gender identity. We are also mindful of the strong interest of the Christian community in encouraging adoption and believed this would be an important arena into which we could introduce the Adoption-attunement principles. We asked ourselves how families can integrate their faith beliefs with Adoption Attunement (AQ) in a way that honors both. Two of our coaches decided to write a book to answer this need.
The result is an award-winning book, Reimagining Adoption: What Adoptees Seek from Families and Faith. The premise is tilted toward the Christian community yet the fundamental principles would be useful to anyone connected to adoption. You can listen to Sally's interview discussing the book with a Christian podcaster. Note: this particular interview represents a particular faith point of view.
GIFT Family Services -- Growing Intentional Families Together
"Your Adoption Attunement specialists
providing coaching and support before, during, and after adoption."   



GIFT coaches are available to present workshops in person or on-line.
Contact us to explore this possibility.
The influence of Christmas surrounds us whether it is part of one's faith tradition and beliefs or not. Most people probably "know" the Nativity story— even non-Christians.  This blog written by GIFT coach and Lutheran minister, Sally Ankerfelt, continues our look at the Nativity through an adoption lens.  The Chrismas story may trigger questions and concerns for adoptees. Sally offers parents insights to help them reassure their children through the season. While her thoughts flow through a faith-based filter, there are insights for all adoptive families regardless of their faith tradition.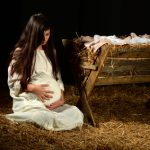 In the next week or two, congregations across the nation will present the traditional "Christmas Pageant." The birth of Jesus will be re-enacted by the youngest of the fold. You may even have a child who will be a part of this play, dressed up as a shepherd, a wise man, Mary or Joseph.
In our last blog, we asked, "What do our (adopted) children see and experience at Christmas?" We talked about the popular image of The Holy Family being tight-knit, cozy, warm, and a model of what a faithful family should be.
Yet, for our adopted children and, perhaps, for us as adoptive families, we may struggle to see how we fit into this picture. Even worse, adoptive children and families may see how they fall short of this ideal family.
But, a closer look at the story of Jesus and his birth reveals an almost opposite picture of The Holy Family. In fact, the real, non-Christmas-pageant family has elements that adoptive children and families may quickly recognize.
First, Mary and Joseph were not a traditional couple. In fact, from the human eyes of Mary and Joseph, this pregnancy was unplanned and scandalous. Joseph had the notion to "dismiss [Mary] quietly" and go on with his life. He was asked by God to parent this child which was not his. Joseph takes on the role of dad, loving and claiming Jesus as his own. Does this sound familiar? Already, we see in the story an element of adoption, that in the mind of God, a father can have a son whose parentage is different.
Mary also is a woman who is asked to bear someone else's child. From the time the angel tells her she will bear the Savior of the World, she recognizes that this child belongs to God.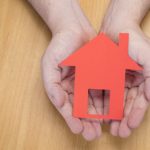 Second, the Holy Family is transient. Mary and Joseph wander far from their home in Nazareth to  Bethlehem, a city of strangers. There, they look for a place to give birth and experience many closed doors before an inn-keeper sees their need. For adoptive families who have searched and traveled far, Mary and Joseph's experience may ring true. For adoptive children who have been in foster care and moved from place to place, the transient and uncertain nature of where the infant Jesus will finally "lay down its sweet head" (from the carol, Away in a Manger) may bring a note of recognition.
When we tell these parts of the Christmas story, we as adoptive children and families may see ourselves.  From the beginning, this Holy Family is a family formed with people on the margins and in difficult situations. The story is layered with what it means to be family and with an understanding that "family" means more than just a tight-knit nuclear unit.
The amazing thing about this manger story is that it does not end on that Holy Night, when the traditional Christmas pageant curtains close. Jesus continues to introduce us to a new type of family, one defined by declaration, love, and loyalty.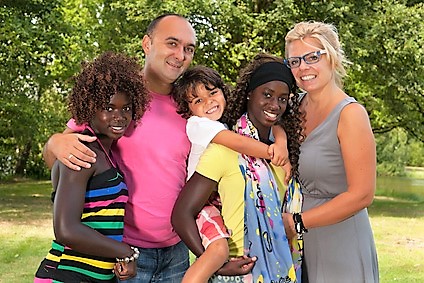 That baby in a manger and his parents are indeed a Holy Family. But, they are not the kind of Holy Family we often see at pageants and in pictures. This Holy Family is holy because it reflects the messiness of life while expanding our definition of what it means to be family. Families can be created in unique and haphazard circumstances. Families can be more than birth parents and children. They can include other parents, as well (foster parents, step parents, etc.). And families formed simply by declaration that shows they are, indeed, fully parents and children, and are just as much a family as any.
I encourage those who are celebrating Christmas to read your children the Christmas story. As you go along, pause in your telling, gently offering this background information to your children. Questions of curiosity can introduce the ideas, such as "Did you know that Mary and Joseph and baby Jesus were like our family? Joseph and Mary were the dad and mom, but God was, too." Or "Did you know that Mary and Joseph were afraid to be parents because they knew that they had a child that they had to share with God?" or "I wonder what Jesus felt growing up, knowing he had Mary and Joseph as his parents but God as his parent, too."
The questions themselves can do the teaching while we, as adoptive parents, do the watching, listening and validating.
Letting our children know that they have a place in the Christmas story may bring a new experience of Christmas: inclusion rather than exclusion, a confirmation that even families that have loss as a part of their beginnings are just as beautiful, real, and holy as any other.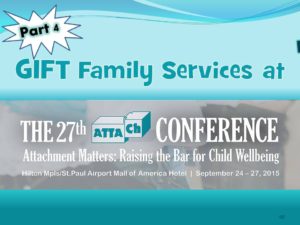 Final of a 4 part series examining the promise of faith communities as sources of healing and connection and GIFT coaches, Sally Ankerfelt and Susan David's recent presentation at the 2015 ATTACh Conference in Minneapolis, Minnesota.
To bring you up to speed in this 4 Part series: 
Week 1 discussed the promise of faith communities as healers and connectors, perhaps even more than we think.
Week 2 noted that faith communities at their best – through worship services, rituals, community outreach, even the physical presence of the building -- are designed to improve areas of our lives and develop coherent healthy systems that foster emotional well-being.        
Week 3 highlighted that despite the promise and potential of faith communities to heal and connect, it sometimes falls short because it seeks to influence its congregants. A paradigm shift from influence to integration is needed if congregants are to feel accepted and loved. This is especially true for those families dealing with inconsistency and trauma in their lives.
Today: How would it be for congregants to experience God's love through our relationship with them, by focusing on acceptance and belonging rather than influence?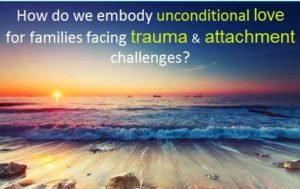 This week Susan and I offer some suggestions that can shift our faith communities away from influence and toward integration. These are specific integration adaptations that you can begin to discuss and work to implement with your own faith communities. This process may be a slow one but it need not happen overnight. Some suggestions may fit and others not but as coaches we know that even a small change can yield big results. In our opinion, continuing to educate the congregation on the need for acceptance and belonging as a way to heal and connect is vital. More importantly, a paradigm shift from influence to relationship will create a change that can take root and grow for years to come.
Faith Communities as a Source of Healing and Connection: What You Can Do list:
Physical:
Set the tables in the fellowship hall in larger groupings to encourage "family style" eating.
Have fellowship/coffee time take place closer to the worship space to encourage a fluid transition from one place to the next. If you can, have the coffee hour in different areas of the building to encourage others to participate. For example, if you have an elevator and there is space, have coffee available near the elevator, as well. Another example: occasionally have coffee and snacks in the education area, encouraging folks to go to the youth and "hang" in their "neck of the woods."
Rocking chair in sanctuary
Quiet corner close to worship
Increase entryway space if it's small.
Consider positioning of the pews. Is there any other way they can be configured to encourage community and relationship building?
Consider calming colors on the walls.
Look into putting windows in Sunday school rooms for safety.
Have colorful plants outside the building.
Temperature in the building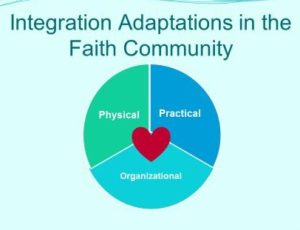 Practical:
Provide a "fidgets cart" near the worship space where people young and old can reach in for a squeeze ball, stuffed animal, scented play-doh (there are homemade recipes on line that make a lesser-scented dough to which you can add aromatherapy oils), etc.
Equip a pew with coloring crayons, paper, etc. directly on the pew/chair seat where a child can kneel on the floor and use the pew/chair as a table.
Join hands for prayer time during worship.
Provide brief explanations in the bulletin/order of service that set the various elements in the light of integration.
Examples: Confession and Forgiveness- Here we let go of our disappointments and failures of the week, trusting in God's ability to 'remember our sins no more' so our here-and-now will not be clouded by our past and our future can be open to possibility.
Service of the Word – Hearing God's love and guidance and listening to the Word, we find meaning in our experiences and move forward with faith and confidence.
Prayers- Together we lift up our joys and concerns. By doing so, we grow as a God-formed community and we are reminded that we are not alone.
Hymns- Singing Together reminds us that we all have a place in the choir; we all are important to the Body of Christ in our own, unique way. Christ's body in this world is enhanced through our collective voices.
Write liturgy for worship that reflects integration.
Instead of "cafeteria style" congregational meals, try "family style" meals. It's amazing what can happen when we pass the plate and have to ask our neighbor to pass the butter!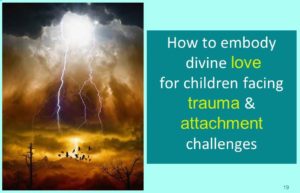 Organizational:
Begin the conversation by asking and discerning:
If the church can agree that they want to create a safe place and ministry for traumatized, excluded, special needs children.
If so, who within the church can oversee this

What resources will help meet those needs?
Develop a mission statement that reflects the emphasis on relationship- building purely for the sake of people's well-being.
Invite all groups in the congregation to reflect on how their group supports the new mission statement of the church.

Consider the qualifications/requirements for membership and removal of membership.
In your constitution or by-laws, if you have a process for discipline that leads to removal of membership, consider developing a process for renewal of the relationship, whether it be reinstatement of active membership or some sort of maintaining of the relationship, even from afar. This may be as simple as a commitment of the congregation to pray for these members.
Education:
-Safe and healthy congregation training
-traditional Sunday school vs. relational Sunday school with an explicit emphasis on connection rather than curriculum
-base curriculum on the five Intelligences, providing a variety of learning styles (rotational Sunday school sometimes works well)
-Consider multigenerational Sunday school where children can receive more personal attention.
-Put something like a "Trauma Tidbits" article in each newsletter that begins to educate the general membership.
-Seek out as much information about a child as possible concerning learning and behavioral support needs, asking parent what is effective, what constitutes contacting them for support, etc. (i.e. screening interview)
-Have an "angel helper" or trained "floater" or "mediator" who is knowledgeable in trauma behaviors and can help.
-Buddy system
-Special needs classes and rooms
-Have a leadership and Sunday school leader training on the basics of trauma and the congregation's philosophy (based on the mission statement) on behaviors and responses.
-Create a plan for teachers so that they will feel both supported and equipped to respond to a behavior challenge.

 1.800.adopt.21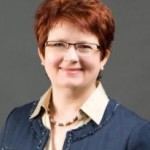 Interested in speaking to Susan or Sally?
Call for a thirty-minute consultation.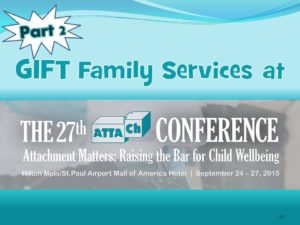 This post is Part 2 of a 4 part series examining the promise of faith communities as sources of healing and connection and GIFT coaches', Sally Ankerfelt and Susan David's recent presentation at the 2015 ATTACh Conference in Minneapolis, Minnesota.
If faith communities are sources of healing and connection, why don't I feel that way?  
Sometimes faith communities struggle with difficult behaviors with children. Mine is no exception. One Sunday morning, some teenagers who had been attending a weeknight youth program for neighborhood kids starting coming to our worship services. As a pastor, I was so pleased to see them there, getting connected to the faith community because I knew that many of them had little support in their lives and were challenged socially.
But, during worship, these young people did things to disrupt our carefully-planned and proper service. During the "amens" we would hear the Homer Simpson, "Dup!" During the prayers, we would hear several youthful voices praying just a beat behind the rest of us. And there was laughing and fidgeting going on, as well.
Finally, those in attendance had had enough and asked the youth to leave. They did not leave quietly with their heads bowed down in shame. They left with their middle finger flying high and with a confident, chorus of "F-You!"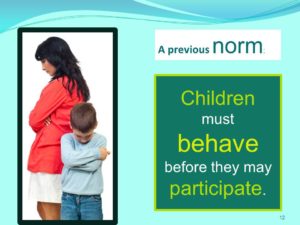 The congregation was astounded and afraid. Emails followed the next day. I wondered, as a leader of the congregation, what to do. So, we called a special meeting following worship the next Sunday.
This incident in our congregation set something in motion within me. Something is going on that cannot be ignored by faith communities. In fact, I became more and more convinced, through my studies, that not only can this trauma not be ignored, it is actually at the heart of what we believe faith communities are called to be: sources of healing and connection for those affected by trauma.
There are profound ways that faith communities support connection and healing, ways that faith communities can embody much of what we heard at the ATTACh conference.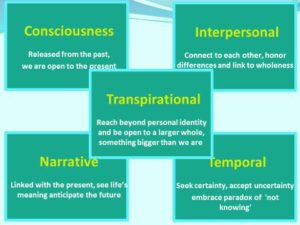 Neurobiologist Dan Siegel asserts that there is a foundational interplay between the mind, the brain and our relationships with ourselves and others. When this interplay is flowing properly, without threats or interruption or neglect, trauma or any other unhealthy environmental factors, then we have emotional well-being and the relationships between the parts of ourselves and the relationships with each other are communicating, flowing and alive – there is integration.
Emotional well-being and promoting better attachment– the focus of the ATTACh conference – emerges from integration. There are areas of our lives where integration can be promoted and our emotional well-being enhanced. When Susan and I studied these areas of integration, we thought, "Wow, almost all of these areas are supported by faith communities at their best." 
Think for a moment of your own faith community and you'll come up with many of your own examples where the faith community embodies unconditional love whether in its holy teachings, rituals, worship itself, its community activities, or the secular outreach programs it's involved in. Even the physical church building is important – it is always present. So, as we see it, faith communities can be way more than what we think they are – they are even more relevant than before for healing and creating connection.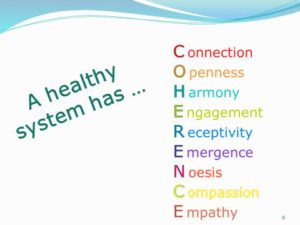 Further, Dr. Siegel gives an excellent acronym to describe an integrated, healthy system, one that is supported by the domains of integration we just mentioned: COHERENCE. It's a great way to remember what integration looks like and an excellent way to notice integration in our faith communities.
It was interesting what occurred when we held our congregational meeting. One woman said, "I'm afraid, afraid they're going to hurt someone, but I cannot support closing the doors on these kids. If we do that, we are not demonstrating the love we claim to profess." Another woman said, "I was one of those kids about 40 years ago, lost, needing a place to belong, but not knowing what to do. This church embraced me and here I stand, an active person in this congregation."  This faith community decided not to expel the young people. Instead, they decided they would get to know them, invite them to sit with them during worship, ask those questions.  In other words, they decided to establish relationships with them.
Now here is the thing: what we noticed in our own places of worship, not only as a pastor and member, but also as parents whose children have experienced the effects of trauma, challenged with attachment disturbances such as dysregulated behavior and maybe our own possible secondary trauma or caregiver fatigue – what we noticed was that there was a tension. There is something going on between what is happening in our faith communities and this ideal coherent integrated faith community that offers unconditional love and acceptance.
Next week Susan and I will discuss this ongoing tension between influence and acceptance and the paradigm shift that is required to heal and connect our congregations so that they can truly be faith communities built on unconditional love and belonging.

Susan combines experiences as certified coach, lawyer, and adoptive mom of three in a multicultural/minority family with extensive involvement in her Jewish community. She believes by incorporating adoption-attunement and trauma-aware practices, faith communities can enhance their support of members touched by adoption. Working through her family's trauma and attachment experiences deepens her understanding of issues facing adoptive families. Susan's emphasizes adoption-attuned parenting strategies using solid coaching principles.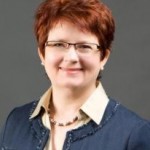 As an ordained pastor, certified coach and parent of three children with various attachment adaptations, Sally holds a unique perspective of the role a faith community and its practices can play in supporting healthy attachment between members, families, and children.