The influence of Christmas surrounds us whether it is part of one's faith tradition and beliefs or not. Most people probably "know" the Nativity story— even non-Christians.  This blog written by GIFT coach and Lutheran minister, Sally Ankerfelt, continues our look at the Nativity through an adoption lens.  The Chrismas story may trigger questions and concerns for adoptees. Sally offers parents insights to help them reassure their children through the season. While her thoughts flow through a faith-based filter, there are insights for all adoptive families regardless of their faith tradition.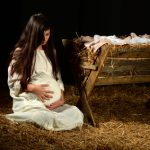 In the next week or two, congregations across the nation will present the traditional "Christmas Pageant." The birth of Jesus will be re-enacted by the youngest of the fold. You may even have a child who will be a part of this play, dressed up as a shepherd, a wise man, Mary or Joseph.
In our last blog, we asked, "What do our (adopted) children see and experience at Christmas?" We talked about the popular image of The Holy Family being tight-knit, cozy, warm, and a model of what a faithful family should be.
Yet, for our adopted children and, perhaps, for us as adoptive families, we may struggle to see how we fit into this picture. Even worse, adoptive children and families may see how they fall short of this ideal family.
But, a closer look at the story of Jesus and his birth reveals an almost opposite picture of The Holy Family. In fact, the real, non-Christmas-pageant family has elements that adoptive children and families may quickly recognize.
First, Mary and Joseph were not a traditional couple. In fact, from the human eyes of Mary and Joseph, this pregnancy was unplanned and scandalous. Joseph had the notion to "dismiss [Mary] quietly" and go on with his life. He was asked by God to parent this child which was not his. Joseph takes on the role of dad, loving and claiming Jesus as his own. Does this sound familiar? Already, we see in the story an element of adoption, that in the mind of God, a father can have a son whose parentage is different.
Mary also is a woman who is asked to bear someone else's child. From the time the angel tells her she will bear the Savior of the World, she recognizes that this child belongs to God.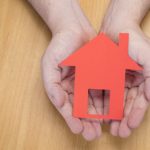 Second, the Holy Family is transient. Mary and Joseph wander far from their home in Nazareth to  Bethlehem, a city of strangers. There, they look for a place to give birth and experience many closed doors before an inn-keeper sees their need. For adoptive families who have searched and traveled far, Mary and Joseph's experience may ring true. For adoptive children who have been in foster care and moved from place to place, the transient and uncertain nature of where the infant Jesus will finally "lay down its sweet head" (from the carol, Away in a Manger) may bring a note of recognition.
When we tell these parts of the Christmas story, we as adoptive children and families may see ourselves.  From the beginning, this Holy Family is a family formed with people on the margins and in difficult situations. The story is layered with what it means to be family and with an understanding that "family" means more than just a tight-knit nuclear unit.
The amazing thing about this manger story is that it does not end on that Holy Night, when the traditional Christmas pageant curtains close. Jesus continues to introduce us to a new type of family, one defined by declaration, love, and loyalty.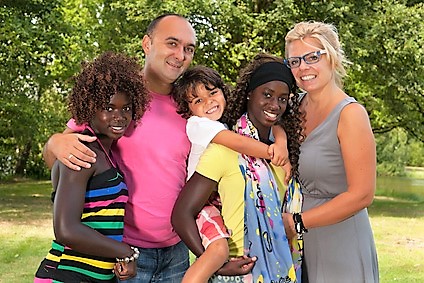 That baby in a manger and his parents are indeed a Holy Family. But, they are not the kind of Holy Family we often see at pageants and in pictures. This Holy Family is holy because it reflects the messiness of life while expanding our definition of what it means to be family. Families can be created in unique and haphazard circumstances. Families can be more than birth parents and children. They can include other parents, as well (foster parents, step parents, etc.). And families formed simply by declaration that shows they are, indeed, fully parents and children, and are just as much a family as any.
I encourage those who are celebrating Christmas to read your children the Christmas story. As you go along, pause in your telling, gently offering this background information to your children. Questions of curiosity can introduce the ideas, such as "Did you know that Mary and Joseph and baby Jesus were like our family? Joseph and Mary were the dad and mom, but God was, too." Or "Did you know that Mary and Joseph were afraid to be parents because they knew that they had a child that they had to share with God?" or "I wonder what Jesus felt growing up, knowing he had Mary and Joseph as his parents but God as his parent, too."
The questions themselves can do the teaching while we, as adoptive parents, do the watching, listening and validating.
Letting our children know that they have a place in the Christmas story may bring a new experience of Christmas: inclusion rather than exclusion, a confirmation that even families that have loss as a part of their beginnings are just as beautiful, real, and holy as any other.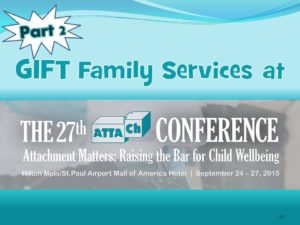 This post is Part 2 of a 4 part series examining the promise of faith communities as sources of healing and connection and GIFT coaches', Sally Ankerfelt and Susan David's recent presentation at the 2015 ATTACh Conference in Minneapolis, Minnesota.
If faith communities are sources of healing and connection, why don't I feel that way?  
Sometimes faith communities struggle with difficult behaviors with children. Mine is no exception. One Sunday morning, some teenagers who had been attending a weeknight youth program for neighborhood kids starting coming to our worship services. As a pastor, I was so pleased to see them there, getting connected to the faith community because I knew that many of them had little support in their lives and were challenged socially.
But, during worship, these young people did things to disrupt our carefully-planned and proper service. During the "amens" we would hear the Homer Simpson, "Dup!" During the prayers, we would hear several youthful voices praying just a beat behind the rest of us. And there was laughing and fidgeting going on, as well.
Finally, those in attendance had had enough and asked the youth to leave. They did not leave quietly with their heads bowed down in shame. They left with their middle finger flying high and with a confident, chorus of "F-You!"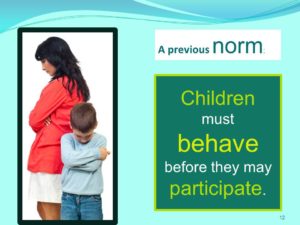 The congregation was astounded and afraid. Emails followed the next day. I wondered, as a leader of the congregation, what to do. So, we called a special meeting following worship the next Sunday.
This incident in our congregation set something in motion within me. Something is going on that cannot be ignored by faith communities. In fact, I became more and more convinced, through my studies, that not only can this trauma not be ignored, it is actually at the heart of what we believe faith communities are called to be: sources of healing and connection for those affected by trauma.
There are profound ways that faith communities support connection and healing, ways that faith communities can embody much of what we heard at the ATTACh conference.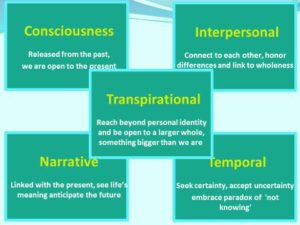 Neurobiologist Dan Siegel asserts that there is a foundational interplay between the mind, the brain and our relationships with ourselves and others. When this interplay is flowing properly, without threats or interruption or neglect, trauma or any other unhealthy environmental factors, then we have emotional well-being and the relationships between the parts of ourselves and the relationships with each other are communicating, flowing and alive – there is integration.
Emotional well-being and promoting better attachment– the focus of the ATTACh conference – emerges from integration. There are areas of our lives where integration can be promoted and our emotional well-being enhanced. When Susan and I studied these areas of integration, we thought, "Wow, almost all of these areas are supported by faith communities at their best." 
Think for a moment of your own faith community and you'll come up with many of your own examples where the faith community embodies unconditional love whether in its holy teachings, rituals, worship itself, its community activities, or the secular outreach programs it's involved in. Even the physical church building is important – it is always present. So, as we see it, faith communities can be way more than what we think they are – they are even more relevant than before for healing and creating connection.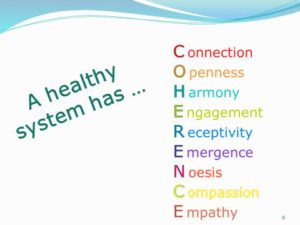 Further, Dr. Siegel gives an excellent acronym to describe an integrated, healthy system, one that is supported by the domains of integration we just mentioned: COHERENCE. It's a great way to remember what integration looks like and an excellent way to notice integration in our faith communities.
It was interesting what occurred when we held our congregational meeting. One woman said, "I'm afraid, afraid they're going to hurt someone, but I cannot support closing the doors on these kids. If we do that, we are not demonstrating the love we claim to profess." Another woman said, "I was one of those kids about 40 years ago, lost, needing a place to belong, but not knowing what to do. This church embraced me and here I stand, an active person in this congregation."  This faith community decided not to expel the young people. Instead, they decided they would get to know them, invite them to sit with them during worship, ask those questions.  In other words, they decided to establish relationships with them.
Now here is the thing: what we noticed in our own places of worship, not only as a pastor and member, but also as parents whose children have experienced the effects of trauma, challenged with attachment disturbances such as dysregulated behavior and maybe our own possible secondary trauma or caregiver fatigue – what we noticed was that there was a tension. There is something going on between what is happening in our faith communities and this ideal coherent integrated faith community that offers unconditional love and acceptance.
Next week Susan and I will discuss this ongoing tension between influence and acceptance and the paradigm shift that is required to heal and connect our congregations so that they can truly be faith communities built on unconditional love and belonging.

Susan combines experiences as certified coach, lawyer, and adoptive mom of three in a multicultural/minority family with extensive involvement in her Jewish community. She believes by incorporating adoption-attunement and trauma-aware practices, faith communities can enhance their support of members touched by adoption. Working through her family's trauma and attachment experiences deepens her understanding of issues facing adoptive families. Susan's emphasizes adoption-attuned parenting strategies using solid coaching principles.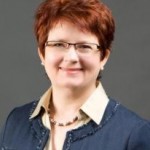 As an ordained pastor, certified coach and parent of three children with various attachment adaptations, Sally holds a unique perspective of the role a faith community and its practices can play in supporting healthy attachment between members, families, and children.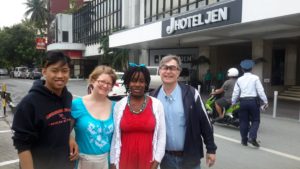 Sally Ankerfelt, one of the co-founders of GIFT Family Services recently returned from a homeland trip to the Philippines. (Sally's middle child, Elias, was born there.) They have agreed to share their thoughts about this trip. Their experience dovetails nicely with our recent blog posts on identity factors in adoption. Enjoy!  Notice that one of the unexpected benefits was the chance for Sally and Dan to experience being overtly in the minority, something all of their children experience regularly in their life here in the USA.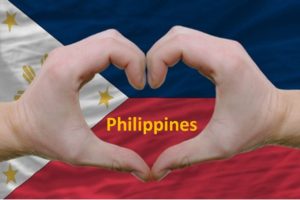 Kamusta ang aking pangalan ay Elias Ankerfelt. (Hello my name is Elias Ankerfelt). I was adopted from the Philippines at the age of 16 months old, in the year 1998. In the past year I have begun to wonder more and more about who I am as a person. On June 16th 2015 my family and I were able to travel to the Philippines for three weeks. Two of the weeks we worked at House of Refuge home for abandoned children. During the two weeks we spent at House of Refuge, I was able to go with one of their older children or a house parent to the store. This may not seem like anything special to most, but the ability to hail a tricycle and go to the store like a Filipino who lives in the Philippines was so enjoyable. I felt that I was being a true Filipino, and that I was just another person walking down the street.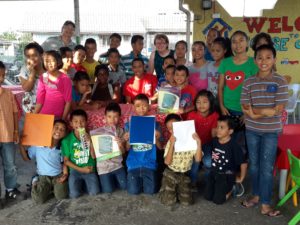 At House of Refuge the directress, Ms. Glady who also was the one who worked on my travel papers to the United States back in 1998, was our connection in the Philippines. One of the days I was able to pull her aside and talk to her about my birth mother, because she [Glady] is the one who would know the most about my file and her [my birth mother.] She told me that it was possible to get my file. The only file I have is the file of adoption paper work. The file I want is the file of health information and other things. Learning this was very healing. Five years ago I was in the Philippines and I was told that I could never get my file because my birth mother is Muslim and that I was born out of wedlock and that it was punishable by death. So when I learned that was not the case I was overjoyed. This trip back home was more meaningful than the homeland tour I was on, not saying homeland tours are worthless. But that I learned how to be a true Filipino and that I am proud to be Pinyo and always have been but forming a new sense of pride.
Ilibre May buhay mabait at maaaring ang lahat ng iyong mga pangarap matupad salamat po.  
May life treat you kindly and may all your dreams come true.                  --Elias Ankerfelt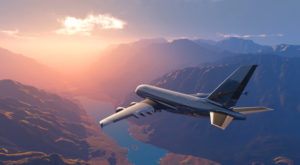 This past June my husband, 18-year-old son, 15 year-old daughter, and I traveled to my son's homeland, the Philippines. Instead of seeing the sights and touring each day, we chose to dwell among my son's birth culture and its people. This is quite a different perspective than a homeland tour, which we were so grateful to have experienced in 2010 when my son was 13. This time, we stayed in a hotel, took a taxi each day to the House of Refuge (HOR) orphanage where we volunteered. We played, worked with, and enjoyed the children and staff of HOR. The Philippines became a living part of our family, an extension of ourselves, and a country that no longer seems so far away or mysterious or unreachable. As you read above, my son's own perceptions have changed. He now see the Philippines as more accessible and a place to which he can return, perhaps on his own someday.
I need to take a moment to commend my daughter for hanging in there and coming to enjoy the trip. Also adopted, she was able to be a part of my son's longing for discovery of anything about his birth family. She, therefore, needed to have the fortitude to put have her brother's needs highlighted. This was not always easy. She also dealt with many stares from folks who do not see African American women on a regular basis, let alone one walking with two European Americans and one Filipino American. At times, we joked that we must have been quite a sight.
This homeland trip, one where we took up residence for two and a half weeks, changed our entire family. The internal shifts probably will continue for years and months to come. It will be a gift that keeps on giving!
Sally Ankerfelt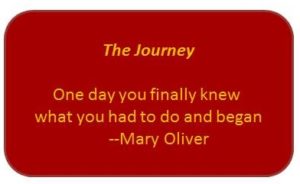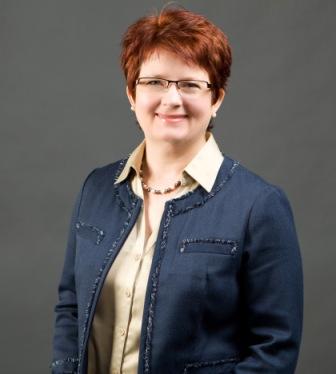 Here at GIFT Family Services, we speak about creating "intentional" adoptive or foster families. One important aspect of being an intentional family is having a vision with goals and values rather than making things up as we go along. Being intentional with our families can bring great rewards: we can feel more connected, more purposeful, and can help our children thrive as adults. But, being intentional comes with risks: we can become discouraged if it appears that things are not turning out as we had planned and we can be disappointed if our values are not lived out or our goals are not met.
Many times in my own parenting, I have been discouraged by what I am seeing. Even before children, I started out with a specific vision of how I wanted my family to be. After my family was formed, complete with children, we sat down and created a family vision statement, fleshing out how we would live our purpose. We included basic values and goals. We were being intentional. But, then, "life" happened – and continues to happen – that has tested our vision and strained how we live it out in our family. Holding onto that vision (that now has been revised several times but remains true at its core) has been one of the hardest things I have had to do.
Recently, I read an article by Harvey MacKay (Minneapolis Star Tribune, Mon., October 24, 2011, pg. D3) that spoke about persistence and determination in reaching goals. Harvey ends with this, "Persistence and determination are what keep us hammering away. I don't know any [people] who have achieved any level of success without those two traits. When you have a dream that you can't let go of, trust your instincts and pursue it."
Mr. MacKay gives some timely tips for "pressing on" which can apply to our intentional families, as well:
Focus on what you can accomplish rather than obstacles. Direct your energy toward achieving a goal, and tackle the problems with an emphasis on edging closer to a successful result.
When you identify a roadblock, develop a realistic (italics mine) plan to overcome it.
Refuse to give up. Alter your course if necessary, but concentrate on the desired conclusion.
Work with your [family members] to make it easy for them to say yes to your requests. Never ask them to do something that you wouldn't do yourself. Provide options so they can contribute to the best of their abilities.
Be assertive without being aggressive.
"[Families] take work, they take practice, they take patience, and sometimes they require you to dig deeper."
GIFT Family Services is here to support you and your family in reaching your goals, developing your plans, making adjustments along the way, and encouraging you when the going gets tough. We are here to walk with you as you become the family you want to be!
Sally Ankerfelt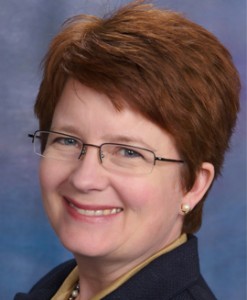 I am very mindful of today, September 11, being the 10th anniversary of the 9/11 terrorist attacks. Last evening my family and I, along with GIFT Family Service's virtual assistant, Kris Jamieson, and her mother, attended a commemoration event in our home city of Minneapolis. Both Kris' family and my own are adoptive families. We sat together, listening to the music and the reflections that were shared to honor the occasion and bring a renewed sense of unity.
One theme that was stated over and over again was that, despite the tragedy we face in life, there is always hope. No matter where we have come from, we all share the same desire for peace and new life. This common hope and common desire unite us as human beings.
I believe that the themes of hope, peace and new life - along with the conviction that we all share a common humanity- are what under-girds adoptive families, as well. Though there may be differences within our families and though pain and loss may be a part of our past or present, ultimately, we are not defined by them. Adoptive families are defined by hope, new life, and a recognition that we are all a part of the human family.
I was especially mindful of this last night when my son, whose birth family is Muslim, placed his hand in mine while we heard readings and listened to songs from many faith traditions, including Islam. At that moment, I had feelings of joy and hope. I had an immense appreciation for the distinct family of which I am privileged to be a part. With the appreciation came a fresh recognition of how the range of our experience together – from the easy to the difficult – has given our family a depth of character and strength that I do not think we would have known otherwise.
When I took a quick glance at Kris, I noticed she too had that same feeling with her mother by her side. We're all in this life together, making it through. Along the way, we are discovering the fullness that family, friends, and community bring to us.
GIFT (Growing Intentional Families Together) Family Services shares these same convictions. Adoptive families are sources of strength, hope, and life. As adoptive families, we are examples to the world of the fullness that can come when we experience and share life together.
Sally Ankerfelt