Posts Tagged 'empathy'
Wednesday, October 31, 2018 @
02:10 PM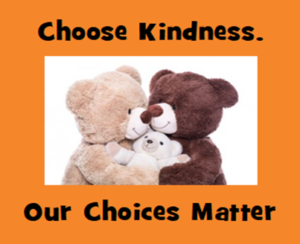 Last week during a discussion around the dinner table, my daughter's step-daughter posed a question: As a parent, what do you think is the most important thing you can teach your children?
That's a powerful and provocative question, especially from a high school freshman. I reflected for a few minutes and then responded. I believe that kindness serves as the anchoring root of all of my values. All my other deeply held values build upon this foundation. Why kindness?
Like many profound influences, kindness is simple. And, like most profound beliefs, it is not easy. Kindness operates on many levels. It begins with kindness toward self. Ironically, we often treat ourselves more harshly than anyone else. Consider the inner dialogue that plays within our brains. Too often, the things we say to ourselves are harsh, critical, judgmental, unforgiving and lacking compassion.
We would not talk to friends and colleagues that way. If we did, they probably wouldn't remain our friends for long. Yet we routinely subject ourselves to this negativity. It is essential for us to remember that we are all works in progress! Life is a Learning Conversation.
When we place ourselves in that context we begin to remember that everyone else is also a work in progress. Each of us is facing challenges, shouldering burdens, searching for resources, seeking new skills, and coping as well as we can. None of us is perfect. Perfection is a myth; it is also a cruel taskmaster holding us to an impossible goal and then deriding us for falling short.
As Intentional Parents we strive to think about our actions and beliefs consciously to ensure that they reflect our best intentions and authentically support our goals for self, for family and, for community. I believe one of the most powerful steps we can take on this journey of Intentional parenting is to be kind to ourselves. As this frame of mind takes root and governs our thoughts, behaviors and decisions, it influences our relationship with our children. We will strive to interact, educate, and discipline our children with kindness and love instead of impatience, harshness or cruelty. Our behavior becomes their model. Our voice becomes a through line in their inner soundtrack. We benefit from kindness to self and our families. Like the proverbial stone dropped into water, kindness ripples outward. Kindness begets kindness.
Let's return to the previously mentioned dinner table conversation. I admit that I was pleased when my daughter affirmed to her step-daughter that she too, believed kindness was the keystone. (Just as certainly meanness, hatred and violence beget more meanness, hatred, and violence—within ourselves our families, and our communities.)
Readers of my book review blog know that I search for and promote books that highlight the importance of kindness. I highly recommend one memorable book, Each Kindness by Jaqueline Woodson. Although it is a picture book continues to resonate in my thoughts. Its provocative message will touch the hearts of all readers regardless of age.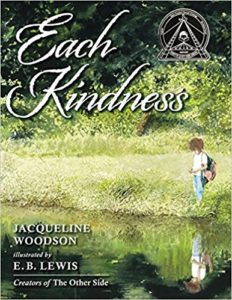 Each Kindness a Jane Addams Award Book by Jacqueline Woodson, also was named a 2013 Coretta Scott King Honor Book. This is truly an exceptional book. As I read it goose bumps shivered my arms. E.B. Lewis captured the deep emotion of the story in dreamy water colors. The illustrations juxtapose both beauty and heartache because they reveal the children's lack of kindness, their unwelcoming cold shoulder and judgmental rejection of the new girl.
One might assume this story replays the classic storyline of the challenge that every "new" kid faces.
But it exceeds that think-how-the-shunned-kid-feels meme as the children rebuff her repeated efforts to break into their circle. Instead, it goes beyond empathy and asks the reader to imagine being the child who chose unkindness, who joined the taunting, who derided and jeered.
After the teacher uses a pebble-dropped-in-water to demonstrate how one act ripples in an ever-widening circle, Chloe undergoes a change of heart. She wants to include the outcast girl. She anticipates making amends, only to discover, it is too late. The girl has moved away… Chloe has lost the chance to repair the damage done.
The book ends with the words, Chloe "watched the water ripple as the sun set through the maples and the chance of a kindness with Maya became more and more forever gone." The final illustration shows Chloe in a lush, lovely pond side spot. The beauty contrasts with Chloe's uncomfortable realization that it is too late to make amends for her ugly treatment of Maya. The reader feels the weight of that understanding. There is no and-she became-Maya's-best-friend easy answer.
The message is clear. Sometimes, do-overs are not possible. We—adults and children—must choose to be kind today, not tomorrow, now not later.
https://wp.me/p4r2GC-231
Wednesday, March 7, 2018 @
01:03 PM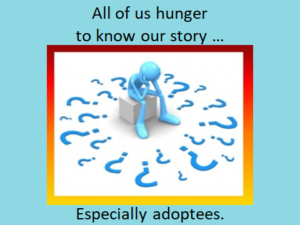 During the previous two weeks, we focused on building relationships by intentionally scheduling conversations with the sole purpose of speaking the deep feelings in our hearts. Instead of relying on the assumption that our families "know" how we feel about them, we committed to speaking those feelings aloud.
This week let's take a different angle on relationship building. We challenge you to stroll down Adoption Lane with one twist: Answer 7 "trigger" questions from "curious" (rude) people as if YOU were an adoptee. Consider only one question per day. Sit with the question; Do not give an autoresponse reply. Really think about it throughout the day. Determine how fully you can answer each one. What is known/unknown? What is knowable/unknowable?
Answer "trigger" questions as if YOU were an adoptee. Consider only one question per day. Sit with the question; Do not give an autoresponse reply. Really think about it throughout the day. Determine how fully you can answer each one. What is known/unknown? What is knowable/unknowable?
What kind of parental support would you want? What might you be tempted to conceal from your folks? Determine what else would you need to now. What else would you want to know? What else would you fear to know? What would you want your parents to know about your attempt to reply to the "trigger" questions?
What kind of parental support would you want? What might you be tempted to conceal from your folks? What would you want your parents to know about your attempt to reply to the "trigger" questions? What would tempt you to hide your struggle?
What will you do with the insight you gain through this exercise? What actions will you take? What conversations will you initiate? How did this exercise deepen your understanding of your child's need for information and empathy?
Daily Question
Day One: A friend tells you her mom has been diagnosed with breast cancer. Her grandmother died of breast cancer at age fifty. You're sixteen and were adopted after being abandoned as a newborn. What is your response to her? Within yourself? How does it make you feel about yourself?
Day Two: A new teammate asked if you have any brothers and sisters. In your adoptive family, you are an only child.
Day Three
 A "friend" comments that you 
look
enough like your boyfriend that you could be brother and sister. How do you reply? How does it make you feel?
Day Four: You were adopted internationally. During a discussion about immigration policy in your Civics, someone asks, "What are you?"
Day Five: An acquaintance asks how you would know if you might be dating a relative.
Day Six: 
 Your Health class teacher assigned your class their turn 
with the "Robot Baby." (A mechanical doll that simulates the behavior of an infant
. Students are graded on the quality of parental care they deliver over an entire weekend.)  A classmate asks what you know 
about
 your birth parents and why they didn't want you.
Day Seven:  Your adoptive parents and your brothers (their biological children) are all exceptionally tall. You barely reach five feet. You are their only daughter. You overhear someone "joke" to your parents about how they had to "resort" to adoption to get a girl. How do you feel? What do you say?
Wednesday, August 3, 2016 @
02:08 PM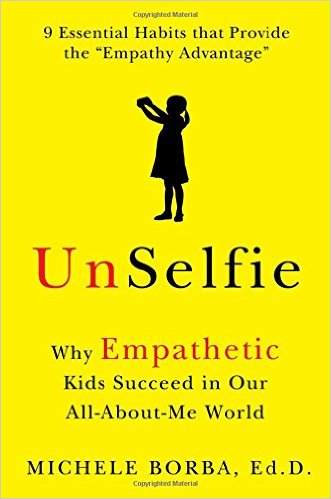 Americans value success. We believe our land of opportunity rewards hard work and determination. Last week we discussed Dr. Michele Borba's excellent book, Unselfie: Why Empathetic Kids Succeed in Our All-About-Me World. Dr. Borba asked us to consider that we can focus on traditional success-producing skills and even increase the likelihood of success if we place equal emphasis on empathy. This allows us to raise children who shine both as human beings and as high achieving go-getters.
As Intentional Parents, how does fostering empathy influence our parenting priorities, practices and choices? What will we change, eliminate. add, or emphasize? How will it alter our expectations of our own behavior as well as our children's?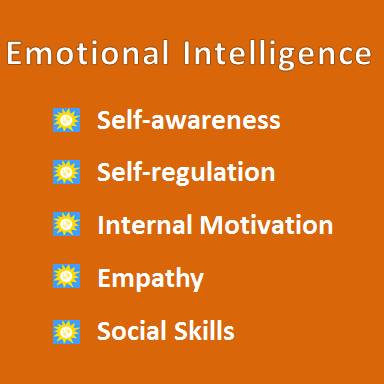 Psychologist Dr. Daniel Goleman coined the concept of Emotional Intelligence and defined it in terms of five elements. Empathy is one of those foundational ingredients. When we parent with an awareness of the role emotions and emotional intelligence play, we can work with our children to nurture them to maturity as well-rounded individuals who succeed in all aspects of their being.
We cannot intimidate our children into behaving. Yelling will not elicit their cooperation. We must carefully nurture their internalization of family values and their decision to live by them. We do not want to be their wardens; we want to be their role models.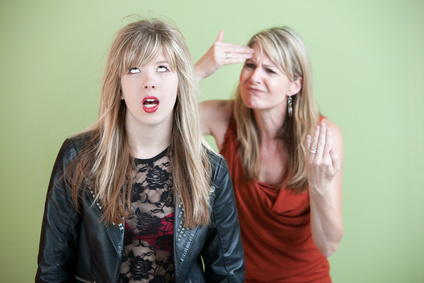 How does this look in action within our Intentional families? Imagine a moment of disagreement between you and your child … You're frustrated, maybe even angry and worried. You are determined to hold strong and deny what your child has requested.
Now imagine their response… Most likely your decision evoked their anger as well as disappointment. This mutual anger feeds off itself and each of you digs in, amplifies your certainty about the rightness of your stance.
How might an Intentional Parent handle this scenario differently? Remember the recent topics of Deep Listening and Empathy. How might it look when Adoption-attuned parents embrace those two principles?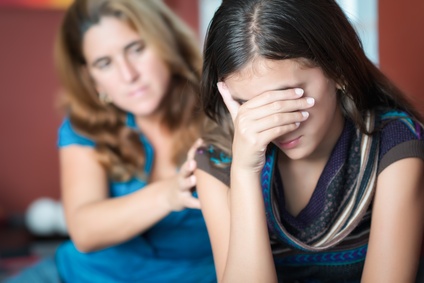 Here's a sample dialog.
First acknowledge the obvious: "Wow, you really feel angry and disappointed." Expect them to double-down on this position and their anger. LISTEN. Do not debate our attempt to change their mind. At this point, do not reiterate your position or impose consequences for their behavior. They will probably keep blowing up, expecting push back from you. Your lack of resistance confounds them, alters their expectations, and, interrupts the pattern of arguing.
Second, deliver a second unexpected response: validate their emotions. Genuinely empathize with them. "I get angry too when things don't go my way." Anticipate an emotion-charged reply. And again, listen… Allow them to unload until their fury dissipates, the "emotional hijacking" ends and, they are capable of listening.
Third, maintain a neutral stance and repeat their position, enumerating their reasons and desired goal. Seek affirmation that you've expressed their position to their satisfaction. The goal here is not to create a winner and a loser. It is to sustain a relationship, model respect and to inculcate our Values. (Later when everyone is calm, address the issue of disagreeing with respect. Practice it; do overs are much more effective than shouting matches. Remember both parties benefit from this practice.)
Finally, restate your parental position. Include any adjustments only if you are now willing to consider them. Choose your language precisely. avoid the word "but." It is a relationship killer. For example. if Trevor cannot attend his friend's party, reiterate their  request, then express your stance like this: You had your heart set on going. Many of your friends will be there AND we stand by our decision that you cannot join them."
At this point do NOT expect that they'll slap on a happy face and enthusiastically accept your decision. Do expect them to abide by it. Allow them the time and space to be disappointed and vent their anger–in their room. Choosing empathy and Deep Listening does not mean parents stand there like a punching bag. Walk away and do not reignite the discussion. If necessary, reply once, "Asked and answered," then disengage with calm and respect.
Recall a recent argument between yourself and your child (or spouse.) How might have this empathy based approach improved the interaction?