Feeling short of time or finding it difficult to concentrate? You can listen to this post.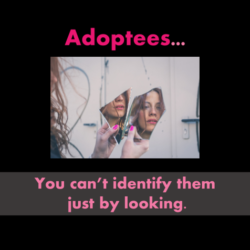 An adult adoptee I know described a recent conversation she had with the eight-year-old daughter of a coworker. Somehow the child learned that my friend was adopted. This shocked the little girl because my friend didn't "look adopted." In her child's mind, she assumed that adoptees would exhibit an identifiable appearance that would be instantly recognizable by all observers. At first, the child thought the revelation of my friend's adoptive status was a joke or a trick. Once reassured that it was neither, the youngster tried to wrestle with her thoughts.
She had questions. The first one began as follows: "So when your real mom got rid of you…"
My friend is a middle-aged adult, well-adjusted, with a life that is proceeding well. She has come to terms with adoption, has reconnected with her birth mother, writes and speaks publicly on adoption complexity. Nonetheless, my friend felt gut-punched by the innocent comment and called me ASAP to help her work through her reaction.
Words spoken so innocently had cut deeply on two main points. The first was "got rid of you." Intellectually, my friend understood that the child lacked the vocabulary to express her thoughts more tactfully. Viscerally, in the recesses of her own insecurities, the words echoed a deep-seated fear that plagues her—and I think most adoptees— that somehow my friend caused herself to be adopted. A mental laundry list of personal failures that she had compiled during a lifetime of adoption grief, self-recrimination, and doubt immediately came to mind. Her baby self had been "too needy, too plain, cried too much, or wasn't good enough, etc, etc. etc.…
My friend is familiar with the words of Pulitzer Prize-winning poet Carl Sandburg: "A baby is God's opinion that the world should go on…" In that conversation with the little girl, however, she didn't feel like a miracle to be celebrated. The only thought which she could hold was "your real mom had gotten rid of her" like trash.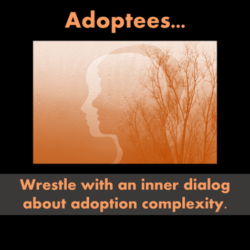 Inside her adult self, a Rejected Child still lived, anguished, ashamed, and convinced she had caused her adoption. She had to be at fault because, in her Inner Child's eyes, mothers are Good.
A Good Mother would only reject a Bad Baby. My friend recognizes the irrationality of these thoughts and yet…they still burn like battery acid and persist like the belly button that reminds her they were once united.
She has worked hard to develop resiliency, confidence, and competency. Yet this Inner Child awakens easily and for a micro-second she automatically accepts blame, feels at fault, and unworthy in the face of life's challenges. Intentionality, self-awareness, and a strong commitment to Adoption-attunement has helped her overcome this negativity. Her learning and resiliency have been hard-won.
The second big trigger in this conversation centers on the child's use of the word real. My friend knew that the child lacked the appropriate language with which to refer to a birth mother. However, because of the unique circumstances of my friend's life, she dislikes it when anyone suggests that her adoptive mom is not real. (In her mind she experienced mothering only from her adoptive mom. From her first mother, she received only on-going distance and rejection.
She accepts that both are real, but only her adoptive mother has filled her needs for mothering. If anyone minimizes her adoptive mother, my friend fiercely comes to her mom's defense.)
As intensely as her Inner Child feels emotions connected to being placed for adoption, she feels equally impassioned about the importance of the parents who loved and raised her and whom she loves and treasures in return. Fortunately, her adult self can hold a medley of emotions and beliefs about adoption complexity. But that requires higher-order thinking and sometimes that more cerebral thinking lags behind the immediate responses of her emotions.
Why did I detail so much of this single conversation? Because it offers a peek into the emotional vortex that lies beneath the observable surface of an adoptee's daily life. It's complicated, not always visible, and occasionally understandably reactionary. This is where the skills and empathy of Adoption-attunement help us to be the parents our children need. AQ is helpful from infancy through adulthood. That is why we encourage all our client families to grow a High AQ!
At GIFT Family Services we know and encourage clients who work with us to accept that birth and adoptive parents are all real and are all forever, permanent parts of an adopted person's whether their presence is physical or only emotional.
Our coaches are available to present workshops in person or online or to speak at your organization or conference. Contact us to explore this possibility.
For additional insight into the adult adoptee experience read "You Don't Look Adopted" by Anne Heffron. We interviewed her in a past blog. Her book is raw, unvarnished and well worth the read.
Learn how the coaches at GIFT Family Services can help you and your family navigate your adoption journey. We've faced our share of family challenges and crises, ridden the metaphorical rollercoaster, and our families have not only survived; they have thrived. We offer experience, neutrality, and understanding. GIFT coaches are available to present workshops on-line. 
Contact us to explore this possibility: 1-800-653-9445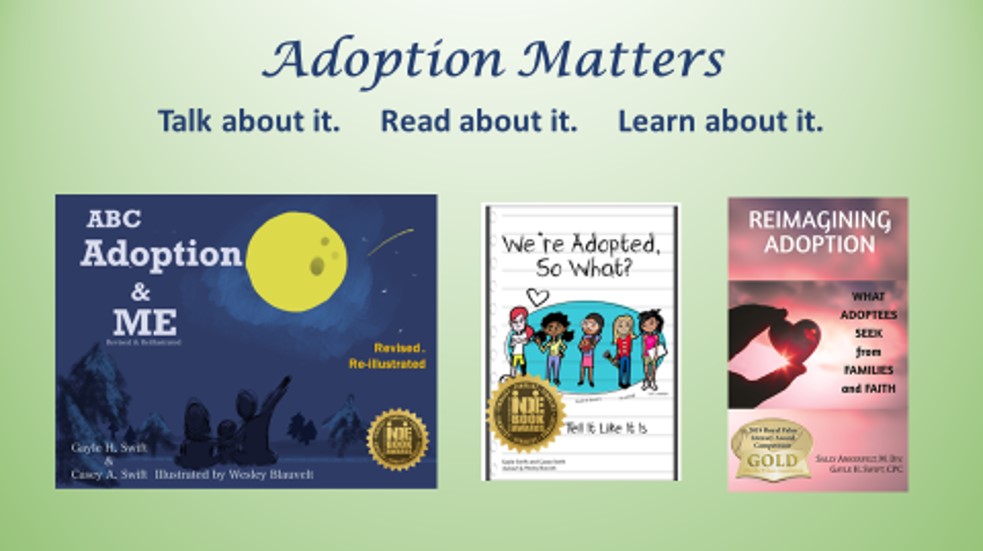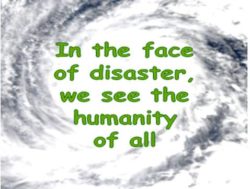 "It takes a village." Typically, we hear this truism in reference to raising children; it might equally apply to being a community or country. When it comes to confronting disasters, it is overwhelmingly true. In fact, it takes many villages. The most recent disaster, hurricane Dorian has leveled much of the Bahamas and left more than 70,00 people homeless and their neighborhoods uninhabitable. Our guts clench as we watch in horror. We are moved to do something.
What draws us to assist others in times of crisis? Is it simply the hard knowledge that "There but for the grace of God go I?" Is it empathy? Religious conviction? Or simply fundamental human compassion? Regardless of the why, human beings are drawn to assist others when they are in trouble. We put our collective shoulders to the obstacle and press a collaborative shove.
As adoptive families, we possess unique knowledge of how to forge forward in the face of traumatic grief and loss.
We know platitudes do NOT help; they trivialize grief and loss.
Cliched phrases feel empty and invalidating. Express genuine sorrow that they are facing a crisis. Do not presume to know what they need. Ask them how you can help. Listen. Listen. Listen. Learn what they want from you and then strive to provide it.
We understand that informed and appropriate action serves best.
In a mass disaster, be sure that your efforts actually help. Verify that any person, group or agency is legitimate. (Scammers know how to tug at your heartstrings and open your wallet— for their own benefit.) Typically, the best resource you can provide is monetary. Cash donations enable aid groups to buy supplies wholesale and to distribute them where they are needed. Too often donations of material— clothing, etc—become a burden and logistical nightmare. (Read this article about how well-intended donations end up rotting, unused and impeding the delivery of aid that is desperately needed.)
Seek ways within your own family to reach out to one another with affirmation, empathy, and kindness--some of the deeply held values we yearn to instill in our children and live in our lives. As we attune better to one another, we strengthen our mutual connection and bring forth the spirit of kindness and compassion. We can expand our outreach in our local communities. Not only do we benefit personally, but also we will create ripples within our community and beyond. We can always find ways to extend a helping hand in the global community as well. There can never be too much kindness!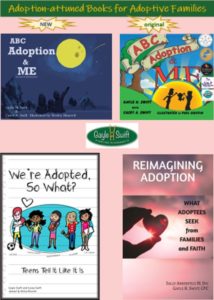 Learn how the coaches at GIFT Family Services can help you and your family navigate your adoption journey. We've faced our share of family challenges and crises, ridden the metaphorical rollercoaster, and our families have not only survived; they have thrived. We offer experience, neutrality, and understanding.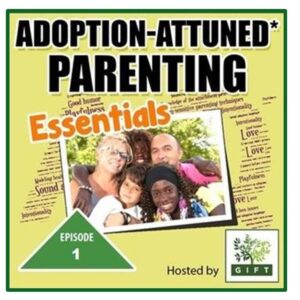 Listen to our podcasts on Adoption-attuned Parenting.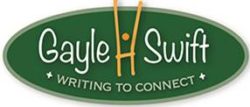 Read other Adoption-attuned book reviews by GIFT coach, Gayle H. Swift, on her blog "Writing to Connect"
[1] The original version of "ABC, Adoption & Me" was named a Favorite Read of 2013 by Adoptive Families, (the award-winning national adoption magazine.) Named a Notable Picture Book for 2013 by Shelf Unbound in their Dec/Jan 2014 issue; Honorable Mention - Gittle List of 2014; Finalist; IPNE 2014 Book Awards (Independent Publishers of New England), Honorable Mention 2014 Purple Dragonfly Book Award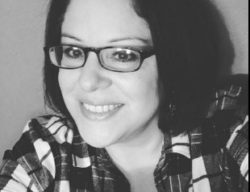 We are privileged this week to have this guest blog written by Lynn Grubb. She is both an adoptee and an adoptive parent. She lives adoption from both sides of the relationship equation! Enjoy, listen, and learn!  Lynn Grubb is an Illinois born adoptee, and a 50-year resident of Dayton, Ohio.  She is President of the Adoptee Rights Coalition, a grass roots 501(c)(4) Ohio non-profit advocating for all adoptees to have equal access to their original birth certificates.  She is employed by and facilitates a kinship support group through the Presbyterian Church (PCUSA).  When she is not advocating in the adoption and kinship communities, you can find her at home with her family and pets, reading a good book.  She blogs at http://noapologiesforbeingme.blogspot.com/.
My husband, Mark and I, got married in 1991 – he was 34 and I was 25.  I became an instant stepmother to his 3-year old daughter, and so began my adventure into parenting.
When I was 27, and found out I was pregnant with our son, I began reading all sorts of parenting books. I turned to books because my own mother was not a place I could turn to learn and understand about pregnancy and birth, since she had not experienced it. I did what most of us do as parents whether conscience or not: I took what I liked about my own childhood and repeated that and tried to filter out what I didn't like and didn't do that.
In trying to determine how to label our parenting, I guess you could say in some ways we are part "free range" parents, in that our kids can have privacy in their rooms, walk to stores and home from school and do things without one of us being present and part "overprotective" (their words) in that we insist on rules, respect, personal hygiene, phone numbers and conversations with parents before overnights happen.
I am definitely not a helicopter mom.  Both of our kids have chores, earn their own money, and know how to take care of everything, like cooking and laundry, themselves.  My own mother was at one time what was called in the 70's and 80's a "supermom" which meant I was fortunate to be involved in every extra-curricular activity known to man, but I didn't learn a lot of grown up things like how to pay bills until I was out on my own, struggling to learn them later.
Now that the kids are older, I am a full-time working mom and our daughter, at age 14, is almost completely self-sufficient (our son moved out on his own several years ago). I am truly amazed that I don't have to wake her up in the morning, tell her to make her lunch or remind her to do homework.  She does all these things on her own.  (I'm probably just fortunate that she has a conscientious personality).  When I cook a meal, our daughter sees it as a treat – not an expectation.  (Lucky for me, her dad is now retired and can keep an eye on her after school and bonus: cook dinner!).
We do not ascribe to materialism at our house – we are minimalists with a clutter problem (I know, it makes no sense).  My husband and I grew up on opposite sides of the tracks, and we have lived in both the city limits and in the suburbs throughout our years of marriage.  One thing we can both agree on is that time with family is more important than stuff.
Here are a few specific areas that my being adopted has helped to inform parenting our daughter (also adopted):
I get the identity piece. I grew up in a closed adoption without any idea of why I was given up for adoption, who the people were that made me, where they went and why my parents didn't have any information.  I decided this would not be something our daughter would need to suffer.  She has all of her information, including photos, a journal, the story, the truth, addresses, and if that isn't enough, she has people she can call besides us, for more pieces of the story. Also, we have her original birth certificate.  She doesn't care about this simple piece of paper now, but some day she might.  I ordered it before the state sealed it (she's lucky Ohio is an open state).  If you too want to help adoptees get their simple piece of paper, please donate to the Adoptee Rights Coalition.
I understand her anger and other emotions. She gets really angry sometimes at her birth mom for leaving her.  I validate that anger and tell her I am really pissed off at my birth mother too.  I know underneath that anger is loss, pain, fear, hurt, and love.  It can be excruciatingly painful to some adoptees that the woman who gave birth to you left you in the hands of somebody else.  Neither of us buy into the common idea that "she loved you so much she gave you away."  Also, I wouldn't hesitate to find her an adoption-competent therapist if I believed she needed one.  Just because I'm adopted does not mean I believe I know it all.  I still would turn to the experts if I needed help.
We are both INFP  We got really lucky that we are similar on the Myers-Briggs personality type.  We just get each other.  We are also both super stubborn.  People tell us we look alike and she does the same thing I did when I was a kid and someone would tell me and my mom that we looked alike.  We say: "we aren't even blood-related!" (cue funny expression on person's face). For those of you who are Myers-Briggs fans, my husband is an INFP and our son is an INFJ.  We are super exciting at parties ?
We tested her DNA. I am part of a lot of DNA groups and people get really touchy about whether they should test their adopted kids, tell kids about their (unknown) fathers, etc.  I believe it's quite simple.  Ask yourself this (my husband says this to people):  Do you know who both of your parents are?  I don't care if it was an affair, rape, incest, donor sperm, abuse, teenage pregnancy, or the next-door neighbor . . . people have a right to know who their biological parents are.  If you don't tell her now, somebody else will tell her later.  Why is someone's parentage ever a secret?  It shouldn't be.
We welcome her birth family. Although our adoption is kinship, I am not blood-related to our daughter.  She has birth family members that want to be part of her life.  We welcome any and all birth family members that do not pose a threat of harm to her.  As an adoptee, I am thrilled that she looks so much like certain family members.  I value the genetic mirroring and background information that she is able to have. It makes my heart happy to add another ancestor onto her family tree.  The more love for her, the better!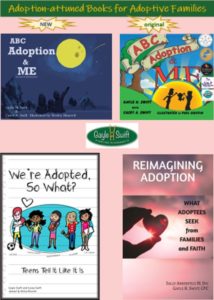 Learn how the coaches at GIFT Family Services can help you and your family navigate your adoption journey. We've faced our share of family challenges and crises, ridden the metaphorical rollercoaster, and our families have not only survived; they have thrived. We offer experience, neutrality, and understanding.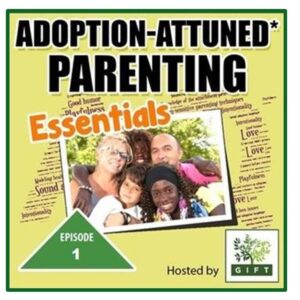 Listen to our podcasts on Adoption-attuned Parenting.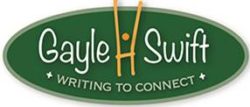 Read other Adoption-attuned book reviews by GIFT coach, Gayle H. Swift, on her blog "Writing to Connect"
[1] Named a Favorite Read of 2013 by Adoptive Families, (the award-winning national adoption magazine.) Named a Notable Picture Book for 2013 by Shelf Unbound in their Dec/Jan 2014 issue; Honorable Mention - Gittle List of 2014; Finalist; IPNE 2014 Book Awards (Independent Publishers of New England), Honorable Mention 2014 Purple Dragonfly Book Award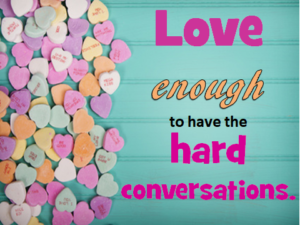 Unless adoptive parents are also adoptees, we can only approximate in our minds and hearts what it must be like for our children. Adoption was the answer to our prayer; but for our children, it is far more complicated. The benefits they gained via adoption coexist with significant loss and trauma. Adoption is not an exclusively happy experience for our children.  We cannot know the silent, inner conversations they have within themselves as they strive to piece together a sense of healthy wholeness from the disparate threads of their biology and their biography.[1]The only way to know what they are thinking is share conversations that touch on these difficult subjects. We must love them enough to hold these hard conversations.
It isn't easy for them or us kids to talk about such heavy topics.
Our earnest hope that all is okay with our kids may willingly believe that it is so. When we ask kids if they're doing all right and they quickly assure that it is, we heave a sigh of relief. But, can we actually accept their reassurances on face value?
What do we know, within ourselves, about assurances too quickly offered, of hot topics we gladly shove under the rug? Plenty.
How many times have we told spouses, partners, friends, or colleagues that "nothing is wrong" when in fact, it was obvious that we were hurting so much? But, we were afraid to articulate it, as if speaking it aloud made it real. Denying it offered us the temporary shelter of pretending we were fine. Besides, the truth was too scary to admit even to ourselves. We'd rather be stuck than to expose our vulnerability. Being stuck was less painful than facing the issues and doing the hard work of creating any necessary changes.
How many other times have we held back because we expected our loved ones to know without our telling them what was bothering us? Mindreading never works. It's a dangerous and false assumption to think that because people care about us they automatically know what is going on inside our heads. Nothing could be farther from the truth. To rely on mindreading is to sabotage the relationship.
Communication is a two-way street. We have to engage in conversations that safely and respectfully talk about "stuff." For families like ours, this means we must have the hard conversations about adoption and the very complicated reality it brings for our children.
Even as we admit it is hard for us as adults to tackle the hard conversations, it is even more difficult for our kids. They depend on us for virtually all their security—emotional and physical. The possibility that they might place that security in jeopardy is very scary. At some level, they know they need us, that they can't afford to lose us. From this vantage point, consider how scary it is for them, therefore to share thins which they think might offend, alienate or disappoint us. They may even falsely believe that we do not want to hear their thoughts and feelings. They may worry that we cannot handle the awkward, negative conversations that may echo inside them. Inner demons may tell them we are open only to happy conversations that prove the benefits of adoption.
What strategies help us initiate conversations of this topic which is vital yet so scary for all of us? Here are a few ideas:
When the news mentions family separations, comment. Mention how hard that must be for parent and child. Wait to see if your child says anything. Say that it makes you think about his being separated from his first family. If he responds to this conversation starter, great! If not, reassure him that you would want to hear about his feelings when he is ready so you could help him work through it.
Have a well-stocked family library on books that explore adoption.
Read books from your child's school list or from their own recreational list. Look for events in the book that might serve as conversation starters.
Similarly, listen to the lyrics of his favorite songs. Talk about why they resonate with him. This does not have to be about adoption. The purpose is to establish a pattern of authentic sharing.
See the films he enjoys. Watch them together, if he's willing. If not, watch them by yourself and then look for an opportunity to chat about it together.
Share some of your moments of struggle--being mindful of holding appropriate boundaries. Articulate how a circumstance or relationship challenges you and mention some of the specific strategies you employed. These will then serve as models for some options which they might use in the future. Sharing your experiences relieves them of the false belief that parents never have struggles, feel inadequate, or have conflicting feelings within important relationships.
Good communication depends on respect and non-judgmental listening. Start with "safe" subjects and build a pattern of loving listening. This lays down the habit of talking together. The more routine it becomes, the more likely they will talk when it topics are more difficult.
What one thing can you do to start building a habit of talking to one another?
---
[1]These terms originated in Lori Holden's masterful book, The Open-hearted Way to Open Adoption. This book belongs in every adoptive family's library.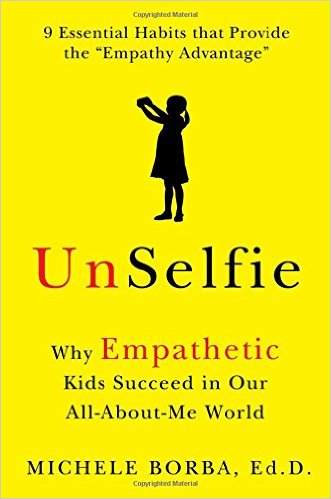 Americans value success. We believe our land of opportunity rewards hard work and determination. Last week we discussed Dr. Michele Borba's excellent book, Unselfie: Why Empathetic Kids Succeed in Our All-About-Me World. Dr. Borba asked us to consider that we can focus on traditional success-producing skills and even increase the likelihood of success if we place equal emphasis on empathy. This allows us to raise children who shine both as human beings and as high achieving go-getters.
As Intentional Parents, how does fostering empathy influence our parenting priorities, practices and choices? What will we change, eliminate. add, or emphasize? How will it alter our expectations of our own behavior as well as our children's?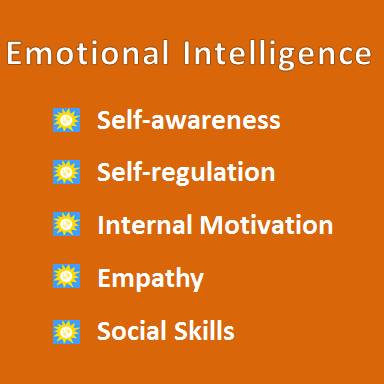 Psychologist Dr. Daniel Goleman coined the concept of Emotional Intelligence and defined it in terms of five elements. Empathy is one of those foundational ingredients. When we parent with an awareness of the role emotions and emotional intelligence play, we can work with our children to nurture them to maturity as well-rounded individuals who succeed in all aspects of their being.
We cannot intimidate our children into behaving. Yelling will not elicit their cooperation. We must carefully nurture their internalization of family values and their decision to live by them. We do not want to be their wardens; we want to be their role models.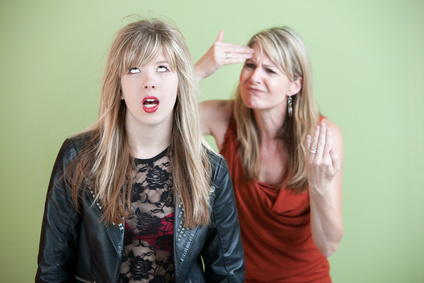 How does this look in action within our Intentional families? Imagine a moment of disagreement between you and your child ... You're frustrated, maybe even angry and worried. You are determined to hold strong and deny what your child has requested.
Now imagine their response... Most likely your decision evoked their anger as well as disappointment. This mutual anger feeds off itself and each of you digs in, amplifies your certainty about the rightness of your stance.
How might an Intentional Parent handle this scenario differently? Remember the recent topics of Deep Listening and Empathy. How might it look when Adoption-attuned parents embrace those two principles?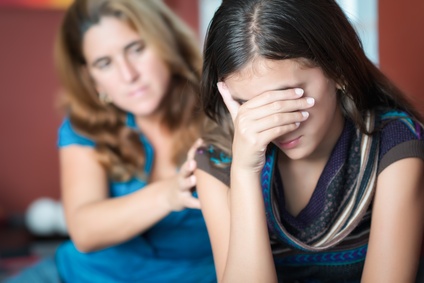 Here's a sample dialog.
First acknowledge the obvious: "Wow, you really feel angry and disappointed." Expect them to double-down on this position and their anger. LISTEN. Do not debate our attempt to change their mind. At this point, do not reiterate your position or impose consequences for their behavior. They will probably keep blowing up, expecting push back from you. Your lack of resistance confounds them, alters their expectations, and, interrupts the pattern of arguing.
Second, deliver a second unexpected response: validate their emotions. Genuinely empathize with them. "I get angry too when things don't go my way." Anticipate an emotion-charged reply. And again, listen... Allow them to unload until their fury dissipates, the "emotional hijacking" ends and, they are capable of listening.
Third, maintain a neutral stance and repeat their position, enumerating their reasons and desired goal. Seek affirmation that you've expressed their position to their satisfaction. The goal here is not to create a winner and a loser. It is to sustain a relationship, model respect and to inculcate our Values. (Later when everyone is calm, address the issue of disagreeing with respect. Practice it; do overs are much more effective than shouting matches. Remember both parties benefit from this practice.)
Finally, restate your parental position. Include any adjustments only if you are now willing to consider them. Choose your language precisely. avoid the word "but." It is a relationship killer. For example. if Trevor cannot attend his friend's party, reiterate their  request, then express your stance like this: You had your heart set on going. Many of your friends will be there AND we stand by our decision that you cannot join them."
At this point do NOT expect that they'll slap on a happy face and enthusiastically accept your decision. Do expect them to abide by it. Allow them the time and space to be disappointed and vent their anger--in their room. Choosing empathy and Deep Listening does not mean parents stand there like a punching bag. Walk away and do not reignite the discussion. If necessary, reply once, "Asked and answered," then disengage with calm and respect.
Recall a recent argument between yourself and your child (or spouse.) How might have this empathy based approach improved the interaction?