Feeling short of time or finding it difficult to concentrate? You can listen to this post.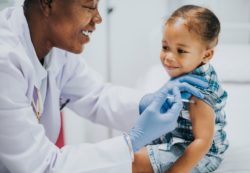 As of February 3, 2020, eleven cases of Coronavirus have been diagnosed in the United States. Thousands in China have fallen ill and 361 have died.[1] As responsible parents, we worry about the risk to our own children and ponder how we should respond. Statistics reveal that the current (as of 2/5/2020) risk to our children is small. Flu presents a far higher danger to our children as do traffic fatalities, gun violence, and drugs. Keeping our kids safe means thinking beyond vaccines, car seats, and safety equipment.
While the Coronavirus, the flu, etc., lead in many headlines, our children face a far more potent hazard: adoptee suicide. Adoptees commit suicide at four times the rate of non-adopted persons. We cannot afford to assume that our children are not contemplating such deadly choices; their lives may depend on it. As Intentional Parents, we certainly want to do whatever is in our power to reduce this risk, address the root causes, and bring counterbalancing influences into play. We dare not assume that our children are free from suicidal thoughts. We cannot afford to hope that all is well. We must intentionally work to ensure that our kids' mental, physical, and emotional health.
I'm certainly not trying to vilify adoptive parents nor to place all the responsibility on their shoulders. Other factors contribute to mental health issues, e.g., biological predispositions, trauma, pre-natal environment, etc.  My intent is to awaken parents to the danger of not attuning and thus leaving kids to make sense of adoption complexity with a loving support person. Attunement is something we can do that helps counterbalance the risk factors. As Intentional Parents, we endeavor to insert as many positive elements in our family dynamics as possible. At GIFT we are firmly committed to education, empathy, and AQ to help ease the challenges of life as an adoptive family. One of our fundamental beliefs is to approach parenting strategies from a working/not working and not from a right/wrong stance.
When it comes to adoptee mental health there are some strategies that we CAN bring to bear.  One important action parents can take is to talk about difficult topics. Encourage our kids to share all their thoughts and feelings around adoption and reassure them that our love for them and their membership in our families is totally secure. Permanent. It is not conditional on their pretending that all is rosy, totally free of conflict, ambivalence, anger, and grief. Adoption is not a totally benign experience; all is not roses, rainbows, and happily-ever-afters. We must ensure that our children feel seen and heard for who they genuinely are as distinct from whom they think we might "wish" them to be.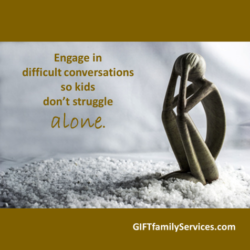 Unless our children "know" that we want to hear their struggles and painful thoughts, that we do not want them to hide or deny these feelings and ideas, our children will falsely assume that such communication is taboo. They will assume that we want them to cover up their struggles, don a mask that obscures their true feelings and suffer in silence. They will believe that this suppression of their anxieties and fears is the cost of membership in the family.
Everyone will be negatively impacted. Instead of an authentic relationship built on truth, trust, mutual support and, interdependence, all will be roleplaying. Everyone will miss out on the joy of being loved as themselves. This is a great tragedy that happens too frequently.
Adult adoptees tell us in huge numbers that one of the most significant contributing factors to their mental health issues is the communication gap between themselves and their families regarding parents' tendency to gloss over, minimize, and invalidate adoptee loss, grief and the trauma of losing their first families. Blinded by their delight at being able to adopt a child, adoptive parents often lose sight of the fact that for him, adoption is not totally benign. In fact, it is quite painful.
(Even if adoption was the best choice in a very difficult circumstance, it is still life-changing. It uproots the child from his place in his ancestral lineage and burdens him with a life-long legacy that results from his separation from his first family.) Adoption is not the result they prayed for. In fact, the "blessing" they fantasize about is to have remained in their first families, safe, rooted and healthy.
We must work to ensure that our children do not become a statistic. What action will you take to discuss these hard issues with your child? Watch a movie or read a book together which highlights some of these awkward and painful complexities. Attend an adoptive family support meeting. Partner with a coach who understands the journey, the issues and has been tried to assist you.
Learn how the coaches at GIFT Family Services can help you and your family navigate your adoption journey. We've faced our share of family challenges and crises, ridden the metaphorical rollercoaster, and our families have not only survived; they have thrived. We offer experience, neutrality, and understanding. 
Read these books written by our coaches.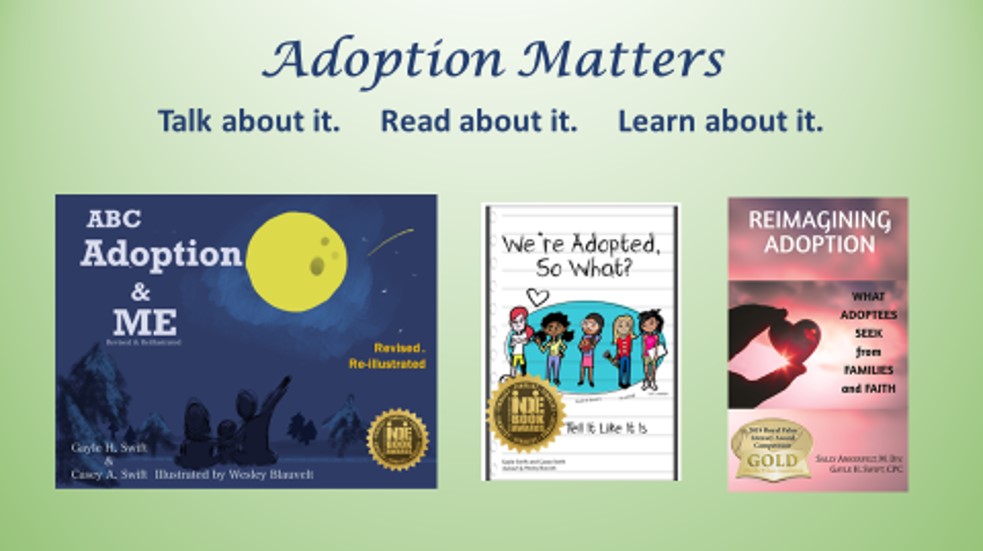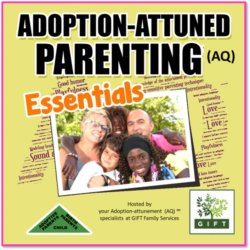 GIFT coaches are available to present workshops on-line. 
Contact us to explore this possibility.             

Read Adoption-attuned book reviews by GIFT coach, Gayle H. Swift, on her blog, "Writing to Connect"
Here in Florida, the Parkland community is reeling from the recent deaths by suicide of two student survivors of the Marjorie Stoneman Douglas School massacre which occurred on Feb. 14, 2018. On the heels of that double tragedy, the father of one of the first-graders murdered during the Sandy Hook Massacre succumbed to the weight of his grief and took his life this past weekend.
Such is the weight of trauma and unbounded grief.
Adoptees commit suicide at four times the rate of non-adopted persons.[1]Such is the weight of trauma and unrecognized or invalidated adoptee grief.
For too long, adoption has been considered totally benign, a perfect solution that solved a three-sided problem (a mother unable to parent, prospective parents in search of a child, and a child in need of a family). Adoption provided a fairytale ending for all.
Except that the reality is far more complex than this idealized, sanitized version. Without exception, adoption is rooted in loss. Unless those losses are acknowledged, appreciated and voiced, great emotional harm can be inflicted on those whom adoption purports to benefit. As Intentional Parents we must have the courage and compassion to help our kids by creating space for this reality in our hearts, minds, and conversations. We must talk with our children about the dualities in adoption. Reassure them that we understand that adoption brought our greatest joy but that for them adoption is a two-edged sword. It provided them a family that loves and cherishes them but before our families could be created, their original families had to be broken. For our children adoption will always include a degree of loss and grief.
If we do not acknowledge this reality, if we expect total allegiance to us and total severance of their affection, connection, and interest in their birth families, if we live as if adoption is a fairy tale, we burden our children with the weight of unacknowledged grief. When they cannot share the weight of their grief and distribute it across the shoulders of family who love them, adoptees can be overwhelmed by it. Left to shoulder their grief, fear, loneliness, rejection, and sense of isolation many will turn to suicide as a way to achieve relief.
Adoptive parents must have the courage, compassion, and attunement to hold adoption complexity, to steep themselves in a Both/And reality that allows our children to express their emotions—all of them—not just the easy, positive ones, but also the heavier, more devastating and scary ones. We can rise to the challenge of adopted parenthood, embrace the ambiguous losses and lean on one another. The truth of adoption is not rainbows and unicorns but it can be about coming together to love one another through a complex reality that makes room for multiple connections, emotions, and truths. Denying these complexities isolates our kids and increases the likelihood that they will be crushed by the weight of their grief. That is a price too high to pay and must be avoided at all cost.
Check out these additional Adoption-attuned resources!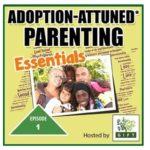 Listen to our podcasts on Adoption-attuned Parenting.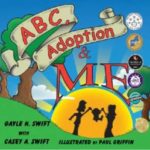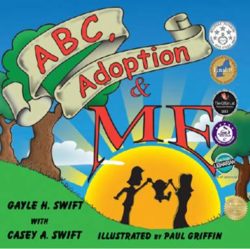 Read these book reviews  by GIFT coach, Gayle H. Swift. They are written with an Adoption-attuned perspective.
---
[1]Keyes MA, Malone SM, Sharma A, Iacono WG, McGue M. Risk of suicide attempt in adopted and nonadopted offspring. Pediatrics. 2013;132(4):639-46.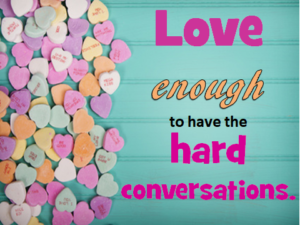 Unless adoptive parents are also adoptees, we can only approximate in our minds and hearts what it must be like for our children. Adoption was the answer to our prayer; but for our children, it is far more complicated. The benefits they gained via adoption coexist with significant loss and trauma. Adoption is not an exclusively happy experience for our children.  We cannot know the silent, inner conversations they have within themselves as they strive to piece together a sense of healthy wholeness from the disparate threads of their biology and their biography.[1]The only way to know what they are thinking is share conversations that touch on these difficult subjects. We must love them enough to hold these hard conversations.
It isn't easy for them or us kids to talk about such heavy topics.
Our earnest hope that all is okay with our kids may willingly believe that it is so. When we ask kids if they're doing all right and they quickly assure that it is, we heave a sigh of relief. But, can we actually accept their reassurances on face value?
What do we know, within ourselves, about assurances too quickly offered, of hot topics we gladly shove under the rug? Plenty.
How many times have we told spouses, partners, friends, or colleagues that "nothing is wrong" when in fact, it was obvious that we were hurting so much? But, we were afraid to articulate it, as if speaking it aloud made it real. Denying it offered us the temporary shelter of pretending we were fine. Besides, the truth was too scary to admit even to ourselves. We'd rather be stuck than to expose our vulnerability. Being stuck was less painful than facing the issues and doing the hard work of creating any necessary changes.
How many other times have we held back because we expected our loved ones to know without our telling them what was bothering us? Mindreading never works. It's a dangerous and false assumption to think that because people care about us they automatically know what is going on inside our heads. Nothing could be farther from the truth. To rely on mindreading is to sabotage the relationship.
Communication is a two-way street. We have to engage in conversations that safely and respectfully talk about "stuff." For families like ours, this means we must have the hard conversations about adoption and the very complicated reality it brings for our children.
Even as we admit it is hard for us as adults to tackle the hard conversations, it is even more difficult for our kids. They depend on us for virtually all their security—emotional and physical. The possibility that they might place that security in jeopardy is very scary. At some level, they know they need us, that they can't afford to lose us. From this vantage point, consider how scary it is for them, therefore to share thins which they think might offend, alienate or disappoint us. They may even falsely believe that we do not want to hear their thoughts and feelings. They may worry that we cannot handle the awkward, negative conversations that may echo inside them. Inner demons may tell them we are open only to happy conversations that prove the benefits of adoption.
What strategies help us initiate conversations of this topic which is vital yet so scary for all of us? Here are a few ideas:
When the news mentions family separations, comment. Mention how hard that must be for parent and child. Wait to see if your child says anything. Say that it makes you think about his being separated from his first family. If he responds to this conversation starter, great! If not, reassure him that you would want to hear about his feelings when he is ready so you could help him work through it.
Have a well-stocked family library on books that explore adoption.
Read books from your child's school list or from their own recreational list. Look for events in the book that might serve as conversation starters.
Similarly, listen to the lyrics of his favorite songs. Talk about why they resonate with him. This does not have to be about adoption. The purpose is to establish a pattern of authentic sharing.
See the films he enjoys. Watch them together, if he's willing. If not, watch them by yourself and then look for an opportunity to chat about it together.
Share some of your moments of struggle--being mindful of holding appropriate boundaries. Articulate how a circumstance or relationship challenges you and mention some of the specific strategies you employed. These will then serve as models for some options which they might use in the future. Sharing your experiences relieves them of the false belief that parents never have struggles, feel inadequate, or have conflicting feelings within important relationships.
Good communication depends on respect and non-judgmental listening. Start with "safe" subjects and build a pattern of loving listening. This lays down the habit of talking together. The more routine it becomes, the more likely they will talk when it topics are more difficult.
What one thing can you do to start building a habit of talking to one another?
---
[1]These terms originated in Lori Holden's masterful book, The Open-hearted Way to Open Adoption. This book belongs in every adoptive family's library.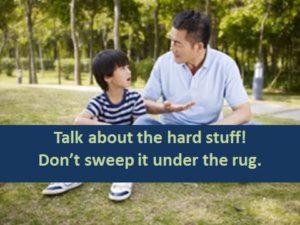 In our two previous blogs, we focused on the role of the family adoption library as a way to facilitate important yet perhaps difficult conversations about adoption complexity. Books are one of many tools parents can draw upon to help them. The most salient point in these blogs was this: Hold the conversations and have them with enough frequency that everyone becomes comfortable with the topic.
Today I read a blog written by a seventeen-year-old adoptee. The post appeared on DearAdoption.com which "is a platform for Adoptees promoting authenticity and educating others by sharing a vast array of experiences as lived by those most affected by adoption." The author wrote about his personal adoption experience. He affirmed that he loved his parents, felt connected to them etc. But...
And this is the "gold nugget" in his post: on the inside, he'd been struggling for years. Struggling to understand his ambivalent feelings, struggling to parse his gains and losses, struggling to protect his parents from his worry, struggling to fulfill his "obligation" not to upset them because it could be perceived as ungrateful.
That's a lot for a youngster to handle without support. It is tragic that the parents whom he describes as loving him deeply have somehow missed the opportunity to walk with him through his struggles. It would appear that they have not succeeded in creating that open atmosphere of trusts, acceptance, and empathy that would reassure their son that they are capable of hearing not everything is perfect regarding his adoption.
Intentional parents create a safe & inviting space where difficult topics can be discussed. This level of communication provides a safety net so kids don't believe they must hide or deny their thoughts and feelings or that they must struggle without parental support & guidance.
What have you done in your own family to build this sense of conversational security and openness with your children? What else might you do to further reassure them? How might you raise the issue of "withholding information" or "protecting parents from hard truths" directly? How would your family benefit from this type of intentional conversation?
https://wp.me/p4r2GC-1Z7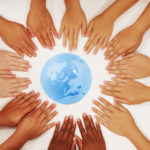 Reweaving connection...so much of life depends on our ability to accomplish this. Families built via adoption live this reality in a unique life-redefining way! We understand the effort and importance involved.
Whether a relationship breach exists between spouses (or significant others,) between/among friends or, among larger social groups like classrooms, offices, communities and countries, repair is an essential part of keeping relationships alive and healthy. Relationship repair takes work, requires accountability, cooperation and, commitment. It is challenging to admit we've messed up, fallen short or, failed. While not easy, it is worth it.
The many horrific weather events that have confronted the world recently, remind us that working together smooths the pathway to rebuilding damage. It is impossible to do it alone. We need every skill set. Every contribution is valuable. None of us can sit back and do nothing. Each of us can contribute something.
Sunday night in Las Vegas redefined ghastly. Evil.
When moral and social values completely collapse--as in the case of this massacre--we reel with shock, despair, anger and helplessness. However, we must not succumb to these emotions. Yes, they have their place and time. We must move beyond the outrage and DO SOMETHING. Channel the anger and frustration into productive directions.
[ctt template="3" link="5_E7I" via="yes" ]Move beyond outrage. DO SOMETHING to create change. Channel the anger and frustration into productive directions. We all belong to the human family.[/ctt]
Contemporary society focuses too much on difference, division, and viewing other people as obstacles to our goals and happiness. While practical steps are essential, we must recast the conversation of negativity, disrespect, hate and "othering." We must upend this destructive paradigm and embrace a world view built on respect, cooperation, empathy and common purpose. We must resist petty distractions and focus on doing what is right instead of what is easy or comfortable.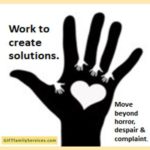 How can we become part of the solutions? Sending donations and writing checks certainly helps, but we must do more. The adage "Think globally. Work locally." must guide us. Family is the most "local" place on which to focus our attention. Do an honest gut check about how well we are exemplifying and teaching our children our values. Then, expand our assessments into other layers of our lives: work/school, community, country, etc. Let us be brave enough to ask the hard questions and acknowledge the reality. This allows us to identify shortfalls or disappointments and then focus on creating the change we desire.
Here are a few questions to consider.
Do I practice the "Golden Rule?"
Do I speak and interact with respect?
Do I welcome and absorb feedback without arguing why it is wrong?
When I offer feedback, is it free of any hidden agenda or petty emotions?
Do I encourage and acknowledge the efforts of others without tacking on criticism?
Do I respect differing viewpoints?
Do I listen to understand without formulating a rebuttal?
When expressing my own viewpoints do I allow space for divergent positions?
Can I disagree without making it a personal attack on the other person?
Do I work to improve the inequities around me?
Do I feed conversations that inspire and encourage?
Do I disparage and complain, dismiss the struggles of others as their fault or not my concern?
Do I look beyond overt differences to see the common humanity of others?
Am I amplifying convesations that reinforce hate and anger?
Am I advancing conversations that build solutions instead of simply venting anger?