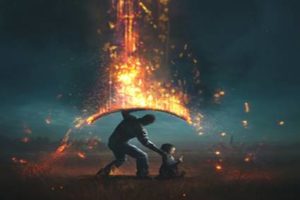 My husband had the admirable ability to remain calm in the face of upheaval and chaos. As a person strongly influenced by emotions and with a deep need for "safety", his equanimity was like my life raft in a storm. Ironically, this same "unflappableness" occasionally also drove me crazy.
But sometimes when I felt like our world was on fire, his equanimity felt like blindness—or idiocy—like an utter denial of the flames that were about to consume our lives. Instead of comfort, I felt that my perspective of what was happening was being ignored, dismissed, minimized, and denied. Although I craved his reassurance, in these moments, I needed to know that he saw what I saw, felt what I felt, and recognized its scale and power. Until I had that reassurance, his composure felt foolhardy. I felt angry and even more afraid. First, I wanted--needed--validation of my fears then I could trust in his ability to support, partner, and protect us.
I wonder if our children sometimes experience a similar emotional paradox around the grief, loss and identity issues that undergird adoption. Yes, they truly need our love, and they want to reciprocate, to belong and yet … There is a genuine flip side. They also wrestle with all the messiness that comes with the fracture from their first family. Regardless of any benefits which accrue to them, their losses co-exist. Too often blinded by our own perspective we need to ensure that everything within our families is all right. The world, even we parents become inured to this pain.
Do our kids share the invalidated, unsettled feelings I described when my husband's calm seemed dissonant to our circumstances?
I suspect so.
My own experience tells me that until we acknowledge that we see the "flames," any comfort we offer will come across as tone deaf, inappropriate, absurd, dangerous, and stupid. Firefighters know that a hot spot ignored quickly become a conflagration. Denial endangers us. It is not our friend. Action is.  We can become the shield which keeps them safe. We accomplish this by facing what is at hand and acknowledging adoption complexity. We must talk about it. Validate it. Mitigate it. In that context of truth, we can connect with our children's reality with grace, love, and empathy and it will be grounded in reality.
Such authenticity may be difficult—even painful—but it is essential. Otherwise, our relationships devolve into role play with each of us acting our character's assigned part. Our kids deserve so much more. We have the power to create relationships built on truth, respect, and compassion. Our children will benefit immensely from this choice. In fact, our entire families will.
Deal with the proverbial elephant in the room before everything spontaneously combusts.
Check out these additional Adoption-attuned resources!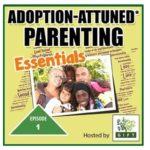 Listen to our podcasts on Adoption-attuned Parenting.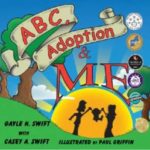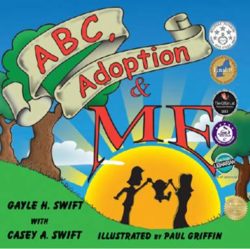 Read these book reviews  by GIFT coach, Gayle H. Swift. They are written with an Adoption-attuned perspective
Here in Florida, the Parkland community is reeling from the recent deaths by suicide of two student survivors of the Marjorie Stoneman Douglas School massacre which occurred on Feb. 14, 2018. On the heels of that double tragedy, the father of one of the first-graders murdered during the Sandy Hook Massacre succumbed to the weight of his grief and took his life this past weekend.
Such is the weight of trauma and unbounded grief.
Adoptees commit suicide at four times the rate of non-adopted persons.[1]Such is the weight of trauma and unrecognized or invalidated adoptee grief.
For too long, adoption has been considered totally benign, a perfect solution that solved a three-sided problem (a mother unable to parent, prospective parents in search of a child, and a child in need of a family). Adoption provided a fairytale ending for all.
Except that the reality is far more complex than this idealized, sanitized version. Without exception, adoption is rooted in loss. Unless those losses are acknowledged, appreciated and voiced, great emotional harm can be inflicted on those whom adoption purports to benefit. As Intentional Parents we must have the courage and compassion to help our kids by creating space for this reality in our hearts, minds, and conversations. We must talk with our children about the dualities in adoption. Reassure them that we understand that adoption brought our greatest joy but that for them adoption is a two-edged sword. It provided them a family that loves and cherishes them but before our families could be created, their original families had to be broken. For our children adoption will always include a degree of loss and grief.
If we do not acknowledge this reality, if we expect total allegiance to us and total severance of their affection, connection, and interest in their birth families, if we live as if adoption is a fairy tale, we burden our children with the weight of unacknowledged grief. When they cannot share the weight of their grief and distribute it across the shoulders of family who love them, adoptees can be overwhelmed by it. Left to shoulder their grief, fear, loneliness, rejection, and sense of isolation many will turn to suicide as a way to achieve relief.
Adoptive parents must have the courage, compassion, and attunement to hold adoption complexity, to steep themselves in a Both/And reality that allows our children to express their emotions—all of them—not just the easy, positive ones, but also the heavier, more devastating and scary ones. We can rise to the challenge of adopted parenthood, embrace the ambiguous losses and lean on one another. The truth of adoption is not rainbows and unicorns but it can be about coming together to love one another through a complex reality that makes room for multiple connections, emotions, and truths. Denying these complexities isolates our kids and increases the likelihood that they will be crushed by the weight of their grief. That is a price too high to pay and must be avoided at all cost.
Check out these additional Adoption-attuned resources!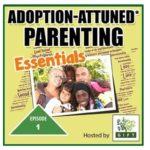 Listen to our podcasts on Adoption-attuned Parenting.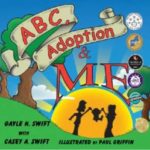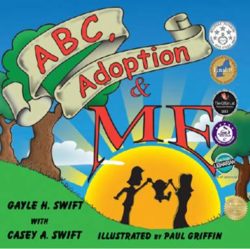 Read these book reviews  by GIFT coach, Gayle H. Swift. They are written with an Adoption-attuned perspective.
---
[1]Keyes MA, Malone SM, Sharma A, Iacono WG, McGue M. Risk of suicide attempt in adopted and nonadopted offspring. Pediatrics. 2013;132(4):639-46.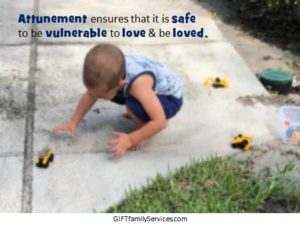 Readers of this blog know that I care for my three-year-old grandson's three days a week. This is both a privilege and a joy. Trained as a teacher and honed by adoptive parenthood, I am also fascinated at the difference between parenting children with trauma histories and parenting this little cherub who has known only consistency, stability and love from all the adults in his life. His sense of trust has never been broken and he, therefore, views life through a lens of secure trust. He believes the world is safe and welcoming. He knows that adults are safe, reliable, supportive, encouraging, and loving. Attunement has repeatedly provided him successful "serve and return" relationship reciprocity that nurtures secure attachment.
I observe a palpable difference between his life experience and that of my own children and others who had experienced trauma, had authentic reason to be vigilant and sceptical about the world. They knew from direct experience that it could be upended suddenly, that everyone and everything familiar can disappear in a flash. They wanted to inhabit a world that was steady, safe, reliable, consistent, secure, and managed by trustworthy adults.
Trauma histories have an impact on children's worldview and influence their mental and physical health. This does not mean that children with trauma histories are doomed; They simply need parents and caretakers who understand the need for attunement, patience, presence, empathy, consistency, and therapeutic parenting. Remember, their life experience created a "blueprint that was imprinted by terror." From the very understandable logic built on their personal history, learning to trust, DARING to trust is an act of incredible bravery.[1]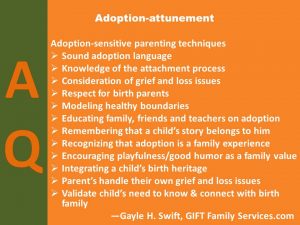 A foundational principle of GIFT Family Services' approach to parenting is Adoption-attunement. AQ incorporates a level of intentionality and understanding that significantly benefits adopted children and their families. It is a concept about which we have written frequently. Our choice of "Attunement"--with a capital "A"--reflects a deep awareness of the powerful way attunement operates in human beings. Famed neurobiologist, Dr. Dan Siegel asserts that "Attunement is not a luxury; it is a requirement of the individual to survive and thrive." [2]
Dr. Steven Porges further clarifies that attunement builds a context of safety that frees people to "love without fear." As Intentional parents we most certainly want our children to feel safe and secure enough to "love without fear", [3] to feel safe enough to open themselves to the joy and vulnerability of connection.  My grandson demonstrates this ease in his habit of occasionally pausing in the middle of his play to spontaneously plop himself in my lap and announce, "I need a hug."
Cue the moist eyes. Obviously, I melt and hug him with joy and deep love. Every time he does this I think, Wouldn't it be wonderful if we felt confident and secure enough in all our relationships to let people know we need a moment of connection and affection? This only occurs in a context of profound trust because it exposes both one's own raw need, it makes one vulnerable to rejection and to the other person's taking advantage of their invitation to respond to our expressed need. Those who know us best, who know our trigger points and sore points, who know our fears and worries have the potential to use them against us. That is why the degree of trust for this level of intimacy is huge and rare.
How many times have you experienced the need for a hug or an empathic ear? How often did you feel secure enough to act on that need and request connection with another persona? What enabled you to muster the courage?
On the other hand, if you stifled the need, and stoically stuffed your emotional needs, what prevented you? How did this emotional shutdown feel?
How are we building this level of trust within our families? With our partners? How are we modeling the willingness to be vulnerable as well as the careful way we respond to such overtures to connection as the sacred trust they actually represent? Trust, connection and attunement are fragile and take time to build. They are also easily damaged, so we must marshal great vigilance and commitment to attunement--especially that specialized level of adoption-attunement which understands the complexity of factors that adoption imposes on families built by adoption.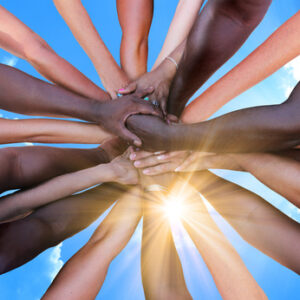 In the United States over 100,000 children in foster care need permanent families. Their most earnest Christmas wish is to receive a family who wants to welcome them into their hearts and homes and love them for a lifetime. There is no good reason that a child should have to languish alone, without the support of a loving, safe, permanent family. It is a tragedy beyond measure. We can and should do better by these children.
Love, sadly is not enough to heal their wounds, remediate their trauma and rebuild their ability to trust. Along with a willingness to love, the potential parents they dream about must have adequate preparation that provides them with the skills, understanding and commitment which will ensure that they have the stamina and capability to be the parents these children so desperately need and deserve.
To bridge these children across the divide of their grief, trauma and neglect requires more than good intentions. Through no fault of their own, these children have suffered great loss. That is their reality. Their truth. Their prospective adoptive families will need to be able to handle their truth, validate their emotions and walk with them as they journey to healing and regain their ability to trust. And love.
The journey will not unfold as a fairy tale. Rather it will reveal itself as a hero's journey for both child and parent. This will take emotional, spiritual and psychic strength beyond measure—enough to sustain parent and child through the rocky shoals of the healing process. Prospective adoptive parents must be able to kick fairy tale expectations to the curb and deal with reality. This is the kinder, healthier and harder approach.
Happy, healthy families can emerge from this crucible as long as people pair their best intentions with the best Adoption-attuned* knowledge and understanding of the needs of children who fell into foster care. The deterioration of a family is neither pretty nor kind. It leaves scars, memories, self-sabotaging coping skills which—given the circumstances—they may be reluctant to release. Success will be hard won. Like all of life's most valuable things, it will absolutely be worth the effort.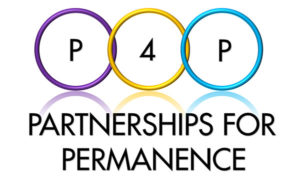 Sally Ankerfelt, one of GIFT Family Services coaches had the opportunity to interview two young women who were adopted after being placed in foster care. (Click here to listen to the podcast.) These young ladies have pioneered a movement to help the next generation of foster kids. They've organized others like themselves, along with interested professionals to create Partnerships for Permanence* which is "an organization for former foster youth and adoptees coming together to raise awareness and actively work to improve the child welfare system."
While their own personal experiences may have been imperfect, they have taken this experience and channeled it into a desire to help others. By sharing their personal insights about what helped and what failed them, they can improve the experience for children currently in the foster care system.
Their mission demands courage, resilience and commitment. They could have chosen to be bitter and resentful; instead, they have become committed and hopeful that they can repurpose their suffering to ensure a better experience for foster youth.
Please take the time to listen to their interview. Listen. Learn. Act. Then ask yourself, how has their story inspired you to adjust how you handle things within your family?
*Partnerships for Permanence is an affiliate of GIFT Family Services. They can work with families using the services of our coaches.
http://wp.me/p4r2GC-1U3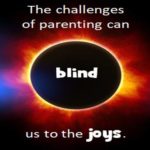 The recent total eclipse captured our national attention and provided a refreshing point of unity for all Americans regardless of their political beliefs. It offered an experience of staggering beauty and reminded us of the fragility of this planet which we all share. For all of its mesmerizing beauty, an eclipse can blind us if we stare at the sun's brilliance without adequate protection. Sometimes the challenges of parenting can similarly blind us and cause us to lose heart.
All parents know that in addition to the exquisite heart-touching, soul-altering joys of parenthood, it also includes challenges that can break the heart or cause us to question our capabilities as parents. The hard work of parenting also includes a healthy dose of drudgery: the heavy lifting of inculcating and enforcing family values and the important responsibility of teaching children how to learn from their mistakes.
Adoption imposes additional challenges to our parenting tasks. In addition to the same tasks which all children face, our kids also must discern how to blend a dual heritage from their birth and adoptive families. Make no mistake; their job is far from easy. It takes courage and persistence, support and encouragement. Most of all it takes time. Lots and lots of time.
This extended period of dependency can exceed our expectations; it also can exceed our patience. Sometimes parenting can feel utterly overwhelming and endless. We look at our friends (who are raising kids by birth and not through adoption.) We envy their kids' seemingly effortless ability to fledge the family nest and make it on their own. We're ready for the next stage of life.
Sometimes, we can fall into feelings of despair and wonder if our kids will ever pull themselves together. We fear that we are not up to the task. We mistrust our skills and inner strength. We tire of the conflict that simmers between us and children who are struggling to solidify their identity and enter adulthood. We crave a break from the stress and worry--for a moment, a day, a week... We pray for reassurance that things will work out well.
Shift vantage points. Imagine what it is like to be in our children's shoes. They can't step away around these obstacles. Their only pathway forward is to leap over these hurdles. They must forever manage the two planets of their lives: birth family and adoptive family. It's a lifetime burden on their shoulders. As fatigued as we are by the shadows adoption casts into our family life, their stress pales by comparison.
As Intentional parents we must remind ourselves that our kids are tired of the conflict too. They too, crave the relief of resolution. We know behavior is the language of trauma and that their behavior speaks volumes. They're probably afraid they'll never figure themselves out. They sense our worries and fears and these emotions magnify their own self-doubts, feelings of inadequacy and fears of rejection.
Our exhaustion and impatience tells them we aren't up to the challenge of standing with them until the crisis passes. That's scary. It's a primal fear like primitive man experienced when an eclipse wiped the life-giving sun from the sky and they wondered if it would ever return. Our kids need to know that we can handle them, their "stuff," their anger and their fear.
Unless we can hold that space of acceptance, security and hope, we've allowed ourselves to become blinded by the glare of the conflict because it is so close, so hot, so intense. But like the eclipse in which the moon succeeds in totally obscuring the sun which is four hundred times larger, the result occurs because of the perspective and proximity. Eventually the planetary alignment shifts, the moon continues on its orbit and our reality returns to its "normal." As people of this century, we have this knowledge and that bedrock of security neutralizes our fear of the darkness.
It's scary until the light returns and begins to shimmer around the edges of the current problem. We must hold hope in our hearts with the sure knowledge that we can be the safety lenses that enable our kids and ourselves, to look right at these two things and learn how to establish a balance. In spite of any self-doubts or moments of weakness, we do have what it takes. Sometimes a shift in perspective can make all of the difference. Staring too directly at the fiery glow of the "problem" can blind us to the choices that will unfold in the near future or those that currently remain obscured by the too-close light. How will you use your "safety glasses to look at the challenges ahead? How can you serve as safety lenses for your children?