Archive for the 'Adoptive Parenting Skills/Tool' Category
Wednesday, March 8, 2017 @
02:03 PM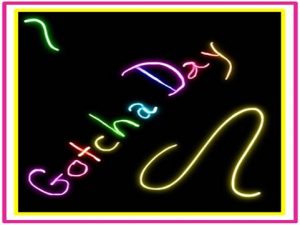 For adoptive parents, the arrival of their children is a miracle beyond conception and an event which they love to celebrate. In a recent letter, Dear Abby extolled the virtues of "Gotcha Day" as a wonderful way to celebrate an important and life transforming event. As Adoption-attuned parents, we understand that adoption is a beautiful way of forming a family. But, the Both/And reality of adoption means it has its roots in loss and grief for each member of the adoption triad. Thus, as an adoption professional and an adoptive parent, I'd like to offer three reasons to rethink "Gotcha Day" and to provide some alternatives. Please click this link to read my complete essay which appeared on Lori Holden's blog Lavenderluz.com author of The Open-hearted Way to Open Adoption.
For me, Gotcha Day feels a bit like a hair shirt. It's intended to generate warmth but it itches like crazy and somehow doesn't accomplish the job.
Wednesday, January 11, 2017 @
03:01 PM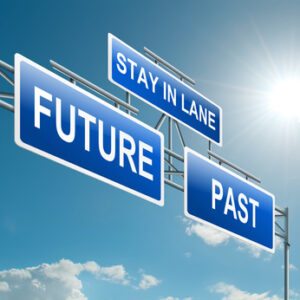 January traditionally motivates us to review the recently ended year and to set our intentions for the new year. As adoptive parents this practice takes on extra significance. Parenting is challenging. Adoptive parenting has additional complexity and responsibilities so we have an intensified need to learn how we did and what we can do to improve. This January scrutiny  is like standing on the pinnacle of a mountain to capture a unique 360° perspective. As we pause to examine the challenges we faced–and handled–we can assess what strategies and decisions served us well and identify the behaviors and decisions that sabotaged our intentions and/or fell short of the mark. We can notice gaps in our skill sets, lapses in commitment, acknowledge times we couldn't or didn't put forth our best effort, spotlight missed opportunities and roads not traveled.
With these data points in hand, we can then determine when and how we want to do differently in 2017. As we begin this year, let's get clear about the priorities which will drive our choices. Resist relying on autopilot and commit to being fully engaged and conscious about any decisions and choices.
Last year many of our blogs encouraged parents to focus on Intentionality and on increasing our commitment to Adoption-attuned Parenting.* We hope that those concepts will continue to significantly influence your choices. Using these two criteria as a rudder makes it easy to decide if something will serve our family or will undermine it. Life is a balancing and priority-setting challenge. Time always seem insufficient and responsibilities ever-present. Still we invite you to try this simple activity. I promise it will take only a few minutes.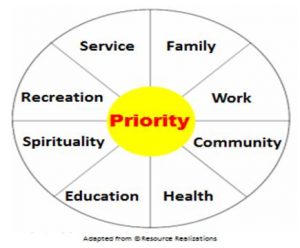 Draw two circles on an index card. (A small piece of paper would also work but will be less sturdy.). Use the sample "pie" graphic as a model. Title the first one Priority. Change the tags on the individual wedges to reflect your family's deeply held values. (Feel free to divide the sample equally (as shown in the sample) or weighted according to importance. Use pencil so you can edit the labels  if you have any change of heart. Be intentional as you name each section with a category that indicates how you want to live as a family. Consider each of the Prime Values that guide you as adults and by which you want to raise your families. No need to fuss or worry about making this graphic pretty. It's only meant for yourselves. No one else needs to see it. For Your Eyes Only–unless you choose to share it.
Pause and read the labels out loud. Absorb what these priorities mean. Imagine a life truly lived as an embodiment of such deeply held principles. Feel the inspiration, the hope, the reassurance and the energy it calls forth. Hold that vision. Note what you feel emotionally, mentally and, physically.  Becoming conscious of these elements allows us to "package" them as a resource to access in the year ahead. You can connect with them in moments when things become difficult, when you need a boost of hope or a reminder of what you committed to be as parents, as families. A light at the end of the tunnel.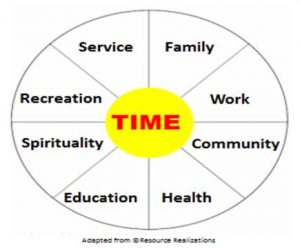 Now we are ready for the second circle. Title this one Time.
For the next two weeks, track the time you spend on each of these categories. Use a simple shorthand –like having each tally mark equate to fifteen minutes. There are innumerable ways to track it on your phone, if you find a tech approach easier. The important thing is to track how you actually spend time versus how you wish you spend your time. Graph your time on the pie. Begin in the center and move out. How smooth is the wheel?
Challenge yourself to make a few predictions about what this times chart assessment might reveal. Will you be pleasantly surprised? Or, will your predictions fall short of your best intentions? The first step to making change is establishing a clear picture of current reality! In two weeks, we'll look at your results to see what might make your family life easier.
These time/priority wheels were adapted from ©Resource Realizations.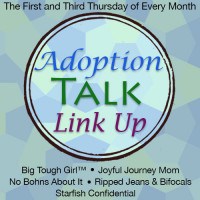 Wednesday, November 16, 2016 @
01:11 PM
Today, as part of our observance of National Adoption Month, Growing Intentional Families Together (GIFT) debuts our newest resource for adoptive families: a weekly 15 minute podcast– Essentials for Adoption-attuned Parenting*.
Listen to learn practical tips for building and strengthening your family. Podcasts will air for approximately 15 minutes. (They'll be concise and to the point so you can easily squeeze it into your busy schedule!) The coaching and discussions will focus on real situations confronting adoptive families. Available on i-Tunes.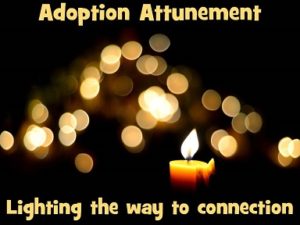 How often have you yearned for support from someone who understands adoptive family life who doesn't judge you or your child for the struggles that you face? Wait no longer. Sample the free series. Discover how it might help you and your family. Hear how other families handled similar situations. Experience a sense of judgment-free community, possibility, and hope.
Joann DiStefano and Susan David have developed these podcasts using coaching principles and a healthy, relational adoption philosophy that views adoption not as a one time experience but a lifetime journey. They look forward to its launch and to connecting with our listeners.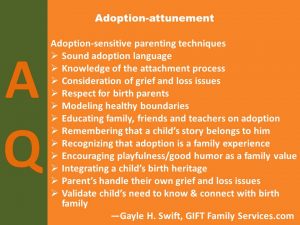 GIFT Family Services has consistently advised parents to commit to Intentional Parenting and to develop a high AQ* (Adoption-attunement Quotient* ) because we believe Adoption-attuned* advice and methods best suit adoptees and their families. This acompanying graphic summarizes the Adoption-attunement* approach. Copy and save it for future reference.