Feeling short of time or finding it difficult to concentrate? You can listen to this post. Listening time: 6:44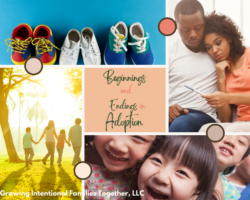 In the beginning, we dream of pregnancy and then discover it is unachievable. That dream ends. Still, we continue to dream and choose to focus on our core desire: parenthood. This leads us to consider adoption. We begin a period of discernment. We investigate the adoption process and begin to determine if we want to become adoptive parents. We attune to the parenting perspectives of our partners. Finally, we end the goal of pregnancy and start the adoption process. Beginnings and endings.
With joy and gratitude, we cherish these precious children who are entrusted to us and begin our journeys as adoptive parents. Awed by their arrival, we delight in them, love them, and nurture them. We experience unbounded joy. And then because life always includes challenges and heartaches, the simple, easy days of parenting end. The parenting journey travels a rocky path with blind curves, perilous twists, and turns. The happily-ever-after bubble pops. The fairytale ends and we begin to realize we are parenting kids with trauma. We yearn for useful and informed help and support.
As our naivete ends,  we long for a handbook that will apply to this unique journey. We realize we must begin our education as Adoption Attuned parents. This is when we come to understand that adoptive parenting differs in many ways from parenting children born of our bodies—children who share our DNA, our lineage, our story. Our Learning continues. Parenting is messy, difficult, unpredictable, different from our expectations to a degree that is far more challenging than the parenting experiences of friends and relatives who were parenting their own biological children.
Let me pause here to make a stipulation: every child placed for adoption experiences trauma because of their separation from their birth mothers and their birth families; this is an undeniable trauma faced by all adoptees. Prospective adoptive parents, parents awaiting the placement of their child as well as those currently parenting adopted children all must accept and deal with this truth. Adoption is not a fairy tale. It is not entirely benign.
In fact, it comes at a great emotional—and sometimes physical—cost to adoptees. For them, adoption is more complex, rife with benefits as well as losses. Parents must take great care to acknowledge that while adoption was the answer to their dreams it cost adoptees their place in their biological family. That loss is profound, permanent, and painful. Before they joined our families, our children's lives with their first families had to end. Gain and loss. Both And. Endings and Beginnings. A new reality unfolds braiding and blending aspects of nature and nurture …
For most of their formative years, our children will attend school. It forms a major part of their life that provides a structure to their lives. As Intentional, Adoption Attuned parents we recognize that we have additional tasks to handle to help our kids cope with school. Here in Florida school opens next week. The relaxed leisurely pace of summer ends and the busy, scheduled school year begins. Once again schools and families are struggling to determine how to educate our children well while keeping them healthy. For many of our kids, the structure of school will serve them well. For others, school imposes performance pressures, social awkwardness, and behavioral challenges.
Parents will want to be intentional and organized. Be prepared to help your children's teachers know how to best relate to your child. Inform them about Adoption Attunement. Help them understand how adoption complexity can make it hard for adopted kids to focus. Alert them to the pitfalls relative to assignments like family trees, sharing baby photos, or tracing family inherited traits, etc.—all of these can be painful for our kids.
In a year heavy with additional challenges, help support our kids by attuning to them in loving and intentional ways. Dr. Dan Siegel  (a Clinical Professor of Psychiatry at the UCLA School of Medicine and the founding co-director of the Mindful Awareness Research Center) writes that "interpersonal attunement… is crucial for people in relationships to feel vibrant and alive, to feel understood, and to feel at peace. Professor of Psychiatry Dr. Steven Porges  adds, "attunement  builds a context of safety, that frees people to 'love without fear.'" With this understanding that all human beings benefit from attuned relationships, we realize that this need for attunement is especially vital to our children who came to us via adoption. They need to "know" with all their senses that we see, hear, accept, and love them for who they are -- not as we dreamed or imagined they would be but as their authentic, marvelous selves.
In the book Reimagining Adoption: What Adoptees Seek from Families and Faith, which I wrote with Sally Ankerfelt, we explore in detail how Adoption Attunement is an essential approach to parenting adopted children well. We look at attunement from many angles and offer practical tips and insights on how to parent our children well. Transitions can be hard for adopted children. Be aware, attuned, and ready. I think I hear the schoolbus!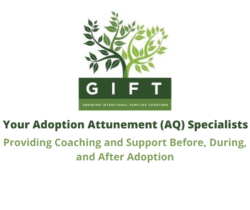 Learn how the coaches at GIFT Family Services can help you and your family navigate your adoption journey. We've faced our share of family challenges and crises, ridden the metaphorical rollercoaster, and our families have not only survived; they have thrived. We offer experience, neutrality, and understanding. GIFT coaches are available to present workshops online.  Contact us : 1-800-653-9445
Listen to our podcast.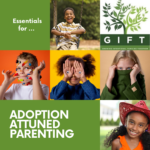 Read these books written by our coaches.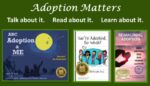 Feeling short of time or finding it difficult to concentrate? You can listen to this post. Listen time 7:11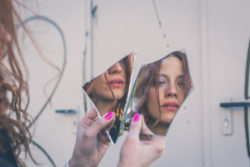 Families follow a core set of values that governs their priorities, shapes their belief system, and guides their behaviors. (We've blogged about the process of being intentional in defining these core values.)
GIFT Family Services also has a guiding set of principles and beliefs that inform all of our coaching and writing: our Adoption Philosophy (posted on our website) and Adoption Attunement (AQ) form the 16 Core Tenets. These two pillars establish the lenses, through which we explore adoption-related topics. They inform our blogs, podcasts, webinars, and posts on Facebook, Twitter, Linkedin, and Pinterest.
Today's blog will focus on number 14:  "Parents handle their own stuff." Our own  "stuff"? What might this be? (Let's stipulate that adoptive parents love their children even while they acknowledge the lack of biological connection. This love does not erase the reality that adoption builds family through a connection of the heart affirmed by legal sanction, not through biology. (For the entire list of the Elements of Adoption Attunement (AQ), see the graphic at the end of this post. Feel free to copy and share.)
Infertility Most— but not all— adoptive parents choose adoption because of infertility issues that render pregnancy impossible.  Once we accepted this reality of infertility, we reformed our goal from pregnancy to adoption. But, adoption does not cure infertility. Nor does it erase any of the memories of monthly cycles of hope followed by crushing despair. Our minds and our bodies recall the emotions fueled by hormonal storms and other personal struggles associated with infertility. These echoes of the pain, sadness, and resentment of infertility create results that are both significant and permanent.
We cannot know the intimacy of carrying our child, ensuring that we care for them as carefully as possible until their birth. We cannot enjoy murmuring conversations with our unborn offspring, silently affirming our joy at their existence sharing our hopes and aspirations for them.
We cannot conceive a child that blends aspects of ourselves and our partners, the penultimate, tangible expression of marriage in which two become one.
We cannot create a child who shares our DNA; the flow of our family lineage is interrupted, the continuity broken.
Without doubt, these alterations evoke an emotional response within us, one which we do well to explore, understand, accept, and which we must resolve." If we do not, emotional repercussions will reverberate through our relationships with our children. Buried and unacknowledged feelings eventually erupt— usually with damaging ferocity—and at the worst times.
This is not a relationship strategy that we want to model for our children. We want to show them that it is important to face whatever issues they find challenging. We must convey to our children that we are capable of managing our own feelings, that it is not their responsibility to hide or minimize their adoption-connected thoughts and feelings in order to shelter our hearts from sadness.
If our kids are overly focused on caretaking our emotions, they will be stuffing, denying, or minimizing their own. Instead of being able to turn to us as a sounding board to explore their own complex feelings and as a source of comfort and security, they will struggle to handle them alone. Children lack the experience skillsets and perspective that adults have. Their ability to manage complex grief and loss is not yet strong enough. They need us as parents to provide that safe harbor. They need to be able to believe that we are capable of hearing difficult stuff without falling apart emotionally ourselves.
If we feel overwhelmed or challenged by the emotions, grief, and loss connected with infertility or adoption complexity we must not burden our children with the weight of them or the shadows they cast. We must attune to our own needs with the same intentionality that we strive to attune to our children's needs. We must find a qualified adoption-attuned professional to help us cope and to ensure that we have handled "our stuff" and thus, are fully available to our children to help them handle theirs. We will all be healthier, happier, and more authentic in our relationships with each other.
Finances— Infertility and adoption are both inextricably entangled with finances. We must be careful not to overextend our financial stability as we pursue the dream of conception and/or adoption. It is equally important that we remain true to the highest ethical standards when we engage in family-building strategies. We cannot allow our hunger to be parents to blind us to the ethics and morality of whatever paths we follow. (Our previous blog explored some of the tragic fallout of ethical and/or legal lapses.)
Our children depend on us to keep them safe. Living aligned with our ethics is important both as a model for them to follow and for the security and stability that doing right creates. How are you ensuring that you are handling your "stuff"?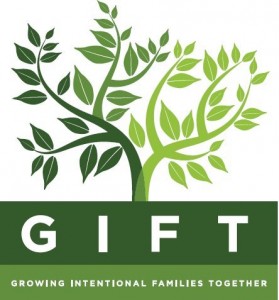 Your Adoption Attunement (AQ) Specialosts
providing coaching and support before, during, and after adoption."
Learn how the coaches at GIFT Family Services can help you and your family navigate your adoption journey. We've faced our share of family challenges and crises, ridden the metaphorical rollercoaster, and our families have not only survived; they have thrived. We offer experience, neutrality, and understanding. GIFT coaches are available to present workshops on-line. Contact us to explore this possibility: 1-800-653-9445 
      Read these books written by our coaches.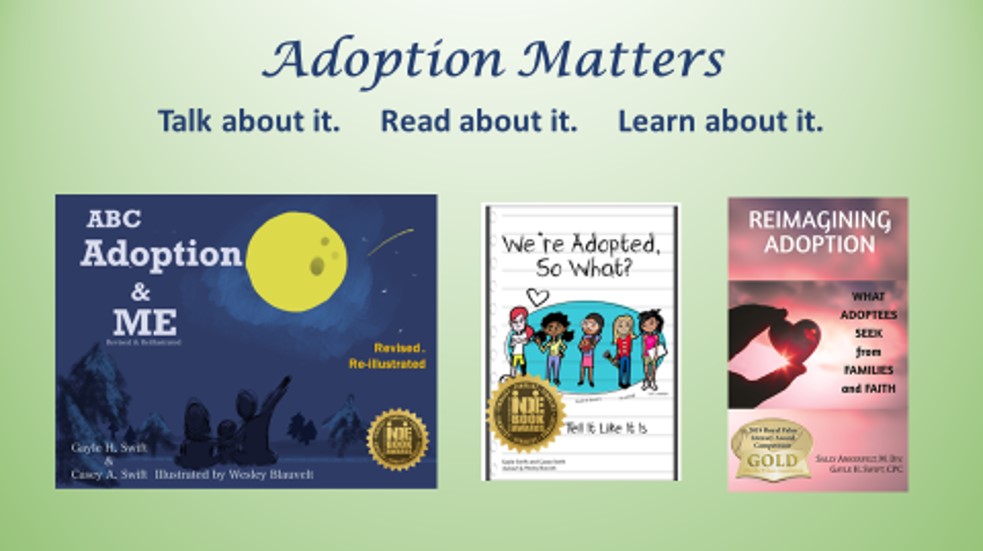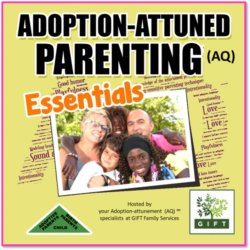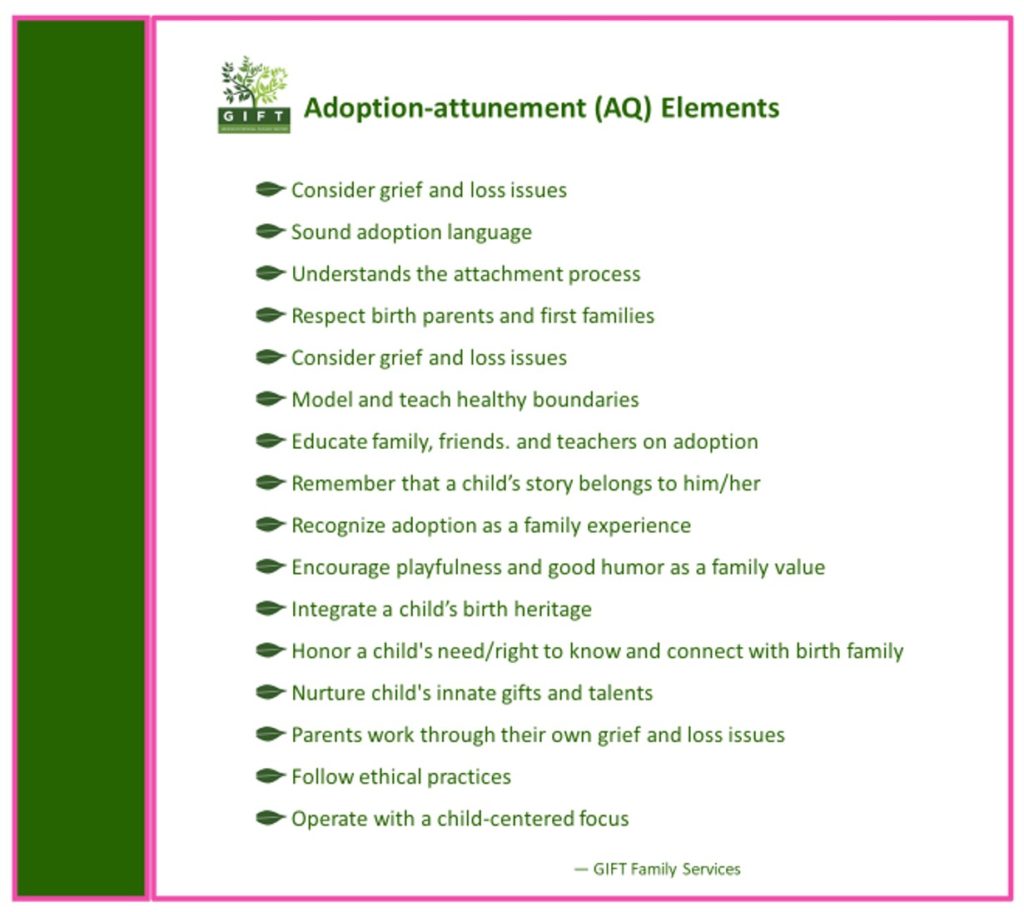 Feeling short of time or finding it difficult to concentrate? You can listen to this post. Read time:   4:16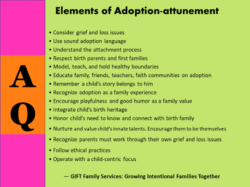 The coaches at GIFT work to help families acquire the skills and knowledge that will enable them to succeed at Growing Intentional Families Together. We believe in being intentional and conscious about the values and beliefs that guide the way we live and raise our families. Our parenting beliefs create a mindset and guide our actions so it is essential that we examine and carefully define them. Parents should identify areas of consensus as well as conflict and then hammer out a compromise.
Readers of this blog know we write with a consistent point of view that holds adoptees at the hub. We also recognize that adoption does not exist in a vacuum. It unfolds within a context of relationships between the adoptee and his parents (first/birth and adoptive) and the people he or she encounters in the world at large.
Our coaching primarily focuses on this relationship dynamic. We coined a word for this approach—Adoption Attunement—and incorporated it into our tag line: Your Adoption Attunement (AQ) specialists providing coaching and support before, during, and after adoption." AQ includes fifteen basic points.
(We also have delineated twenty-five foundational principles and beliefs of our adoption philosophy and this document is posted on our About Us page.
The coaches at GIFT Family Services are committed to educating and raising awareness about Adoption-attunement. Adoption-attunement℠ infuses all of our coaching whether is it done person to person, in a family/group, or via podcast, video, webinar, conference presentations, workshops, blogs, interviews, articles, and books.  We firmly believe as people understand more about adoption complexity, they can update their ideas and beliefs about adoption. This empowers them to parent better, to build stronger connections within their families, and to provide the support which their children so sorely need.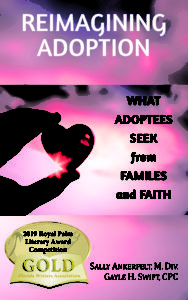 GIFT is dedicated to serving the adoption community regardless of an individual's faith, culture, or gender identity. We are also mindful of the strong interest of the Christian community in encouraging adoption and believed this would be an important arena into which we could introduce the Adoption-attunement principles. We asked ourselves how families can integrate their faith beliefs with Adoption Attunement (AQ) in a way that honors both. Two of our coaches decided to write a book to answer this need.
The result is an award-winning book, Reimagining Adoption: What Adoptees Seek from Families and Faith. The premise is tilted toward the Christian community yet the fundamental principles would be useful to anyone connected to adoption. You can listen to Sally's interview discussing the book with a Christian podcaster. Note: this particular interview represents a particular faith point of view.
GIFT Family Services -- Growing Intentional Families Together
"Your Adoption Attunement specialists
providing coaching and support before, during, and after adoption."   



GIFT coaches are available to present workshops in person or on-line.
Contact us to explore this possibility.
Feeling short of time or finding it difficult to concentrate? You can listen to this post.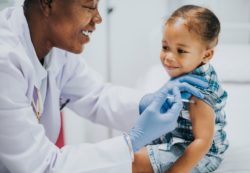 As of February 3, 2020, eleven cases of Coronavirus have been diagnosed in the United States. Thousands in China have fallen ill and 361 have died.[1] As responsible parents, we worry about the risk to our own children and ponder how we should respond. Statistics reveal that the current (as of 2/5/2020) risk to our children is small. Flu presents a far higher danger to our children as do traffic fatalities, gun violence, and drugs. Keeping our kids safe means thinking beyond vaccines, car seats, and safety equipment.
While the Coronavirus, the flu, etc., lead in many headlines, our children face a far more potent hazard: adoptee suicide. Adoptees commit suicide at four times the rate of non-adopted persons. We cannot afford to assume that our children are not contemplating such deadly choices; their lives may depend on it. As Intentional Parents, we certainly want to do whatever is in our power to reduce this risk, address the root causes, and bring counterbalancing influences into play. We dare not assume that our children are free from suicidal thoughts. We cannot afford to hope that all is well. We must intentionally work to ensure that our kids' mental, physical, and emotional health.
I'm certainly not trying to vilify adoptive parents nor to place all the responsibility on their shoulders. Other factors contribute to mental health issues, e.g., biological predispositions, trauma, pre-natal environment, etc.  My intent is to awaken parents to the danger of not attuning and thus leaving kids to make sense of adoption complexity with a loving support person. Attunement is something we can do that helps counterbalance the risk factors. As Intentional Parents, we endeavor to insert as many positive elements in our family dynamics as possible. At GIFT we are firmly committed to education, empathy, and AQ to help ease the challenges of life as an adoptive family. One of our fundamental beliefs is to approach parenting strategies from a working/not working and not from a right/wrong stance.
When it comes to adoptee mental health there are some strategies that we CAN bring to bear.  One important action parents can take is to talk about difficult topics. Encourage our kids to share all their thoughts and feelings around adoption and reassure them that our love for them and their membership in our families is totally secure. Permanent. It is not conditional on their pretending that all is rosy, totally free of conflict, ambivalence, anger, and grief. Adoption is not a totally benign experience; all is not roses, rainbows, and happily-ever-afters. We must ensure that our children feel seen and heard for who they genuinely are as distinct from whom they think we might "wish" them to be.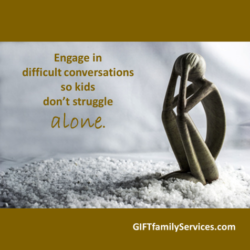 Unless our children "know" that we want to hear their struggles and painful thoughts, that we do not want them to hide or deny these feelings and ideas, our children will falsely assume that such communication is taboo. They will assume that we want them to cover up their struggles, don a mask that obscures their true feelings and suffer in silence. They will believe that this suppression of their anxieties and fears is the cost of membership in the family.
Everyone will be negatively impacted. Instead of an authentic relationship built on truth, trust, mutual support and, interdependence, all will be roleplaying. Everyone will miss out on the joy of being loved as themselves. This is a great tragedy that happens too frequently.
Adult adoptees tell us in huge numbers that one of the most significant contributing factors to their mental health issues is the communication gap between themselves and their families regarding parents' tendency to gloss over, minimize, and invalidate adoptee loss, grief and the trauma of losing their first families. Blinded by their delight at being able to adopt a child, adoptive parents often lose sight of the fact that for him, adoption is not totally benign. In fact, it is quite painful.
(Even if adoption was the best choice in a very difficult circumstance, it is still life-changing. It uproots the child from his place in his ancestral lineage and burdens him with a life-long legacy that results from his separation from his first family.) Adoption is not the result they prayed for. In fact, the "blessing" they fantasize about is to have remained in their first families, safe, rooted and healthy.
We must work to ensure that our children do not become a statistic. What action will you take to discuss these hard issues with your child? Watch a movie or read a book together which highlights some of these awkward and painful complexities. Attend an adoptive family support meeting. Partner with a coach who understands the journey, the issues and has been tried to assist you.
Learn how the coaches at GIFT Family Services can help you and your family navigate your adoption journey. We've faced our share of family challenges and crises, ridden the metaphorical rollercoaster, and our families have not only survived; they have thrived. We offer experience, neutrality, and understanding. 
Read these books written by our coaches.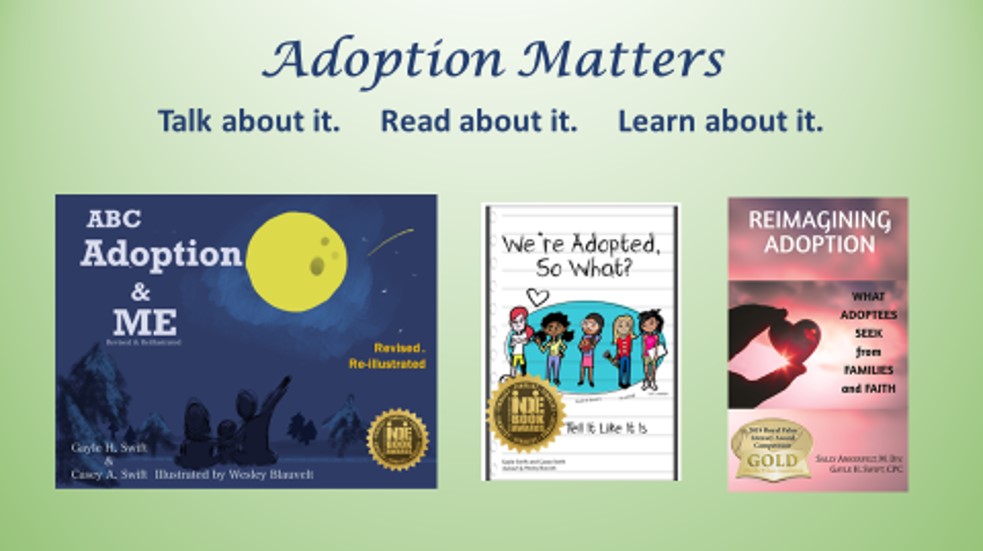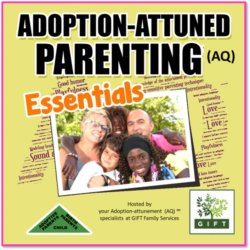 GIFT coaches are available to present workshops on-line. 
Contact us to explore this possibility.             

Read Adoption-attuned book reviews by GIFT coach, Gayle H. Swift, on her blog, "Writing to Connect"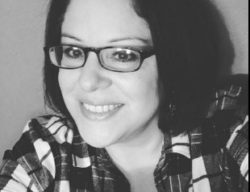 We are privileged this week to have this guest blog written by Lynn Grubb. She is both an adoptee and an adoptive parent. She lives adoption from both sides of the relationship equation! Enjoy, listen, and learn!  Lynn Grubb is an Illinois born adoptee, and a 50-year resident of Dayton, Ohio.  She is President of the Adoptee Rights Coalition, a grass roots 501(c)(4) Ohio non-profit advocating for all adoptees to have equal access to their original birth certificates.  She is employed by and facilitates a kinship support group through the Presbyterian Church (PCUSA).  When she is not advocating in the adoption and kinship communities, you can find her at home with her family and pets, reading a good book.  She blogs at http://noapologiesforbeingme.blogspot.com/.
My husband, Mark and I, got married in 1991 – he was 34 and I was 25.  I became an instant stepmother to his 3-year old daughter, and so began my adventure into parenting.
When I was 27, and found out I was pregnant with our son, I began reading all sorts of parenting books. I turned to books because my own mother was not a place I could turn to learn and understand about pregnancy and birth, since she had not experienced it. I did what most of us do as parents whether conscience or not: I took what I liked about my own childhood and repeated that and tried to filter out what I didn't like and didn't do that.
In trying to determine how to label our parenting, I guess you could say in some ways we are part "free range" parents, in that our kids can have privacy in their rooms, walk to stores and home from school and do things without one of us being present and part "overprotective" (their words) in that we insist on rules, respect, personal hygiene, phone numbers and conversations with parents before overnights happen.
I am definitely not a helicopter mom.  Both of our kids have chores, earn their own money, and know how to take care of everything, like cooking and laundry, themselves.  My own mother was at one time what was called in the 70's and 80's a "supermom" which meant I was fortunate to be involved in every extra-curricular activity known to man, but I didn't learn a lot of grown up things like how to pay bills until I was out on my own, struggling to learn them later.
Now that the kids are older, I am a full-time working mom and our daughter, at age 14, is almost completely self-sufficient (our son moved out on his own several years ago). I am truly amazed that I don't have to wake her up in the morning, tell her to make her lunch or remind her to do homework.  She does all these things on her own.  (I'm probably just fortunate that she has a conscientious personality).  When I cook a meal, our daughter sees it as a treat – not an expectation.  (Lucky for me, her dad is now retired and can keep an eye on her after school and bonus: cook dinner!).
We do not ascribe to materialism at our house – we are minimalists with a clutter problem (I know, it makes no sense).  My husband and I grew up on opposite sides of the tracks, and we have lived in both the city limits and in the suburbs throughout our years of marriage.  One thing we can both agree on is that time with family is more important than stuff.
Here are a few specific areas that my being adopted has helped to inform parenting our daughter (also adopted):
I get the identity piece. I grew up in a closed adoption without any idea of why I was given up for adoption, who the people were that made me, where they went and why my parents didn't have any information.  I decided this would not be something our daughter would need to suffer.  She has all of her information, including photos, a journal, the story, the truth, addresses, and if that isn't enough, she has people she can call besides us, for more pieces of the story. Also, we have her original birth certificate.  She doesn't care about this simple piece of paper now, but some day she might.  I ordered it before the state sealed it (she's lucky Ohio is an open state).  If you too want to help adoptees get their simple piece of paper, please donate to the Adoptee Rights Coalition.
I understand her anger and other emotions. She gets really angry sometimes at her birth mom for leaving her.  I validate that anger and tell her I am really pissed off at my birth mother too.  I know underneath that anger is loss, pain, fear, hurt, and love.  It can be excruciatingly painful to some adoptees that the woman who gave birth to you left you in the hands of somebody else.  Neither of us buy into the common idea that "she loved you so much she gave you away."  Also, I wouldn't hesitate to find her an adoption-competent therapist if I believed she needed one.  Just because I'm adopted does not mean I believe I know it all.  I still would turn to the experts if I needed help.
We are both INFP  We got really lucky that we are similar on the Myers-Briggs personality type.  We just get each other.  We are also both super stubborn.  People tell us we look alike and she does the same thing I did when I was a kid and someone would tell me and my mom that we looked alike.  We say: "we aren't even blood-related!" (cue funny expression on person's face). For those of you who are Myers-Briggs fans, my husband is an INFP and our son is an INFJ.  We are super exciting at parties ?
We tested her DNA. I am part of a lot of DNA groups and people get really touchy about whether they should test their adopted kids, tell kids about their (unknown) fathers, etc.  I believe it's quite simple.  Ask yourself this (my husband says this to people):  Do you know who both of your parents are?  I don't care if it was an affair, rape, incest, donor sperm, abuse, teenage pregnancy, or the next-door neighbor . . . people have a right to know who their biological parents are.  If you don't tell her now, somebody else will tell her later.  Why is someone's parentage ever a secret?  It shouldn't be.
We welcome her birth family. Although our adoption is kinship, I am not blood-related to our daughter.  She has birth family members that want to be part of her life.  We welcome any and all birth family members that do not pose a threat of harm to her.  As an adoptee, I am thrilled that she looks so much like certain family members.  I value the genetic mirroring and background information that she is able to have. It makes my heart happy to add another ancestor onto her family tree.  The more love for her, the better!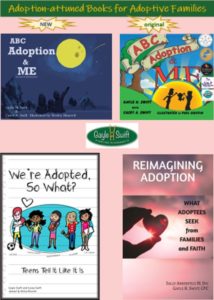 Learn how the coaches at GIFT Family Services can help you and your family navigate your adoption journey. We've faced our share of family challenges and crises, ridden the metaphorical rollercoaster, and our families have not only survived; they have thrived. We offer experience, neutrality, and understanding.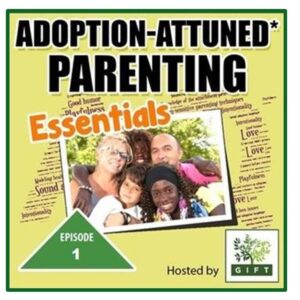 Listen to our podcasts on Adoption-attuned Parenting.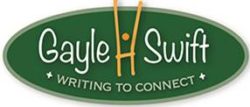 Read other Adoption-attuned book reviews by GIFT coach, Gayle H. Swift, on her blog "Writing to Connect"
[1] Named a Favorite Read of 2013 by Adoptive Families, (the award-winning national adoption magazine.) Named a Notable Picture Book for 2013 by Shelf Unbound in their Dec/Jan 2014 issue; Honorable Mention - Gittle List of 2014; Finalist; IPNE 2014 Book Awards (Independent Publishers of New England), Honorable Mention 2014 Purple Dragonfly Book Award