Archive for the 'General Discussion' Category
Wednesday, March 7, 2018 @
01:03 PM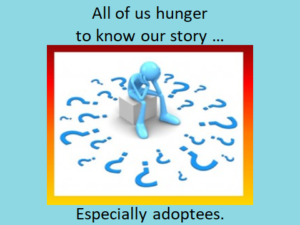 During the previous two weeks, we focused on building relationships by intentionally scheduling conversations with the sole purpose of speaking the deep feelings in our hearts. Instead of relying on the assumption that our families "know" how we feel about them, we committed to speaking those feelings aloud.
This week let's take a different angle on relationship building. We challenge you to stroll down Adoption Lane with one twist: Answer 7 "trigger" questions from "curious" (rude) people as if YOU were an adoptee. Consider only one question per day. Sit with the question; Do not give an autoresponse reply. Really think about it throughout the day. Determine how fully you can answer each one. What is known/unknown? What is knowable/unknowable?
Answer "trigger" questions as if YOU were an adoptee. Consider only one question per day. Sit with the question; Do not give an autoresponse reply. Really think about it throughout the day. Determine how fully you can answer each one. What is known/unknown? What is knowable/unknowable?
What kind of parental support would you want? What might you be tempted to conceal from your folks? Determine what else would you need to now. What else would you want to know? What else would you fear to know? What would you want your parents to know about your attempt to reply to the "trigger" questions?
What kind of parental support would you want? What might you be tempted to conceal from your folks? What would you want your parents to know about your attempt to reply to the "trigger" questions? What would tempt you to hide your struggle?
What will you do with the insight you gain through this exercise? What actions will you take? What conversations will you initiate? How did this exercise deepen your understanding of your child's need for information and empathy?
Daily Question
Day One: A friend tells you her mom has been diagnosed with breast cancer. Her grandmother died of breast cancer at age fifty. You're sixteen and were adopted after being abandoned as a newborn. What is your response to her? Within yourself? How does it make you feel about yourself?
Day Two: A new teammate asked if you have any brothers and sisters. In your adoptive family, you are an only child.
Day Three
 A "friend" comments that you 
look
enough like your boyfriend that you could be brother and sister. How do you reply? How does it make you feel?
Day Four: You were adopted internationally. During a discussion about immigration policy in your Civics, someone asks, "What are you?"
Day Five: An acquaintance asks how you would know if you might be dating a relative.
Day Six: 
 Your Health class teacher assigned your class their turn 
with the "Robot Baby." (A mechanical doll that simulates the behavior of an infant
. Students are graded on the quality of parental care they deliver over an entire weekend.)  A classmate asks what you know 
about
 your birth parents and why they didn't want you.
Day Seven:  Your adoptive parents and your brothers (their biological children) are all exceptionally tall. You barely reach five feet. You are their only daughter. You overhear someone "joke" to your parents about how they had to "resort" to adoption to get a girl. How do you feel? What do you say?
Wednesday, February 21, 2018 @
04:02 PM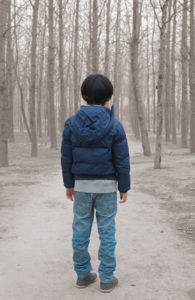 To be successful, parenting requires love–deep, abiding, patient, forgiving love. Yet, because of the responsibilities parenting includes, it is often the locus of conflict between parent and child, between needs and wants, between growing independence and parental inclination to keep kids close and safe. These dueling priorities can lead to dramatic confrontations, angry words, isolating silences and deep feelings of disconnect. Each side embraces a potent sense of righteous indignation and conviction of the other's faults, errors and unwillingness to listen and/or compromise.
Certainly, this explosive state of affairs is far from constant. Nonetheless, I'm betting conflict is familiar territory for us. We've all lived through the exhaustion, despair and, frustration. As intentional parents, however, we recognize that we must remain focused on our purpose–to build lifelong bonds as a family– and not be distracted by any temporary conflicts. Sometimes it takes a metaphorical wake up call to remind us of our priorities.
Last week's horrific shooting was one of those events. I'm not going to wade into the gun issues; although a vital conversation, lots of others are shining a light there. Instead, let us choose to learn something powerful for our families. I'm sure those families were just like us. They probably had their points of connection as well as differences. I'm also sure that they all believed that they had plenty of time ahead of them to work through their conflicts and come to a connected, respectful resolution … eventually.
But as we all know, for seventeen Stoneman Douglas families, time ran out. For kids huddled in hallways fearing for their lives, there will never be another hug, another argument, another apology, another resolution, another vacation. All that remains is the memory of whatever final words or texts they shared as well as all the things they wished they could say but now remain forever unspoken. In their final moments, kids recognized what was really valuable to them: their families. Horrified parents who waited in fear for news of their children's fate scrambled to reach them, prayed for their safe return and then wept as they learned the worst had happened.
Stay focused on the opportunity as intentional families to wake up, to step out of the quicksand of frustration and failed expectations regarding kids behavior and disconnect those negative emotions from the central focus of our mindset. It is so easy for us as parents to crumble under the weight of the arguing, of watching kids break family values, of kids pushing up against boundaries–all that is exhausting and distracts us from "seeing" that we do really care about one another.
Yes, it is important for us to strive to change or improve what is not working. BUT,  we cannot afford to overlook what is working. Take time to acknowledge it. Give it the attention and appreciation it merits. Kids and relationships flourish under the sunlight of attention. It is through those parts of the relationship that are working and connected that more good things come.
As the country struggles to find ways to keep our schools and communities safe, we all agree that "somebody should do something." In fact, each and every one of us can do something; it does have to be grand or even part of a larger movement. We can start where we care the most. Today. Tonight. Reduce the negative energy in our own families in our own work relationships and friendships. Nurture feelings of belonging. It is a fundamental human need.
For us, there is still time. Why not make the most of it? Please consider this challenge:
Wednesday, February 7, 2018 @
05:02 PM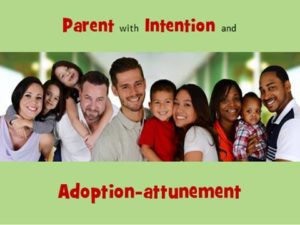 Now that we are well into February , we've trained ourselves to write 2018 on our checks and correspondence. I find it kind of shocking to realize that January is already in the record books. It's a poignant reminder of how quickly time passes. It calls to mind two questions: What happened to those New Year's Resolutions? And, far more important: have we  taken the time to set a parenting intention for the year ahead? If yes, this week over a great opportunity to assess progress, redefine the goal or make an early course correction.
If 2018 has raced out of the gates without your pausing to determine some parenting goals or intentions make the time now. Step out of autopilot and launch your family on an intentional path with a few specific goals and practices. Choose —no more than three so you can focus your energy and create change.
Every family develops habits and patterns. They enmesh us as a cohesive unit and emerge from our lived values like honesty integrity health faith etc. In addition to our patterns as a group—like attending church together or the entire family pursuing a sport, etc—we also have patterns between each individual pairing. While we love each child equally, we relate to them individually. Each relationship is unique. Ideally, we are independent human beings who choose to be interdependent on one another, within the family setting, for each other's mutual growth and support.
From a position of neutrality assess which goals and resolutions you quickly relinquished or postponed. Identify which patterns continue to be entrenched and then sort them out to determine which serve the family and which block your goals or weigh the family down. Which habits dog you, frustrate you but somehow, you just can't seem to stop? Step back and analyze the subtle, probably unconscious ways that they "serve" you. In other words, how well have they worked for you? Are they continuing to work for you or causing undesirable results for others in the family setting?Consider how these habits might avoid change. (Sometimes familiar unpleasantness intimidates us less than unknown possibility or unchartered territory.)
Review conflicts—especially conflict that keeps repeating itself. Challenge yourself to be absolutely honest and identify the rubbing points with this friction. Decide what you can do to change that dynamic. Consider that this may mean adding or subtracting actions, attitudes, habits and, beliefs. Sometimes we hang onto beliefs that no longer serve us or our families and allow them to pressure us into patterns because of the weight of tradition. Our family always does it this way…for generations!)
The question of individual rights has been in the forefront of media in recent months, not only in terms of civil rights, national or religious rights but also in terms of adoptee's rights to their original birth certificates. This movement was being advanced by the Donaldson Adoption Institute as OBC2020 and was dedicated to ensure that all adoptees, like all other Americans in the USA,  would have access to their original birth certificate at adulthood. Unfortunately DAI has closed its doors. The restoration of OBCs remains unfinished, vital business. As adoption-attuned families, we understand the importance of this change in policy and restoration of our children's rights. Each of us has an opportunity to contribute to this effort.
During the month of February we observe several events: Valentine's Day, American Heart Month, President's Day. Make it the month that you challenge yourself to focus on Adoption-attunement in a profoundly committed way.
http://wp.me/p4r2GC-1V8