Archive for the 'General Discussion' Category
Wednesday, May 16, 2018 @
12:05 PM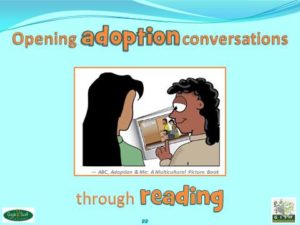 As Intentional parents, we understand the importance of having a well-stocked family adoption library. In last week's blog we explored the top six benefits that it can serve. Of course, like most things connected to adoption, the reality is more complicated than one might first expect. Having an AQ library is an awesome first step, sends an important and affirming message of validation to our kids.  Let's consider five reasons 2. your family adoption library can't handle everything.
Parents can't fall into thinking children will turn to the books on their own. Parents must take a leadership role in selecting a book and suggesting that they read it together. I would be a mistake to believe that kids will think to turn to a book. Not only might it not cross their minds, they most likely will be unable to identify which book can best serve them at that particular moment. Parents familiar with the contents of each book will need to provide the appropriate direction. 
Until somebody pulls the book off the shelf, it's nothing more than a piece of décor filling a bookshelf. A book is only a good tool when it is read. Parents will want to introduce each book to their children by reading it together. This collaborative reading sends a message that the parent values the book and that is something that they want to spend their time reading it with their child. (Parents will want to consider a child's degree of interest. If he is reluctant, offer some genuine encouragement. However, if a child rejects it, honor their decision with an important caveat: make certain that they understand you think it is important to share the material together and commit to doing it another time. Then make sure that you try again in the future. 
If a child consistently rejects the chance to read a book, explore their reluctance. What is spurring it? Does his reluctance reflect a general disinterest in reading?* Or does it only show up when it comes to reading about adoption? Perhaps he's afraid, uncomfortable, or sad. Talk about these emotions. Ensure that he believes your willingness to read and talk about adoption is authentic. Most importantly, he must trust that parents are capable of hearing all of his feelings on the subject, not just the happy and positive ones. A child must be absolutely convinced that his parents want to hear their truthful feelings, not just candy-coated ones. This is not a one-and-done message; they must hear this consistently over time. And parental actions must align with their words.
Many adult adoptees report that they frequently decided not to talk about difficult stuff out of fear of hurting their parents, of making their parents too sad or out of fear of their parents' anger. Kids must be convinced that the conversation is safe to share, that it will not endanger the parent/child relationship, and that they won't be "punished" for expressing difficult thoughts. Some kids fear parents might hold a grudge or might use their words against them in future moments of parent/child conflict.
Many adult adoptees also say that they refrained from talking about their feelings with their parents because of fear that any negativity on their part might trigger rejection by their (adoptive) parents. After all, they reasoned, it happened once—they were relinquished by their birth parents—and they were unwilling to risk it again.
Parents must be alert for the moment when it makes sense to open a book and read it—or part of it— together. It is through sharing the experience that connection occurs. Listening depends not only on hearing the words but also in assessing the child's bodily responses. Are they tense and bottled up, sad and locked down, concerned and in need of assurance? Listen not only to the language spoken and the non-verbal body language but also to what is not being said, what they avoid discussing. These factors offer profound insight into a child's mind and heart.
A book can only provide information; it can't read between the lines. Books are simply the channel through which communication can be exchanged.
Books convey information but an attentive conversation between parent and child creates a space for discovery, deep understanding, the development of nuanced understanding and the clarification of misunderstand or distorted generalizations. Conversation is deeply personal and tailored to a specific child/parent relationship. Books are a superlative tool but nothing can substitute for the love and attention of in-tune parents.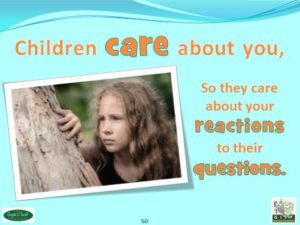 How can you best use your adoption-attuned library to benefit your child, to increase your own Adoption-attunement and to nurture an open and loving forum for family discussions?
How do you discover the best books for your family? What do you learn when you discuss these books with other adoptive parents?
*Ensure that any possible learning disabilities have been identified and take the appropriate interventions.
https://wp.me/p4r2GC-1YK
Wednesday, May 9, 2018 @
02:05 PM
If parents–consciously or unconsciously–telegraph to their kids that talking about adoption distresses parents, kids will stuff their fears and worries and will then struggle to handle adoption complexity on their own and without the "guardrail" of parental support. Intentional parents know their children need parental support to figure out how to braid together a healthy, cohesive identity that respects all of their parts. Books serve as an immensely valuable tool for helping families address adoption complexity. A loving parent's lap offers the perfect, safe place to share a book that helps them talk about this significant part of their family. They benefit both parent and child in powerful ways. Here are the top six ways:
1. Because you built your family through adoption, you have some additional adoption-connected parenting tasks. When you adopted, you obligated yourself to become the best parent possible. This means you must educate yourself on how adoption adds additional layers or responsibility and challenge to your parental role, to family dynamics, and to be envoys for your children. To fulfill those tasks, you need help identifying and performing them well. Books provide insight, strategies, and encouragement. They introduce new ideas which parents can consider and they can reveal issues which parents may not even realize exist or need to be handled.
2. Your children also have "inherited" adoption-related tasks which they must handle to ensure they grow into their best version of themselves. Books offer a safe chance to explore the topic. They create a chance to ask questions that reveal a child's beliefs and fears about adoption. Parents can then address them and allay their children's fears.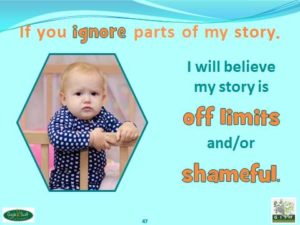 3. It is not easy to find the "right" time to talk about the challenges, questions, and conflicts that adoption creates. Books create non-threatening ways of asking questions, exploring solutions, and describing complex emotions. They offer models of possibilities and a chance to imagine how potential tactics might work. Families can discuss the strategies and decisions which the characters chose, how effectively they worked, and the likelihood that it might work for other families (including one's own.)
4. An accessible, well-stocked adoption bookshelf sends a message: that adoption is a safe and welcome topic. It telegraphs to children that parents are comfortable discussing adoption, that they can handle the conversation, and that they believe it is something they want to discuss as a family.
5. Children can pick a book off the shelf when they feel the urge or need to talk about adoption. It's easier for them to hand a book to a parent that to open a conversation with a "Mom, we need to talk…"
6. Books help parents and children feel less isolated, less different. They help families feel like part of a tribe of other families facing the same situations. This helps reduce the feeling of being different and encourages a sense of shared community.
For specific book suggestions, check out our list here. Be sure to consult, GIFT coach, Gayle Swift's blog, "Writing to Connect" which reviews "general" books that are not intended to be about adoption. She evaluates them through an adoption-attuned lens that identifies ways of raising important adoption conversations in a natural, relaxed way.
Next week we will explore: Five Reasons Your Family Adoption Library Can't Handle Everything.
https://wp.me/p4r2GC-1Ym
Monday, April 16, 2018 @
07:04 PM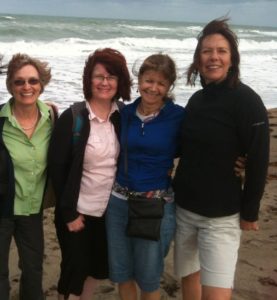 I am meeting my fellow GIFT coaches this week in Sedona. Because we reside all across the US,  we believe it is important to gather in person at least once a year. Our periodic retreats are our way of practicing what we preach in terms of maintaining healthy relationships as business partners and colleagues. We recognize the importance of being together, of listening deeply to one another, and of sharing conversations with each other that reinforce the importance of our mutual relationships.
In our most recent blogs, we've emphasized how vital it is for family members to make the time to have conversations that expressly say what we feel about each other. Through our GIFT partnership, we have created a "family" of sorts–one that each of us values, depends upon, and works to sustain. We know we can depend on one another as friends and as business partners. That knowledge and trust is the fruit of intentional effort and committed actions.
This has served us in good times, challenging times, and in sad moments as well. Over the years, most of us have experienced a family bereavement. While we understood that we couldn't take away another's grief, we did offer shoulders to lean on, ears that listened without minimizing or silencing her anguished words. We did not offer saccharine reassurances or rush to plaster a happy face over sadness. Our response was to walk hand-in-hand and serve as witnesses to a friend's pain. We expressed confidence that she could cope with the trauma.
Now our thoughts turn to happier moments. For three days in the Arizona sunshine, we will have fun together. Those good times will reinforce our connection and renew our sense that our relationship is healthy, safe, and trustworthy.
What actions will you take this week to build connection with your family? What conversations will you hold because it is too important to put off until…whenever?