Archive for the 'Post Adoption Challenges & Behaviors' Category
Wednesday, August 3, 2016 @
02:08 PM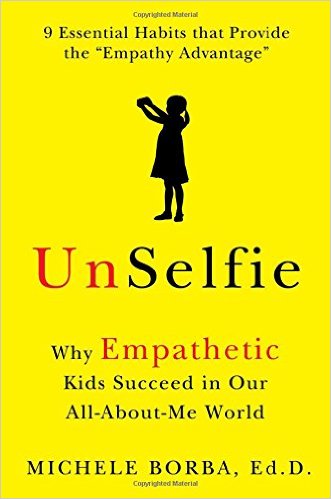 Americans value success. We believe our land of opportunity rewards hard work and determination. Last week we discussed Dr. Michele Borba's excellent book, Unselfie: Why Empathetic Kids Succeed in Our All-About-Me World. Dr. Borba asked us to consider that we can focus on traditional success-producing skills and even increase the likelihood of success if we place equal emphasis on empathy. This allows us to raise children who shine both as human beings and as high achieving go-getters.
As Intentional Parents, how does fostering empathy influence our parenting priorities, practices and choices? What will we change, eliminate. add, or emphasize? How will it alter our expectations of our own behavior as well as our children's?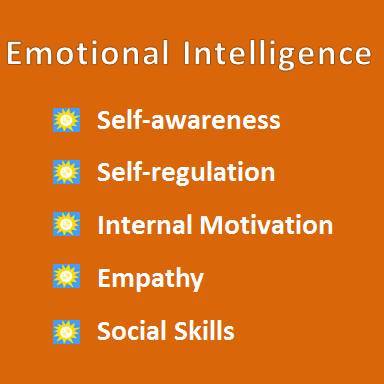 Psychologist Dr. Daniel Goleman coined the concept of Emotional Intelligence and defined it in terms of five elements. Empathy is one of those foundational ingredients. When we parent with an awareness of the role emotions and emotional intelligence play, we can work with our children to nurture them to maturity as well-rounded individuals who succeed in all aspects of their being.
We cannot intimidate our children into behaving. Yelling will not elicit their cooperation. We must carefully nurture their internalization of family values and their decision to live by them. We do not want to be their wardens; we want to be their role models.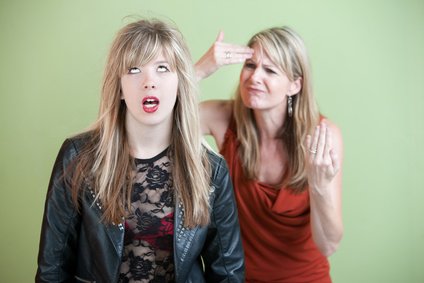 How does this look in action within our Intentional families? Imagine a moment of disagreement between you and your child … You're frustrated, maybe even angry and worried. You are determined to hold strong and deny what your child has requested.
Now imagine their response… Most likely your decision evoked their anger as well as disappointment. This mutual anger feeds off itself and each of you digs in, amplifies your certainty about the rightness of your stance.
How might an Intentional Parent handle this scenario differently? Remember the recent topics of Deep Listening and Empathy. How might it look when Adoption-attuned parents embrace those two principles?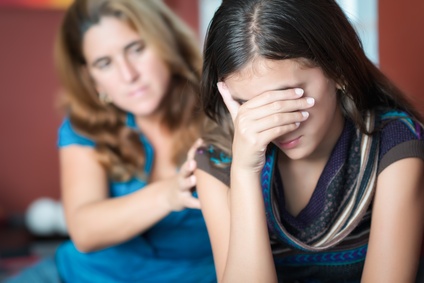 Here's a sample dialog.
First acknowledge the obvious: "Wow, you really feel angry and disappointed." Expect them to double-down on this position and their anger. LISTEN. Do not debate our attempt to change their mind. At this point, do not reiterate your position or impose consequences for their behavior. They will probably keep blowing up, expecting push back from you. Your lack of resistance confounds them, alters their expectations, and, interrupts the pattern of arguing.
Second, deliver a second unexpected response: validate their emotions. Genuinely empathize with them. "I get angry too when things don't go my way." Anticipate an emotion-charged reply. And again, listen… Allow them to unload until their fury dissipates, the "emotional hijacking" ends and, they are capable of listening.
Third, maintain a neutral stance and repeat their position, enumerating their reasons and desired goal. Seek affirmation that you've expressed their position to their satisfaction. The goal here is not to create a winner and a loser. It is to sustain a relationship, model respect and to inculcate our Values. (Later when everyone is calm, address the issue of disagreeing with respect. Practice it; do overs are much more effective than shouting matches. Remember both parties benefit from this practice.)
Finally, restate your parental position. Include any adjustments only if you are now willing to consider them. Choose your language precisely. avoid the word "but." It is a relationship killer. For example. if Trevor cannot attend his friend's party, reiterate their  request, then express your stance like this: You had your heart set on going. Many of your friends will be there AND we stand by our decision that you cannot join them."
At this point do NOT expect that they'll slap on a happy face and enthusiastically accept your decision. Do expect them to abide by it. Allow them the time and space to be disappointed and vent their anger–in their room. Choosing empathy and Deep Listening does not mean parents stand there like a punching bag. Walk away and do not reignite the discussion. If necessary, reply once, "Asked and answered," then disengage with calm and respect.
Recall a recent argument between yourself and your child (or spouse.) How might have this empathy based approach improved the interaction?
Wednesday, July 6, 2016 @
06:07 PM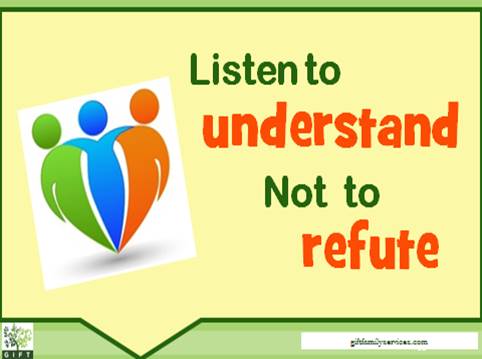 Authentic listening is one of the most essential communication skills and one of the hardest to master. Often, we listen with an ear to refute or rebut what the speaker says. This is especially common when we listen to our kids. We seek ways to convince them of the rightness of our own position, and/or the unreasonableness of theirs. We focus on getting our point across instead of listening to their point of view.
Imagine what might happen if we chose to turn off the Gotcha! mentality and decided to listen deeply, to attend to each point the child is making. Without interrupting them. Without predetermining our response. Without telegraphing judgment, doubt or other negative response in either word or body language.
Imagine asking for clarity until we truly "get" their point and can respectfully repeat their points precisely.  How many of us have ever delivered that level of deep listening? Whaaat? You might be thinking, "I'm not letting the kiddos run the show.. I'm not giving in to their whining, etc." That is not what we propose.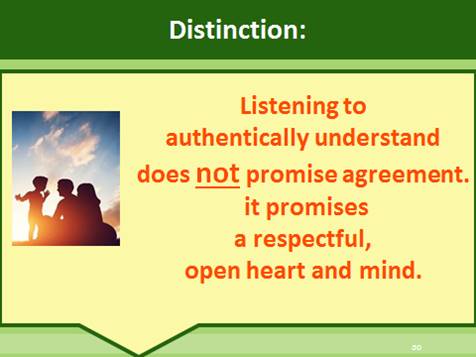 Here's the pivotal distinction: listening for authentic understanding does not promise agreement; it promises a respectful, open heart and mind. Once we genuinely hear each of the speaker's points, we can see both the position and their intended goal.
From this point, we can seek to build agreement, compromise of even disagreement. People will be more inclined to accept your response if they feel fully heard. Of course, there is no guarantee they'll be happy but they will have had an experience rooted in respect. That interaction builds connection, teaches them  good communication skills and affirms the Family Value of respect. Have you ever been the recipient of this kind of listening? Recall how affirming that felt. Now imagine choosing to be that kind of listener. Imagine the potential impact on your family…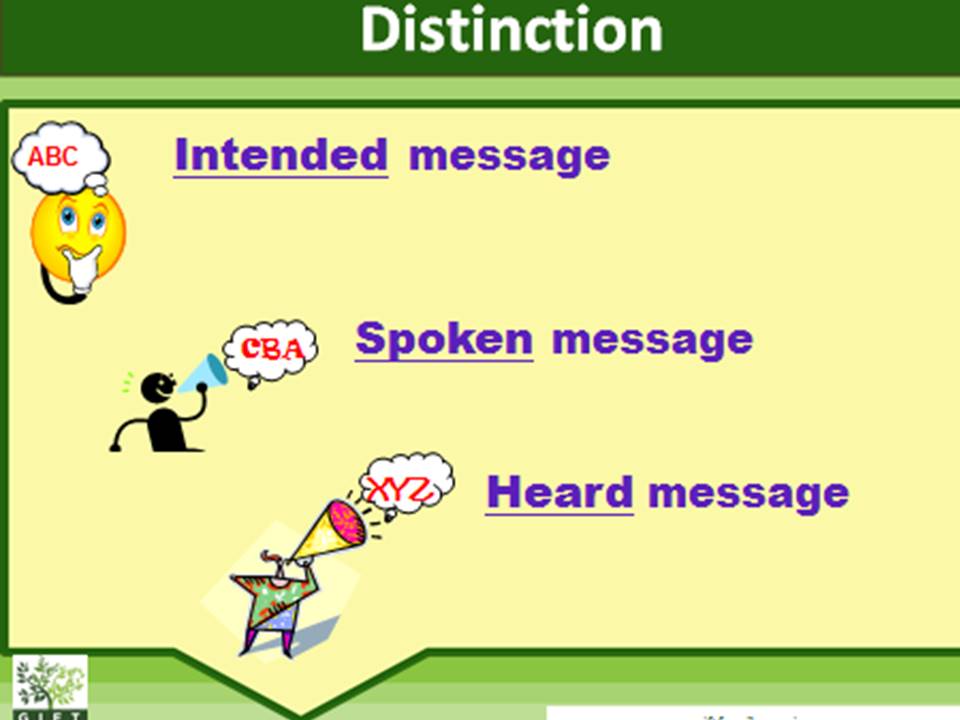 From the vantage point of Intentional Parenting, we strive to engage in ways that build attachment, embody our Family Values, and successfully communicate our points of view. Stack the odds for a successful conversation by following these steps to mastering Deep Listening.
Consider timing: Deep Listening requires that both listener and speaker be fully engaged. Choose the time for your conversations; the immediate moment might not be your best option. For example, the middle of a play-off game, during one's favorite TV show,  etc, probably won't attract the most attentive or cooperative response.
Rephrase their points in your own words Then ask for affirmation that you have stated their point of view correctly. Repeat this sequence until they confirm that you've "gotten" their position.
State your response with empathy and respect. Monitor your tone and body language. Resist the temptation to be dismissive, irritated or, patronizing; these will undermine the entire process. Attitude will directly affect your effort to communicate respectfully.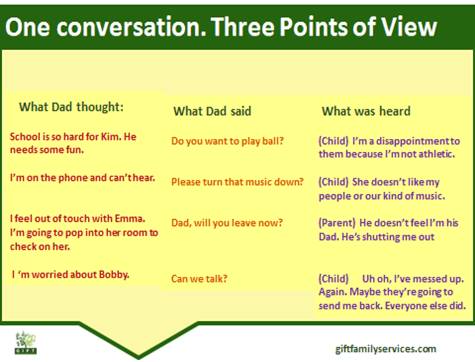 Be aware of the distinction between what you intend to say, what you actually say and what the listener thinks you said. An entire universe of misunderstanding can take place in those spaces. Note the graphic on the left for some examples of how conversations can be misunderstood or misinterpreted.
Both parties have interior conversations with themselves about what is spoken, what was intended and what they inferred was being said. Often the "history" between the two colors the interaction more than what is actually said. Both parent and child need to periodically update their inner transcript to reflect and acknowledge changes in behavior. In the absence of this updating, any efforts to change go unnoticed and former, less healthy patterns will most likely reestablish themselves.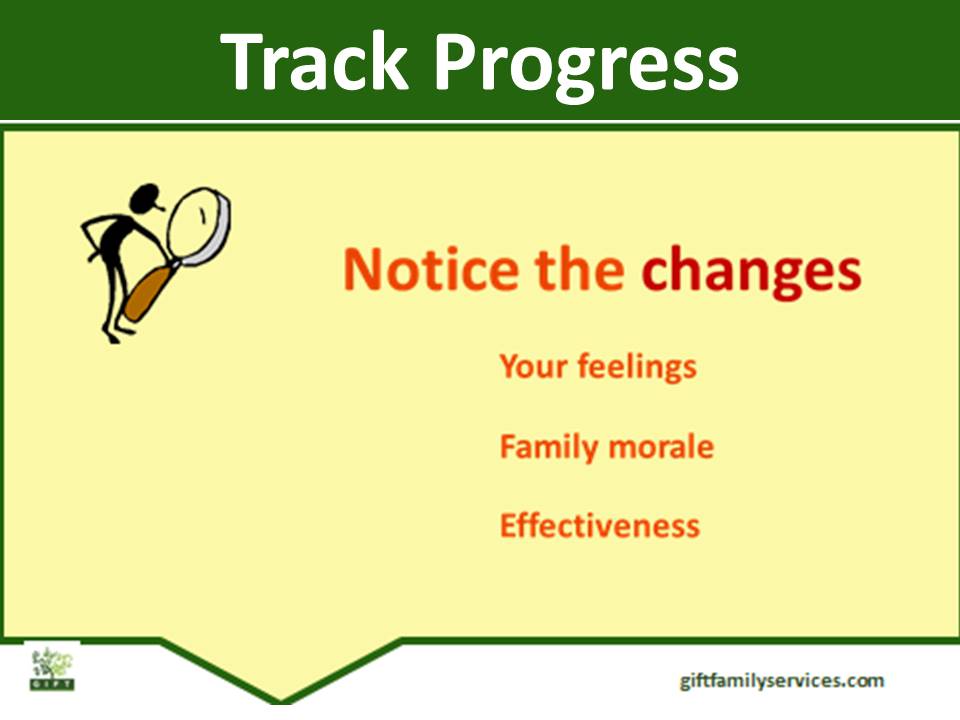 Track your progress. Observe how this level of authentic listening impacts your family dynamics. Acknowledge the small improvements. Every step is valuable. Notice the changes in your feelings, family morale and the effectiveness of your conversations. How has this positive focus spilled over into other areas of family dynamics?
Review any less-than-successful interactions to identify the points at which your Intention fell apart or fell short of your goal. Make those leverage points your focus as you recommit to improving family communication.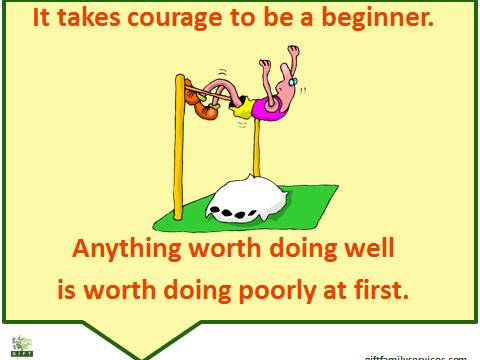 It takes courage to be a beginner. None of us like to look or feel inadequate.  But it is worth the struggle! Acknowledge that it is not easy to master new skills. It will take many times at bat before consistent improve occurs. Allow yourself–and the rest of the family–time and practice to accomplish this goal. Remain steadfast in the face of any failures and turn those shortfalls into stepping stones to success.
When will you take on this mindful communication practice? 
Wednesday, June 8, 2016 @
03:06 PM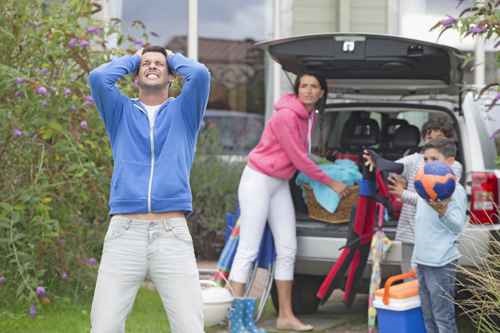 As a parent, mistakes, miscalls, misunderstandings, and miscalculations are inevitable. We all know that intellectually but still we beat ourselves up. Often we forget to respond with intention. (Remember the distinction between responding and reacting. The first is calculated and considered, the second is impulsive and emotion-fueled.)
The typical conversation regarding mistakes focuses on how to learn from them as in "failing forward, using our failures as stepping-stones to choose better, be less reactionary and avoid repeating mistakes. All worthy goals. But let's take a slightly different tack.
Consider how to use the way we handle our own mistakes as templates for our kids. Imagine we are showing them what to do after they've made a mistake. Because that is in fact the reality of parenting: we are perpetually performing the next installment of "Raising healthy, happy, successful children. Without an instruction manual. Without a course syllabus. Without a road map. We're on our own.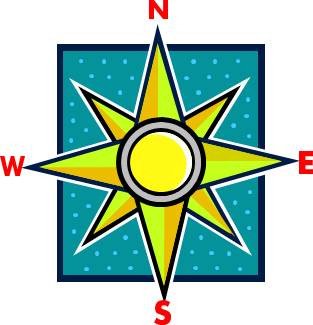 We've had to discard the parenting model of our family of origin; it doesn't fit the circumstance. So every member of the family is striving to understand how adoption uniquely shapes experience. And for most of us this is our first time traversing this world.
We struggle. We try. We fail. And we try again. We get discouraged. As Intentional Parents we expect and accept the struggle; we recommit.
Until. We. Succeed: we find a pattern that works for us.
Until. It. Doesn't.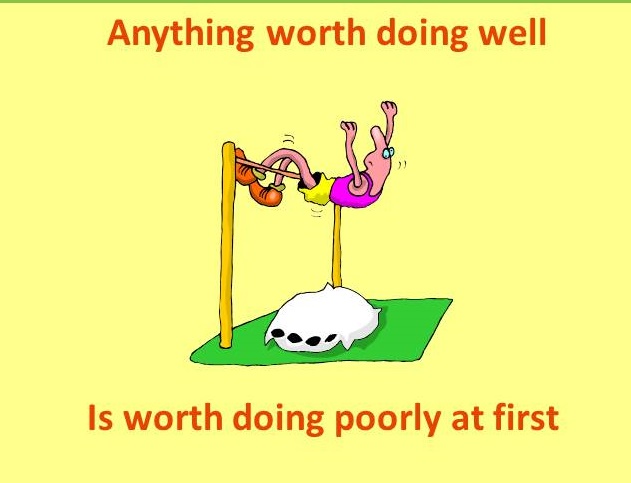 Take on a Practice For two weeks, whenever you are wrestling to accomplish a challenge, learn a new skill or, deal with a difficult co-worker, fight the urge to procrastinate, try this. Like a young child, vocalize your inner dialog. Allow your kids to overhear your inner process, that conversation inside your head that wrestles with overwhelm, frustration and doubt to remind you of your goals and responsibilities and which helps you to resist temptation. Reveal the struggle and the various strategies you use to meet and defeat challenges.
In the absence of evidence to the contrary, kids assume this type of "adult" behavior comes easy for us. They assume that we learn without effort, enjoy doing chores, that our jobs are free of the relationship tensions that plague them on the schoolyard. To their eyes, it appears that we speed down the highway of life with few obstacles, road blocks, pot holes, and disappointments.
This practice of letting them experience our inner world accomplished two things. First, it defeats their assumption that we face no problems, Second, it models persistence through the use of many strategies, of digging deep into our "tool box" until we find the one that fits the particular circumstance.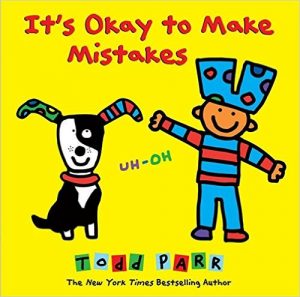 If your children are young, consider reading Todd Parr's It's Okay to Make Mistakes
Admittedly, we don't generally wear our shorts on our heads or our socks on our ears like Parr's characters, but we do take many "opportunities" to mess up. Every failure or misstep gives us an equal number of chances to practice getting it right.
How might this simple practice or processing things out loud benefit you and your family?
A noteworthy comment, we are always parents no matter what the age of our "children".  Letting our adult children make mistakes is not always easy to observe, and yet, it is vital to their growth and development.  As parents, it is beneficial for us to remember that it is important to continue to enter their world and understand them as human beings.  Intentional parenting continues throughout their life as well as ours.
Next week we'll explore ways of "making it right." Repairing damaged relationships is a vital skill which we all need to master.