This post originally appeared on the Long Island Support Group Blog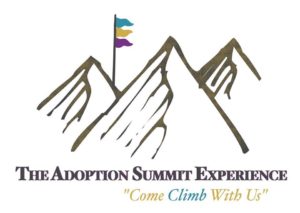 As an adoptive parent, I know what it is like to feel challenged by the unique and complicated demands of life as an adoptive family. As an adoption coach, I know how other families struggle to locate resources that understand adoption and are attuned to the needs of child and parents--both adoptive and birth parents. Living as an adoptive family has often felt like a trek up the steep slopes of Mt. Everest. I suspect other adoptive families experience similar moments of overwhelm and confusion.
Imagine finding and talking with a knowledgeable guide who's also walked that path and survived. Imagine feeling heard, understood and supported, with empathy not judgment. Imagine being able to know what will best serve your child, yourself, your partner, and, your child's birthparents. How might that kind of unified resource help your family? Imagine no more.
On Nov. 10-12, 2015 and Nov. 17, 2015 a collaboration of adult adoptees, birth parents, adoptive parents and adoption professional join together to present "The Adoption Summit Experience." This free, on-line summit is unique as the three individual perspectives join forces to become one voice—a voice that speaks with respect and compassion for all individuals involved in an option.

Summit presenters will address adoption from all "sides" and will share the insights and learnings that we have acquired along the way.  We want to take our hard-won wisdom and infuse it with purpose to create a more collaborative and mutually supportive understanding of adoption. All presenters are directly living adoption either as first parents, adoptees or adoptive parents.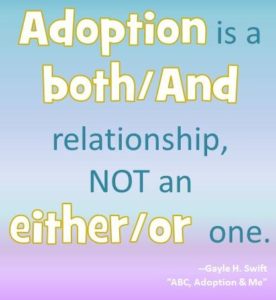 As listeners hear the "other" viewpoints, we hope to awaken empathy and understanding of how we are inextricably and permanently interconnected. Instead of compartmentalizing adoption into adoptee issues, birth parent issues and adoptive parent issues, we accept this interconnectivity as the reality of adoption. By understanding the needs of each part of the adoption triad, we can work together to make adoption better for all involved.
Are you in an open adoption, trying to determine how to make it work? Do you wish you knew how to enjoy and balance your happiness against a backdrop of the grief and loss of your child's birth parents? Do you wonder how to handle your own triggers? Do you ever wish you could chat with several birth mothers to ask them questions to help you relate better with "your" birth mother/s? Then this summit is for you!
Are you struggling to handle the challenges of adoption and yearn to speak with parents who have "survived" similar events and whose family remained firmly attached and thrived? Do you wish you knew alternative parenting strategies—ones tested by other adoptive families? Then this summit is for you!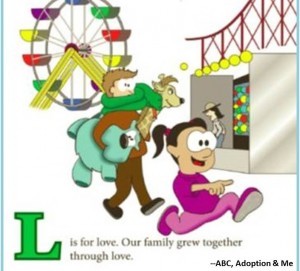 Are you looking for guidance on good resources? How do you evaluate which therapists, coaches, social workers, etc. understand adoption and are properly prepared to guide you? Do you know which books truly serve your family and which perpetuate outdated social myths? Then this summit is for you!
Imagine learning from adult adoptees what worked, didn't work or what they wished their parents had done for them. How might that knowledge help you be a better parent to your child?
Have you ever wished you could talk honestly about your family struggles with no fear of judgment? Imagine confiding in peers who understand the joy, frustration, fear and commitment that adoptees face? Then this summit is for you
Watch this welcome video from Adoption Summit sponsor and adult adoptee, LeAnne Parsons as she invites you to "Come Climb with Us" at the free, on-line adoption summit. All who are interested in adoption are welcome and urged to participate. Register today: http://www.adoptionsummitexperience.com/register
Gayle's presentation at the summit will focus on books as an ideal resource for introducing and sustaining healthy adoption conversations both within and beyond the family. It will include three bibliographies: one for children, one for parents and one of books written by adult adoptees.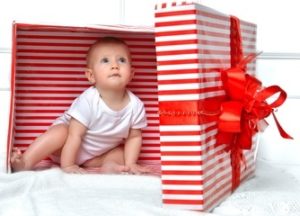 My children are now adults –twenty-eight and thirty years old. (Of course, in my heart, they will always be my babies.) Each is steadily pursuing relationships and careers guided by an inner compass that evolved from a combination of factors: nurture, DNA, personal choices, values and beliefs. I'm relieved to leave the turbulent teens far behind us. Yes, the instructional phase of parenting has ended. (Imagine a huge sigh of relief.) We've navigated storm-tossed seas, reached the safety of the shore and celebrate the journey. Those years tested us sorely. But we trusted that our kids would weather the school of hard knocks and utilize the knowledge which they struggled so hard to acquire. We have all been shaped by the challenges we faced as a family. Growth came through painful, exhausting and scary lessons. These made us who we are now and delivered us to this beautiful present moment.
Thank goodness, hubby and I have graduated from being seen as the opposition/authority/captains of the family ship. Our children now relate to us as confidantes, friends, counselors and champions. I'm thrilled to say that in mere weeks, we will enter the world of grand parenting! We await the arrival of our first precious grandchild, amazed at the miracle of conception and birth. Never having been pregnant, I have followed A's pregnancy with wonder, curiosity and joy.
So close on the heels of Mother's Day, thoughts of motherhood continue to swirl in my mind.  I recall being a fifteen-year-old girl with ovarian cancer who quite willingly traded my fertility for the chance to live. Part of me could not conceive—literally and metaphorically—of never being a mother. Hysterectomy saved my life but robbed me of an integral part of myself. In an act of utter faith, I chose to believe, motherhood would be a part of my life. How or when remained unknown. I simply trusted that it would happen.
As it turned out, adoption opened the door to motherhood and allowed me to fulfill that essential part of myself. It didn't happen in a vacuum. My greatest joy—my children's adoptions—simultaneously was the greatest loss of their birth parents and a primal loss for my children. Conflicting realities coexist. Each is authentic and true. Our grafted family tree is watered with tears of joy (ours) and loss (our birth mothers'). Adoption permanently transformed all our lives. Without doubt, I received the better part of the deal.
I remain confounded about how to express my feelings to my children's birth moms. I am humbled by their choosing me to parent their children, honored by the vote of confidence and the magnitude of the trust placed on my shoulders. While I am filled with gratitude, "Thank you," feels inadequate to the measure of the sacrifice they made, the price they paid. The arrangement is too sacred, the anguish too huge for platitudes.
Adoptive parents (myself included.)often talk about our children as gifts  Sometimes I feel uncomfortable with this word choice because identifying my children as a gift feels like it reduces them to a commodity—a most highly treasured collectible one could ever dream about holding.  (And dream of them I did!) I still remember being consumed by baby hunger. But it worries me that seeing my children as gifts exchanged between birth mother and adoptive parent leeches out the emotional toll and reduces it to a transaction. This trivializes the losses to both birth parent and child. That is never my intention.
I hope that these brave women can recognize that we honor their choice and show our appreciation by parenting our children with boundless love, deep commitment and permanent connection. Adoption blessed my life and I am grateful. For me, it has been a gift.

Lori Holden:
Reader questions about open adoption relationships
During a discussion of my book,
The Open-Hearted Way to Open Adoption
, held by a virtual book club two years ago, I was asked the question you see in the title above.
Oh, yes indeedy, learn I did. And that's because, as one reviewer put it, "this is the adoption book the Internet wrote." For starters, I learned a lot by asking others in the adoption constellation about their experience with adoption.
I learned from adoptees how it feels to be asked who your "real" parents are, and not to be able to get your own original birth certificate like others can.
I learned from first mothers what has and hasn't worked in their moving forward through grief.
I learned from other adoptive parents cases for and against pre-birth matching, paying pre-birth expenses, and formalized adoption agreements.
All that was great wisdom, but it was second-hand experience. Synchronistically, with my daughter's birth mom Crystal (who contributed a great deal to the book), I also got to learn first-hand how to work through conflict. While writing Chapter 4 about establishing boundaries, a situation arose that Crystal and I had to work through.
Crystal and I had had mostly smooth sailing over the years, and with our cruise control on I had gotten complacent. The situation that arose (details remain private) required me to go off auto-pilot and figure out what was really bothering me by going deep within: breathe, be mindful, dig, gain clarity. Then zoom back out with clear communication with Crystal and a commitment to our relationship -- and to Tessa the daughter we both claim.
It's clear, in hindsight, that this uncomfortable episode was actually an amazing gift.
How did you and your daughter's birth mother collaborate on The Open-Hearted Way to Open Adoption?
Another reader asked,
The additions from Crystal are a lovely and informative piece of the book. I'm curious how this collaboration took shape. Did you develop the framework of the book together? Did you have an idea of where you thought Crystal's voice would be most helpful and just ask her for that specific input? Or did you work to find or create spaces for things she wanted to add to the conversation?
Crystal and I had talked for years about how we might help others develop the kind of relationship we stumbled into with each other. First we had to take a look at what we did and didn't do and what has made our efforts a openness successful. For years we taught classes in Denver to share not only that such a relationship doesn't have to be contentious, but that it can also be enjoyable. More than anything we say in these sessions, people seem to get a lot just out of seeing a template for how an open adoption can look.
The framework of the book was mine. Crystal and I had extensive interviews about her thoughts and emotions at various points of our journey, as well as her own deconstruction of how we got to where we are. For a book that is largely about how adoptive parents and birth parents can be on the same "side," rather than the traditional concept of competition between the two sides, it seemed important for us to work together on this book.
As for which came first, her words or a space for her words, I believe it was mostly the former. We had a few jam sessions in which we put as much on the table as we had in us. I took notes and the book began to take shape. Sometimes the book fit around her words and sometimes her words fit into the book.
I suppose in that sense, the way the book took its form is much the same way Crystal and I have taken our form.
~~~~~
Lori Holden blogs from Denver at LavenderLuz.com.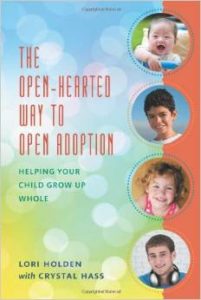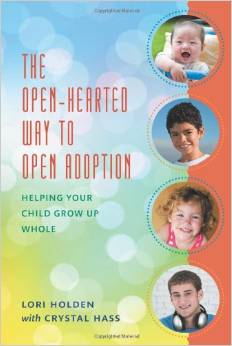 Her book, The Open-Hearted Way to Open Adoption: Helping Your Child Grow Up Whole, written with her daughter's birth mom, is available in hardcover and e-book through Amazon or your favorite online bookseller.
Growing Intentional Families Together is honored to continue our conversation with Sherrie Eldridge, an adult adoptee and tireless advocate for adoptees. She answered our questions about the upcoming re-release of her book, 20 Life-Transforming Choices Adoptees Need to Make.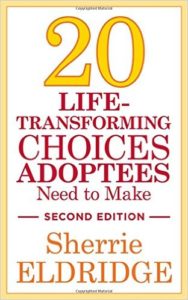 This is the second edition of the book. When was the first edition published and by whom? It was published by  NavPress  on April 4, 2003.
Who is the new publisher? Jessica Kingsley Publishers, 2 edition (March 21, 2015)
Who is the main audience for this book? Adoptees. Interviewed more than 70
Can others in the triad benefit from it? Entire triad
Are there new concepts in the book? What are they? Rite of passage, Hope, How to get unstuck from anger, Where we are to live…our focus, life purpose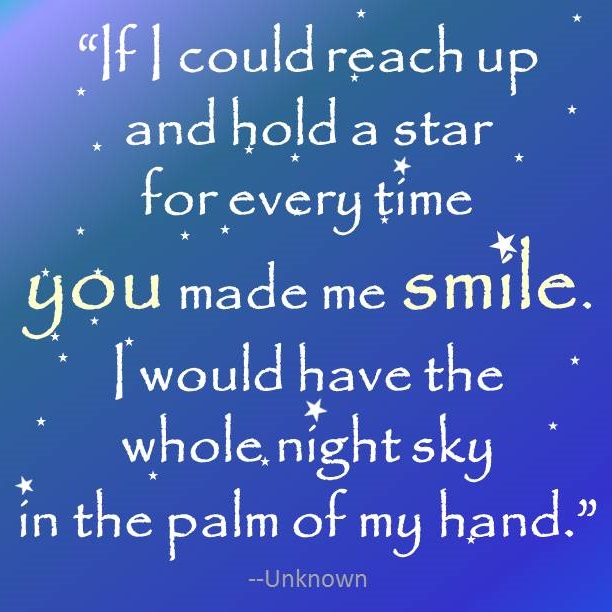 What is the main take-away for you as an adoptee from doing the 2nd publication of this book? I literally relish my adoption. I cherish it as something profound and life changing…for the best.
You say you feel like a lucky girl doing this book project. Tell me more? Retirement (haha)
When is the release date? March 21, 2015 by Jessica Kingsley Publishers
How others can contact Sherrie: Site (blog also here)      Facebook      sherriesheartlanguage@gmail.com      Sherrie Eldridge     Author page      Pinterest Page
20 Life-Transforming Choices Adoptees Need to Make is available for preorder. Jessica Kingsley Publishers officially launches this new issue on March. 21, 2015. It will be available in both paperback and Kindle formats.
In last week's GIFT blog, Sherrie had this to say about her book read more
Read GIFT's blog post on Forever Fingerprints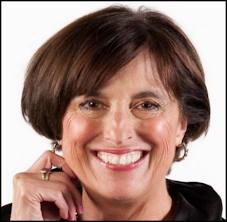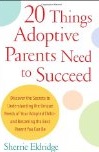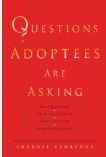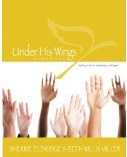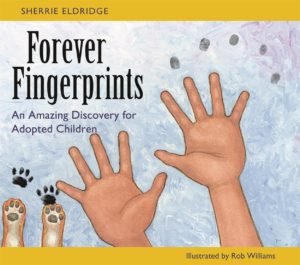 Mention November and most folks think of Thanksgiving. For us here at GIFT—Growing Intentional Families Together—November brings thoughts of National Adoption Month and our gratitude for the blessing of family. Here are some ways to celebrate adoption.
November 22, 2014
Celebrating the adoption of children in foster care
"National Adoption Day is a collective national effort to raise awareness of the more than 100,000 children in foster care waiting to find permanent, loving families. This annual, one-day event has made the dreams of thousands of children come true by working with policymakers, practitioners and advocates to finalize adoptions and create and celebrate adoptive families.
In total, National Adoption Day helped nearly 50,000 children move from foster care to a forever family. Communities across the county celebrate the This year the National Adoption Day Coalition expects 4,500 children in foster care to be adopted on National Adoption Day, on November 22, 2014." They are sponsoring various events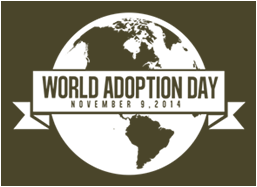 FIRST EVER WORLDWIDE CELEBRATION OF ADOPTION
The Day to Celebrate Family
On Nov.9, 2014 post a photo of yourself, your family and your friends with the hands up smiley face with the hashtag:
#WorldAdoptionDay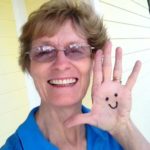 It is appropriate that we celebrate National Adoption Month during this season of Thanksgiving. As parents, we have been entrusted with the privilege to raise children born to other women. We love and nurture them with an awareness that our greatest joy: their presence in our families--began in significant loss for them. This year while giving thanks for your many blessings, remember the birth parents who made such a commitment of faith in us. Continue your education as high AQ--Adoption-attuned--families. Deepen your understanding of the unique needs that adoption creates in a family. Live and love with an eye to the joy of the present moment and a heart filled with empathy, kindness and respect. Books offer a great resource to adoptive families for strategies, a sense of community or a great read for the children. These authors write about the journey that is adoption and as a National Adoption Month Special, the kindle versions will be available for $.99. We invite you to explore these books. (Excerpts from Amazon)
---
Named a Favorite Read of 2013 by Adoptive Families, (the award-winning national adoption magazine.) Named a Notable Picture Book for 2013 by Shelf Unbound in their Dec/Jan 2014 issue; Honorable Mention - Gittle List of 2014; Finalist; IPNE 2014 Book Awards , Honorable Mention 2014 Purple Dragonfly Book Award 
 A child's review: "Most adoption books only talk about the good part of adoption. ABC shows adoption from the kid's side." ABC, Adoption & Me expresses their complicated feelings in a way that makes them feel normal and which makes it easy for them to discuss with their families.  Includes a parent guide. ABC, Adoption & Me celebrates the blessing of family and addresses the difficult issues as well. Exuberant, multicultural illustrations depict a wide range of families
---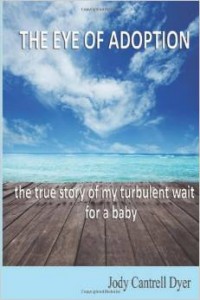 Jody Dyer - The Eye of Adoption     www.jodydyer.com
"No one just adopts." From the very first steps of acknowledging adoption as a choice to the final document that seals the deal, Jody Cantrell Dyer paints a raw, warm, heartbreaking and eventually triumphant portrayal that narrates the entire adoption process through compassionate and humorous prose. Dyer's candor and soul color each page of The Eye of Adoption. She directly addresses the sorrows of infertility and the demands of adoption while consistently word-weaving a life rope of assurance, humor, and optimism for her readers. A middle-aged wife, mother, and teacher, Dyer "tells it like it is" in hopes that waiting adoptive parents, birthparents, adoptees, and those close to them will find kinship through her story."
---
Tim Elder - 7 Steps to Domestic Infant Adoption  
http://www.infantadoptionguide.com/author/telder
This take-action resource guide will save you TIME & MONEY as it shows you what it takes to go through the domestic infant adoption process. It is packed full of over 100 links, tips, articles, and my personal adoption stories. 
My name is Tim Elder – I'm an adoptive dad. I've been in your shoes. My wife and I went through a miscarriage and years of infertility before we adopted our children. We were blessed to adopt them as newborns – one in 2007 and one in 2012. After going through the domestic infant adoption journey twice, I have a strong desire to help others - like you - get through it so I created this guide to help you.
---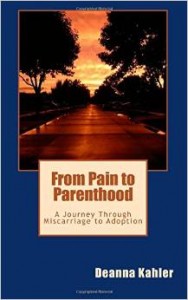 Deanna Kahler - From Pain to Parenthood     http://goo.gl/EQUZtx
Follow one woman's incredible and heartfelt journey from the pain of miscarriages to the joy of becoming a parent through adoption. Witness the many struggles that can permeate your life in the aftermath of pregnancy loss. Take a glimpse at the overwhelming desire some women have to become a mother. Celebrate the joy of overcoming adversity and achieving your dreams. Filled with honest, raw emotions and helpful coping tips, "From Pain to Parenthood" promises to touch your life with a real story that shows the power of the human spirit and the beauty of a mother's love.
Finalist, 2014 Next Generation Indie Book Awards, Parenting/Family
---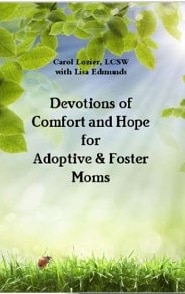 Carol Lozier - Devotions of Comfort and Hope for Adoptive and Foster Moms http://goo.gl/p5EuKK   www.forever-families.com
Adoptive and foster moms have a pretty tough job raising children with a history of trauma and/or loss. The devotional is co-written by Carol Lozier LCSW, an adoption therapist, and Lisa Edmunds, an adoptive mom. The 120 devotions offer information, hope, and comfort to adoptive and foster moms as they trek through this journey of healing alongside their child.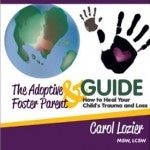 Also by Carol Lozier - The Adoptive & Foster Parent Guide: How to Heal Your Child's Trauma and Loss http://goo.gl/xKCU6x
Lonely? Feeling judged? Parenting an adopted or foster child may be the hardest work you will ever do! In addition, families experience a lack of understanding from family, friends, and their community.
The Adoptive & Foster Parent Guide
 is a supportive and loving guide for families. The book is an easy read, and explains ideas through stories, scripts, and practical strategies.
 The Adoptive & Foster Parent Guide
 teaches families as well as professionals, in a step by step approach, how to heal a child's past trauma and loss. 
The Adoptive & Foster Parent Guide
 touches on many topics, including: attachment styles (attachment disorder), dysfunctional family patterns unique to adoption and fostering, birth families, how to create healthy attachment, maintaining calm, and managing a team of professionals.
---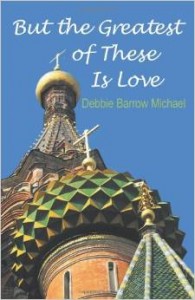 Debbie Michael - But the Greatest of These is Love     http://goo.gl/xasFwR
On a March evening in 2000, an unexpected and unsettling thought came out of nowhere, disrupting Debbie Michael's comfortable life—adoption! It was neither her idea nor her desire to adopt; she was already the mother of three. Instinctively, she knew God was speaking to her, but she did not want to listen if His message required action as life-changing as adopting an orphan. Dread lingered in the aftermath of the disturbing suggestion, and a debilitating fog of uncertainty settled over her life. A journey of a thousand miles (or five thousand, in this case) might begin with a single step, but Debbie was not eager to take that first step. Though God was relentless, she remained adamant. She was determined to ignore the nudging. But God would not be ignored! God pried Debbie out of her comfortable existence and opened a door to a life she didn't know existed. But the Greatest of These is Love is about much more than adoption. It is a story about the powerful and astonishing ways God uses ordinary people to accomplish His divine intention that we love one another.
---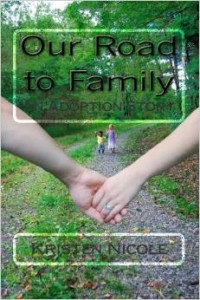 Kristen Nicole - Our Road to Family      http://goo.gl/0PXyVO
"My husband and I are adopting. Does anyone know what that means?" There was more than one answer to that question for Kristen and Dan, and this remarkable story takes you through their adoption journey from beginning to end. From fertility issues to two successful adoptions, Kristen eloquently sheds new light on each step of the adoption process. With an inviting and friendly style of prose, she guides readers through the heartache of having to let a child go and onto the joy of holding her child for the very first time. An honest portrayal of a different road to parenthood, this story affirms the real blessing that adoption can be.
---
Sharon Simons - Mom At Last    http://goo.gl/2czPfv
 Her biological clock ticking louder each day, Sharon Simons felt her heart sink as yet another "Mr. Wonderful" turned out to be a frog---not the prince she was waiting for. But when the right man did come along, their journey toward parenthood seemed more like a machete trail through a jungle than the smooth path of her dreams. Enduring 3 failed IVFs and the loss of their unborn twins, Sharon and her husband decided to adopt---taking a whirlwind trip to Russia and navigating the rough waters of international adoption red tape. Their journey ended, or rather began, when two baby boys were placed in their arms for the long trip home.Part love story, part adoption memoir, and all heart, Mom at Last is the story of one woman's fierce determination to become a mother. Full of setbacks and emotionally devastating pitfalls, ultimately the journey leads her to true love and pure joy. Mom at Last will inspire women who find themselves on that sometimes difficult journey to motherhood, giving hope that motherhood is possible and encouraging women to never give up on their dreams. While every journey to motherhood is different,Mom at Last lets women know they are not alone in the struggle toward motherhood.
---
Authors whose books are not reduced.