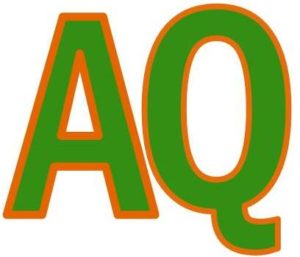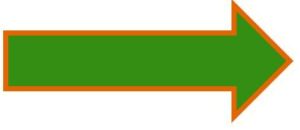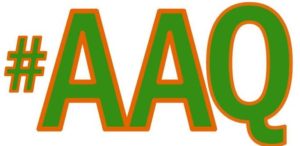 Relax, the image above is not a math equation haunting your stressed brain. The graphic announces a vital change in how GIFT Family Services discusses Adoption-attunement. Readers of this blog know that the foundation of our adoption coaching rests firmly on encouraging parents' commitment to achieving a high #AQ. We conceived of  AQ to parallel the other widely recognized "intelligences" and joined "AQ" to IQ (Intelligence Quotient) and EQ (Emotional Intelligence.) We've discussed the fundamentals of adoption attunement many times. To recap, #AQ* means parents strive to tune into their children's needs and to understand, acknowledge and handle their own "stuff" as well so that it lessens the frequency with which parents get triggered.
We believe our work with families provides a vital tool for helping families thrive as an adoptive family. To help people find our writings, we usually add a hashtag. This gathers all writings on AQ under a single, searchable umbrella even material written by individuals other than those who are part of GIFT. We worked diligently to help the  #AQ* hashtag achieve wide recognition in the world of adoption. So why would we shift our hashtag after working so hard to establish a following? We discovered that the hashtag we had been using is also shared by the vile and dangerous group Al Qaida and its supporters. From now on, we will designate Adoption-attuned Intelligence as #AAQ. Please help us spread this replacement tag so we can continue to educate families and professionals on this vital concept that serves positive support for adoptive families.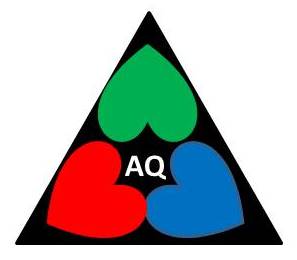 Please help us build awareness of this hashtag change--and the important messages it advocates. Most of us are familiar with the concept of the adoption triad which refers to the interconnectedness of birth parents, adoptee and adoptive parents. We are permanently and inextricably connected. Many graphics have been created to depict this relationship. Usually it includes a triangle and a heart. GIFT uses the graphic included here.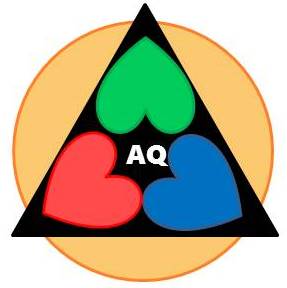 Beyond the triad relationship we  now recognize that adoption joins an even wider group of individuals: extended birth and adoptive families, etc. ; these relationships are collectively described as the adoption constellation. We are pleased to introduce our graphic representation of this relationship.
We would appreciate the efforts of each person of the constellation to spread the word about this new hashtag and separate us from the former one. Thanks for helping us to continue to provide support before, during and after adoption.
(Adoption-attunement Quotient) includes:
Adoption-sensitive parenting techniques
Sound adoption language
Knowledge of the attachment process
Consideration of grief and loss issues
Respect for birth parents
Modeling healthy boundaries
Educating family, friends and teachers on adoption
Remembering that a child's story belongs to him
Recognizing that adoption is a family experience
Encouraging playfulness and good humor as a family value
Integrating a child's birth heritage
from ABC, Adoption & Me: A Multicultural Picture Book for Adoptive Families
                   —by Gayle H. Swift with Casey A. Swift
Last week we explored one tenet of our philosophy of adoption. (The entire twenty-five point manifesto is posted on our website home page.) This week we turn to point four: 4. Support systems are vital in assisting families with the realities of living as an adopted family.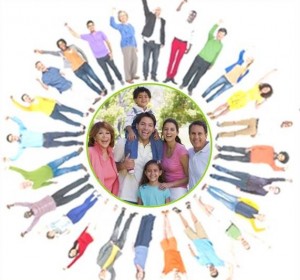 While the old adage, It takes a village to raise a child, is widely believed, the "village" serves an even more vital role in an adoptive family's life. Support benefits all family members as each must learn to dance with the after affects that adoption imposes on them. When each person's needs are adequately met, they are more fully available to connect with and support the rest of the family.
Appropriate support helps parents put the ghosts of infertility behind them, realign their expectations about parenthood from their fantasies to embrace the real children who are now a part of their hearts and families. Children receive much needed assistance in coping with their losses, integrating their biological legacy with their adoptive family heritage and in moving forward to a healthy adult identity that incorporates both their families.
This kind of well rounded support embraces adoption as a family experience that touches each and every family member. It avoids framing the adoptee as the only one with "issues" or "stuff" to deal with. When everyone acknowledges, accepts, confronts and handles their adoption-generated needs, it augments their ability to become an authentically High AQ* family that recognizes adoption as a life-long factor in their lives and enables them to use this awareness to benefit all of them.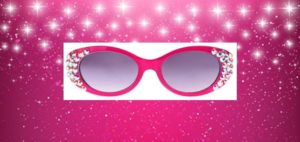 Instead of burying the challenges, pain, and trauma which arises, well-supported families confront them. They remove the rose-colored glasses and evict the  "elephants" from the room. In partnership with their personally-adapted support system, they deal with their "stuff". Most importantly, they do it together, not alone.
In the past many adoptive families misunderstood the depth of the change that adoption placed on the entire family. Rose-colored glasses persuaded them that all was well when in fact, parents still wrestled with the outfall of infertility; children fearful of offending adoptive parents struggled with unexpressed questions about themselves and their first families.
Families who admit problems exist and then get help, connect genuinely. They choose to move beyond the all-is-wonderful mask and instead choose to truly see who they are, what obstacles they must overcome and then do it together. In today's world of open adoption, relationships are increasingly complex, varied and constantly changing. Emotions run high on all sides so a neutral support person can be invaluable. At the hub of this complex web of individuals is/are the child/ren we all love. Their best interest drives us to be authentic, vulnerable, persistent and brave. That is not easy.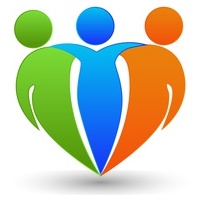 Many of us never truly explore what lies beyond the mask we show to the world.  And once we are aware, we can create  a family built on intention, which is especially "of value" when the family includes all those that make up the adoption triad. Most of the time it take someone else--like a coach--to nudge us into this awareness.  Part confidante, part champion, she provides a sounding board, a neutral perspective,  and encouragement.
Who is part of your support system? For your children? How well informed are they on the realities of adoptive family life? How might an adoption coach stand with you as you journey through life as an adoptive family?
This post originally appeared on the Long Island Support Group Blog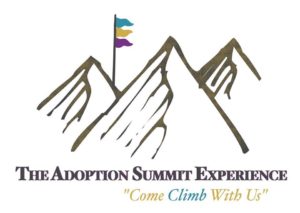 As an adoptive parent, I know what it is like to feel challenged by the unique and complicated demands of life as an adoptive family. As an adoption coach, I know how other families struggle to locate resources that understand adoption and are attuned to the needs of child and parents--both adoptive and birth parents. Living as an adoptive family has often felt like a trek up the steep slopes of Mt. Everest. I suspect other adoptive families experience similar moments of overwhelm and confusion.
Imagine finding and talking with a knowledgeable guide who's also walked that path and survived. Imagine feeling heard, understood and supported, with empathy not judgment. Imagine being able to know what will best serve your child, yourself, your partner, and, your child's birthparents. How might that kind of unified resource help your family? Imagine no more.
On Nov. 10-12, 2015 and Nov. 17, 2015 a collaboration of adult adoptees, birth parents, adoptive parents and adoption professional join together to present "The Adoption Summit Experience." This free, on-line summit is unique as the three individual perspectives join forces to become one voice—a voice that speaks with respect and compassion for all individuals involved in an option.

Summit presenters will address adoption from all "sides" and will share the insights and learnings that we have acquired along the way.  We want to take our hard-won wisdom and infuse it with purpose to create a more collaborative and mutually supportive understanding of adoption. All presenters are directly living adoption either as first parents, adoptees or adoptive parents.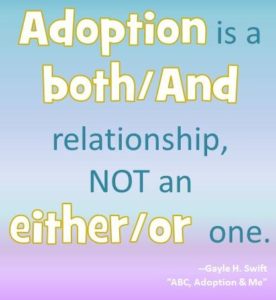 As listeners hear the "other" viewpoints, we hope to awaken empathy and understanding of how we are inextricably and permanently interconnected. Instead of compartmentalizing adoption into adoptee issues, birth parent issues and adoptive parent issues, we accept this interconnectivity as the reality of adoption. By understanding the needs of each part of the adoption triad, we can work together to make adoption better for all involved.
Are you in an open adoption, trying to determine how to make it work? Do you wish you knew how to enjoy and balance your happiness against a backdrop of the grief and loss of your child's birth parents? Do you wonder how to handle your own triggers? Do you ever wish you could chat with several birth mothers to ask them questions to help you relate better with "your" birth mother/s? Then this summit is for you!
Are you struggling to handle the challenges of adoption and yearn to speak with parents who have "survived" similar events and whose family remained firmly attached and thrived? Do you wish you knew alternative parenting strategies—ones tested by other adoptive families? Then this summit is for you!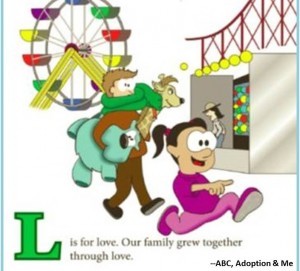 Are you looking for guidance on good resources? How do you evaluate which therapists, coaches, social workers, etc. understand adoption and are properly prepared to guide you? Do you know which books truly serve your family and which perpetuate outdated social myths? Then this summit is for you!
Imagine learning from adult adoptees what worked, didn't work or what they wished their parents had done for them. How might that knowledge help you be a better parent to your child?
Have you ever wished you could talk honestly about your family struggles with no fear of judgment? Imagine confiding in peers who understand the joy, frustration, fear and commitment that adoptees face? Then this summit is for you
Watch this welcome video from Adoption Summit sponsor and adult adoptee, LeAnne Parsons as she invites you to "Come Climb with Us" at the free, on-line adoption summit. All who are interested in adoption are welcome and urged to participate. Register today: http://www.adoptionsummitexperience.com/register
Gayle's presentation at the summit will focus on books as an ideal resource for introducing and sustaining healthy adoption conversations both within and beyond the family. It will include three bibliographies: one for children, one for parents and one of books written by adult adoptees.

Lori Holden:
Reader questions about open adoption relationships
During a discussion of my book,
The Open-Hearted Way to Open Adoption
, held by a virtual book club two years ago, I was asked the question you see in the title above.
Oh, yes indeedy, learn I did. And that's because, as one reviewer put it, "this is the adoption book the Internet wrote." For starters, I learned a lot by asking others in the adoption constellation about their experience with adoption.
I learned from adoptees how it feels to be asked who your "real" parents are, and not to be able to get your own original birth certificate like others can.
I learned from first mothers what has and hasn't worked in their moving forward through grief.
I learned from other adoptive parents cases for and against pre-birth matching, paying pre-birth expenses, and formalized adoption agreements.
All that was great wisdom, but it was second-hand experience. Synchronistically, with my daughter's birth mom Crystal (who contributed a great deal to the book), I also got to learn first-hand how to work through conflict. While writing Chapter 4 about establishing boundaries, a situation arose that Crystal and I had to work through.
Crystal and I had had mostly smooth sailing over the years, and with our cruise control on I had gotten complacent. The situation that arose (details remain private) required me to go off auto-pilot and figure out what was really bothering me by going deep within: breathe, be mindful, dig, gain clarity. Then zoom back out with clear communication with Crystal and a commitment to our relationship -- and to Tessa the daughter we both claim.
It's clear, in hindsight, that this uncomfortable episode was actually an amazing gift.
How did you and your daughter's birth mother collaborate on The Open-Hearted Way to Open Adoption?
Another reader asked,
The additions from Crystal are a lovely and informative piece of the book. I'm curious how this collaboration took shape. Did you develop the framework of the book together? Did you have an idea of where you thought Crystal's voice would be most helpful and just ask her for that specific input? Or did you work to find or create spaces for things she wanted to add to the conversation?
Crystal and I had talked for years about how we might help others develop the kind of relationship we stumbled into with each other. First we had to take a look at what we did and didn't do and what has made our efforts a openness successful. For years we taught classes in Denver to share not only that such a relationship doesn't have to be contentious, but that it can also be enjoyable. More than anything we say in these sessions, people seem to get a lot just out of seeing a template for how an open adoption can look.
The framework of the book was mine. Crystal and I had extensive interviews about her thoughts and emotions at various points of our journey, as well as her own deconstruction of how we got to where we are. For a book that is largely about how adoptive parents and birth parents can be on the same "side," rather than the traditional concept of competition between the two sides, it seemed important for us to work together on this book.
As for which came first, her words or a space for her words, I believe it was mostly the former. We had a few jam sessions in which we put as much on the table as we had in us. I took notes and the book began to take shape. Sometimes the book fit around her words and sometimes her words fit into the book.
I suppose in that sense, the way the book took its form is much the same way Crystal and I have taken our form.
~~~~~
Lori Holden blogs from Denver at LavenderLuz.com.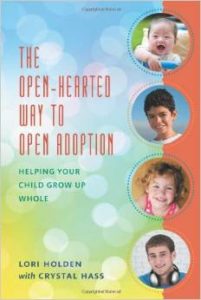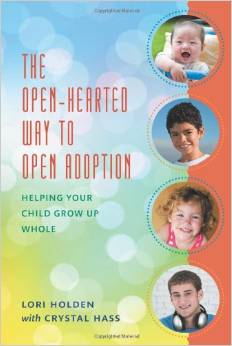 Her book, The Open-Hearted Way to Open Adoption: Helping Your Child Grow Up Whole, written with her daughter's birth mom, is available in hardcover and e-book through Amazon or your favorite online bookseller.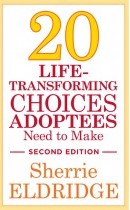 Sherrie Eldridge is an award-winning author of seven books, including the best-selling Twenty Things Adopted Kids Wish Their Adoptive Parents Knew. (We believe it is essential reading for adoptive parents.) Her classic book, 20 Life-Transforming Choices Adoptees Need to Make,  is being reissued by Jessica Kingsley Publishers. the book is available for pre-order. Official launch date is March 21. Sherrie, an adoptee and a staunch advocate for adoptive families writes, LIVES the adoption journey,  connects with adoptees' hearts and validates their experience.  She is the founder of "Jewel Among Jewels Adoption Network, Inc., a non-profit, faith-based educational organization which offers resources to anyone touched by adoption--foster care and adoptive parents, birth parents, adoptees of all ages, social workers, mental health professionals, and university training programs. http://www.sherrieeldridge.com/"(from the JKP Website)
What is the main message of 20 Life-Transforming Choices Adoptees Need to Make 
The main message of the book is that we are responsible to choose options that lead to healthy lifestyles and relationships.
 What feedback do you receive from adoptees and their parents?
I interviewed nearly 70 adoptees for the original book. It was so enlightening for all of us. The main comment from adoptees was, "I didn't know other adoptees felt the same as me. I feel like I've been through therapy!"
How can families whose religious beliefs vary widely from your own find value in your message?
The second edition is toned down a lot when it comes to references to God. I hope that readers will bring their own beliefs and weave them throughout the pages. One woman wrote on amazon.com that she was Buddhist but that she could simply apply her own beliefs where God was mentioned.
After all, maturity is searching for truth and tossing the rest.
As far as my own beliefs, I can't completely wipe them out of my writing because it is who I am.
As a committed voice for adoptees, you've written many books. What is the unifying message you seek to convey?
I seek to convey that relinquishment is traumatic but that with hard work, adoptees can overcome and champion what once brought them down, such as feelings of abandonment, etc. We adoptees need to do our work, but then we need to "get over ourselves" and move on to maturity.
What is the most important thing adoptive parents can offer their children? (Beyond unconditionally loving their children)
The most beneficial thing is the ability to parent wholeheartedly. By that, I mean that the parent/s have grieved their own losses and are not afraid of the child's loss. Without that prior grief work on the parent's part, attachment cannot occur.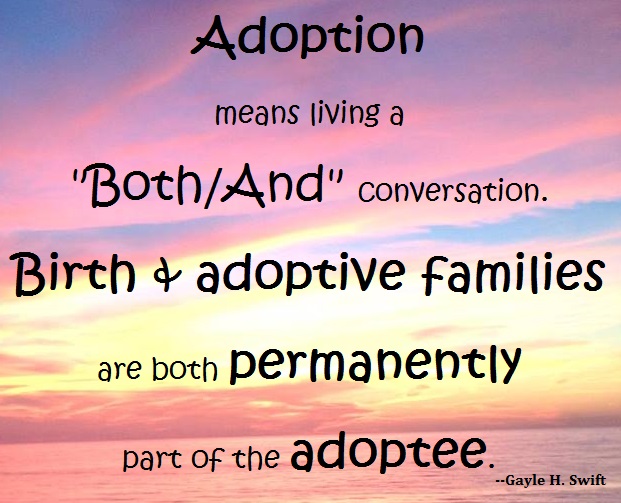 "You are a unique weaving together of nature and nurture into one marvelous human being, with awesome potential." (my quote!)
How can parents create a context of openness that reassures children and invites conversation on both the easy and the difficult aspects of adoptive family life?
Parents can create openness by making adoption a common topic in the family. If kids are resistant, which they very well may be, put out feelers. "I wonder where you got that love for horses." Or, "I wonder if your birth father had zits on his face as a teen."
These comments tell the adoptee that its not only okay to talk about adoption, but that it is a welcomed topic.
How does respectful/positive language benefit adopted children and their families?
Positive adoption language honors the birth parents. "We LOVE your birth  parents." This communicates unconditional love to the child. "Oh, they must love all of me because I came from them."
Of course, there's always the negative aspect question that arises. "How can you honor parents who are in jail, etc.?" You honor their position as the child's parent, not the performance. Always assure the child that negative, painful lives are the result of poor choices and that you will help him/her to make good, healthy choices.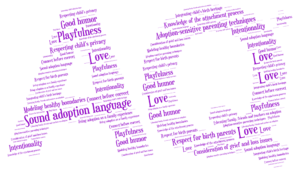 When parents live with a high AQ* (Adoption-attuned Quotient) how does the entire family benefit
I am not familiar with this term. I would guess you mean "adoption savvy?" The whole family would be able to take a deep breath because everyone feels understood and there are no subtle pressures to perform to perceived expectations.
   10. How does the move toward Open Adoption benefit adoptees? What drawbacks, if any, do you see?
Open adoption is a wonderful event and lifestyle, but it is not the panacea once thought of. Yes, we adoptees can see our birth parents often, but sometimes this creates rejection for us because birth parents may not keep their word. Adoptive moms STILL get the misplaced anger even though the birth mother is in the adoptee's life. Each family needs to find what works best for their child….always with concern for the child's well-being, not the parents.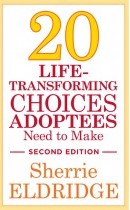 is available for preorder. Jessica Kingsley Publishers officially launches this new issue on March. 21, 2015. It will be available in both paperback and Kindle formats.  Read GIFT's blog post on Forever Fingerprints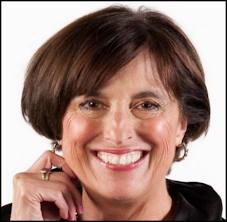 Amazon Author page      Sherrie's Website